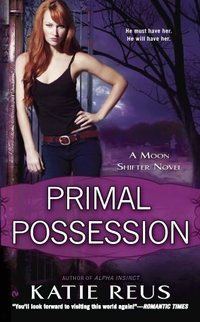 Purchase
Moon Shifter #2
Signet
September 2012
On Sale: September 4, 2012
Featuring: Liam Armstrong; December McIntyre
368 pages
ISBN: 0451237781
EAN: 9780451237781
Kindle: B007T94URO
Paperback / e-Book
Add to Wish List

To protect her, he will unleash the beast within…

As his pack's second-in-command, lupine shifter Liam Armstrong gives orders and takes what he wants—until he meets red-headed, blue-eyed December McIntyre. Liam knows the human beauty is his intended mate the moment he sees her, but December is far too strong-willed to accept his protection.

December, whose brother is the town sheriff, has every reason to mistrust shifters after one killed her youngest sibling. But the forceful and handsome Liam has gotten under her skin in a way she hadn't thought possible, and the desire she feels for him is almost too much to bear.

When a radical hate group targets all humans known to sympathize with paranormal beings, December is attacked in her bookstore. Reluctantly, she turns to the only one who can help her: Liam. And he is going to take her to places within herself she never knew existed.
Moon Shifter

Alpha Instinct
#1.0
Amazon.com | BN.com | | |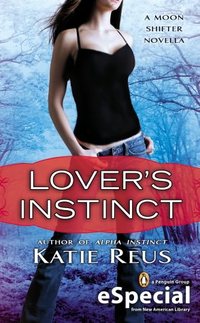 Lover's Instinct
#1.5
Kindle | BN.com | | |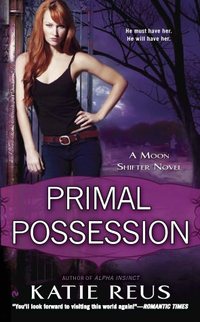 Primal Possession
#2.0
Amazon.com | BN.com | | |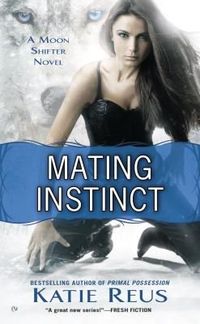 Mating Instinct
#3.0
Amazon.com | BN.com | | |
Comments
43 comments posted.
I like the strong female leads and ones that do things beyond just falling for some guy :)
(Darci Paice 10:10am August 15, 2012)
I like strong heroines, but they don't always have to be physically strong -
as long as they're smart and not pushovers, I'm a fan!
(Rebecca Whitehead-Schwarz 10:28am August 15, 2012)
I like one who is smart and resourceful and able to use what they have to take care of things....
(Deborah Garcia 10:28am August 15, 2012)
I like someone who is smart. She doesn't have to have strong physically... just not someone too stupid to live and can save herself...
(May Pau 10:42am August 15, 2012)
I cannot stand reading a book with a Heroine that is pigheaded. I prefer for them to be strong, independant, and have the alpha female mentality, but one who also knows thats sometimes it's a good thing to have a hot alpha to lean on =)
(Emily Tardy 10:48am August 15, 2012)
I like the main female character to be smart and strong emotionally. I like someone who feels that she doesn't need to be saved by a man.
(Lori Yost 10:50am August 15, 2012)
My favorite type of female character is someone who is kick ass and doesn't take
crap from anyone.
(Stacey Marin 11:03am August 15, 2012)
I love for the heroine to be strong but not super hero strong...more strong emotionally and afraid to be weak..but having a hero come in and let her know that not only is it OK for her to be weak and that he can be weak sometimes too...
(Angie Lilly 11:36am August 15, 2012)
I like strong heroines but they don't have to be able to do it all on their own. Everybody has weaknesses. As long as they are intelligent and able to cope (not to stupid to live)I'm fine with them.
(Charlotte Parks 11:38am August 15, 2012)
I like heroines who are intelligent, quirky, strong, kick-ass, have a sense of humor....but the mix of those traits can vary and the most important thing is that I genuinely like the heroine.
(G. Bisbjerg 11:52am August 15, 2012)
I like a strong willed heroine with a quick wit. I really dislike whiny
heroines.
Thanks for the giveaway- I liked Alpha Instinct and I'm looking forward to
reading Liam and December's story.
(Debbie Burdeen 12:40pm August 15, 2012)
I have to agree with you Katie, it depends on my mood. ;-) I like my heroines to be a good mix of tough, venerable and smart. Some of my favorite heroines are able to retort with snarky repartee and never miss a beat, even under pressure. (Secretly I wish I was as quick with the repartee. :-) ) If the heroine is wishy-washy or whiney I tend to lose interest in the story.
(Gail Siuba 12:44pm August 15, 2012)
i love this series and i can't wait to read this one.alpha instinct wast a great story so i'm glad you wrote more!!thanks alot!!
(Jennifer Beck 12:51pm August 15, 2012)
I like a variety so that my stories don't get boring. As long as they are whiny!
(Maria Smith 2:00pm August 15, 2012)
I like all types of heroines but my favourite type are the unsuspecting ones, they seem sweet and innocent but in reality they can kind handle just about anything.
(Lisa White 3:11pm August 15, 2012)
I like the non-kick ass type. I don't want to read about a woman who's trying to be like a guy unless she's trying to be like Machiavelli.
(Lisa Elwood 3:14pm August 15, 2012)
MY FAVORITE TYPE OF HEROINE THAT KICKS ASS, STANDS UP FOR
HERSELF, STRONG, SMART, FEISTY ALPHA FEMALE THAT DOESN'T TAKE
CRAP FROM NO ONE, SAVES PEOPLE FROM BAD GUYS, AND CAN DO WHAT
ANY HERO DOES AND SAVES THE DAY. LOVE YOUR BOOKS. THEY ARE
AWESOME AND MY FAVORITE. LOVE TO WIN.
(Shelly Caggiano 3:54pm August 15, 2012)
well, it certainly helps if she is fit enough to protect
herself, either by running or at least basic self-defense -
tho I do enjoy it if she can do a bit more than that.
(Diane Sallans 4:14pm August 15, 2012)
I like the variety out there, so I go with what my mood calls for at the time.
(Colleen Conklin 4:42pm August 15, 2012)
She has to be real tough to deal with whatever the nemesis is!
(Vicki Hancock 4:46pm August 15, 2012)
I like a little bit of everything, it just depends on what I feel like reading at the time. Thanks for the chance to win!
(Natasha Donohoo 5:06pm August 15, 2012)
My favorite traits I like are feisty, strong-willed (able to be strong enough to stand up for herself and handle things), helpful in time of need, witty and playful with a sweet innocent, sexy, side to her.
Katie, love the purple colors for your Primal Possession book cover and book sounds great! Want to read it--thanks for the chance to win a copy!
(Linda Luinstra 5:31pm August 15, 2012)
I, too, go for my mood.
Thanks for the chance to win.
(Mary Hay 5:43pm August 15, 2012)
It really depends on my mood as well, but I prefer the perky, funny heroine, who can hold her own, but doesn't come on too strong. The one thing about her, though, is that people can tell that she is more than capable of taking care of herself, yet she has that soft side of her that people adore. Her sense of humor is an added plus. You've written enough books, so I'm sure you know what I'm talking about. I don't care much for the heroine who comes on like some type of King Kong, destroying everything in her sight!! lol Anyway, I like the sound of your book, and am looking forward to reading it. The cover has that bit of intrigue to it, which draws you in.
(Peggy Roberson 7:26pm August 15, 2012)
I agree about it depending on the mood you are in. My preference in genre and characters can definitely vary as well as the amount I read from day to day.
(Chelsea Knestrick 7:51pm August 15, 2012)
I am so with you. I love a variety, and it depends on what kind of story I am
reading. I love the strong kick ass chick who knows her way around weapons.
Great in a paranormal or UF. I love the sweet compassionate woman or the
damsel in distress, great in a historical. And I love the average girl who ends
up in bad circumstances but still finds a way to get out of the muck...like
finding some alpha hero to grab her hand =)
(Lexi Hansen 8:01pm August 15, 2012)
As long as the heroine speaks her mind and backs up her
beliefs, it's all good to me.
(Jan D 9:53pm August 15, 2012)
I like heroines to be smart and self sufficient. I don't want them to need a man but instead choose a man.
(Jennifer Beyer 10:12pm August 15, 2012)
I like all kinds of heroines, except for those who are exceptionally TSTL!
(Janie McGaugh 11:07pm August 15, 2012)
Looking forward to reading this one
(Nancy Gallagher 11:38pm August 15, 2012)
I think that is a good question as if we go too far in the tough direction, we might as well make the character a man in the first place! I think she should come over as believably feminine but tough when she needs to be. A smart, self sufficient person just does what they need to, they don't push it in your face that this is what they are. And we could all use some help from time to time.
(Clare O'Beara 5:55am August 16, 2012)
Thank you everyone who has stopped by! I'm so impressed with the varied and very honest answers I'm seeing! :)
(Katie Reus 9:23am August 16, 2012)
I love ladies that are strong and intelligent but guard their hearts. Ladies with a little mystery in their backgrounds and loyal to a fault with those they choose to love. I especially love it when the man falls for her and she tests his love and loyalty without him even realizing what she is doing! Thanks so much for your awesome stories! I have loved the paranormal stories ever since I was a kid, probably due to my over active imagination! Thanks!
(Teresa Sullivan 9:39am August 16, 2012)
It's very dependent on mood, But tend to like characters that
aren't necessarily over the top kick ass but stand up for what
they believe is right. :)
(Leslie Davis 11:03am August 16, 2012)
Thanks for a fun post and congrats on the upcoming release! I
love strong heroines who are smart, have a great sense of
humor but aren't so stubborn that they get themselves into
trouble :)
(Erin Fender 11:32am August 16, 2012)
PICK ME! PICK ME!!!
(Pamela Faye Howell 12:18pm August 16, 2012)
I don't need a heroine to be strong or smart. It is preferable,
but I really enjoy it when a heroine is able to react well. I don't
like heroines who lose their cool at the slightest hint of trouble
or heroines who blow things out of proportion. The heroines I
like are level headed and take things in a calm manner, so
they can get a good handle on the situations they have to
face.
(Samantha King 2:55pm August 16, 2012)
looks like I found me a new author to read!!!! thanks for the draw.
(Barbara Studer 8:16pm August 16, 2012)
I like a strong willed heroine that has a quick wit. Thanks for the giveaway!
(Debbie Burdeen 8:38pm August 16, 2012)
I love a female heorine who is strong, but still able to show her soft side. Yes, i do beleive everyone has one. No matter what novel I may read i always find the female lead has some sort of soft side..no matter how tough she is :)
(Kristina Parmenter 9:39am August 17, 2012)
No, they don't have to kick ass to BE a kick ass! Strong personality is definitely a help!
(Felicia Ciaudelli 12:13pm August 17, 2012)
I love a strong heroine as long as she isn't so macho she is
un-likable. A little softness helps make her more believable
and enjoyable to read about.
(Ilona Fenton 12:51pm August 17, 2012)
A strong heroine makes for a better story no matter the genre.
(Alyson Widen 4:53pm August 19, 2012)
Registered users may leave comments.
Log in or register now!