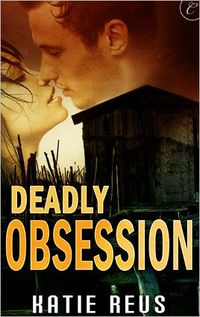 Purchase
Carina Press
August 2011
On Sale: August 15, 2011
ISBN: 1426892047
EAN: 9781426892042
e-Book
Add to Wish List

The chilling words of a killer: This is just the beginning...
Ten years ago, Lilly Carmichael left town without an explanation, breaking Braden Donnelly's heart. The death of her aunt has brought Lilly home-and face-to-face with memories she thought were long buried. Still getting over a traumatic incident from her work as an NSA agent, Lilly initially dismisses the face at her window as a figment of stress-induced paranoia.
Now the sheriff of Hudson Bay, Braden has spent the past year hunting a sadistic murderer. His investigation is turned upside down when new evidence indicates that Lilly is the killer's next target. Determined to protect the woman he's never stopped loving, Braden must race against the clock to trap a dangerous psychopath-before it's too late...
Buy DEADLY OBSESSION at BN.com, Amazon, or Carina Press.
Comments
37 comments posted.
Re: Deadly Obsession

liked the blurb - thanks for the contest - like alphas myself.
(Beth Elder 10:07am August 16, 2011)
The book sounds great! Personally I like the hero's in Shelly
Laurenston's book, they are amazing. Good-looking,
tempermental but loving and so funny they make you cry
laughing. I like Alpha men too but I also like it when the
women put them into place :)
(Bex Challoner 11:07am August 16, 2011)
I always like the small things a hero does like when St. Vincent makes sure Evie's feet are warm in Devil in Winter by Lisa Kleypas.
(Maureen Emmons 11:37am August 16, 2011)
book sounds awesome! I'd have to say a good hero would be one who can take charge w/out taking over and let's the heroine be strong too.

Thanks for the giveaway!
(Erin Fender 11:54am August 16, 2011)
Everyday heroes are the ones who take the time to really care when they run into you. And those who share a little piece of themselves especially the mistakes and how they got past or through them. It is the little things that count.
(Alyson Widen 12:17pm August 16, 2011)
I like the "quiet" heroes that protect their ladies without the ladies ever knowing it---until the end of the book, of course.
(Sue Farrell 12:18pm August 16, 2011)
Nothing wrong with admiring a hero!
Blessings,
Marjorie
(Marjorie Carmony 12:25pm August 16, 2011)
CONGRATS on the new baby and the book!!

I love all the heroines who can tame an alpha male with a tortured soul without changing who he is....examples will Jane in Lover Unbound, and Bella in Lover Awakened (JR Ward BDB) or Sophie in Unlawful Contact, Natalie in Breaking Point or Tessa in Hard Evidence (Pamela Clare's I-Team) those are a few of my favs....not to weak put not too overpowering...male dominant heroes only!!!
(Chele Blades 12:36pm August 16, 2011)
Can't wait to read this book! I enjoy a strong man who shows a soft side around his woman and is thoughtful and respectful.
(Christine Arcidiacono 12:37pm August 16, 2011)
AN HEROIC MAN PROTECTS WITHOUT FEAR OF REPRISAL...I AM IN IT TO WIN IT!
(Silvana Moscato 12:48pm August 16, 2011)
I think a man just taking care of his family and being a wonderful father makes a man heroic.
Sounds like a great book. Thanks for the chance to win!
(Vicki Hancock 12:54pm August 16, 2011)
I love all the heroes whether they do something small or something extreme... just being there for someone when they need it...
(Colleen Conklin 12:58pm August 16, 2011)
Taking care of all those close to him. Just being there is enough. Book does sound great!
(Barbs Ferris 1:12pm August 16, 2011)
I think the people who came forward after the Indianapolis State Fair stage collapse to help the injured and to raise the stage off of them were heroes. Who knows if another gust could have happened and gotten them hurt too.
(Anne Muller 1:56pm August 16, 2011)
The books ounds like a good read.
(Sandy Giden 3:17pm August 16, 2011)
Hi Katie,

My hubby is a firefighter, and my son is a deputy sheriff, so I tend to have pretty high standards when it comes to heroes. A couple of my recent fav heroes are in Thea Harrison's, Elder Series, Tiago and Drago.
(Cathy MacDonald 3:25pm August 16, 2011)
Congrats on the new release, Katie. I love tortured heroes and one of my favorites is Zach from Pamela Clare's "Breaking Point."
(Jane Cheung 3:27pm August 16, 2011)
Congratulations on the birth of your first child and double congratulations on having a supportive husband. That's the best kind of hero.
(Anna Speed 3:33pm August 16, 2011)
I love that heroes come in all shape and sizes and the more books I read the more heroes I fall for. There is no one perfect hero for me, my favourite usually happens to be from the book I'm currently reading. I do favour the dark, tormented ones who have a lot to overcome but become better men because of their circumstances.

Congratulations on the release of Deadly Obsession and the birth of your first child. I think it's wonderful that your husband is your real life hero. It can't get better than that.
(Na S 3:35pm August 16, 2011)
Congrad's on your first chile, a true blessing!!!!!!

I will always love the strong, well built, good looking hero who saves and loves a woman!! Call me old fashioned, but love the hunks, the strength, the muscles, and the great sex!!!!!!!!! Hero's are my fav's.........
(Joanne Bozik 3:48pm August 16, 2011)
Book sounds great, I love our everyday heroes. Thanks for
giving me a chance to win your book.
(Linda Hall 3:49pm August 16, 2011)
book sounds wonderful,good luck.
(Deb Pelletier 4:06pm August 16, 2011)
I've read and enjoyed your books Katie.
Congratulations on your new release!
(Diane Sadler 4:34pm August 16, 2011)
Your book sounds enthralling. I love me some HOT Alpha Males. In Kate Douglas's "Wolf Tales" series, her males are all alpha, they are some of the hottest, heroic, and mind melting men put to paper. And I have read ALOT of books. I have to say from your little synopsis, I am looking forward for your books to enchant me in the same fashion. Happy reading everyone!!!
(Elizabeth Rodriguez 4:58pm August 16, 2011)
Congrats and thanks for the great post and giveaway. I think one of the sweetest things I ever read was in Another Chance to Dream when Rhys rescues Gwen from the pig pen when they are young. She automatically knows he is her knight in shining armor because even as a young man he is a hero.
Thanks
(Patti Paonessa 4:58pm August 16, 2011)
one of my favorite heros is Quinn from Iris Johanson Eve Duncan series. He is Eve's rock and her knight in shining armour and her best friend all rolled into one. they have a great interaction between the 2 characters.
(Tammy Ramey 5:23pm August 16, 2011)
When some one wins a contest, do you contact them directly with a congrats email or do you put the winner's name in your monthly newsletter? Thanks for this blog contest.
(Diane McMahon 5:32pm August 16, 2011)
What Makes a Man Heroic? A man willing to express a kind, helping hand in time of need to another person, not worrying about themselves or even the risk (in some cases if it means putting their life on the line to help or to rescue another. That is an unselfish man--one who cares and expresses himself in a caring way. Everyday heroes--whether real or fiction in a book--everyone loves to read about one!!!
(Linda Luinstra 7:39pm August 16, 2011)
These are some really great answers! Thank you to everyone who has stopped by so far :) (Diane McMahon, I believe someone from Fresh Fiction contacts the winner directly. They did last time I blogged here so I'm guessing it's the same this time)
(Katie Reus 7:40pm August 16, 2011)
Thank you for the blurb. I like a well devoloped character he dosen't have to be an Alpha for him to interest me.
(Cindy Olp 8:57pm August 16, 2011)
For the past month, I have gone through a very trying time in my life, which has been in part from an incident that occured to me, which in turn affected my health, which already was in a fragile state. My health problems seem to get worse when I'm subjected to stress, and the pain quotient, along with other things seem to increase. Anyway, my Husband felt badly about what happened, knowing how helpless I was, and has done all he can to get me through this, from cooking meals when I wasn't up to it, to making things upbeat when I sat there in tears. I'm doing much better now, but couldn't have made it through without him in my corner. When you have 3 illnesses, and go through an ordeal like I did on top of it, it's good to know you have someone to help hold you up.
(Peggy Roberson 9:54pm August 16, 2011)
I like Westley from Princess Bride. He just seems really loving and caring to me. :)

I also like most of Julia Quinn's heros. They are just so funny. :)
(May Pau 10:18pm August 16, 2011)
Can't wait to read this book!!!
(Sharon McIntyre 10:52pm August 16, 2011)
I think my new hero is your husband. You are very blessed to have a man that cleans bathrooms regardless of his reasoning behind it. Enjoy and appreciate him!
Good luck and happy writing!
(Tracie Travis 11:16pm August 16, 2011)
I've honestly never read any of your books, I just discovered
you through this site. But the book you are giving away seems
very interesting to me. I would love to be able to read it and
later review it (:
(Florencia Real 11:33pm August 16, 2011)
Heroic moments are the best, making sure you have your sweater if there is a chill, bringing you chocoloate when you've had a bad day, comforting you when someone hurts your feelings, agreeing with your opinion, just to make you feel better, those kind of things melt me every time.
(Lisa Kendall 11:39pm August 16, 2011)
I always liked Dick Francis' heroes, unassuming on the surface but deadly in a match with the villein.
(Shirley Nienkark 11:11am August 17, 2011)
Registered users may leave comments.
Log in or register now!