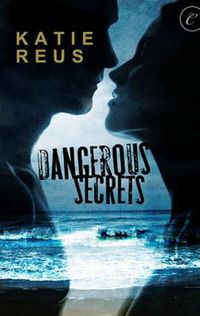 Purchase
Carina Press
February 2011
On Sale: February 7, 2011
Featuring: Isabelle Ballantine; Adam Marcellus
ISBN: 1426891172
EAN: 9781426891175
Kindle: B004K1F7VM
e-Book
Add to Wish List

Isabelle Ballantine has been fighting for independence since she was old enough to walk. Now that she's finally out from under her father's shadow, she won't let anyone stand in her way. It's tough living on her own, working in a bar and keeping her true identity a secret, but things start to look up when a sexy new stranger walks into her life. After working side by side for weeks, Izzy can't figure out why he won't make a move...
To cinch the deal of a lifetime, Adam Marcellus agrees to help Izzy's eccentric father convince his daughter to move home. He'd assumed Izzy would be another spoiled rich princess, but he's surprised to discover his feelings for her are stronger than anything he's ever experienced. When a deranged stalker targets her, Adam finds himself fighting not only an unknown threat-but an unexpected attraction to the one woman he can't have...
Comments
52 comments posted.
This sounds like a really good book and I would love to read it. I have not ever had to make any decisions which greatly effected my life.
(June Manning 4:12am February 11, 2011)
The book sounds great and good for you for making the choices that you did!
(Joanne Reynolds 6:26am February 11, 2011)
Taking time to make Decisions is so important.
Blessings,
Marjorie
(Marjorie Carmony 6:28am February 11, 2011)
That was a life altering decision for sure. Must have been fate. Love the title - anything with a secret in it is bound to be a good book. Thanks for the drawing.
(Karen Gervasi 7:38am February 11, 2011)
A year out of college both my husband & I were offered promotions. My husband's included a transfer to another city. We chose his promotion/job and moved. What we couldn't have known then was how important that decision would be for my husband's career. He has become more successful than either of us could imagine. We get to travel the world as a result. Changing cities made all the difference.
(Stacie Deramo 7:40am February 11, 2011)
I want to hear more about Adam and Izzy's story as this sounds like a great book...and wow, what a great cover!
(Christine Stack 7:42am February 11, 2011)
Yes, I know what you mean about changing plans in the middle. I had to adjust my life and put what I wanted on hold. Well, it is still on hold and I will probably never reach that goal now but it is ok. I can't complain about my life because it could be so much worse so I just thank God for what I have and carry on. Evidently this was your calling in life. Thank you for sharing your decision (writing) with us!!
(Dawn Staniszeski 9:04am February 11, 2011)
I made a couple momentous decisions in my life:
. I married my hubby via an arranged marriage. We only spent a few
hours together before we were engaged. Although my ethnicity is Indian, I
was brought up in the USA. Hubby spent his his whole life in India and his
whole family is still there. We have become more alike than I ever
imagined. We have been married 15 years in October. I have moved more
in these 15 years(5 times) than I have in the years before. We still don't
know where we will end up settling down.

. I have lived practically my entire life in Wisconsin. I never thought I
would move out of the Midwest. But then 2 years ago, hubby and I moved
to Florida for a job opportunity hubby couldn't pass up. We haven't bought
a house b/c like I said, we never know where we will end up.

Hubby has also said he never imagined his life would turn out the way it
did.

.

. 2 years
(Mona Garg 9:55am February 11, 2011)
I think your book, Dangerous Secrets, sounds like a must have.

I had to drop out of junior college due to severe depression. I thought at the tiem that I wanted to be a secretary but wanted to go back to school to major in law. Around that time, I met my DH of almost 38 years. I thought about returning to school several times over the years, but each time I went back I would take one class, and then end up in the hospital for a week or two at a time. I finally gave up on that idea and worked as a secretary and a housewife. I am not sorry for that because I did meet my DH.
(Cathy Phillips 10:37am February 11, 2011)
I love romantic suspense stories and Dangerous Secrets sounds great. I am looking forward to reading it.
(Cheryl Lynne 11:39am February 11, 2011)
I accepted a job 1200 miles from where I lived, decided to get married first, and moved in a month. None of it actually turned out as planned, but I wouldn't change any of it - most of it, although far different than envisioned, has been fun!
(Jl Welling 12:31pm February 11, 2011)
I'm always making choices that change my life in one way or another, but I don't always know that the choices will result in a particular way.
(Leni Kaye 12:44pm February 11, 2011)
I took an early retirement. Then, in rapid succession, my grandmother went into assisted living, my single sister had a child and my married sister, who had 2 kids, lost her husband to cancer. They were all in different cities. My parents & I needed to be many places at once. It wasn't what I planned but I felt lucky to be able to help my family.
(r w 1:28pm February 11, 2011)
I had to quit college because my son has special needs. Because I was able to devote so much time, he is now able to do more than I ever thought he would. He still has a ways to go, but I am glad I did it.
[email protected]
(Debbie Penny 1:33pm February 11, 2011)
Well, my mum made me quit school early. I really wanted to stay in school, go to art school and make a career in design or something like that.

Well, leaving school turned out to be the best thing cos my life went in a totally different direction. I travelled extensively, met the most wonderful man and had a slew of beautiful children....sigh!!!

I wouldn't change anything for the world.

Valerie
in Germany
(Valerie Bongards 1:47pm February 11, 2011)
My children and I "temporarily" moved back in with my mother in 2000. As much as I didn't want to at the time it allowed me to do a lot of things for my children that I wouldn't have been able to if I had not. My daughter is fulfilling her dream attending UNLV to become a psych major. My son is currently a senior in high school and is able to focus on studies and basketball and has aspirations to play college ball and study engineering. It's been a challenge and I think that he will probably leave home before I do but I am so glad that I made the choice and was able to minimize expenses and spend my time with them.

Dangerous Secrets looks like a great read. Good luck and happy writing!
(Tracie Travis 1:51pm February 11, 2011)
A combination of romance and suspense are the ingredients I enjoy in a good book.
(Anna Speed 1:52pm February 11, 2011)
Life changing decisions... have made one or two, knew that they would change things, but the results were different than I thought they would be.
Thanks for sharing with us today!
(Colleen Conklin 2:12pm February 11, 2011)
I'm a big fan of Romantic Suspense books and Dangerous Secrets sounds like a great read.
(Chantel Williams 2:35pm February 11, 2011)
When I married the man of my choice my parents disinherited me. After I had
my first child they wanted to come back as the person I had been. Such a
decision on their part didn't work as they expected--too little, too late. My
mother would brag to her family about my husband's success professing to
really admire him. In reality she just tolerated him. You can never go home
took on a totally different meaning. My father was great. In the end the
found great respect for my husband and our children, being very bright saw
through it all. As a result they were only minimally in touch with their
grandparents though we never by word or deed indicated any problems.
Whose life changing decision--mine choosing my husband or their's rejecting
him and thus us--altered forever our relationships will never be truly known.
All I know is that my husband is still at my side loving me in a way I always
dreamed of--48 years and counting.
(Sandra Spilecki 2:35pm February 11, 2011)
Hi everyone! I'm sorry I haven't stopped by earlier, I've been out most of the day. So far these answers are great and some have been incredibly sweet! I've enjoyed reading all of them :) I hope to see more before the day is over!
(Katie Reus 2:54pm February 11, 2011)
Decisions - we make them every day and hope we're doing the right thing
(Nina Bumgarner 3:00pm February 11, 2011)
hi desi here well i love the cover of the book and then
i would love to read and blog on it all over the place
i hope the book goes good for you
(Desiree Reilly 3:11pm February 11, 2011)
I had a change made for me that I thought would be the ruination of my life - instead, I gained myself back, gained new friends, and I'm happier than I've been in a long time! :)
(Kelli Jo Calvert 3:46pm February 11, 2011)
I'm quite sure there have been instances where the decisions I made changed my life, but I can't think of any specifics.
(Jane Cheung 3:51pm February 11, 2011)
I've read several of your e-books and really enjoyed them. I would love to read your latest one.
(Susan Shapley 4:04pm February 11, 2011)
My life has been all about changes & surprises I feel.
(Mary Preston 4:08pm February 11, 2011)
DANGEROUS SECRETS, sounds like a book I would not be able to put down. Thank you and Congratulations
(Barbara Ryan 4:15pm February 11, 2011)
I'm a strong willed woman and my second husband realized that very quickly. He became my rock in life as I would sometimes want to venture too far. I think that Adam and Izzy's story will have some great trials and turbulence which will lend to being a good read. Every marriage has it's problems and compromise is our key word.
(Rosemary Simm 4:18pm February 11, 2011)
The book looks great. Anyone who has lived very long has had to make decisions that changed their lives greatly. I have made several.
(Donna Badour 4:27pm February 11, 2011)
DANGEROUS SECRETS sounds like a good book to read. Thanks for giving me a chance to win it.
(Linda Hall 4:36pm February 11, 2011)
I made a decisions 3 years ago to build a house in a rural area, and the results were not at all what I expected. I realized how much I like being around people and conveniences.
(Vikki Parman 4:42pm February 11, 2011)
HI TAWNY! MAY YOUR V-DAY BE FILLED WITH SALES, BOOKS, AND CHOCOLATE!!
(Linda Bass 5:09pm February 11, 2011)
There is a book called WOULDA, COULDA, SHOULDA and it is the story of my life. I still can't get off the circle. I was 16 and pregnant and felt very forced to marry my husband, even though I knew it was a big mistake. Two children later the marriage was over after being beaten almost to death. I always look back and think .. what if?
(Kathleen Bianchi 6:01pm February 11, 2011)
Don't talk about my TBR room (yeah, room, not stack or corner) ... now that I've read this tidbit I HAVE to win Dangerous Secrets! (...or buy it for my April birthday .)
(Mary Lou Loyanich 6:22pm February 11, 2011)
Your book soudns really good and I have added it to my TBR list. HAPPY VALENTINE'S DAY
(Joy Isley 6:24pm February 11, 2011)
Looking forward to reading Adam and Izzy's story. Happy Valentine's Day! Thanks for the contest
(Teresa Ward 7:06pm February 11, 2011)
Sounds like a great book for vacation. I am going to fla. in march. Hope I win
(Mary Branham 7:19pm February 11, 2011)
I can't really think of a decision that changed my life, but I'm sure there was something. Lilly sounds very interesting. Thanks for the contest.
(Lisa Kendall 7:25pm February 11, 2011)
My husband was let go after 27 years. He decided we should have a fresh start in another province far from our families. It was a hard decision to make.
(Diane Sadler 8:01pm February 11, 2011)
I love that the heroine decided to handle the dangerous situation
herself, of course I would like to think all of us ladies would do the
same. You can never know in advance how one act will change you or
those around you, but hang on, it's a roller coaster!
(Teresa Metz 9:50pm February 11, 2011)
I got out of a marriage that wasn't good for a number of reasons. A short time later, a mutual friend ran into someone from our past who had been looking for me. We got back together, and ended up getting married. During this time, I had been, and continue to be under doctors' care due to a serious injury. The doctor told me that if I hadn't gotten my divorce when I had, that I would have been dead!! He was very concerned about me during that time, and watched my health very closely. I still have my health problems, but as of tomorrow, I will be happily married for 28 years to the man I should have married right from the start!! It's funny how a decision you make, no matter how trivial you may think it at the time, can have such dire consequences down the line. I've found that to be true on more than one occasion. Thank you for a most interesting blog, and congratulations on your book!!
(Peggy Roberson 10:01pm February 11, 2011)
I would love to be able to read their story. I hope that you draw my name.
(Brenda Rupp 10:19pm February 11, 2011)
I decided to move to California and was very surprised at the results.
(Robin Daily 11:22pm February 11, 2011)
Let's see, entering this contest is a decision; will it change my life? One nevers knows..... :)
(Ginger Hinson 11:43pm February 11, 2011)
Sounds like a great read. Please enter me. Thanks
(Sheila True 11:44pm February 11, 2011)
I'm so impressed by all these answers! Thank you all so much for stopping by and for sharing so honestly. (And happy almost anniversary, Peggy). Good luck to everyone who entered :)
(Katie Reus 12:01pm February 12, 2011)
Oh yeah, I can pinpoint many crucial points of decision, but the one that really changed most of my life was swapping dormitory roommates in college. That one decision connected me to a single person who introduced me to a group of people, who literally decades later introduced me to the perfect man for me, my current husband.
(Diana Troldahl 12:31pm February 12, 2011)
i would love to win this book and i love to win free stuff
(Stacie Williams 10:42am February 12, 2011)
I decided early in life to not have any children--that has made me a very independent woman since I've never had to rely on anyone to take care of me and any kids.
(Sue Farrell 11:10am February 12, 2011)
your book sounds like a good read. way back, had i not made the decisions i did, i would never have the super great kids that i have.
(Barbara Studer 8:37pm February 12, 2011)
Decisions are not easy to make unless they involve food. they seem so finite and you have difficulty going back to the beginning and starting over, so I can see how a choice made long ago can still affect the present day.
(Alyson Widen 10:30pm February 27, 2011)
Registered users may leave comments.
Log in or register now!