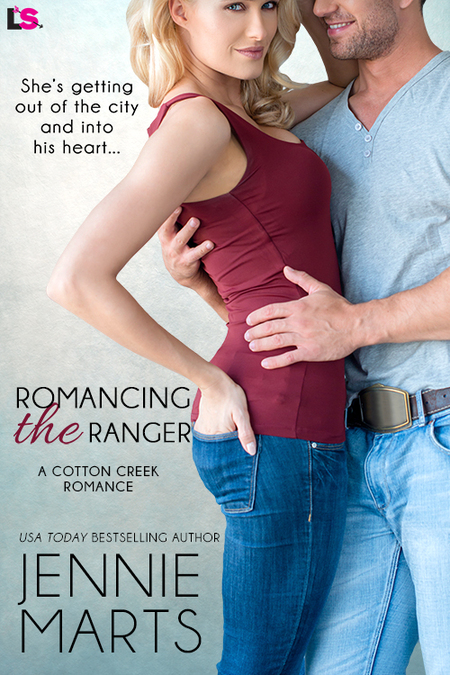 Purchase
She?s getting out of the city and into his heart?
Cotton Creek
Entangled Lovestruck
March 2016
On Sale: March 14, 2016
Featuring: Reese Hudson; Wade Baker
180 pages
ISBN: 1682811328
EAN: 9781633755765
Kindle: B01B1NC1OW
e-Book
Add to Wish List

Reese Hudson meant to destroy mementos from her last failed relationship, not burn down an outhouse and incur the wrath of a sexy park ranger. When the judge rejects her offer to pay for the structure and sentences her to rebuild it—with the hot ranger supervising—she embraces the challenge to take control of her life.
Park ranger Wade Baker wants nothing to do with the rich city girl, no matter how tempting he finds her lush curves. She's too much like his ex-fiancée, and if he's learned anything, it's that women like Reese don't fit into his world. And he sure as hell wants no part of her big city life.
Reese may not know a hammer from a screwdriver, but she's working hard to prove she's not just some pampered princess to be toyed with. And damn it if Wade doesn't admire her tenacious spirit. If only they got along half as well outside the bedroom as they do in it, there might be a chance for them after all…
Cotton Creek
Comments
137 comments posted.
I listen to music almost the entire time I am working, unless something is really complex and needs my full attention. It keeps me on track and happier.
(Pam Howell 5:26am March 18, 2016)
I need seep to be productive. If I don't sleep nothing gets
done.
(Cathy Thomas 7:27am March 18, 2016)
I love music! I choose the genre & artists to suit my
mood or to suit what I need to accomplish. I've had
certain music played during MRIs and even in the OR more
than once prior to surgeries. I have songs/artists that
are on the soundtrack of my life and I cannot imagine a
life without music.
(Kay Martinez 9:58am March 18, 2016)
have had a radio playing 24/7 in our kitchen for many
years!! Gotta have the country music playing to keep my
sanity
(Teresa Fordice 10:00am March 18, 2016)
I tried to play music to go to bed but I just ended up singing all the songs and no sleep so just when I am in the car.
(Jennifer Beck 10:53am March 18, 2016)
I love listening to music when I was younger I use to play the
flute but I wasn't very talented in it I have given it up now
though
(Natasha Persaud 11:26am March 18, 2016)
I can't work with music, it's just too much of a
distraction for me.
(Marty Crosson 11:33am March 18, 2016)
Getting distracted by books and Goodreads.
(MaryAnne Banks 11:33am March 18, 2016)
Music for working out is very motivating and necessary. A
background of soft music at home is lovely.
(Sharon Berger 11:48am March 18, 2016)
I love jazz and listening to Dave Brubeck and other artists of that era.
(Reeta Harrison 12:32pm March 18, 2016)
Yes, it does! I use music to exhilarate me, soothe me, cry good tears, cry sad tears and just about anything else. It most assuredly affects my mood!
(Kathleen Bylsma 12:49pm March 18, 2016)
Music improves my mood so I am able to tackle tasks.
(Kv H 1:18pm March 18, 2016)
Having the television on while I am trying to work affects
my productivity. It distracts me. I keep looking at the
tv instead of doing my work.
(Tanja Dancy 2:08pm March 18, 2016)
I can't do exercising at all without music, and when I'm
listening while doing the household chores I get way more done
and I'm in a much better mood at the end! Those are about the
only times I listen to music besides when I'm in the car
though.
(Tanya Guthrie 2:14pm March 18, 2016)
I can listen to anything upbeat while cleaning house but
when I am working it has to be instrumental without lyrics
(Donna Antonio 2:41pm March 18, 2016)
HI J, YOU ARE NEW TO ME AND RR SOUNDS SO GOOD!!
(Linda Bass 2:42pm March 18, 2016)
If I am on the treadmill, music is a must, especially to keep the pace!
(Sharlene Wegner 2:51pm March 18, 2016)
I use to write these pretty boring government reports that
could be a bit technical, and absolutely had to be
accurate. I found that techno music was a great background,
assisting me in the writing.
(Susan Voss 3:24pm March 18, 2016)
Romancing the Ranger sounds like an entertaining and fun read.
Taking the time to indulge in a book just for fun usually
leaves me feeling rested and ready to tackle the challenges of
being productive with renewed vigor.
(Karen Haas 3:43pm March 18, 2016)
Music helps me do everything & improves my mood everytime
(Liz Digman 4:07pm March 18, 2016)
Music helps me relax.
(Mary C 4:25pm March 18, 2016)
I listen at work. It helps me focus. hanks for the chance.
(Jana B 5:20pm March 18, 2016)
Sunshine and great music makes me want to create beautiful
clothing and home decor for myself and gifts.
(Lettetia Elsasser 6:20pm March 18, 2016)
I love music when I'm working. I can't focus without it!
(Nikki Ries 8:48pm March 18, 2016)
Music helps me when I come home from work to just sit down
and have some relaxing time
(Cathy Truman 9:23pm March 18, 2016)
I enjoy listening to music while I'm cleaning. I think it makes me move a little faster and I enjoy it a little more thank I normally would. I will listen to just about any style of music, well except jazz or oldies.
(Linda Henderson 9:35pm March 18, 2016)
music gets me moving thanks for this chance sounds like a good book too
(Debbi Shaw 10:07pm March 18, 2016)
Love music, but do not listen while I am reading unless it is very easy listening music...I do love all types of music...
(Karen Dieffenbaugher 10:09pm March 18, 2016)
Definitely need music to get through a workout, but only if it's in a gym or
on the treadmill inside the house. When I'm outside I'm good just listening
to the birds as I walk/jog.
I also like to listen to the radio while doing the dishes! My sink faces a wall
with no window so without the radio or music playing it gets depressing lol.
(Bella Franco 1:06am March 19, 2016)
Music is great for exercising to. Keeps me going to the
beat. But not while reading I need silence to concentrate
(Gloria Zimmer 10:05am March 19, 2016)
A positive atmosphere and some good music in the background
always helps my productivity.
(Maria Smith 12:04pm March 19, 2016)
Music helps you relax and puts you in a better place
(Jean Benedict 12:40pm March 19, 2016)
I have to admit the tempo of the music is a key to movement.
Beethoven's fifth is a great way to clean house to. I used to
work as a custodian in a library. Whenever I ran the sweeper, I
had music on. And if I knew the song. I would be singing. I was
known as the singing custodian.It help it go faster and I
certainly enjoyed my work more. lol.
(Nancy Luebke 1:12pm March 19, 2016)
I like listening to music when I clean, it helps me concentrate and makes the cleaning not so much a chore
(Jean Patton 1:20pm March 19, 2016)
I love listening to music while Im working around the house or at work. Keeps me moving and motivated
(Julie Parrish 2:06pm March 19, 2016)
Music motivates me to lose weight and stay healthy. When I come home from work all stressed out, I pop one of my favorite aerobic workouts in the dvd player and dance around for an hour. I feel great after that!
(Nancy Marcho 2:30pm March 19, 2016)
I listen to music in the car. Rocking out to the Oldies.
(Susan Scheelk 2:46pm March 19, 2016)
listening to that Old Time Rock and Roll takes me back and helps me to relax and daydream of olden days
(Jeri Dickinson 2:47pm March 19, 2016)
I, too, love to write. Listening to my favorites, Cyndi Lauper and Cher, inspire me to write and FEEL more........think True Colors or Believe and you will be inspired as well.
(Susan Coster 3:39pm March 19, 2016)
Good upbeat music makes house cleaning go a lot faster.
(Rita Wray 6:03pm March 19, 2016)
The happier I am, the more productive. I have had a couple
rough years but I am doing better now and getting more
accomplished.
(Carrie Edmunds 6:52pm March 19, 2016)
Music always helps me clean the house faster.
(Karen Mikusak 8:12pm March 19, 2016)
I love to read all kinds of books....they help to uplift you &
take you away to there period of time. This makes me happy &
makes me try harder to understand people in this crazy mixed
up world.
(Lois Imel 8:32pm March 19, 2016)
great giveaway - thanks for the chance
(Dawn Byers 10:23pm March 19, 2016)
I love Celtic music.
(Gwen Hansen 11:38pm March 19, 2016)
Of course! It can really energize me at work!
(Lindsey Andronak 12:35pm March 20, 2016)
i love music, it helps my stress
(Missy Ellis 3:29am March 20, 2016)
My job stresses me so much , i take a shower , turn on classic rock and pull out my coloring books
(Karen Goldman 6:57am March 20, 2016)
I like anything with a beat and it helps me work out and I have lost almost 50 lbs so it helps
(Pam Kinsey 11:01am March 20, 2016)
Especially after a stressful day, if I put upbeat, happy music on, I sing and dance my way out of the stress!
(Kathleen Bylsma 12:03pm March 20, 2016)
I usually have some type of music playing 24/7, it is
relaxing or when I need it energizing, it uplifts my
spirits just makes me feel good.
(Eva Millien 2:44pm March 20, 2016)
"ROMANCING THE RANGER" sounds like a good read!
(Linda Womack 4:06pm March 20, 2016)
Listening to that old time rock and roll makes me relax and think of fun times
(Jeri Dickinson 4:16pm March 20, 2016)
I sont liston to much music I listen to audiobooks instead
(Valerie Miller 6:18pm March 20, 2016)
Music really sets my mood. I love to cook and clean while
listening. The only thing I have to be conscious of is when
I'm driving because I tend to turn it way up and before I know
it I'm speeding a bit much.
(Candy Voisine 9:04pm March 20, 2016)
I grew up in Detroit. Nothing motivates me more than Motown.
(Deborah Nagy 11:06am March 21, 2016)
Music helps my productivity, though the type of music depends on what I'm doing. If I'm needing to concentrate on something I'm reading or writing, what I'm listening to has to be instrumental.
(Janie McGaugh 11:09am March 21, 2016)
when I was working as a computer programmer I would often
listen to music thru headphones as I coded. it not only
blocked out noise from the office but got me in a rhythm for
typing in the code.
(Diane Sallans 11:43am March 21, 2016)
Music has the power to lift spirits and energize moods. It can be inspirational and even help keep your mind off an unpleasant task.
(Cheryl Castings 11:52am March 21, 2016)
There is always music in my house with a daughter that is a
dance major in college and a daughter that is in cheer.
"Romancing the Ranger" sounds like such a good book, i
can't wait to read it.
(Babbette Clark 11:55am March 21, 2016)
Sunshine is what get me going!!
(Shortie Warren 12:03pm March 21, 2016)
Love good music to work with, but not too loud! It helps to get the work
done faster.
(Phyllis Kemp 12:08pm March 21, 2016)
I'm at my most productive when I have music going. I just got
a new portable blu-tooth speaker, so I can take it through the
house with me while I'm getting things done. TV distracts me,
though.
(Linda Szymoniak 12:10pm March 21, 2016)
fresh air and the little one's laughter!
(Saundra Warren 12:16pm March 21, 2016)
Sounds like a fantastic book! I've been writing poetry
since I was in middle school. I also really enjoy writing
letters, which, I think is a lost art. It relax me like
nothing else does, & people have told me that they've never
received such beautiful ones!
(Maria Proctor 12:16pm March 21, 2016)
Yesterday, I wound up listening to country music....it was a particularly bad day for me and country supplied the proper blend of upbeat and enduring :)
(Kathleen Bylsma 12:26pm March 21, 2016)
Great advice. I am writing my first book. I noticed when I listen to music my daughter listens to when she edits her second book, I felt inspired! I have never read your books, but would love the chance.
(Catherine Winslow 12:28pm March 21, 2016)
Music is life!
(Laurice McClung 12:28pm March 21, 2016)
Music helps in everything we do, cleaning house, driving,
exercising, walking with my tunes. It helps to accomplish
the task easier and faster.
(Sandra Stipins 12:40pm March 21, 2016)
I love music... lightens up my mood... helps me relax... makes me want to dance!
(Colleen Conklin 1:00pm March 21, 2016)
Since I'm professional chamber musician, I do have to say that music is one of the most important parts of my life, and I'm extremely lucky that Wisconsin has the best classical music public radio station in the country (check it out: WPR.org, and click on the link for WERN). Having said that, I want you to know that I will be forwarding this posting to one of my best friends who, like me is a professional chamber musician, but who also happens to be the fiddler in one of the best local bluegrass bands in Madison!! Many thanks for the post, and for the contest!!
(Lynn Rettig 1:02pm March 21, 2016)
Music helps me get motivated and doing things. It makes me
feel alive and come alive!
(Terri Rinko 1:33pm March 21, 2016)
I can't seem to do anything without listening to music, I
love having something going on in the background but if
it's a TV show or movie then I'll get distracted and
watch instead of what I'm supposed to be doing LOL
(Kelly Donovan 1:34pm March 21, 2016)
I love music. It makes my day better. Now when I am concentrating, I do not hear music in the background. So occasionally, I do nothing but listen to the music.
(Phyllis Lamken 1:55pm March 21, 2016)
I grew up playing both violin and piano, and composed music reflecting my mood. As for productivity, I can't drive to Steppenwolf or I speed! It would be productive if I drove a race car though! hee, hee I drive to Mowtown quite well. I like to garden to any music. And to sleep I like various nature sounds to slip into sleep!
(Betsy Pauzauskie 1:57pm March 21, 2016)
Classical music
(Elois Lloyd 2:55pm March 21, 2016)
I have to have music on lightly in the background. The type
changes from day to day though.
(Nicole Kuiper 3:05pm March 21, 2016)
Old time rock and roll relaxes me and I can get more work done
(Jeri Dickinson 3:05pm March 21, 2016)
Honestly, I enjoy the peace and quiet. I like to be left
alone while I work. I guess that's the introvert in me.
(Jolene Bailey 3:48pm March 21, 2016)
Music really gets me going and moving! I love to listen to music when I am
cleaning because it is upbeat and makes the boring and annoying tasks
slightly more fun!
(Lily Shah 4:00pm March 21, 2016)
I love listening to music, I hope to one day learn how to read and play the
piano, guitar and drums. I always play music that's fits the mood that I'm in.
One thing can't do is listen to music while doing my assignment for class
and reading books it's a distraction.
(Cassandra Hayes 4:07pm March 21, 2016)
I love working to music, but definitely see where you are coming from, with
distraction
(Bri Wignall 4:58pm March 21, 2016)
Since I am retired productivity and I live in different worlds
but good music does brighten my world. My mood dictates the
genre; some days it's the blues but maybe the next is cajun
zydeco. Anyday is a good day for Elvis.
(Nancy Sorrels 5:12pm March 21, 2016)
I love listening to music while I clean, because it makes the cleaning go faster.
(Catherine Maguire 5:44pm March 21, 2016)
I will listen to just about anything but my favorite is rock.
Growing up on Saturday and Sundays my Mom would listen to
Polka music.
(Pamela Devereux 5:46pm March 21, 2016)
I love to listen to music as I read. I like all kinds.
(Robbie Bauldree 5:56pm March 21, 2016)
I listen to music when I fold laundry. It helps make the
process go by faster. I also listen at work if I'm doing a
long and tedious project.
(Melissa Amster 5:56pm March 21, 2016)
I love music, but I don't necessarily need it to be
productive. Recently, I started listening to audiobooks
where I had avoided them before. It's nice to be able to
"read" and be productive at the same time, but I still
prefer reading a book myself. In the end, it's caffeine
first that gets me going and secondly, seeing progress.
(Terrill Rosado 6:04pm March 21, 2016)
Getting/being really mad about something can really get me busy. Having my feelings hurt by someone will kill any desire to get anything done.
(Lisa Downs 6:20pm March 21, 2016)
I'm a former voice major so music is very important to
me. I've been singing since I was very little and when I
was about 6 or so I used to think that in the summer,
when the windows were open, a talent agent walking down
the street would hear me and rush in our house to sign me
as the next Shirley Temple.
(Sandy Pochapin 6:56pm March 21, 2016)
I always workout to music. It makes the time go by faster!
(Lori Raines 7:17pm March 21, 2016)
I make playlists for plot development, typically songs
that beg to be included by creating pictures in my mind.
As for actual writing, bring on the classical. I have a
large Classical music playlist, it's what I play when I
really get into the zone.

I use high energy stuff for the treadmill. I love guitar
and banjo, so I'll have to try your bluegrass idea.
Thanks for the tips. They are both generous and helpful.
(Lonzine Lee 7:53pm March 21, 2016)
I need quiet when I write--sometimes my music choices just
keep interfering. I wish I could work to music--I love
listening and playing it.
(Danielle Hammelef 8:00pm March 21, 2016)
I listen to Country music. I was very surprised when I
found how much fun it was!
(Charlene Fraley 9:34pm March 21, 2016)
Taking a stretch break and putting on some peppy music makes
my productivity so much better. :)
(Brooke Showalter 9:40pm March 21, 2016)
I love Country music, and I find I get the house cleaned faster when the music is blaring.
(Nikki Hilton 10:09pm March 21, 2016)
Pretty much an music with a good - and quick - beat helps
me work faster. The slow stuff makes it hard to move
quickly.
(Glenda Martillotti 11:00pm March 21, 2016)
I think music sometimes helps drown out other sounds that I would find
annoying otherwise.
(MaryAnne Banks 11:01pm March 21, 2016)
I usually listen to music to help me get ready for a concert or a night out.
(Molly Wilsbacher 11:04pm March 21, 2016)
Listening to music!
(Jennifer Muise 11:29pm March 21, 2016)
I know f I am doing housework or working out I get more
done with fast old school rock (Def Leopard, Van Halen,
Aerosmith)
(Anita Miller 11:33pm March 21, 2016)
My grocery shopping goes faster with fast & upbeat music,
And slower with the slower love songs.
(Jolynn Rood 11:56pm March 21, 2016)
I always have music on as background noise at work and at
home.
(Cyndi Lockhart 3:17am March 22, 2016)
I need fun music to motivate me to do housework etc. Plus,
my parrot and I sing and dance together - it's so much fun.
(Dagmar Finch 4:27am March 22, 2016)
Books and music just go together. I love to listen to music when I am reading.. both of these sooth me when I need it.
(Kathleen O'Donnell 11:04am March 22, 2016)
I love listening to music, or audiobooks, when I'm working around the house. I get more done, because I'm listening to something I enjoy
(Jan Capstick 12:24pm March 22, 2016)
Thank you for letting not only USA to enter your giveaway. It
nice to see a author who cares about her fans who aren't only
from USA.
(Emily Stemp 1:45pm March 22, 2016)
Music uplifts me, and I find it makes the most mundane
chores go much faster. When my husband is out in the
evening, I put on some classical music, which makes a
perfect accompaniment to a good book.
(Deb Philippon 2:07pm March 22, 2016)
I get more done when I'm listening to music. It can be loud
while cleaning but I tone it down while reading.
(Cheryl Hastings 4:17pm March 22, 2016)
I still like that old time rock and roll, it helps me get thru all my chores as I sing along
(Jeri Dickinson 6:05pm March 22, 2016)
I've found that using the right *sort* of music makes a difference to ow good
my production is-- the music needs to be appropriate to the material I'm
writing.
(Mary Ann Dimand 7:27pm March 22, 2016)
Strangely for someone who loves music I seldom listen to it
while working, perhaps music is too important to me to have
the distraction of work interfere.
(John Turner 7:54pm March 22, 2016)
lol, Reese sounds like a woman after my own heart. I have been trying to deal with "separation anxiety" for quite a few years now. I was married to the love of my life (for 32 years), had 3 beautiful daughters (who are now in their 30's and finally pumping out grandkids), but as time went by, I grew up, but my husband didn't. He forgot that "sex, drugs and rock and roll" was our past routine and I finally had to cut the chord. It has now been 3 years (today as a matter of fact) since our divorce and I am still feeling like I am floundering. Maybe Reese has some answers for me...or, at least some distraction!
(Melody Kaufman 9:21pm March 22, 2016)
Inspiration
(Sandra Spilecki 9:26am March 23, 2016)
When cleaning the house , I get so much more done and faster also with music playing , and when exercising I must have the music playing .
(Joan Thrasher 2:06pm March 23, 2016)
money and a good upbeat song
(Angela Parrish 2:22pm March 23, 2016)
I don't listen to much music, but audio books certainly can
make time fly by.
(Jen Barnard 7:01pm March 23, 2016)
I would listen to music as a kid to help me do my
homework.now day's don't because I get headaches and sound
make's it worse.
(Stacey Smith 10:16pm March 23, 2016)
I like a quiet, peaceful atmosphere. A nice cold, sweet
doesn't hurt either. :)
(Kathy Davis 12:46pm March 24, 2016)
Up beat music helps me when I'm doing housework. I crank up the volume so I can hear the music through out the house.
(Ann Pleasant 5:28am March 24, 2016)
Pink Floyd music helps me concentrate at work.
(Heather Rizzuti 8:01am March 24, 2016)
To be productive, I need to have adequate sleep and moderate exercise, otherwise I feel too sluggish.
(Patrice Pruitte 3:47pm March 24, 2016)
I love country music, listen to it all the time.
(Wilma Frana 9:17pm March 24, 2016)
I'm more productive with upbeat music but I use pop and disco instead of bluegrass.
(Mary Songer 12:02pm March 25, 2016)
Music is playing inside my head...over and over and over
again. :-)
(Sandy Mangarella 7:54am March 25, 2016)
My health changes my productivity more than anything else.
(Kathy Conley 12:12pm March 25, 2016)
Certain types of music makes housework easier, but I want silence while driving.
(Anna Speed 1:13pm March 25, 2016)
Music changes my productivity. I'm online all day and while
I'm working, sometimes I 'fall out'. Meaning, I dose off. But
when I put on my headphones and play my favorite songs that
NEVER happens. Music really changes things. It's life really.
And when I'm cleaning it's the best thing.
(Adella Gonzalez 3:13pm March 25, 2016)
I love music. Listening to it while I work makes the time fly by.
(Karina Angeles 3:42pm March 25, 2016)
I am one of those few people who doesn't listen to music. When
I was younger I did I loved the Beatles and Elvis but now that
I am older it just seems like noise to me.
(Denise Austin 4:22pm March 25, 2016)
A day is not complete with out music....it makes my life complete
(Kathleen Bylsma 6:05pm March 25, 2016)
Absolute quiet does it for me!
(Maria Proctor 7:54pm March 25, 2016)
Listening to music makes me more productve.
(Mark Watson 8:41pm March 25, 2016)
Music can keep me on focus when I have a task to complete, especially if
I'm cleaning or sewing. My hands are busy and so is my brain for those
repetitive tasks.
(Laura Gullickson 9:38pm March 25, 2016)
We love music when doing house work. The book sounds interesting, thanks
(Deb Pelletier 10:06pm March 25, 2016)
I noticed many years ago, the effect that music has on my productivity,
attitude, and outlook. I used to listen to the radio when I was trying to get
things done, but found that I stopped too often to change the station. (I'm a
station changer in the car, too.) So I started listening to my records. I soon
learned that the tempo, words, loudness, sentimentality, etc, all played a
part in how much I accomplished. It's kind of funny, because a number of
years ago I made a bunch of bluegrass CDs for my dad, and realized that I
work really well with that music, but I had to play it only when I was the only
one home. I learned that what works for me can drive others nuts, and what
works for, say, one of my children, all adults now, can drive me nuts. Music
is a very personal driver.
(Teresa Williams 11:31pm April 13, 2016)
I would agree with music
(Beth Reimer 5:42pm April 26, 2016)
Registered users may leave comments.
Log in or register now!