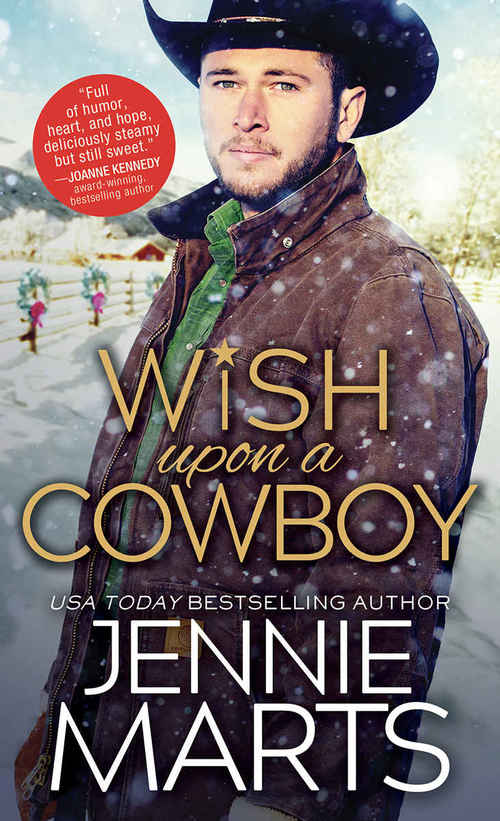 Purchase
Cowboys of Creedence #4
Sourcebooks Casablanca
December 2019
On Sale: November 26, 2019
Featuring: Logan Rivers; Harper Evans
384 pages
ISBN: 1492689084
EAN: 9781492689089
Kindle: B07T7YW98F
Mass Market Paperback / e-Book
Add to Wish List

Holiday | Romance Western | Romance Contemporary
Hot on the ice and tall in the saddle...
Rancher and hockey coach Logan Rivers' attempts to hire a housekeeper are hindered by women more interested in marriage than meal-planning. So when snarky Harper Evans arrives with zero romantic interest in him, he couldn't be happier. But as he gets to know her, he finds himself hungering for more than her cooking.
Down-on-her-luck single mom Harper Evans came to Colorado with one goal: to find her son and bring him home. Temporary work for a local rancher seems perfect, but to keep the job she has to deny her feelings for the hot cowboy who's heating up her kitchen.
Logan's secret learning disability has caused a financial mistake that could cost him everything. With the holidays approaching and a storm closing in, he and Harper have to save his ranch and fight for her son. But can Harper trust the cowboy who is offering her both a home—and his heart?
Cowboys of Creedence
Comments
16 comments posted.
Ranching is hard work and has to be something you love.
It requires lots of dedication and a willingness to take a few
chances. It is hard to imagine how devastating it would be
to have an honest mistake put something you love in
jeopardy. Dyslexia is insidious. It is getting easier to be
diagnosed and try to make accommodations for it, but it
isn't something that can be cured. Our daughter wasn't
diagnosed until she was in 6th grade and back then there
was little that could be done. She still has issues. Harper
has to be a strong woman to have survived prison and still
be willing and able to fight for the life she wants. WISH
UPON A COWBOY sounds like a story that has just what I
like: strong characters and a well developed story.
(Patricia Barraclough 2:46am November 29, 2019)
This sounds like an amazing story! I love when the main
characters are not looking for love because there's a
situation that's so much more important, yet they can't
seem to avoid the chemistry that's growing between them.
Oh yeah, unicorns are definitely the best!
(Tina Rucci 3:42pm November 29, 2019)
This sounds like a wonderful read. They sounds like wonderful characters and look forward to reading it.
(Cynthia St. Germain 4:06pm November 29, 2019)
sounds amazing to me
(Vickie Couturier 6:23pm November 29, 2019)
I love the cover! This sounds like a book that I would enjoy reading.
(Lori Raines 6:44am November 30, 2019)
Love the cover and can't wait to read this book. You write
amazing characters!
(Pamela Devereux 3:21pm November 30, 2019)
I love the title of the book & the cover!
(Maria Proctor 4:43pm November 30, 2019)
Enjoyed the blurb, looking forward to reading this story. Cover looks really good!
(Jean Patton 5:58pm November 30, 2019)
Can't wait to read . I always loved cowboys . hat . boots, and always HOT!!!
(Jennifer Beck 8:15pm November 30, 2019)
Rancher and hockey! I'm in! Thanks for the chance to win a
copy!
(Elizabeth Haney 9:25pm November 30, 2019)
This sounds like a great book!! Thanks so much!!!
(Jessica Chappell 9:56pm November 30, 2019)
a very great informative book Thank you for
sharing
(Ali Zaib 11:34am December 1, 2019)
I like the cover. It's the first thing I noticed and what made me want to find out more about the book. I enjoy books about cowboys and ranchers and find the storyline interesting. It's a book I want to read. Thanks for the giveaway.
(Anna Speed 2:00pm December 1, 2019)
This sounds like a great read that also shows you a very
different lifestyle.
(Darci Paice 2:57am December 3, 2019)
This looks like a book I would love to read! Great cover.
(Heather Amos 11:51am December 3, 2019)
I won the giveaway! I can't wait to receive
the book. Thank you so much!
(Megan Gonzalez 10:21pm December 10, 2019)
Registered users may leave comments.
Log in or register now!