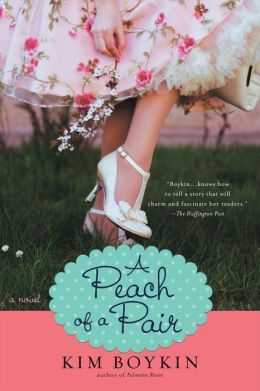 Purchase
Berkley
August 2015
On Sale: August 4, 2015
Featuring: Lurleen Eldridge; Emily Eldridge; Nettie Gilbert
304 pages
ISBN: 042528199X
EAN: 9780425281994
Kindle: B00OQS4DI2
Paperback / e-Book
Add to Wish List

Palmetto Moon inspired The Huffington Post to rave, "It is always nice to discover a new talented author and Kim Boykin is quite a find." Now, she delivers a novel of a woman picking up the pieces of her life with the help of two spirited, elderly sisters in South Carolina.

April, 1953. Nettie Gilbert has cherished her time studying to be a music teacher at Columbia College in South Carolina, but as graduation approaches, she can't wait to return to her family—and her childhood sweetheart, Brooks—in Alabama. But just days before her senior recital, she gets a letter from her mama telling her that Brooks is getting married . . . to her own sister.
Devastated, Nettie drops out of school and takes a job as live-in help for two old-maid sisters, Emily and Lurleen Eldridge. Emily is fiercely protective of the ailing Lurleen, but their sisterhood has weathered many storms. And as Nettie learns more about their lives on a trip to see a faith healer halfway across the country, she'll discover that love and forgiveness will one day lead her home . . .
Comments
40 comments posted.
Champagne!
(Marissa Yip-Young 1:37pm August 5, 2015)
Since getting diabetes, I can no longer have Shirley Temples, Singapore Slings, or Rye/Cokes. Surprisingly, my doctor said I could drink Beer, though! So I drink over 10 cups of water every day and sometimes celebrate with beer....
(Elaine Seymour 3:01pm August 5, 2015)
My favorite drink to celebrate a book would be a strawberry
moijto.
(Sarah Bauman 3:02pm August 5, 2015)
I mostly drink water mixed with Crystal Light, all kinds of flavors.
(Wilma Frana 9:22pm August 5, 2015)
I love to curl up with a hot cup of coffee and a good book
(Trish Wakeman 9:23pm August 5, 2015)
Hmm...I'd have to say a nice, cold bottle of water on a hot day...or a hot cocoa
with marshmellows on a chilly day!
(Lily Shah 12:55pm August 6, 2015)
Coffee with Kahlua and Baileys topped with whipped cream.
(Renee Rousseau 3:21am August 6, 2015)
Congrats Kim on the new book! I love a mug of hot chocolate
topped with whipped cream to celebrate a new book!
(Ada H. 4:52am August 6, 2015)
haven't read any of your work yet would love to read this one
(Lorelei Frank 6:54am August 6, 2015)
Peach iced tea.
(Pam Howell 8:12am August 6, 2015)
I am boring! Water with lemon! :)
(Jennifer Clayton 9:00am August 6, 2015)
Ice cold sweat tea!
(Maria Smith 9:57am August 6, 2015)
A nice glass of chilled white wine.
(Deb Philippon 12:56pm August 6, 2015)
Normally I just have ice water. But if I'm celebrating, I may have
Root Beer.
(Nancy Luebke 4:08pm August 6, 2015)
A good cup of coffee and sometimes with a little Kahlua in it . Thanks for this giveaway .
(Joan Thrasher 4:32pm August 6, 2015)
I would love to win
(Kathy Church 6:16pm August 6, 2015)
Jamaican Smile

Sharon Routhier
(Sharon Routhier 8:35pm August 6, 2015)
I love a very cold Coke or Pepsi or Sierra Mist and a glass of ice water.
(Melinda Marks 10:49pm August 6, 2015)
Champagne cocktail
(Irene Menge 11:51pm August 6, 2015)
diet pepsi since I am a diabetic
(Tammy Thayer 4:09am August 7, 2015)
I stick to water
(Lorelei Frank 7:31am August 7, 2015)
Hot tea. I know its an anathema to southern folks but its
what I like
(Donna Antonio 8:33am August 7, 2015)
I'm a tea drinker. I like to do it up special and make a pot of my favorite "Monk's Blend" and why stop at just a drink? Scones or some special cookies are a must as well!
(Flora Presley 11:05am August 7, 2015)
A mint julep is nice.
(Trish Fesmir 1:13pm August 7, 2015)
Cosmo is the only drink
(Jeri Dickinson 3:50pm August 7, 2015)
A glass of milk and cookies or a piece of chocolate cake.
Marilyn
(Marilyn Collins 5:29pm August 7, 2015)
a good scotch
(Mary Songer 6:28pm August 7, 2015)
Thanks for your books!!
(Suzy Slining 10:16pm August 7, 2015)
I've been drinking Hint water. It's very tasty and has
helped curb my addiction to Diet Coke. I also love a good
ice cold sweet tea.
(Sandie White 1:00am August 8, 2015)
Since it's summertime, I would celebrate with a pina colada! Thanks for the chance to win! :D
(Anita H 3:02am August 8, 2015)
My drink would be Darjeeling tea!
(Patricia Simpkin 10:03am August 8, 2015)
Normally I like to have a nice, cold Coke, but in the mixed drink category, since I have no need to make a punch bowl full here, to make a drink per glass, all you need is some Orange Juice, and a little Peach Schnapps to taste!! If you don't care for Peach, you can always substitute Strawberry, which is just as good!! My other favorite is a Black Russian, when I'm feeling naughty, which isn't too often. That is half Kahlua and half Vodka!! lol I'm looking forward to reading your book, and congratulate you on another hit!! It looks like I'll be putting my knitting aside for a day or two to be swept away to your wonderful world!! Great cover!!
(Peggy Roberson 10:24am August 8, 2015)
Peach dacquirie sp
(Virginia Clayton 11:51am August 8, 2015)
Peach daiquiri
(Virginia Clayton 12:04pm August 8, 2015)
I'm a southerner who prefers to have a steamy cup of hot tea, even in the summer but with the air conditioner putting out cool air. It's soothing.
(Anna Speed 1:04pm August 8, 2015)
Cosmo's are the best
(Jeri Dickinson 1:56pm August 8, 2015)
Iced tea with lemon
(Denise Austin 5:18pm August 8, 2015)
I enjoy Strawberry Lemonade, but your recipe looks so good
that I am saving to try for when my daughter comes to visit
next week!
(LaCinda Jameson 6:33pm August 8, 2015)
can't beat a nice glass of wine to raise a toast!
(Diane Sallans 8:14pm August 8, 2015)
I like Strawberry Daiquiri and my friends like Mudslides.
(Deb Pelletier 9:13pm August 8, 2015)
Registered users may leave comments.
Log in or register now!