Cecilia Rodriguez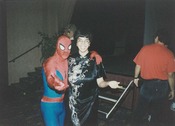 Features & Posts
No posts found.
30 comments posted.

Re: Earl to the Rescue (12:20pm December 1, 2018):

This is enough of a "teaser" to make me interested in
reading a print copy.

Re: Heart on Fire (2:38pm January 10, 2018):

Artistic expression and creativity are what sets my heart
on fire.

Re: The Duke Knows Best (11:27am December 7, 2017):

The passage reminds my of the Motown classic: Son of a
Preacherman.

Re: Perfect Gravity (12:05pm November 16, 2017):

To celebrate Fall, I go on quiet walks around my
neighborhood.

Re: Last Gentleman Standing (1:39pm September 14, 2017):

In the last ten years, the way in which Learning
Disabilities are addressed in classrooms have improved.

Re: Scandalous Ever After (1:04pm July 16, 2017):

My secret, I'm learning disabled

Re: Lord of Lies (10:50am July 6, 2017):

My favorite spy would be Percy Blakney(the Scarlet
Pimpernel)

Re: How To Impress a Marquess (11:58am November 10, 2016):

Something tells me that some of the action is imagined,
like: "The Secret Life of Walter Mitty."
That would make for an interesting premise for a historical
romance.

Re: The Untouchable Earl (10:10am November 5, 2016):

Steamy historical romances are difficult to find.
I would read and post your review on Goodreads

Re: The Infamous Heir (1:11pm March 28, 2016):

I learned how to say, "no" with grace and politeness.
I have read romance book series, however, it can be a
challenge to find or purchase all the books in the
collection.

Re: Heir To The Duke (1:34pm January 22, 2016):

I'm very good at sneaking up and scaring people. I learned
from professionals at Knott's Scary Farm.

Re: The Royal Conquest (2:51pm December 16, 2015):

Love is possible. Sometimes it just takes time.

Re: Duke of Scandal (11:52am October 22, 2015):

I would like a good guy who can be sexy knotty.

Re: The Highwayman (1:18pm September 1, 2015):

Highwaymen are a romantic archetype that I enjoy. I love the yellow gown the heroine is wearing.

Re: The Thorn Bearer (1:09pm August 28, 2015):

With historical romances, an author has to carefully balance accuracy with entertainment. What gets me to read an author, is the "chemistry" between the romantic leads.

Re: A Radical Arrangement (12:18pm August 6, 2015):

The adult literacy education offered at A.K Smiley library in Redlands,CA

Re: Do Not Forsake Me (3:35pm July 30, 2015):

I do not yet have a romantic love. The family love that I do have is because of communication.

Re: Death of the Mad Hatter (1:12pm July 10, 2015):

sugar cookies.

Re: 50 Ways to Ruin a Rake (8:03pm July 8, 2015):

I have a bad habit of giving things away. The up side: smaller
storage space. Down side: sometimes regretting they are gone.

Re: The Spring Bride (1:46pm June 26, 2015):

The sexy heroes and the chance of a happy ending.

Re: Snow White Lies (1:22pm June 19, 2015):

creativity and being slightly weird.

Re: 50 Ways to Ruin a Rake (2:35pm May 6, 2015):

Happy Birthday. I have 50 ways on my wish list.

Re: Nobody's Goddess (12:47pm April 25, 2015):

What would happen in this fictional village if, either a man or woman turned out to be gay or lesbian?

Re: A Touch of Passion (12:42pm April 25, 2015):

Belgium

Re: Duchess By Mistake (12:40pm April 25, 2015):

I believe it more accurately reflects how the Nobility were actually paired off. In fiction, arranged or marriage of convenience can be a good starting off point.

Re: The Bride Insists (5:34pm March 13, 2014):

In movies, the black sheep is the more
attractive actor.

Re: Desperately Seeking Suzanna (5:29pm March 13, 2014):

Looks like a good book.

Re: How To Entice An Enchantress (11:30am September 18, 2013):

I like romance stories based or inspired by fairytales.

Re: Flora's Wish (7:44pm May 21, 2013):

Steampunk seems the genre in fashion at the moment.
Zoe Archer also has a series featuring Steampunk

Re: When You Give A Duke A Diamond (12:50pm September 8, 2012):

I have read some of her other books, and this one sounds humourous and entertaining.