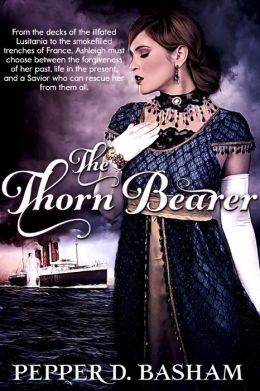 Purchase
Penned in Time #1
Vinspire Publishing
April 2015
On Sale: April 11, 2015
Featuring: Ashleigh; Sam Miller
362 pages
ISBN: 0990304272
EAN: 2940151612883
Kindle: B00VZE0WB2
Paperback / e-Book
Add to Wish List

Inspirational | Romance Historical
From the decks of the ill-fated Lusitania to the smoke-filled trenches of France, Ashleigh must choose between the forgiveness of her past, life in the present, and a Savior who can rescue her from them all.
When her fiancé leaves her eight months before their wedding, the unexpected blow ignites a battalion of insecurities stemming from her father's intimate betrayal. Her worst fears are confirmed – who could ever love a soiled woman?
In an attempt to escape the shame and disappointment of her past, Ashleigh boards the ill-fated Lusitania to cross the war-torn waters of Europe. Much to her dismay, she isn't traveling alone.
Sam Miller is always making up for his best friend's mistakes. Determined to help Ashleigh, he offers his compassion and protection as she ventures across a perilous sea. With the faint hope of renewing his lost love for Ashleigh's sister, Sam never expects to find the woman of his dreams in his best friend's former fiancé and his own childhood companion.
As they travel across the Atlantic, neither is prepared for the life-altering and heart-breaking journey of their friendship.
When the truth of Ashleigh's past explodes in the middle of war and Sam rejects her, Ashleigh must decide if God is enough – or if the double weight of her betrayal and past will crush her life forever.
Penned in Time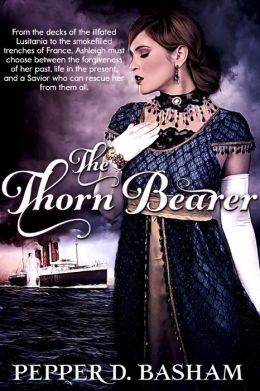 The Thorn Bearer
#1.0
Amazon.com | BN.com | | Kobo |
Comments
72 comments posted.
Re: The Thorn Bearer

I guess the main thing I enjoy about historical details in
books is that the story could have possibly been true :) I
dislike abandoning books, but there was this one novel I once
read that was too biased and inaccurate....
(Hylla Jackson 12:38pm May 8, 2015)
The characters and I usually read the end no matter.
(Marissa Yip-Young 5:55am May 8, 2015)
Let me just start off by saying that I don't know how you
found the time to write such an interesting book, being the
Mother to 5 children!! My hat goes off to you, and I hope
you have a very Happy Mother's Day!! We also seem to be of
"like minds," because as of late, I seem to have been drawn
to books from WWII, as well as the Holocaust. I love to
read books from WWI on through the roaring 20's, on through
WWII. Those were such important times in the History of our
country, and I'm so glad that you kept another part of our
History alive, by writing about the sinking of the
Lusitania. To date, even if the books I've read have been
especially painful, I've never stopped reading them. I'm
looking forward to reading yours more than you know, and
have put it on my TBR list. The cover is stunning!!
Congratulations on what I'm sure is going to be a big
seller!! I apologize for my long answer as well.
(Peggy Roberson 9:17am May 8, 2015)
I enjoy Victorian romance. I love some of the details describing houses. I don't think I've ever had a problem with finishing a historical romance because it hit to close to home.
(Angela Parrish 10:58am May 8, 2015)
Hylla,
I love books that could be true - especially when the characters are strong and memorable!
(Pepper Basham 1:34pm May 8, 2015)
Peggy,
Thanks! Life is pretty busy! Being a mom is one of the best blessings in my life (even if it's also one of the craziest :-)

I hope you enjoy the journey with my characters. I loved writing the story, even if some of the research nearly made me weep!
(Pepper Basham 1:36pm May 8, 2015)
Good to hear, Angela! And I love the Victorian era too. Such a cool time in history!
(Pepper Basham 1:37pm May 8, 2015)
Historical novels are a treat any time you read one. They are
so colorful that you can imagine yourself back in that time!
Marilyn Collins
(Marilyn Collins 5:38pm May 8, 2015)
I love historical books. I hope this ones good.
(Vanessa Hinman 8:10pm May 8, 2015)
Probably why I enjoy working on genealogy. It gives depth to the
people of that time. Sometimes it almost brings tears. Like when
it seems to be an outbreak of desease that takes so many members
of a family of loved ones lost on emagrent ships. It all shapes
the mindsets of those at that time.
(Nancy Luebke 3:11pm May 9, 2015)
I love historical romance, and it takes me to a place I would
loved to have lived. Thank you for this giveaway.
(Sharon Sommer 5:54pm May 9, 2015)
My father was born in 1900 and my mother in 1903. I
remember reading about both the Lusitania and the
Titanic and asking my parents what they remembered
about all that. My father was a doctor and my mother
was a nurse. My mother went to 'normal' school and
taught in a one room schoolhouse in North Dakota to
earn enough money to pay for nursing school. She was
not the typical subservient woman of those times. I
love historical detail in books. I think it makes the
story more 'believable' and makes us understand why
the characters behave as they do.
(Irene Menge 8:35pm May 9, 2015)
I have read some historical books that were just too intense due to what my parents have went through during WWII. They saw things that history books haven't recorded yet and just beginning to. The history and historical fiction books may take me awhile to finish.
(Kai Wong 8:41pm May 9, 2015)
I read historical novels for their profound meaning, their
depth, and the intensity. This is meaningful and memorable. I
have read hundreds of Holocaust novels, memoirs and non-
fiction since it resounds with me, being Jewish and I feel the
emotions.
(Sharon Berger 11:58pm May 9, 2015)
Happy Mother's Day to you and to all you wonderful Mother's out there. I absolutely love reading Historical books/novels. I enjoy every detail. I'm a bit ashamed to say this but I have never read any Historical Novels about the War. Best of luck to all who entered
(Holly Loch 3:59am May 10, 2015)
I love reading the historical books , it is so interesting when all the details are in the right places .
(Joan Thrasher 3:58pm May 10, 2015)
Irene! Wow! I think you have a story of your own you can write! What a great history to tell
(Pepper Basham 4:05pm May 10, 2015)
I love history because there is so much to learn from the
people who came before us.
(Denise Austin 12:50pm May 11, 2015)
I enjoy reading historical books. As of this date, I haven't read many that took place during World War I. The Thorn Bearer has a fascinating plot and I feel like I will learn much about the period of time, probably Google to find out more.
(Anna Speed 1:25pm May 11, 2015)
I enjoy reading all books. If they do not have good
details, I can not finish the book. I have never had a
book I couldn't finish cuz of the being too close to home,
I always finish them and cry right along with the story!
(Renae Kelly 4:48pm May 11, 2015)
The characters.
(Marissa Yip-Young 6:08am August 28, 2015)
It gives you a chance to put yourself in the place of the
characters of the book, so that you can forget about your
own problems, and be whisked away to a different place, with
new tastes and experiences. In the end, you usually feel
much better after turning the last page. In some cases, you
also learn a little History in the process, so there's a
little extra in your reading. Although I was not alive when
the setting of your latest book took place, there was a lot
written about that time, and also the famous movie!! I'm
looking forward to reading your book, and have put it on my
TBR list. After reading your posting, I know you've really
put your heart into that book, and it should be a wonderful
read. Congratulations!! It should do well!!
(Peggy Roberson 9:14am August 28, 2015)
The newness, the unknowingness of the story and the people in it. The sense of discovery - of what each page in each book will bring. Thanks for your blog today. Your book sounds wonderful.
(Nancy Reynolds 9:25am August 28, 2015)
Interesting question. It's difficult to put into words, as
I've never really pondered that question, but I'll try to
answer as best I can.

It's about the people, the places they go and the things
they experience. Are they good people, but flawed? Do they
do wrong, but learn from it? The best romances to me are
when the couple go through the stages from attraction to
love, without intentionally hurting each other most of the
time. I want to experience this through their eyes. I don't
want to feel as though I'm reading a book. I want to feel as
though I'm watching someone's life experience play out in
front of me, and I'm a participant/viewer of their love
being played out. Those are the best romance novels for me.
(Edward Washington 11:48am August 28, 2015)
With historical romances, an author has to carefully balance accuracy with entertainment. What gets me to read an author, is the "chemistry" between the romantic leads.
(Cecilia Rodriguez 1:09pm August 28, 2015)
romance!
(Debbi Shaw 10:08pm August 28, 2015)
Romance puts a color, a texture to everything around it. That is
why I enjoy reading it, not the erotic.
(Nancy Luebke 1:34pm August 29, 2015)
I would love to win and read this book
(Kathy Church 5:39pm August 29, 2015)
the info you in romance and then i love to have it and read and you picture is great romance are still out there
and then i love to read and talk on them
(Desiree Reilly 7:08pm August 29, 2015)
I love romances because there is almost always a happy ending. I often think there isn't enough happiness in the world and my escape in romance novels feeds that need for me. I'd rather read a book than watch tv.
(Ida Stone 2:47am August 30, 2015)
Solid writing and characters that interest me.
(Pam Howell 8:08am August 30, 2015)
The happily ever after.
(Christina Riggs 8:10am August 30, 2015)
Intrigue & romance producing, indeed, a story that looks
well worth the read!
(John Dallal 11:02am August 30, 2015)
I'm a sucker for romantic comedies. I especially like when the couple hate each other when they first meet and then it turns to love.
(Nancy Marcho 2:53pm August 30, 2015)
Romance is worth the read because problems get solved, people end up happy and I'm able to take my mind off the half dozen repetitive chores and worries I fixate on and that ultimately are meaningless!
(Flora Presley 9:08pm August 30, 2015)
I enjoy romance because of the happy ever after ending.
(Bonnie H 9:33pm August 30, 2015)
There are many things that can make a romance great. I like how the characters interact. If done tastefully sex scenes can also be enjoyable. Plus, hunky men descriptions.
(Jessica Fox 10:49pm August 30, 2015)
It has to be believable Romance. Not just a quick meet up. Needs an honest feel together. Not sloppy! A relationship that developes.
(LeAnn Knott 3:26am August 31, 2015)
What an interesting question! Romance, of course!
(Nancy Ludvik 9:07am August 31, 2015)
Love and the magic of romance.
(Carolyn Moon 9:21am August 31, 2015)
The chance to put yourself in different situations and
always the romance.
(Mary Hay 10:09am August 31, 2015)
I enjoy when there are subplots in the story. Just the
romance can get a little dull. When the turmoil arises
between the two love interests, I like it best when it is
NOT just a silly misunderstanding, but something real to
overcome. Historical accuracy is also a must when reading
a historical romance.
(LaCinda Jameson 10:16am August 31, 2015)
I love a good romance between the two people that you least expect it .Then you have the 'Happy Ever-after'.
(Joan Thrasher 12:01pm August 31, 2015)
It's difficult to answer this one. The characters and intriguing plot are part of what keeps me interested and of course, for me, it needs to have a happy ending to be a true romance.
(Anna Speed 12:40pm August 31, 2015)
A well developed plot with an interesting storyline and a
little intrigue thrown in.
(Denise Austin 1:43pm August 31, 2015)
I'm a sucker for a well-written romantic comedy. I hope to have a chance to
read your books. Thanks for the chance in this contest. Good luck on
record sales.
(K'tee Bee 4:16pm August 31, 2015)
Romance novels give the reader a chance to step out of their
environment and enter a time and place meant just for them. I
especially enjoy historical fiction with a touch of romance
and I appreciate that this novel is inspirational also. Thank
you for this giveaway.
(Connie Saunders 5:11pm August 31, 2015)
I like historical romance because of the manners and dress and history.
(Arlene Downey 7:58pm August 31, 2015)
I love reading romance since there is a happily ever after in the end
(Debbie Rudder 9:30pm August 31, 2015)
I love to read a romance with well developed characters who have a sense of
humor so that reading about them gives you a good feeling and you don't
want to stop reading!
(Cindy Rader 11:07pm August 31, 2015)
The ability of the author to to take me to a time (usually) and place
(sometimes, since I have traveled a lot in the parts of Europe where a lot of
my favourite romances are set) I wouldn't necessarily have had a chance to
go to. Learning some history about the setting/background of the story is
always a plus, as the following example shows. Recently, I was at a dinner
party, and there was a trivia competition afterwards. Because I read a lot
(make that a TON!) of romance novels set in the Regency period, I knew
the answer to one of the questions (Who crowned Napoleon emperor?
Napoleon did it himself, while the Pope looked on.) Admittedly, I had also
learned the answer from a public TV travel series (Thank you, Rick
Steves!), but I learned it from romance first!! While I didn't admit it was in a
romance novel that I first learned that fact, I did say I learned it from
reading. And our team won that portion of the contest!!
(Lynn Rettig 12:12pm September 1, 2015)
My Father sort of turned us off to doing yard sales until we
were old enough to be going out on our own, and about to be
married. Then there was nothing he could really say about
it, except admire the beautiful things we managed to pick up
for a steal!! My books were all purchased at the bookstore,
which caused me to immediately drool, as soon as I walked
through the door!! lol Since I've been reading from the age
of 3, I have to feed that urge with whatever topic appeals to
me at the time. I'm in love with the story line of your
book, and remember learning about the Lusitania in school, a
long time ago!! Congratulations on your latest book, which
should do well, and I'll be looking forward to all your books
to come in the series!!
(Peggy Roberson 9:25am November 27, 2015)
I used to go to garage sales when my kids were little and still growing
looking for clothes. Now I'd rather sleep late when I can. I sometimes find
good books at our local thrift store.
(Gail Hollingsworth 11:37am November 27, 2015)
I find lots of books at goodwill or other thrift stores. I feel like I can take more risks with trying books I might not like if I am not spending much.
(Pam Howell 12:18pm November 27, 2015)
i love buying used books but i can still spend a lot for them. no price is to high for a good story
(Sarah Hansrote 3:12pm November 27, 2015)
Peggy,
I'm glad you've finally had the chance to discover the 'good' of yard hoppin' :-) I hope you get a chance to read The Thorn Bearer. I'm looking forward to discovering what the rest of this series will look like too :-)
(Pepper Basham 3:26pm November 27, 2015)
Gail and Pam, thrift stores are definitely at the top of my list for great places to find used books. I like the 'sleeping in' idea on Saturdays more now too, Gail. :-)
(Pepper Basham 3:27pm November 27, 2015)
Yard sales are great, but I usually have better luck at thrift stores. I love books, but not the new cover price! So expensive, especially if it's a nonfiction craft book.
(Cynthia Powers 9:24am November 28, 2015)
I seldom get to yard sales or thrift stores but when I do I head to the books first . I love books , that's how I learn and get to see the world and be in another world . I usually put myself into the books I read .
(Joan Thrasher 1:45pm November 28, 2015)
No luck at yard sales, but I used to find good deals at BookCloseouts.com. One very cheap Mary Higgins Clark audiobook and I was hooked on her books.
(Kelly Powell 2:08pm November 28, 2015)
Not yard sales but I get a lot of my books at used book stores
(Jolene Allcock 5:28pm November 28, 2015)
I don't have much luck finding books at yard sales around here. I joke that people around her don't read although I'm half serious when I say it. I get a lot of book online. I love bookoutlet.com for slightly older releases.
(Kerry Shaw 7:22pm November 28, 2015)
I don't shop at yard sales, but I do purchase books at a local used bookstore and at arts and crafts fairs. Thanks for sharing the inspiration for your books.
(Bonnie H 9:33pm November 28, 2015)
Garage sales have the best deals in my area. The books are
like new and I have found wonderful classics which are
treasures.
(Sharon Berger 10:15pm November 28, 2015)
I acquired a lovely Norwegian teapot, bowl and two cups that had belonged to my neighbor's family along with stories of Christmas in Norway 65 years ago. It was so interesting to hear of the spruce with white candles glowing on the branches as everyone sat together with hot drinks and cookies.
(Sharon Mitchell 3:59am November 29, 2015)
I have found a lot of great reads at auctions. Buy a book of books for almost nothing and find treasures in that box
(Cynthia Keagy 10:59am November 29, 2015)
I love to go to yard sales, have done this since I was child.
(Linda Hall 1:10pm November 29, 2015)
I was about eight when I found a battered copy of The
Little Princess at a garage sale. I told my dad to buy it
for me "Cause the princess on the cover looks pretty."He
indulged me and got it for a reasonable price. Its been one
of my favorite classics ever since.
(Hylla Jackson 10:00pm November 29, 2015)
I enjoy finding great deals at used book stores. I could spend hours looking
through all the books.

Thank you for the chance to enter the giveaway.
(Anita Seymour 3:13am November 30, 2015)
I would shop for pottery and not so much books. I used the
library to check out books,
(Nancy Ludvik 5:41pm November 30, 2015)
I bought Outlander for a dollar at the Salvation Army Garage
Sale.
(Cynthia Cook 10:06pm November 30, 2015)
I go to Goodwill and have found some great books. After I read
them, I re-donate to Goodwill and also to my local library. I
recently found The Secret Garden and I enjoyed the read. Your
interest for this time era of the war is great and best to you.
(Leona Olson 2:51pm December 2, 2015)
Registered users may leave comments.
Log in or register now!