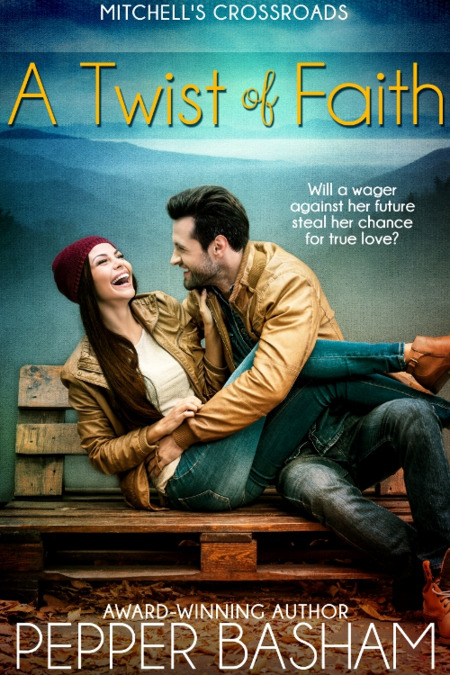 Purchase
Firefly Books
April 2016
On Sale: April 6, 2016
310 pages
ISBN: 194110388X
EAN: 9781941103883
Kindle: B01B29QVOQ
Paperback / e-Book
Add to Wish List

Inspirational Romance | Romance
Will a wager against her future steal her chance at true love?
Dr. Adelina Roseland has worked ten years in research as an accent reduction specialist to attain her dream job. But a secret wager to transform Appalachian cattle farmer Reese Mitchell into corporate material challenges Adelina in ways she never expected, threatening her new position.

For one, Adelina didn't plan for the faith and friction of Reese, or the unexpected influence of his chaotic family. Now, drawn into a culture she'd tried to forget, Adelina finds the warmth of family, the hope of faith, and the joy of love melting away the deep wounds of her past.

But when Reese discovers that he's a pawn in her climb up the academic ladder, will he forgive Adelina's deceit or will their miscommunication end in two broken lives?
Comments
17 comments posted.
Re: A Twist of Faith

I dance with Jesus on a beautiful rosefilled terrace. I see
myself doing what I see myself doing.:) I dream plan. It's a
combination of getting a vision for the dreams I believe God
has given me. I'm prepping for a new adventure. There's a
great sense of destiny, like my time has come to tell my
stories, sing my songs and inspire others to do the same.
(Lonzine Lee 3:38am May 21, 2016)
I guess the idea of retirement and spending it in a wonderful place...
(Karen Dieffenbaugher 2:43pm May 21, 2016)
I dream of having enough money to help my family.
(Debby Creager 4:50pm May 21, 2016)
Love to win your contest for May. Thank you.
(Lori Byrd 6:54pm May 21, 2016)
Love to win your contest. I dream of spending the rest of my life being in good health. I want to spend it with my family. Thank you
(Linda Hall 1:16am May 22, 2016)
I always wanted to reach 100 years old. Family history
tells me otherwise, but I can dream. I look forward to
getting to know you through your books. Thank you. Happy
writing.
(Nancy Schreib 2:36am May 22, 2016)
I dream about my kids' future. I have invested time, as
many parents have, home-schooling, sharing our faith, and
instilling our values hoping that seeds are planted for a
purposeful future.
(Terrill Rosado 3:42am May 22, 2016)
I work with elders who have dementia and Alzheimer's. My dream is to help
them feel safe and purposeful. Helping family's understand and deal with
the ugly changes the disease brings. The disease can hide your loved one.
I do everything I can to show you how to see the loved one you know and
love the side you don't know! There is nothing better than seeing familys
learn how to enjoy each other with the hand they have been dealt. It's work
and you may not always see them, but your loved ones are there :)
(Hollie Skara 8:51am May 22, 2016)
Would love to read your book.
(Melissa Womble 11:28am May 22, 2016)
This sounds so good
(Liz Digman 4:49pm May 22, 2016)
I dream about living on a beautiful tropical island.
(Bonnie H 9:43pm May 22, 2016)
I did dream about becoming a Mom and I was so happy when that happened and then I dreamed of becoming a grandmother and now I am to 13 beautiful grandchildren. This book sounds so great and I can't wait to read it!!!
(Bonnie Capuano 10:08pm May 22, 2016)
"Daydreaming allows you to play out scenarios where you miraculously save the day. You play out scenarios in your head that are kind of crazy, and then you personally, heroically resolve them."- Mark Waters

I daydream about winning the lottery! Pretty sure that will never happen!
(Jamie Stein 2:01pm May 23, 2016)
I love to daydream sometimes but they haven't come true
although i was in a foster home and always daydreamed that
i could live with my grandma and saw sometimes that
happening and then a big explsion happened in the family
and we went on a moments notice i was happy.
(Peggy Clayton 2:17pm May 24, 2016)
I prayed that I would marry my best friend and I did. It took several years but my prayers were answered.
(Bonnie Capuano 9:21am May 25, 2016)
I daydream that my sisters kids and grandkids would get along and stop fighting with each other and learn to love . Some people just seem to walk around with a chip on their shoulder all the time . I'd love to win this book , thanks for this chance .
(Joan Thrasher 9:42am May 25, 2016)
I daydream about my sisters and I will be together with our
husbands have the time of our lives on vacation. I am not
married or anywhere near it but a woman can hope.
(Sonnetta Jones 8:00pm May 25, 2016)
Registered users may leave comments.
Log in or register now!