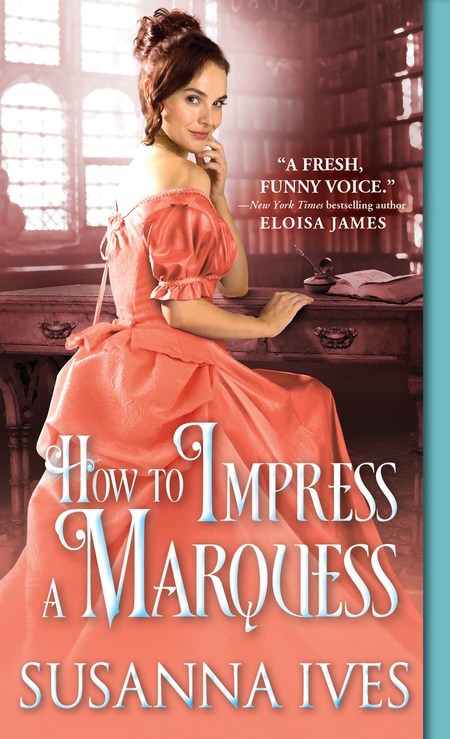 Purchase
How To Impress a Marquess
Susanna Ives
Wicked Little Secrets
Sourcebooks
November 2016
On Sale: November 1, 2016
384 pages
ISBN: 1402283636
EAN: 9781402283635
Kindle: B01HN3X3EQ
Paperback / e-Book
Add to Wish List

TAKE ONE MARQUESS: Proper, put-upon, dependable, but concealing a sensitive artist's soul.
ADD ONE BOHEMIAN LADY: Creative, boisterous, unruly, but secretly yearning for a steadfast love, home, and family.
STIR in a sensational serialized story that has society ravenous for each installment.
COMBINE with ambitious guests at an ill-fated house party hosted by a treacherous dowager possessing a poison tongue.
SHAKE until a stuffy marquess and rebellious lady make a shocking discovery: the contents of their hearts are just alike.
Take a sip. You'll laugh, you'll swoon, you'll never want this moving Victorian love story to end.
Wicked Little Secrets
Comments
20 comments posted.
This sounds different but quite fun!
(Janie McGaugh 3:13pm November 9, 2016)
Thank you for the chance to win.
(Valerie Miller 3:16pm November 9, 2016)
Thanks for sharing... enjoyed the snippet!
(Colleen Conklin 8:12pm November 9, 2016)
This sounds very intriguing, thanks!
(Mary McCoy 1:18am November 10, 2016)
I do enjoy feisty, independent heroines.

Intrigued by this excerpt, very unique!
(Laurie Gommermann 5:36am November 10, 2016)
Delightful and special.
(Sharon Berger 10:50am November 10, 2016)
Something tells me that some of the action is imagined,
like: "The Secret Life of Walter Mitty."
That would make for an interesting premise for a historical
romance.
(Cecilia Rodriguez 11:58am November 10, 2016)
Sounds to me like she has a vivid imagine in her dream world.
What a story line. I don't believe I have come across anything
like it before. I need to follow up on this one.
And Susanna I envy how you get to travel thru Europe with your
husband. I miss it.
(S W 6:44pm November 10, 2016)
I can't wait to read this book!!! I added it to my TBR list! Thanks for the great giveaway!!
(Bonnie Capuano 10:05am November 11, 2016)
I was a tad confused due to the fusion between the book-
heroine and the main heroine. I get that the heroine felt an
association with the book-heroine. But given that this is an
excerpt, I rather read the whole story.
(Ela Raymundo 9:08pm November 12, 2016)
Interesting excerpt. Thanks for this opportunity.
(Nancy Luebke 3:56pm November 13, 2016)
Can't wait to read this book as I have enjoyed all your other
books.
(Doris Losey 4:21pm November 13, 2016)
Love the Victorian era! Sounds like a great read.
(Nancy Marcho 4:26pm November 13, 2016)
From her vivid dreams, she is an unconventional lady. Can't wait to read the book.
(Linda Harrison 9:25pm November 13, 2016)
A dream within a dream...
(Linda Knowles 10:05pm November 13, 2016)
Love the dreams. They sound sort of like mine.
(Irene Menge 2:55am November 14, 2016)
this is certainly an unusual way to tell the story
(Diane Sallans 7:33pm November 14, 2016)
Wonderful review thank you
Penney
(Penney Wilfort 11:57am November 15, 2016)
Love the excerpt. Would love to read this book to see what
happens next.
(Tanja Dancy 5:33pm November 15, 2016)
What a wonderful glimpse! Yes, this is great bait. Now I have
to know if there is more to come about the "sultan."
(Cynthia Netherton 5:50pm November 15, 2016)
Registered users may leave comments.
Log in or register now!