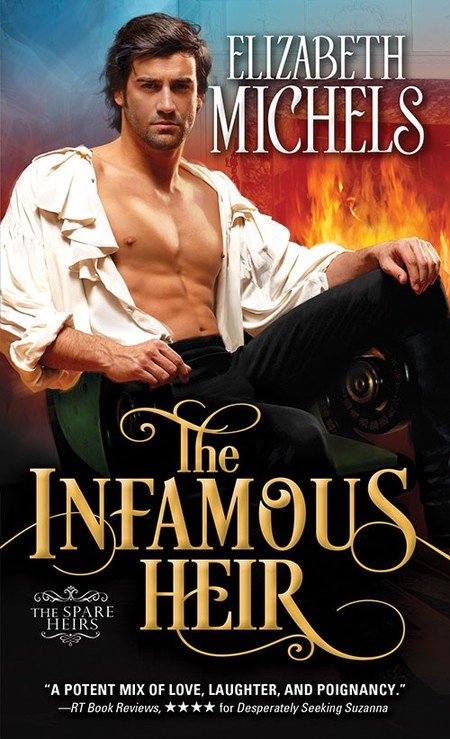 Purchase
Spare Heirs #1
Sourcebooks Casablanca
March 2016
On Sale: March 1, 2016
Featuring: Lady Roselyn Grey; Ethan Moore
448 pages
ISBN: 1492621331
EAN: 9781492621331
Kindle: B017HX13B2
Paperback / e-Book
Add to Wish List

The Spare Heirs Society Cordially Invites You to Meet Ethan Moore: The Scoundrel
Lady Roselyn Grey's debut has finally arrived, and of course, she has every flounce and flutter planned. She'll wear the perfect gowns and marry the perfect gentleman...that is, if the formerly disinherited brother of the man she intends to marry doesn't ruin everything first.
Ethan Moore is a prize-fighting second son and proud founding member of the Spare Heirs Society-and that's all he ever should have been. But, in an instant, his brother's noble title is his, the eyes of the ton are upon him, and the lady he's loved for years would rather meet him in the boxing ring than the ballroom.
He's faced worse. With the help of his Spare Heirs brotherhood, Ethan's certain he can get to the bottom of his brother's unexpected demise and win the impossible lady who has haunted his dreams for as long as he can remember...
Spare Heirs
Comments
16 comments posted.
i love historical romance would love to win this!
(Dana Hopkins 9:38pm March 23, 2016)
I like reading books in a series but usually find out about the series after the first book has come out. Then I go back. Right now, I am reading Alexandra Hawkins' Lords of Vice series. When reading a series, you feel that you know the characters more. The Spare Heirs Society sounds like a great read and I am putting The Infamous Heir on my "to read" list.
(Linda Harrison 10:41am March 24, 2016)
I do enjoy series... mostly if they are a new set a characters sharing their stories in each book...
(Colleen Conklin 1:13pm March 24, 2016)
I enjoy several book series--Julia Quinn's Bridgertons and Julie Anne Long's Pennyroyal Green series are among my favorites. Thanks for the post and giveaway.
(G S Moch 3:41pm March 24, 2016)
I tend to be a people pleaser, though I've gotten much
better at saying "no." I love series books and have so
many favorites. One of my favorite historical romance
series is Elizabeth Hoyt's Maiden Lane series.
(Janie McGaugh 10:54pm March 24, 2016)
In my younger days I was a people pleaser but as I got older I started pleasing myself instead of others . I have more years behind me than ahead of me now , so it's for me now .LOL I love all books ,I'll read any book that's in my hand .
(Joan Thrasher 10:42am March 25, 2016)
I have learned to say no.
(Denise Holcomb 11:23am March 25, 2016)
I love a good series of books. Love to see the characters
grow and evolve.
(Terri Rinko 1:25pm March 27, 2016)
I have trouble saying no to people. I love historical romances and I love to read books in series. I have to read every one!
(Kelly Powell 7:04pm March 27, 2016)
Hello, so happy to see you giving away such a
beautiful book. You are a new Author to me, so
winning this book allows me to see if your
stories are for me. If they are you will have
another loyal follower. I hope you had a
wonderful Easter!
(Bonny Bordeleau 1:40am March 28, 2016)
Yes I'm a people pleaser. Yes I love to read book series. I have several favorites.
(Valerie Miller 8:49am March 28, 2016)
I have the tendency to be a people pleaser, but I've worked on learning to say NO if it's something I really don't want to do. Yes, I enjoy books in series and anxiously await the next one in the series to be published.
(Anna Speed 12:06pm March 28, 2016)
I learned how to say, "no" with grace and politeness.
I have read romance book series, however, it can be a
challenge to find or purchase all the books in the
collection.
(Cecilia Rodriguez 1:11pm March 28, 2016)
I really do prefer reading books from a series in order. In fact, I will often start again from the beginning if there has been a real gap in the time of publication, since there so often are signals from one to another that really improve the appreciation of the overall story line.
(Carol Gowett 4:16pm March 28, 2016)
I do enjoy series books. I'm anal though and like to read
them in order. I have trouble saying no, I like to help
people if I can. But, I can say it when I have to.
(Deb Diem 6:27pm March 28, 2016)
I have a problem with series, finding the time to read the whole series set. So I prefer singles. I have read a series because I was given the whole set. It's hard to say No, but I have too when life gets too busy.
(Deb Pelletier 9:50pm March 28, 2016)
Registered users may leave comments.
Log in or register now!