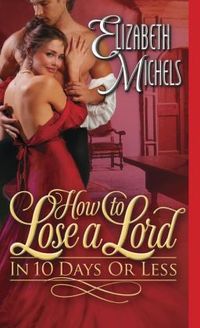 Purchase
How To Lose A Lord in Ten Days or Less
Elizabeth Michels
Tricks of the Ton #3
Sourcebooks Casablanca
July 2014
On Sale: July 1, 2014
Featuring: Andrew Clifton; Katie Moore
320 pages
ISBN: 1402286058
EAN: 9781402286056
Kindle: B00J8QDJ8C
Paperback / e-Book
Add to Wish List

"I want to know you, to understand anything at all about you, because you are the most maddening lady I have ever encountered."
He's the perfect gentleman...
After years hidden away from the mockery of the Ton, proud Andrew Clifton, Lord Amberstall, is finally ready to face Society again. But when his horse is injured on the road to London, Andrew finds himself literally thrown at the feet of the beautiful, infuriating, and undeniably eccentric Katie Moore.
...she's anything but a lady.
Katie always preferred the stables to society, so when she was badly injured in a riding accident, she was more than happy to retreat to the countryside and give up the marriage mart for good. She never expected an infuriatingly proper lord to come tumbling into her life--and she certainly never expected to find herself wondering what it would be like to rejoin the world at his side.
They couldn't be more different, and soon Andrew and Katie find themselves at odds about everything but the growing passion between them...and a keen awareness of a threat that may end their unconventional romance before it has even begun.
Tricks of the Ton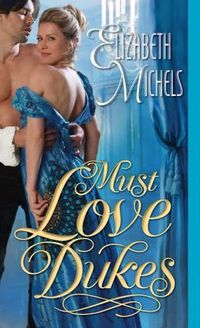 Must Love Dukes
#1.0
Amazon.com | BN.com | | |
Comments
11 comments posted.
Re: How To Lose A Lord in Ten Days or Less

I love to knit and crochet items for other people. I also
read, do crossword puzzles, love to cook, and am always
dabbling in new crafts, as well as others I haven't done in
a while. I also teach a knitting class one day a week.
It's hard for me to put a finger on just one hobby, when I
have interests that are all over the map, but I suppose my
needlework would have to be at the top of the list. Your
posting made me smile, and I can totally relate to it. I
also enjoyed your excerpt, and can't wait to read the rest
of the book!!
(Peggy Roberson 7:44am July 16, 2014)
When I was younger I always had to be doing something! However
after becoming disabled the only thing I can do is read! I
used to run all the time. Could not sit still. Well I hate
that I can't do the things I did but have gone back to.one of
my first loves, reading, and wonder how I ever pushed it back
when I was not disabled. Anyway good luck with the book and
the 6 year old. They are fun but grow up way too fast. My
"baby" (youngest) turned 21 this month!!! Yikes!!!
(Vicki Hancock 9:42am July 16, 2014)
I'm especially impressed with Kate's ability to play the bagpipes! These days, reading is my favorite hobby. When I get inspired, it's genealogy.
(Janie McGaugh 10:15am July 16, 2014)
Golfing in the summer---reading in the winter
(Sue Farrell 10:51am July 16, 2014)
Well, reading is number one on the list since I can manage to
read a little whenever I have a few minutes. I enjoy
gardening - but I also need very hardy plants, spending time
with my family, and hiking. I'm looking forward to reading How
To Lose A Lord. :-)
(Glenda Martillotti 11:08am July 16, 2014)
Y'all have some neat hobbies!

Peggy, I've always wanted to learn to crochet. I tried knitting a few years ago, but after 8" of a lumpy scarf I gave up. LOL I need to come take your class!

Vicki, they grow up way too fast! *sobs* I look at my little boy every day and wonder when he got so big.

Janie, I'm impressed with that too. LOL I don't think I would be very talented at the bagpipes. Genealogy is a cool hobby! I know a good bit about my ancestry, but I would love to know more.

Sue, that sounds like fun! Can I come along and drive the golf cart? ;)

Glenda, the hardest part of gardening is keeping everything alive, isn't it? It's a daily challenge at my house. ;)

Thank you for chatting with me, and I hope you enjoy HOW TO LOSE A LORD IN 10 DAYS OR LESS! :)
(Elizabeth Michels 1:46pm July 16, 2014)
paper crafting, reading
(Denise Holcomb 6:21pm July 16, 2014)
I used to knit and do needlepoint plus reading, but since becoming disabled, I'm left with reading which I love.
(Carol Woodruff 7:28pm July 16, 2014)
I love to read (of course), cook, crochet, fish and garden (vegetable). Right now the gardening is seriously cutting into my reading time. But, I will have plenty of delicious vegetables come January and February.
(Debbie Kelly 7:41pm July 16, 2014)
knitting! and reading - I have a lot of medical appointments, and it's always nice to have something to use up the time in the waiting room, even better when you can actually see progress being made, stitch by stitch, row by row,or line by line, page by page.
(Beth Fuller 8:14pm July 16, 2014)
Escaping into a good book is the best hobby I can think of, ladies.

Beth, I've been thankful for a book to keep me company in many waiting rooms.

Debbie, can I come over to your house for some veggies? I think you can really taste the difference between store bought and garden veggies. My garden is all flowers this year, but I'm hoping to add a vegetable garden next spring. Everything takes time when living in a new house. ;)

Carol, I'm glad you're still able to lose yourself in a good book. My mom was disabled but lost her eyesight as well--it was devastating. But, it made me thankful for every day of life and every line of a book. Enjoy! :)

Denise, I'm curious about your paper crafting. I keep saying I'm going to take up scrapbooking, but then I never do...

Thanks for your comments! :)
(Elizabeth Michels 11:14pm July 16, 2014)
Registered users may leave comments.
Log in or register now!