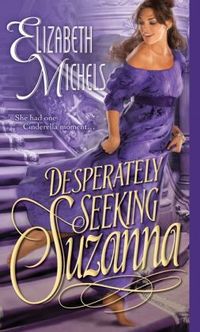 Purchase
Tricks of the Ton
Sourcebooks Casablanca
March 2014
On Sale: March 4, 2014
Featuring: Sue Green; Holden Ellis
ISBN: 1402286023
EAN: 9781402286025
Kindle: B00GM43HCQ
Paperback / e-Book
Add to Wish List

Cinderella meets I Love Lucy in this charming Regency romance
Her Cinderella Moment
Sue Green just wanted one night to be the pretty one. But a few glasses of champagne and one wild disguise later, she's in some serious trouble. Who knew the devastatingly handsome face of Lord Holden Ellis would get in the way of her foot? And how exactly did all that high-kick dancing start in the first place? At least she blamed it all on her new persona—Suzanna. So Society's most eligible bachelor will never find out the truth.
All Holden wants is the truth. Who was that vixen who seduced him so thoroughly, then disappeared? The only one who seems to have any answers about Suzanna is Miss Sue Green. She's promised to help him find his mystery woman, but in truth she's not being all that helpful. And in truth, the more time Holden spends with Sue—witty, pretty, and disarmingly honest—the more he realizes he may have found exactly what he's been looking for all along…
Tricks of the Ton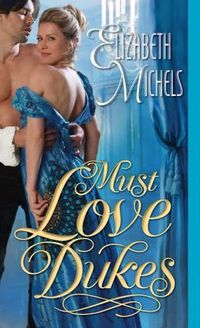 Must Love Dukes
#1.0
Amazon.com | BN.com | | |
Comments
65 comments posted.
Re: Desperately Seeking Suzanna

I love to eat chocolate or cherry chip cake with my homemade buttercream frosting on it. I also love cannolis, and something called banana split dessert, although I've never personally made it yet, but it's so good!!
(Peggy Roberson 11:04am March 13, 2014)
I got so wrapped up in my dessert comment, that I forgot to add that your book sounds yummy, too!! I love the cover, and the story sounds so good!! I wanted to interject, that looking at the photo for this posting, that you don't look like you had to do any dieting to get into a slinky dress!! I'll bet if anything, you just had about 2 lbs to lose at most!! I'll be looking forward to reading your book, and it's on my TBR list!!
(Peggy Roberson 11:08am March 13, 2014)
Brownies. Definitely brownies. ;-)
(Karin Anderson 11:17am March 13, 2014)
Haha! It's easy to get wrapped up in thoughts of chocolate,
Peggy! :) The banana split sounds delicious! Thanks for the
book compliment as well as the one about my picture--it's a
close, head shot picture. It's deceiving. LOL
(Elizabeth Michels 11:20am March 13, 2014)
Karin, I could go for a brownie right now. Yum!
(Elizabeth Michels 11:21am March 13, 2014)
Oooh fav dessert.... hmmm, love ice cream, cookies, pumpkin or apple pie, Boston Cream pie, and much much more... love sweets.
(Colleen Conklin 12:52pm March 13, 2014)
Yes to all of the above, Colleen! I agree! :)
(Elizabeth Michels 1:06pm March 13, 2014)
Well, who can think of anything else, with all that talk of chocolate cake? Mmmm...years ago, Southern Living magazine published a recipe for a 3-tier chocolate cake, with a whipped cream filling and a wonderful chocolate frosting. It is a marvelous eating experience.
(G S Moch 2:07pm March 13, 2014)
Wow, GS Moch! That sounds like a marvelous eating experience!
Southern Living recipes are always delicious. I love their
magazine! I tried one of their recipes once for a chocolate
cake with chocolate icing and praline icing over the top of
that...it was messy, but seriously yummy!
(Elizabeth Michels 2:32pm March 13, 2014)
How did you make out on the nuts and berries? Love the diet but how did the
dress fit afterwards?
The cover of the book is beautiful. Stop people! You are making me hungry.
(Sandra Spilecki 3:18pm March 13, 2014)
Sandra, I slimmed down enough to fit into the dress and then
promptly put every ounce back on. LOL But, for that one
evening, it was fabulous! :)
(Elizabeth Michels 4:03pm March 13, 2014)
frosting- anytime- anywhere! i taught my kids two things-
1. If someone offers you a breath mint- TAKE IT
2. There is NOTHING wrong with frosting for dinner every now and again!
(Laura Lanoil 4:21pm March 13, 2014)
Laura, you remind me of my sister-in-law who has been known
to have a container of chocolate icing and a bottle of red
wine for dinner. :) There is nothing wrong with the simple
goodness of some icing and a spoon. Yum!
(Elizabeth Michels 4:31pm March 13, 2014)
Your book does sound delicious. I do like the Cinderella themed books.

Sue/Suzanna sounds like someone who is finally breaking out of her shell. I'd love to read what happens to her and Holden.

Favorite dessert is Macintosh apple pie right out of the oven.
(Laurie Gommermann 4:44pm March 13, 2014)
Looks like a good book.
(Cecilia Rodriguez 5:29pm March 13, 2014)
Laurie, that apple pie sounds delicious! I hope you enjoy
Desperately Seeking Suzanna!
(Elizabeth Michels 5:43pm March 13, 2014)
Thanks, Cecilia! I hope you enjoy it!
(Elizabeth Michels 5:44pm March 13, 2014)
I don't like really sweet desserts, so I like pound cake, pine nut cookies, apple or pumpkin pie, etc. As for the book, it sounds great and I like the cover very much. But I have a question, if that's OK. Has anyone out there really had a Cinderella moment? I'd love one myself!
(Vennie Martinisi 5:49pm March 13, 2014)
Vennie, I would love to have a true Cinderella moment! It
seems like my Cinderella moments involve cleaning the house
more than balls with Prince Charming! LOL
(Elizabeth Michels 5:57pm March 13, 2014)
My favorite dessert(s) would have to be German chocolate cake, cheesecake topped with strawberries or cherries, and warm apple pie streusel cake topped with homemade hot caramel topping. Very pretty book cover...love the purple! Seems like everyone craves the "don't have sweets" even more when on a diet.
(Linda Luinstra 6:58pm March 13, 2014)
My favorite dessert would be peach cobbler, and something my mom makes we all call chocolate graham cracker. Big Yum!!!Its homemade fudge, that's not quit done, poured over graham crackers. top with cool whip. you can only eat a little at a time, because it is very rich. It's a family fav!
(Jan Capstick 7:18pm March 13, 2014)
Dear me, where to begin? I am a self confessed chocoholic.
BUT I make a dynamite chocolate mint cake, usually around the
Xmas holidays. I make a butter cream frosting to go with it
that uses Creme de Menthe instead of vanilla. It is to die
for.
(Marcia Berbeza 7:40pm March 13, 2014)
Good Evening Ladies...I'm reading your blogs and now I'm
craving something sweet to satisfy the chocolate craving
that I didn't have before I sat down to my computer. Or
maybe a chocolate martini to go with a nice yummy book. I'm
really looking forward to reading your book Elizabeth and if
I don't win a copy I know that I will be ordering it soon.
(Jane Frisch 8:05pm March 13, 2014)
Linda, I agree. Being on a diet makes you want that
cheesecake with strawberries on top that much more! Thanks
for the compliment on the book cover! I love it too! Purple
is my favorite color. :)
(Elizabeth Michels 8:16pm March 13, 2014)
Jan, that dessert sounds sinful and so so so good! And peach
cobbler is my favorite too. Yum!
(Elizabeth Michels 8:17pm March 13, 2014)
Marcia, I sympathize with your chocoholic tendencies. I, too
have a weakness for all things chocolate. That cake sounds
wonderful!
(Elizabeth Michels 8:20pm March 13, 2014)
Jane, I looooove chocolate martinis! They're dangerous but
delicious! I hope you enjoy Desperately Seeking Suzanna! :)
(Elizabeth Michels 8:24pm March 13, 2014)
Boston Cream Pie, Carvel Ice Cream Cake and Thin Mint Girl Scout Cookies are all my favorite desserts. I can't just pick one of the three. :)
(Robyn Konopka 9:22pm March 13, 2014)
I don't think I can pick one absolute favorite dessert. I'll narrow it down to my mother's banana pudding (that I haven't had in too many years to count!) and 7-Up Salad (a family holiday favorite). Interestingly, though, chocolate is my favorite flavor, and I'll almost always pick a chocolate flavored cake or ice cream over any other flavor.
(Janie McGaugh 9:30pm March 13, 2014)
I love cheesecake and peanutbutter
cookies!
This book sounds like a great read!
Thanks!
(Rhonda Brittingham 9:34pm March 13, 2014)
Robyn, I approve of your top 3 dessert choices. Yum! Have
you ever noticed that they sell Girl Scout cookies right
when everyone's New Years diet resolution is starting to
fail? I think it's a cookie conspiracy. ;)

Janie, banana pudding is my husband's favorite dessert. It's
dessert comfort food. Love it!

Rhonda, I love anything with peanut butter. Nom nom nom. :)
I hope you enjoy Desperately Seeking Suzanna!
(Elizabeth Michels 9:41pm March 13, 2014)
I make a really great creamy, melt in your mouth cheesecake. That is my favorite. I also like a new recipe I tried for Danish Apple Pie, Abele Kage, that I got from author Susan Wiggs. It is easy to make & very yummy. I've gotten many compliments on it when I take it work for our luncheons.
(Kathleen Giannone 10:02pm March 13, 2014)
Chocolate! Any kind!
(Richard Burr 10:08pm March 13, 2014)
I can't pick just one. My favorite desserts are chocolate cake, strawberry pie, and cheesecake. Yummy!

Your book sounds like a must read. Thanks for the chance to win!
(Cathy Phillips 10:24pm March 13, 2014)
Wow how everyday this tale seems - sure to be great to read and easy to equate to
(Mick Gillies 10:50pm March 13, 2014)
Kathleen, that sounds delicious! And the fact that you got
the recipe from one of my favorite authors is so cool!

Richard, I agree! Chocolate is always the right decision! :)

Cathy, thanks! I hope you enjoy it!

Mick, I hope you like Desperately Seeking Suzanna! :)
(Elizabeth Michels 11:10pm March 13, 2014)
What a sweet excerpt!! My favorite dessert? Anything
chocolate. Chocolate and fruit even better (tho, I'm not a
huge fan of chocolate and oranges for some reason...)
(Glenda Martillotti 11:12pm March 13, 2014)
Wow, Congrats on your new book: DESPERATELY SEEKING SUZANNA.
I love the beautiful book cover too! I love to eat Blonde
Brownies and Burgundy Berry Pie that I make. I would love to
win and read your book in the New Year 2014. Thank You very
much. Cecilia CECE
(Cecilia Dunbar Hernandez 11:44pm March 13, 2014)
i have been wanting to read this book love teh excerpt i love
chocolate i love p b cups the best
(Denise Smith 12:08pm March 14, 2014)
Jell-O with whipped cream. I like simple desserts.
(Kai Wong 2:03am March 14, 2014)
mmmm chocolate cake... I love the idea of this story and look
forward to seeing it all roll out...
(Vanessa Primer 2:18am March 14, 2014)
I love pies, especially pecan pie.
Your book sounds like a wonderful story.
(Jean Patton 7:44am March 14, 2014)
Glenda, I love strawberries and chocolate. Yum! I'll eat
oranges and chocolate, because it's chocolate...*shrugs*
But, it isn't my favorite either.

Cecilia, mmmmmm, blondies are so good! My mom used to make
them. Unfortunately I tried the same recipe about a year ago
and they where like little rocks. I'm still not sure what I
did wrong. LOL I'm sure your baking expertise is better than
mine though. :)

Denise, thanks so much! I'm glad you like the excerpt and I
hope you like the rest of the story as well. :)

Kai, there's always room for Jell-O...and bacon, but not
together. ;) Sometimes the simple things in life are the
best.

Vanessa, thanks! I hope you enjoy Desperately Seeking
Suzanna!

Jean, I love the inside of pecan pie. If I could sit down
with just a big bowl of pie innards, I totally would. But,
I would deny that I did it when in public, so don't repeat
that. ;)
(Elizabeth Michels 8:12am March 14, 2014)
Brownies with nuts!!!! loves them!!!!! Can't wait to read this book also!!!
(Bonnie Capuano 9:29am March 14, 2014)
Reading your blog made me hungry - but reading all the comments were just as fun (and hunger-inducing). Your book sounds GREAT. Thanks for this chance to win. Best of luck with the book - and ALL you do. And,... oh, yes, MY favorite dessert is bread pudding (nice and custardy, not too dry).
(Nancy Reynolds 10:04am March 14, 2014)
Ms. Elizabeth, you couldn't have chosen a "theme" nearer or dearer to my heart than CHOCOLATE. Lol. Desperately Seeking Suzanna sounds like a wonderful read and I can't wait to get it!
(Tonya Coley 11:29am March 14, 2014)
Bonnie, brownies are always a good choice! I hope you enjoy
the book!

Nancy, the comments on this blog post are making me hungry
too! I'm going to have to go in search of something sweet
after chatting about chocolate so much! LOL I hope you enjoy
my book!

Tonya, it's the best theme for a book ever, right? ;) You
can't go wrong with chocolate! I hope you enjoy reading
Desperately Seeking Suzanna!
(Elizabeth Michels 11:49am March 14, 2014)
Gorgeous cover!
(Maria Proctor 11:55am March 14, 2014)
I simply love these beautiful covers. The women's dresses are so lovely. Would love to read.
(Gayle Pace 12:31pm March 14, 2014)
All the talk of sweets is getting me thinking of goodies . Gee, just love peach cobbler and all that has been mentioned above. The cover is just beautiful and I would love to read this one.
(Barbara Wells 12:40pm March 14, 2014)
Favourite dessert? Various and sundry forms of chocolate cake, vanilla angel food cake with fresh raspberries or strawberries, and maybe some french vanilla ice cream. I'm told that I make a mean brownie (triple chocolate and dried cherries, known to my roller derby crew as "Boxy's Infamous Brownies").

Later,

Lynn
(Lynn Rettig 2:53pm March 14, 2014)
Hot fudge sundae!
(Denise Austin 3:36pm March 14, 2014)
Cheesecake!
(Sharlene Wegner 3:58pm March 14, 2014)
Strawberry pie from local strawberries. Fresh.
(Laura Gullickson 6:11pm March 14, 2014)
I love a dessert with chocolate - like devils food cake with
white boiled frosting - plus a glass of cold milk!
(Diane Sallans 9:46pm March 14, 2014)
blueberry pie is my fav and sounds good, thanks
(Debbi Shaw 10:08pm March 14, 2014)
Ben & Jerry's ice cream
(Patricia Wagner 10:45pm March 14, 2014)
Love this.

I have to say cheesecake.
(Mary Preston 12:29pm March 15, 2014)
Cheesecake and hot fudge cake. Thanks for the giveaway.
(Kathleen Beale 9:02am March 15, 2014)
Fewer calories reading about food than eating it!
(Janet Martin 11:37am March 15, 2014)
I love chocolate candy and brownies and don't forget chocolate chip cookies.
(Carol Woodruff 7:06pm March 15, 2014)
Hi Elizabeth!

Congratulations on your release of Desoeratekt Seeking Suzanna on the 4th!

I love baking cherry covered cheesecake even though I can't eat it myself because I'm a Type I diabetic. A friend sneaked her "secret family recipe" for it out of the house to give to me and the secret of it's great taste is to use crushed Zwieback instead of graham crackers when your making it (with lots of butter cut in!).

It's the family expected dessert for me to make for every holiday and there's never any left by the end of dessert (and while everyone else is enjoying it I'm eating a small serving of sugar free jello or homemade applesauce - with no sugar added!).
(Jeanne Miro 8:10pm March 15, 2014)
I have so been in that place were I need to fit into that just right outfit so I
did every diet in the world to make that so perfect outfit fit only to realize
that if I have to do all that, that it just not be so perfect after all
(Niki Edwards 3:10am March 17, 2014)
What an interesting twist on Cinderella! Thanks for sharing the great excerpt. I love chocolate and my favorite dessert is Black Forest cake.
(Bonnie H 10:40pm March 26, 2014)
what an amazing peek at the book. i can't wait to read it
(Sarah Hansrote 10:54pm March 31, 2014)
Registered users may leave comments.
Log in or register now!