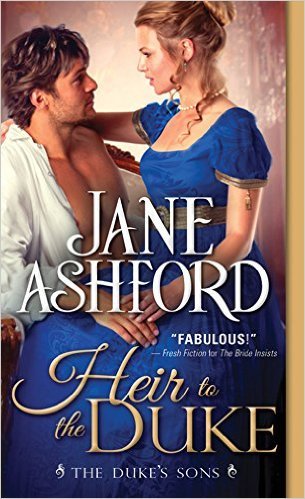 Purchase
The Duke's Sons #1
Sourcebooks Casablanca
January 2016
On Sale: January 5, 2016
352 pages
ISBN: 1492621560
EAN: 9781492621560
Kindle: B0143J7KKQ
Paperback / e-Book
Add to Wish List

Book 1 of The Duke's Sons series
From bestselling author Jane Ashford comes another brand new series of sparkling Regency Romance
Life is predictable for a Duke's first son
As eldest son of the Duke of Langford, Nathaniel Gresham sees his arranged marriage to Lady Violet Devere as just another obligation to fulfill-highly suitable, if unexciting. But as Violet sets out to transform herself from dowdy wallflower to dazzling young duchess-to-be, proper Nathaniel sets out to prove he's a match for his new bride's vivacity and daring.
Or so he once thought...
Oppressed by her family all her life, Lady Violet can't wait to enjoy the freedom of being a married woman. But then Violet learns her family's sordid secret, and she's faced with an impossible choice-does she tell Nathaniel and risk losing him, or does she hide it and live a lie?
The Duke's Sons
Comments
32 comments posted.
Re: Heir To The Duke

Loved the excerpt. Can't wait to read "Heir to the Duke." Thanks for bringing it to my attention.
(Sharon Extine 12:58pm January 20, 2016)
superglued lock on my locker in schook
(Marissa Yip-Young 6:35am January 20, 2016)
My kids and also my grandkids tell me something and I
believe them. They say I am "so easy" to tease. One example
is I have embroidered a set of dishtowels for a college
granddaughter and she said I spelled one month wrong and I
believed her; it was fine. Her mother is the youngest of my
5 kids; she has 4 brothers and some stories.
I bet you had fun writing this part of the book.
Thanks for the great start to the morning.
Leona
(Leona Olson 10:27am January 20, 2016)
I'm always playing prank the most fond memory and prank
however is before my brother wedding I hid his shoes and he
had to pay me money to get it back haha
(Natasha Persaud 11:26am January 20, 2016)
Wish I was inventive but I'm afraid I'm not! I do, however, look forward to reading this book. I love all your books!!!
(Bonnie Capuano 11:58am January 20, 2016)
This is a delightful giveaway and excerpt. Thanks.
(Sharon Berger 12:07pm January 20, 2016)
I am not a prankster, but as a kid, I remember telling stories that the others would believe... funny to think back on...
(Colleen Conklin 12:16pm January 20, 2016)
I can't remember any pranks being played on me, though I'm sure some mild ones were in my younger days. I'm not a prankster, at all.
(Janie McGaugh 4:05pm January 20, 2016)
Doing a simple prank maybe ok, but some people get carried away and some
pranks can be hurtful
(Diane McMahon 6:04pm January 20, 2016)
This sounds like a great book and I look forward to reading it.
(Linda Harrison 8:17pm January 20, 2016)
I cannot think of a good prank played on me or that I have
played on someone else. Hmmmm.... Thoroughly enjoyed the
excerpt.
(G. Bisbjerg 12:20pm January 21, 2016)
I'm not that inventive. I'd really like to know what kind of responding pranks Nathaniel dreamed up for his brothers. Thanks for the excerpt and giveaway.
(G S Moch 4:07pm January 21, 2016)
I can't think of a prank that was played on me nor can I think of one that I invented . This book is a must read , it sounds so exciting and fun . Several weeks ago I read your book " The Bargain " and it was a very good read with the three brothers . This one sounds like another all-nighter . Thanks for this chance to win . Love your books .
(Joan Thrasher 6:56pm January 21, 2016)
I guess I am kind of "inventive" like Nathanial's brothers
albeit crueler...Once, my friend was sleeping over. I
waited for her to fall asleep. After duct-taping her to the
floor, I screamed that the house was on fire and watched
her panic. I am so meeeean XD
(Hylla Jackson 9:17pm January 21, 2016)
i really haven;t pranked anyone i am 60 and if i had my
grandkids i am sure we would of done alot.When i was young
and in the fosterhome there was alot of that going on one
put a snake down my pants and now i hate snakes and things
like that..
(Peggy Clayton 12:58pm January 22, 2016)
I love historical fiction
(Barbara Semeraro 12:45pm January 22, 2016)
I'm very good at sneaking up and scaring people. I learned
from professionals at Knott's Scary Farm.
(Cecilia Rodriguez 1:34pm January 22, 2016)
I'm great at scaring my mom, but unfortunately only her so I probably don't
have that much skill! Lol
(Lily Shah 6:57pm January 22, 2016)
My kids are great at telling me they see a spider which inevitably sends me
running and screaming in the other direction. I fall for it every.single.time!!!
(Vicki Hancock 7:40pm January 22, 2016)
I worked as custodian in our local library. Lots of stories
there. Anyway, after some pranks were played on me, as I clean
their desks or areas of work, I put things back in different
places. Normally I was very careful to put things back where
they had them. It had them guessing why were they put where
they had been.
(Nancy Luebke 12:02pm January 23, 2016)
when i was a kid putting shaving creme in a sleeping friends' hand
(Dianne McVetty 12:14pm January 23, 2016)
Had a very realistic furry fake mouse. Would put it in a
sleeping friend's hand or on their neck. Amusing when they
woke up.
(Irene Menge 7:26am January 23, 2016)
I'm not very inventive so I'm afraid anyone can pull the wool over my eyes at any time. HA
(Bonnie Capuano 9:10am January 23, 2016)
I don't remember ever pranking anyone intentionally. But, my brother did put sugar in the salt shaker, which ruined my fried pork chops. However, when I let our kindergarten-aged daughter take her pet snake to show and tell (which I decided to attend in case anyone was uncomfortable with her pet,) the kids loved the snake and the teacher quickly withdrew to the wall and asked me to take the snake home when our daughter finished sharing.
(Betsy Pauzauskie 1:04pm January 23, 2016)
Some I'm not sure I can retell...lol
(Gwenn Ostman 1:04pm January 23, 2016)
my brothers bought me tape and a laundry basket for Christmas because of how much i liked to carry my stuffed animals around. the tape was for when i made things at home and didn't want to use glue.
(Cindy Schilling 5:45pm January 23, 2016)
Looking forward to reading the book.
(Cathy Garner 11:12pm January 23, 2016)
I had plenty of tricks played on me but I'm not that smart to do it to them. Not even on April Fools Day!!!
(Bonnie Capuano 8:28am January 24, 2016)
I don't play tricks on friends and neighbors, but enjoy reading about people who do.
(Anna Speed 1:09pm January 24, 2016)
at work, there was this guy who kept playing tricks on me. I made it so that he couldn't log in to his computer one day. Funny how he stopped playing tricks on me after that!
(Joanne Schultz 2:20pm January 24, 2016)
I had some joke gift boxes that I used one Christmas - they
were for things like feather boa pink ear muffs - but there
were good gifts inside!
(Diane Sallans 6:12pm January 24, 2016)
That was a great scene, and i loved the book! I'm not much
of a practical jokester myself.
(Karin Ahmed 8:11pm January 24, 2016)
Registered users may leave comments.
Log in or register now!