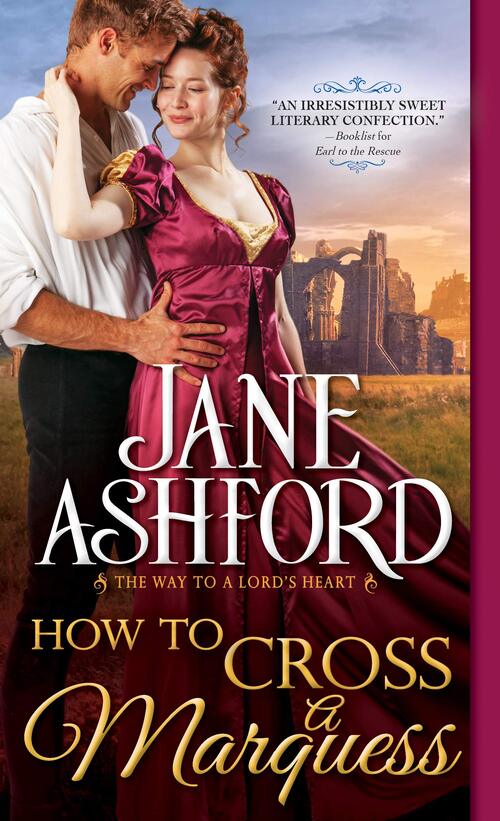 Purchase
The Way to a Lord's Heart #3
Sourcebooks Casablanca
August 2019
On Sale: August 27, 2019
Featuring: Fenella Fairclough; Marquess of Chatton
ISBN: 1492663417
EAN: 9781492663416
Kindle: B07PZDY64G
Mass Market Paperback / e-Book
Add to Wish List

"A refreshingly different, sweetly romantic love story [readers] will long remember." --Booklist for Brave New Earl
The Marquess of Chatton and his neighbor Fenella Fairclough have known each other all their lives. They refused to marry each other years ago when their parents demanded it, and they won't concede now--even if circumstances have brought these former enemies much closer than they ever could have anticipated. . .
The Way to a Lord's Heart:
Brave New Earl (Book 1)
A Lord Apart (Book 2)
How to Cross a Marquess (Book 3)
Comments
20 comments posted.
i could really get lost in a book like this,,just let me be
with a cool drink and a book and im in heaven
(Vickie Couturier 10:36am August 28)
I like the enemies to lovers element. The snakes sound
interesting too.
(Melanie Rosen 6:17pm August 28)
I like enemy to lovers story lines. The realization that they have both
changed and can actually be friends is always enjoyable.
(Patricia Barraclough 12:14pm August 29)
Looking forward to the heated dialogue between the two main
characters.
(Susan Jang 4:37am August 29)
The strife to eventual love is gonna hook me. Thanks for the chance.
(Christine LaFord 5:57am August 29)
. . ..the friction in the fiction - what could be better?
(Thanks for the chance to win a copy!)
(Martin Bodnar 8:39am August 29)
S is for safely settled, in the end - I love an HEA!
(Diane Sallans 12:36pm August 30)
Definitely the enemy to true love connotation. Thanks for the chance.
(Christine LaFord 7:47pm August 30)
Sounds like a great read.
(Nancy Jones 10:37pm August 30)
I love the tension.
(Sabrina Zehner 11:19am August 31)
The friction that takes place for enemies to discover love
(Anna Speed 1:19pm August 31)
I'm really looking forward to reading this book. I love
Historical Romance.
(Robin Davis 2:19pm August 31)
I loved reading Georgette Heyer romances and mysteries! If
these books are similar, they can't be anything but
winners.
(Belenda Wilkerson 3:58pm August 31)
Looks like a great book
(Noreen Fredriksen 6:39pm August 31)
Love the enemies to lovers trope!
(Bonnie H 9:36pm August 31)
Passionate hate to passionate love is always fun, and usually
pretty funny too. Looking forward to adding this gem to my
TBR list.
(Valcin Lucas 1:16pm September 1)
C is the element that I choose
(Sharon Good 1:48pm September 1)
I want to see who the opponent is and why?
(Joy Isley 4:40pm September 1)
The transformation from hate to love can be really
entertaining - I'm looking forward to reading this!
(Jeanette Jacobson 7:04pm September 1)
enemy to lovers is my fav.
(Lori Byrd 8:38pm September 2)
Registered users may leave comments.
Log in or register now!