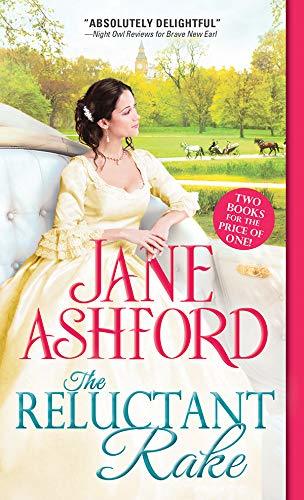 Purchase
Sourcebooks
November 2019
On Sale: October 29, 2019
416 pages
ISBN: 1492697931
EAN: 9781492697930
Kindle: B07S42BG14
Mass Market Paperback / e-Book
Add to Wish List

The Reluctant Rake
Proper, elegant Miss Julia Devere is shocked when she spies her fiancé in the arms of another woman. She awakens to the fact that the game of love can be played by very different rules than her own. And unless she can beat this new mistress at her own game, Julia stands to lose all that she suddenly realizes she wants.
How to Beguile a Baron
Miss Susan Wyndham's and Miss Marianne MacClain's debut at the first ball of the season is ruined when they realize they're wearing the same gown—and enamored of the same gentleman. Randal Kenyon, Baron Ellerton, is the most eligible lord in London. And far from making peace, he sparks a battle between the pair of dazzling young beauties who now want only him.
Comments
14 comments posted.
Although I enjoy reading historicals, I like living in the
present time. I would prefer less dependence on technology,
but being able to download hundreds of ebooks is convenient.
(Susan Jang 3:14am October 30, 2019)
sounds very good,,i love this type of book
(Vickie Couturier 9:13am October 30, 2019)
I enjoy reading about past generations, but I definitely am thankful to live in the present one.
(Anna Speed 3:36pm October 30, 2019)
would love to visit Regency England if I were part of the
Ton to enjoy the lifestyle for a day.
(Denise Holcomb 12:17pm October 31, 2019)
Sounds really good!
(Katrina Dehart 12:21pm October 31, 2019)
1886 i love that era,times were hard ,but so much romance
real love .excited to read
(Jeanette Sheets 12:51pm October 31, 2019)
I enjoy historical fiction and the many time periods it covers. It is
difficult to pick just one to stay in. I would like to be able to visit
them all and stay for a short time to experience them. The one I
wouldn't mind remaining in would be the late 1800's. Society was
changing, inventions were making life a bit easier and interesting for
many, women were beginning to gain a bit more independence and
control over their lives. I would like to spend my time in the
American West. It was still a bit untamed with possibilities for
adventure were everywhere while a more settled life was possible in
the cities and towns.
Thank you for sharing excerpts from these two stories. They both
sound enjoyable.
(Patricia Barraclough 1:24am October 31, 2019)
Honestly, it's hard to imagine living in a different time
period, although I love to read about them. I definitely
like modern conveniences and if I had to live in a
different time, I'd pick one not too far back so some of
them might be around or close to being invented. So
probably like the early 1900's, 1920s.
(Crystal Sebring 3:02am October 31, 2019)
I love Jane Ashford's Writing, her characters are interesting and not as overblown as many romance authors, she also pays attention to the other classes which deepens the richness of her stories. Plus she does not depend on sex to sell her books. Read Jane she is one of the best for Regency.
(Moira Ashleigh 9:30am October 31, 2019)
I love the excerpt/review here it sounds very good. Thank you, I love the cover
Penney
(Penney Wilfort 9:32am October 31, 2019)
I would choose the regency era because I love the dresses
and the way that you had to behave. The men were for the
most part gentlemen but also alpha.
(Lynne Brigman 11:16am October 31, 2019)
I love a good regency story.
(Sandra Dufoe 3:18pm October 31, 2019)
I love my modern conveniences. But if I was forced to time travel, I would love the Georgian period.
(Phyllis Lamken 5:12pm October 31, 2019)
The cover is beautifully done. I love the way you write,
intoxicating.
(Robin Davis 9:33pm October 31, 2019)
Registered users may leave comments.
Log in or register now!