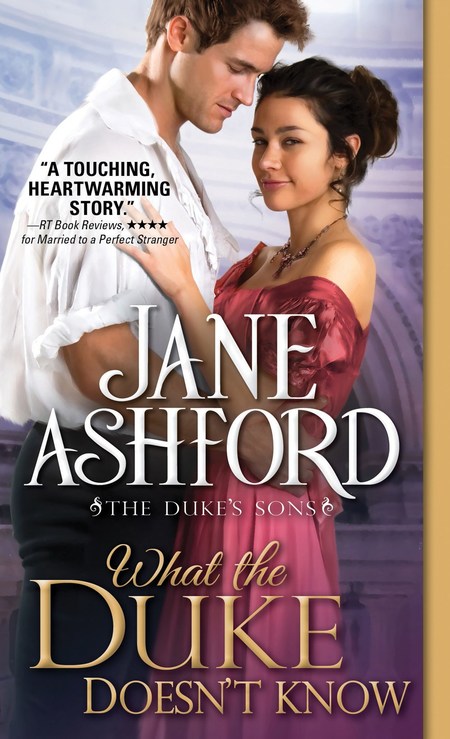 Purchase
What the Duke Doesn't Know
Jane Ashford
The Duke's Sons #2
Sourcebooks Casablanca
September 2016
On Sale: September 6, 2016
Featuring: James Gresham; Kawena Benson
384 pages
ISBN: 1492621595
EAN: 9781492621591
Kindle: B01ENNQ22E
Paperback / e-Book
Add to Wish List

A proper English wife, or the freedom of the sea?
Lord James Gresham is the fifth son of the Duke of Langford, a captain in the Royal Navy, and at a loss for what to do next. He's made his fortune; perhaps now he should find a proper wife and set up his nursery. But the sea calls to him, while his search for a wife leaves him uninspired. And then, a dark beauty with a heart for revenge is swept into his life.
He can't have both, but he won't give up either
Half-English, half-Polynesian Kawena Benson is out to avenge her father and reclaim a cache of stolen jewels. There's nothing for James to do but protest his innocence and help Kawena search for the jewels, even though it turns his world upside down.
The Duke's Sons
Comments
16 comments posted.
Re: What the Duke Doesn't Know

I can't wait to see these comments!
(Jane Ashford 3:12pm September 7, 2016)
I have seen blog post titles that catch my eye, but never really thought about headlines... I am more of a read and observe type... not one that really knows what to say or how to say what I am thinking...
(Colleen Conklin 8:33pm September 7, 2016)
I can't really recall any headline that would catch my eye for me to respond too. I'm sorry. My face is usually in front of a book!
(Bonnie Capuano 7:25am September 8, 2016)
Headlines? I haven't responded to any...most seem to just
be bait for drama and conflict.
Since my husband and I have been together for 32 Years,
people do ask me for advise...the only advise I have is, Be
Each Other's Best Friend. For some reason people are much
kinder to their best friend than to their lover. No one
cheats on a best friend.
(Linda Knowles 11:40am September 8, 2016)
Anything having to do with Hollywood is amusing. I cannot
advise people who have everything.
(Sharon Berger 2:01pm September 8, 2016)
Anything to do with a hint of history. I just have to check it out. River Runs Red which was about a river in Russia turning red. Only advice I give is how to study to students because most advice is ignored.
(Melinda Marks 2:46pm September 8, 2016)
I cannot think of any headlines on the internet that caught my
attention at the moment. On advice, something I once heard...
'Don't listen to what the person is telling you, listen to what
they are not saying'.
(S W 4:46pm September 8, 2016)
Someone who's child was going to college and they were going to
have an empty nest. One thing I suggested, was always make them
feel welcome at home.
(Nancy Luebke 6:41pm September 8, 2016)
Can't remember the headline, but it was about the launch
to visit an asteroid and collect samples to bring back.
My comment was to cheer them on.
(Irene Menge 7:39pm September 8, 2016)
I don't think I've ever posted to a headline. I will comment
on Facebook posts - mostly to offer support. Several times
for those who have lost parents or are coping with their
medical care since I have done both.
(Diane Sallans 11:41am September 9, 2016)
I usually just go to the author's websites on the internet. Don't do much of the
other stuff available.
(Joy Isley 4:51pm September 9, 2016)
I don't really remember any of the headlines I've seen.
I'll occasionally check out something that sounds
interesting, but I don't leave comments on those pages.
(Janie McGaugh 1:25am September 10, 2016)
just look at the new books to read
(Ann Unger 12:06pm September 12, 2016)
Internet headline that catches my eyes - anything to do with the food we feed our dogs. There are so many options - how do you decide. Don't respond to many issues because of all the feedback that comes back - mostly negative...
Good luck to all
(Faye Boss 8:47am September 12, 2016)
I look for human interest stories but never leave comments.
(Anna Speed 11:52am September 12, 2016)
Love Dear Abby! She recently gave some scathing advice to
someone being deliberately unkind to a family member who
was divorced and I liked the way she phrased it.
(Karlene Barger 10:04am September 13, 2016)
Registered users may leave comments.
Log in or register now!