Anne Gracie | The Glue that Holds the World Together . . .

June 23, 2015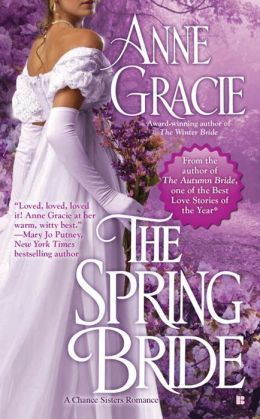 AVAILABLE
Chance Sisters #3

June 2015
On Sale: June 2, 2015
Featuring: Zachary Black; Jane Chance
308 pages
ISBN: 0425259277
EAN: 9780425259276
Kindle: B00O2BS6FY
Paperback / e-Book
Add to Wish List

Also by Anne Gracie:
The Heiress's Daughter, June 2024
The Rake's Daughter, August 2022
Add to review list
The Scoundrel's Daughter, September 2021
Marry in Scarlet, June 2020

I'm a "Love Actually" kind of writer — while romantic love is, of course, central to my historical romances, I also write about other kinds of love — the love of family, of siblings, of friends and comrades, love of country, even love of animals. I believe love is the glue that holds the world together.
In my latest book, THE SPRING BRIDE, there are at least six kinds of love:
1. The romantic love between the hero and heroine. Of course, this is the heart of the story, though love doesn't get off to a good start. My heroine Jane refuses to let love guide her; she's determined to make a practical, sensible, convenient marriage. All is going beautifully to plan, until she rescues a very ugly dog . . . and meets Zachary Black, a rogue who is all kinds of impossible. Jane is determined not to encourage him, but Zach is the kind of man who knows what he wants and doesn't follow the rules. . .
2. The love of siblings. Jane has three "sisters" — one of them a sister by blood, the other two, sisters by choice, or as the girls themselves put it "sisters of the heart." The four girls came together in THE AUTUMN BRIDE, when they were in dire straits and on the verge of disaster. They vowed to be as sisters and to look after each other — and then an act of desperation and courage led them to Lady Beatrice — which brings me to the next kind of love.
3. The love of an "aunt" for her "nieces". Lady Beatrice is no relation to any of the girls, but as the redoubtable old dowager declares, "If I want nieces, I'll dashed well have 'em." The old lady adores her gels, who came into her life when it was at the lowest, most miserable ebb — and gave her a new lease on life. They, of course, adore her right back.
4. The love of animals. Jane adores animals. In THE AUTUMN BRIDE, she rescued a litter of kittens, who now rule the household. In THE SPRING BRIDE she sees a group of young toughs torturing a dog, and runs to stop them. Of course the toughs don't take kindly to their fun being stopped . . . enter our hero, Zachary Black. And Jane acquires a Very Ugly Dog — and an unwanted complication to her convenient marriage plans… I particularly enjoyed some of the conversations between Zach and the dog.
5. The protective love of a young boy for a vulnerable woman. At the age of sixteen, my hero, Zach, helped his young stepmother to escape his violent and abusive husband. Now she's disappeared, and Zach is wanted for her murder.
6. The love of a mother for her child. No spoilers here — you'll have to read the book to find out about this one.
Love, friendship, kindness and courage are central to my stories. THE SPRING BRIDE contains some of my favorite elements —a romance, a mystery, a road trip, and of course, an ending that contains both tears and laughter. I loved writing this book and I hope you enjoy Jane and Zach's romance as much as I did.
Thank you so much for letting me visit.
GIVEAWAY
I'm very happy to do a giveaway of a copy of The Spring Bride (or if the winner prefers, the first book in the series The Autumn Bride.) The giveaway is international.
Readers, why do you love romance? Leave a comment below and be entered for a chance to win your choice of THE SPRING BRIDE or THE AUTUMN BRIDE!
Anne Gracie started her first novel while backpacking solo around the world. After four historical romances published by Harlequin, she moved to Berkley with The Perfect Rake, and never looked back. She's now writing her third series for Berkley. She also wrote the novelization of the first "The Tudors" TV series.
Anne is a former president of Romance Writers of Australia, a five time RITA finalist, has twice won the Romantic Book of the Year (Australia) and the National Reader's Choice Award (USA) and has been several times been listed in Library Journal (USA) best books of the year and NPR's best books listing.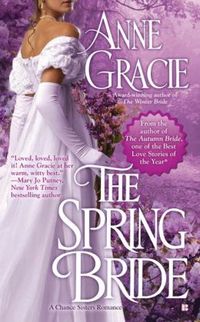 A dog in need of rescue brings together a young debutante and a mysterious stranger in this regency charmer from the beloved Anne Gracie. For fans of Mary Balogh and Madeline Hunter. On the eve of the London Season, Jane Chance is about to make her entrance into high society. And after a childhood riddled with poverty and hardship, Jane intends to make a good, safe, sensible marriage. All goes according to plan until a dark, dangerous vagabond helps her rescue a dog.
Zachary Black is all kinds of unsuitable—a former spy, now in disguise, he's wanted for murder. His instructions: to lie low until his name is cleared. But Zach has never followed the rules, and he wants Jane Chance for his own.
If that means blazing his way into London society, in whatever guise suits him, that's what he'll do. Jane knows she shouldn't fall in love with this unreliable, if devastatingly attractive, rogue. But Zach is determined—and he's a man accustomed to getting what he wants.
Comments
36 comments posted.
Re: Anne Gracie | The Glue that Holds the World Together . . .

Where would lonely hearts go if there is no chance of the
pot of gold at the end of the rainbow? Romance is every
girls dream.
(Sharon Miller 2:53am June 23, 2015)
I love well written romance because you can escape into another place and
in my preference of books, time, where the standard of men is treating
women with respect. The woman is usually interesting with her personality.
You get to see them fall in love, while you as a reader are there.
It makes me feel happy and gives me hope...
(Tami Dickerson 5:00am June 23, 2015)
Romance is about happy ever afters.
(Marissa Yip-Young 5:30am June 23, 2015)
Anne, I appreciated all the levels of love in The Spring Bride (and of course I
loved Jane's little dog and the kittens who grow up through the three books!)
You have created some marvelous secondary characters as well as the
delicious hero and heroine. Please don't enter me in the draw as I already own
The Spring Bride as well as The Autumn Bride and The Winter Bride and loved
them all. Does Daisy find love in a future The Summer Bride? If so, I'm looking
forward to seeing who you match her with!
(Kandy Shepherd 5:57am June 23, 2015)
Anne, the real family relationships and love between friends are two of the
reasons why I love your books. It is so genuine. I loved the relationship
between Abby and Jane and how it develops from The Autumn Bride to
The Spring Bride :)
(Laura Boon 7:05am June 23, 2015)
I'm just finishing up Autumn Bride and love it. I love romance novels because they let you forget problems for awhile and dream.
(Jill Burgus 9:25am June 23, 2015)
Reading a romance offers escape from the sadness and evil in our world. Romance is hope, love, and happy endings.
(Cheryl Castings 10:29am June 23, 2015)
I read romance for the escapism and HEA. Your post does a wonderful job covering the types of love. Number 2, especially, seems to miss being in many romance books...lots of family intrigue and arguments along the way. It's nice to see it included in The Spring Bride.
(G S Moch 12:14pm June 23, 2015)
I love how the hero and heroine always find there way back to each other. It
gives other people hope of it happening in real life.
(Molly Laird 12:50pm June 23, 2015)
I love the journey the characters take to get to their HEAs...
(Colleen Conklin 12:59pm June 23, 2015)
Personally, I like the romance genre because, to put it simply, I love love. I
enjoy reading the interaction between the two main characters and the journey
they take together. Those beginning stages of falling in love are my favorite.
Romance novels are so diverse and I feel enriched after reading one. I look
forward to reading The Spring Bride.
(Alice Hunter 1:19pm June 23, 2015)
I read romance to travel to another era, place, realm and
dream about love and life.
(Sharon Berger 2:59pm June 23, 2015)
Because it makes me feel all warm and gooey!
(Lesley Walsh 3:35pm June 23, 2015)
I like to have romance in books I read for pleasure. They take me to many places, many situations occur until the couple see they are fated for each other and, most important, the book has a happy ending. Frankly, I get involved in their lives and enjoy being with them.
(Anna Speed 4:24pm June 23, 2015)
I love romance because there is always hope. No matter
what happens, you can almost always expect the ending to
be positive. An escape from real life.
(Irene Menge 8:00pm June 23, 2015)
I love reading romance for the character's journey towards their HEA.
(Marcy Shuler 8:54pm June 23, 2015)
Travel without leaving home, is one of the reasons I read.
(Shelia Bledsoe 9:13pm June 23, 2015)
I love the wonderful exhilarating fall into love, the
awareness and the tenderness.
(G. Bisbjerg 9:18pm June 23, 2015)
It gives a peacefulness to my heart.
(Nancy Luebke 9:33pm June 23, 2015)
Autumn Bride & Winter Bride were two of my absolute favorite romance
novels - I can't wait to read Spring Bride. Jane was always the mysterious
one to me. I love how well developed each of your characters are. Great
job!!!
(Monique Mel 9:41pm June 23, 2015)
This sounds so good thanks for the review. I'm looking forward to reading it, I love the cover too
Penney
(Penney Wilfort 1:33am June 24, 2015)
I love romance for the "happy ending". Even though there are trials and tribulation to overcome, in the end there is a resolution and a happy ending. Even though we don't always think we will get the happy ending in real life we usually do. We just aren't always willing to go through the trials and tribulations that come before it. We have a tendency to bail and miss out.
(Flora Presley 9:03am June 24, 2015)
Romance just feeds the soul. All varieties of romance. It just makes you feel good.
(Nancy Reynolds 1:54pm June 24, 2015)
I love reading romance for the development of the relationships, and the
happy ending. Even when life is tough and I feel like everything is going
wrong, reading a romance novel makes me feel like there is light at the
end of the tunnel, and good things are on the horizon.
(Becky R 2:13pm June 24, 2015)
I love finding good authors to read. This will be my first time reading romance but sure am looking forward to it.
(Cynthia Schwarzer 4:04pm June 24, 2015)
I love the happy endings even though the characters have to go
through a lot to get there.
(Vicki Clevinger 7:59pm June 24, 2015)
I love the excitement of a good romance story .
(Joan Thrasher 10:18am June 25, 2015)
I'm a reader and Romance books are pure enjoyment!
(Cindy Rader 12:15pm June 25, 2015)
Gives me a chance to live in someone else's world for a
while. Haven't read any of Anne's books yet but this one
sounds like it'd be right up my alley!
(Sandy Haber 8:28pm June 25, 2015)
In spite of being married for nearly 37 years, nothing settles
my nerves and straightens out my mind faster than a good
romance. It takes one out of our troubles and reminds us that
there is always a better day.
(Marcia Berbeza 9:10pm June 25, 2015)
The happiness. I've read other genres that don't end as well as romance
usually does and I've felt so bummed when I finish the book.
(Laura Gullickson 12:11pm June 26, 2015)
Looking forward to reading it.
(Cynthia Schwarzer 8:20am June 26, 2015)
The sexy heroes and the chance of a happy ending.
(Cecilia Rodriguez 1:46pm June 26, 2015)
Romances are an escape or fantasy usually and they are usually fun.
(Pam Howell 7:26pm June 26, 2015)
I love romance for the HEA.
(Janie McGaugh 9:27pm June 26, 2015)
I love the HEA endings in romance.
(Bonnie H 7:48pm June 28, 2015)
Registered users may leave comments.
Log in or register now!