V.K. Sykes| Surprise!

February 24, 2015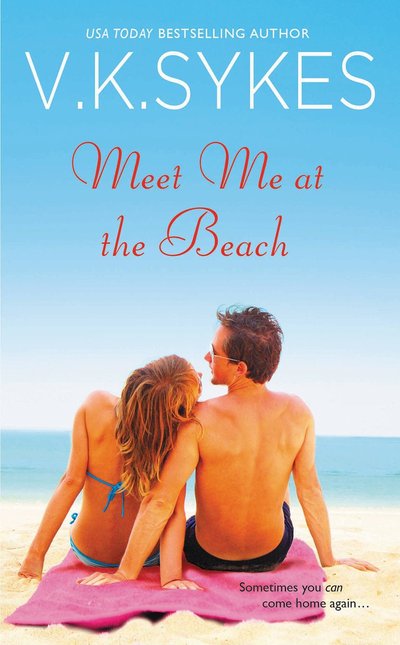 Meet Me At The Beach
V.K. Sykes
AVAILABLE
Sometimes you can come home again...
Seashell Bay #1

March 2015
On Sale: February 24, 2015
Featuring: Lily Doyle; Aiden Flynn
384 pages
ISBN: 1455552518
EAN: 9781455552511
Kindle: B00KVK30RE
Paperback / e-Book
Add to Wish List

Also by V.K. Sykes:
See You at Sunset, March 2016
Scoring Position, February 2016
Summer at the Shore, July 2015
Meet Me At The Beach, March 2015

There's one thing about VK Sykes that consistently surprises people: we're a husband and wife writing team. While Vanessa writes bestselling historical romance as Vanessa Kelly, Randy's attention is focused on the contemporary romances and occasional romantic suspense that come out under the VK Sykes pen name. He also manages most of the book-related finances and paperwork, while Vanessa handles the promo end of things.
So far, so good, right? Because finances, promo, and paperwork can all be done as separate tasks, but writing a book…that's a different story. People often want to know how we can pull off a writing partnership, much less one between spouses. Because unlike most working relationships, you can't really walk away from your spouse when you have a disagreement—at least not for long! It has to be resolved or life in our household won't exactly be kittens and unicorns.
The first thing you need to know is that we do try to separate out the various stages of the process so that we're not doing the same thing at once or tripping over each other. Randy usually comes up with the germ of the idea for each of our contemporary romances, especially since Vanessa is usually stuck somewhere in the Regency Era with dukes, carriage races, and feisty spinsters. Once Randy has that core idea, we start partnering up. We brainstorm the plot and work through as many of the big complications as we can before committing any words to the page.
Once we've figured out the details, Randy then goes to work. He does any necessary research and writes on extensive outline. Boy, does he write an extensive outline! Like, 25 pages single-spaced, if you can believe it. Then he hands that over to Vanessa for "approval." Not that she ever really disapproves, but she usually ends up making suggestions—especially when it comes to the heroine. Randy is great at plot and dialogue, but he doesn't always get the female emotion quite right (big surprise!). But that's the beauty of a partnership. We can compensate for each other's weak points.
Once we're happy with the outline, Randy goes off and writes the first draft. That usually takes about two or three months, during which time Vanessa is off writing one of her historical romances. Once the draft is finished, it's over to Vanessa for full-scale revisions. Then we pass the revised manuscript back and forth for polishing until we're happy with it. Then, voila! We have a book ready to send off to our editor.
So, you might say, that sounds pretty easy. But are there any tricky spots? Well, yes! Randy hates writing sex scenes. In the beginning of our partnership, he would take a stab at them. Sadly, they were pretty rocky, so Vanessa finally told him to just stop it. Now when he hands the manuscript to Vanessa, there are always several blank chapters with the notation: insert hot sex scene here.
The other tricky spot comes when we disagree about a plot point or a certain aspect of characterization. How do we deal with that? Randy always says that he defers to Vanessa, but that's a slight exaggeration. If it's about an emotional turning point or the sexual aspects of the relationship, then he does tend to defer to Vanessa. If it's about plot, Vanessa tends to defer to Randy—although Randy is more than happy to admit that Vanessa knows more about romance tropes and themes then he does. And, fortunately, we rarely argue about the actual writing. Do we argue about other things in our life? Sure—after all, we do spend almost every minute of the day together, so there's bound to be the occasional disagreement.
But we're both happy to say that the writing brings us closer together. It's fun, challenging, and it probably saves us from getting totally bored with semi-retirement. And it's always good for a laugh when we tell people what we do. You can't imagine the looks we get or the questions—especially the one about if we rehearse the sex scenes for the book. But when it comes to real life, we can assure you that the bedroom door will remain firmly closed!
Did you ever have a working partnership? How did that play out? One commenter will win a $20 Amazon gift card
Comments
37 comments posted.
My Husband and I did have a business at one time, and I
enjoyed working with him very much. I think that he would
say the same. Things went quite well for a while, but when
you can't get the cash flow quite right, you know what
happens!! It was sad to see it go, but we did hold on for a
couple of years, and it was a blast while it lasted!! My
Husband is retired, and since I'm disabled anyway, we are
together 24-7. Most of the time things go fine since we
have our own interests, but we talk all the time and our
place is small, so we're always underfoot!! We've been best
friends for over 32 years now!!
(Peggy Roberson 11:18am February 24, 2015)
What a fascinating post! It was very interesting to learn how you work together as a writing team. Building on each other's strengths and compensating for each other's weaknesses creates a very successful partnership. I have never had a working partnership with my husband. Congratulations on the new release and thanks for sharing.
(Bonnie H 11:20am February 24, 2015)
I haven't had a working partnership, but my parents did. Unfortunately that didn't work for them, but it was for the best that business didn't work.
(Christina Reed 11:53am February 24, 2015)
A very interesting and wonderful post. Your success and
creativity is wonderful. I worked for a brief time with my
husband in his business before we had a family.
(Sharon Berger 11:54am February 24, 2015)
No, I have never had a working partnership. Really enjoyed
reading about your.
(G. Bisbjerg 12:01pm February 24, 2015)
No I have not had a working relationship... thanks for sharing your post about your working relationship with your husband!
(Colleen Conklin 12:01pm February 24, 2015)
That's great that a working partnership works for you. I don't have one and can't imagine one.
(Pam Howell 12:52pm February 24, 2015)
Partnership, yes--30+ years of marriage. Working partnership--nope. I think you both do a great job with your process. Fascinating blog. Thanks.
(G S Moch 2:35pm February 24, 2015)
never had a working partnership :)
(Denise Holcomb 2:48pm February 24, 2015)
I never had a traditional working relationship via boyfriend and
girlfriend. I have worked with my one of my best friends as my
boss. It was a little sticky at sometimes and is best when we
aren't working directly with each other. I;m glad your husband
and you can have a working relationship.
(Robin Bromiley 3:05pm February 24, 2015)
Never had a working relationship with my
husband.
(Laurice McClung 3:16pm February 24, 2015)
I've never had a working partnership. I don't think it would work with my husband because we would both want to be the boss. lol
(Rita Wray 3:31pm February 24, 2015)
The only partnership besides my Marriage is the fact that I work in EMS so I work with a partner. We have to trust each other and rely on each other so that it works. If I don't trust my partner it is not going to be a good day. Your partnership obviously works since you write awesome books...thank you for hours of enjoyment!

I love all your books, especially the VK books...I also love Romantic Suspense...I would love to win the GC, thank you for the chance.
(Linda Scarchuk 3:42pm February 24, 2015)
Yes, my husband and I owned a restaurant at one time. We worked well together but after a year the restaurant closed due to the economy.
(Robbie Bauldree 4:00pm February 24, 2015)
My husband and I have never had a "working" partnership, but of course we have partnered in parenting, housekeeping, traveling, etc.
(Cheryl Castings 5:06pm February 24, 2015)
Wow. I've never heard of a husband and wife writing team.
I would think it would work well. Writing can be such a
solitary career it must be great to have someone to bounce
ideas off of and get immediate feedback. We, the readers
benefit in the end!
(Michelle Tweedy 6:09pm February 24, 2015)
no I have not
(Wendy Hutton 6:27pm February 24, 2015)
Please enter me. 5th attempt to enter. Id love to get to know your work.
(Jane Squires 6:48pm February 24, 2015)
I have never had a working partnership. Thank you for
sharing your writing process. It is interesting to read how
you both work together to write books.
(Rachael Brown 7:01pm February 24, 2015)
My husband and I farmed for over 30 years and we
worked as partners for most of that time. We ran
a Dairy and raised tobacco, corn and hay and I
worked beside him much of the time.
(Connie Saunders 7:51pm February 24, 2015)
I had a lot of fun in my youth with my partner, working together on a Congressional campaign!
(Diane Pollock 8:52pm February 24, 2015)
No, haven't done that.
(Wilma Frana 9:12pm February 24, 2015)
No, my hubby and I have never had a working relationship....which is good because we are both very different on how we approach things. Love the way you two do it! Very neat!
(Sue Galuska 9:43pm February 24, 2015)
Well, I met my hubby at work on the midnight shift on a locked Psych unit. Usually there were only three of us working each night so we had to get along and work well together. We've been married for almost 24 years so I think we're doing okay. LOL
(Marcy Shuler 10:51pm February 24, 2015)
Not in the way I think you mean. I guess everyone works with someone in every job. Don't they?
My husband and I have been a formidable team raising our sons. You have to be a strong team, as parents.
Congratulations on keeping your ''door closed''. Some people don't know when to do that. haha
(Lisa Hutson 11:05pm February 24, 2015)
no, i havent
(Jennifer Beck 1:22pm February 25, 2015)
no partnership with any one working wise that is
(Jeri Dickinson 4:54pm February 25, 2015)
I raised 5 children with a husband, does that count? We
worked together and apart to raise good kids and we're proud
of every one and 6 grandchildren as well!
(Mary Hay 10:33am February 26, 2015)


Well, maybe not. :D

I used to do writing and editing work with my first husband. This included
finishing up writing a substantial introduction to a collection of articles when we
were in the process of getting divorced.

I'm glad that's over. But having accomplished it successfully is one of my
proudest achievements.
(Mary Ann Dimand 11:59am February 26, 2015)
No I have never had a working relationship. I have a hard time
making it work without adding work into it. I am glad it works
for you guys!
(Denise Austin 12:03pm February 26, 2015)
No, I haven't. I AM self-employed, so my husband helps me a bit with that, but ultimately it is my business.
(Elaine Seymour 1:22pm February 26, 2015)
My husband and I work together in the kitchen , he washes the dishes and I dry and put away. LOL... That works really great .
(Joan Thrasher 2:15pm February 26, 2015)
No never had a working partnership.
(Yaritza Santana 6:12pm February 26, 2015)
Love the beach so I can't wait to read this
(Jeri Dickinson 6:14pm February 26, 2015)
No I don't. But it's fun watching other people who do. Sometimes it's a
beautiful dance and others could be reality TV.
(Laura Gullickson 7:54pm February 26, 2015)
Not yet - it would have to be with the right person to be
workable. I've enjoyed Vanessa's historicals so I'm very
curious to read this.
(Diane Sallans 8:17pm February 26, 2015)
We did work together for a while, he does home repairs. I would help but I could not do some of the heavy work. Live and learn.
(Deb Pelletier 9:21pm February 26, 2015)
Registered users may leave comments.
Log in or register now!