Laura Griffin | The Latest in the NYT Bestselling Tracers Series

January 26, 2015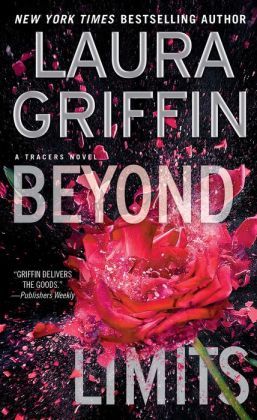 AVAILABLE
Tracers #8

February 2015
On Sale: January 27, 2015
Featuring: Elizabeth LeBlanc; Derek Vaughn
400 pages
ISBN: 1451689357
EAN: 9781451689358
Kindle: B00LD1S12O
Paperback / e-Book
Add to Wish List

Also by Laura Griffin:
Deep Tide, May 2023
Vanishing Hour, November 2022
Add to review list
Midnight Dunes, June 2022
Last Seen Alone, October 2021

Readers always ask me where I get my story ideas. I got my start as a newspaper reporter, and often my inspiration comes from current events. I'm constantly skimming headlines and asking myself, "What if...?"
My new book BEYOND LIMITS was sparked after I read a news article about Navy SEALs and wondered what would happen if one of these highly trained warriors learned about an impending attack on American soil. Would he be able to leave it to someone else to handle, or would he feel compelled to intervene?
BEYOND LIMITS opens with Navy SEAL Derek Vaughn, who is on a harrowing rescue mission overseas when he finds evidence of an attack being planned in the city where he grew up. He returns home determined to help thwart disaster. Derek decides his best way in to the FBI's investigation is to manipulate a woman he cares about—Special Agent Elizabeth LeBlanc—into giving him inside information. With the help of the forensic experts at the Delphi Center, Derek and Elizabeth embark on a race against time to stop a deadly plot.
BEYOND LIMITS is the eighth book in my Tracers series. Derek and Elizabeth first met in SCORCHED, which won the 2013 RITA Award for romantic suspense. Readers have been asking for Derek and Elizabeth's story, and I'm thrilled to share it with you!
To celebrate the new book I'm giving away a Tracers tote bag and a signed BEYOND LIMITS bookmark. Leave a comment for a chance to win!
An excerpt from BEYOND LIMITS
She crossed the hotel room with a flutter in her stomach and peered through the peephole. For a moment, she just stared. Square jaw, erect posture, ridiculously muscled body. In her memories, she'd made him less impressive, more average-looking. But of course, that was wishful thinking. There was nothing average about this man, and he was standing outside her room, refusing to go away.
He looked directly at the peephole and her heart skittered. He knew she was gawking. She pulled open the door and her heart did another little dance. She'd forgotten his eyes, too--whiskey brown with gold flecks. The look in them now was pure determination.
God help her, he'd come here on a mission...
More About BEYOND LIMITS
An FBI agent and a Navy SEAL race against time in New York Times bestselling author Laura Griffin's newest Tracers novel.
FBI agent Elizabeth LeBlanc is still caught in the aftermath of her last big case when she runs into the one man from her past who is sure to rock her equilibrium even more. Navy SEAL Derek Vaughn is back home from a harrowing rescue mission in which he found evidence of a secret terror cell on US soil. Elizabeth knows he'll do anything to unravel the plot—including seducing her for information. And despite the risks involved, she's tempted to let him. Together with the forensics experts at the Delphi Center, Derek and Elizabeth are closing in on the truth, but it may not be fast enough to avert a devastating attack…
About Laura Griffin
New York Times and USA Today bestselling author Laura Griffin started her career in journalism before venturing into the world of romantic suspense. She is a two-time RITA Award winner (for the books SCORCHED and WHISPER OF A WARNING) as well as the recipient of the Daphne du Maurier Award (for UNTRACEABLE). Laura currently lives in Austin, where she is working on her next book.
Tracers Series
The Tracers:
An elite group of forensic experts who help homicide cops and cold case detectives solve the most unsolvable crimes.
Comments
21 comments posted.
Re: Laura Griffin | The Latest in the NYT Bestselling Tracers Series

I've read several of your books, can't wait to read this
one.
(Melissa Smith 12:44pm January 26, 2015)
This sounds like it's going to be an all-night, page-turner,
and I'm up for the task!! Can't wait to read it!! I'm glad
you came here to let us know about your latest book, and
I'll have to keep my eye open for it, so I can get my hands
on a copy!! Congratulations on your latest book!! I'm sure
it's going to be another bestseller!!
(Peggy Roberson 10:52am January 26, 2015)
A captivating and intriguing book. Thanks. Congratulations and
best wishes.
(Sharon Berger 11:25am January 26, 2015)
I love your Tracers series. I'm really looking forward to Beyond Limits.
(G S Moch 1:53pm January 26, 2015)
The only good terrorist is the fictional kind.
(MaryEllen Hanneman 5:26pm January 26, 2015)
Your thrillers rock!
(Susan Coster 5:57pm January 26, 2015)
So excited to read this! Love your books!
(Linda Calderone 6:29pm January 26, 2015)
This sounds like an exciting read!
(G. Bisbjerg 11:25pm January 26, 2015)
Can't wait to read this, sounds like a real page turner.
(Denise Boyd 4:03pm January 27, 2015)
I loved TORCHED and can't wait to read this one to follow those characters. Love the intense suspense and action in your books.
(Brenda Rumsey 9:18am January 28, 2015)
This book sounds really good. I can't wait to read it.
(Gigi Hicks 9:44pm January 28, 2015)
I would love to read this book as I've enjoyed Laura's books
I've previously read. I can see another very late night coming
up!
(Glenda Hefty 11:41pm January 28, 2015)
This is a fantastic series - just love it and am enjoying Beyond Limits even as we speak! :D
(Willa Young 9:22am January 29, 2015)
I look forward to reading this book so much that I also entered it on Goodreads! I love your books!!!!
(Bonnie Capuano 9:39am January 29, 2015)
Sounds like a fantastic book! Can't wait to read it!
(Maria Proctor 12:20pm January 29, 2015)
Wow! Thanks for this sweeps. I enjoy your books and would love to win this one.
(Anna Speed 12:38pm January 29, 2015)
I love your books and can't wait to read this one!
(Denise Austin 1:36pm January 29, 2015)
I wonder what your feelings are about how news is reported today and the differences from when you were reporting.
(Leni Kaye 4:34pm January 29, 2015)
This book sounds like a real thriller just what I like.
(Joan Thrasher 6:45pm January 29, 2015)
My heart fate is already uo. This is a must buy.
(Sharon Mitchell 8:35pm January 29, 2015)
I love reading books about the higher ups in law enforcement
(Lisa L. 11:25am January 30, 2015)
Registered users may leave comments.
Log in or register now!