Vanessa Kelly | When You Need a Friend

January 14, 2015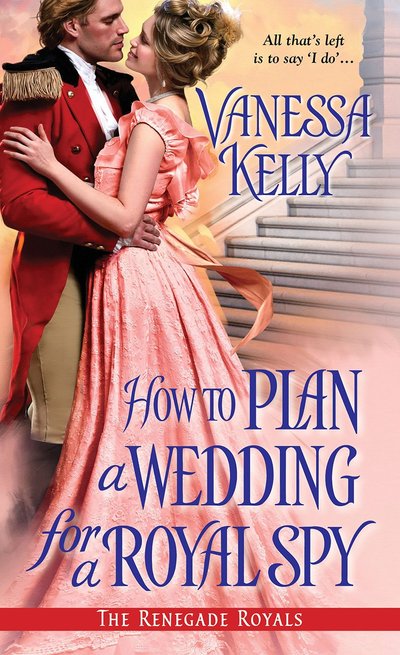 How to Plan a Wedding for a Royal Spy
Vanessa Kelly
AVAILABLE
All that's left is to say...'I Do'
Renegade Royal #3

January 2015
On Sale: January 6, 2015
Featuring: Evie Whitney; William Endicott
ISBN: 1420131265
EAN: 9781420131260
Kindle: B00KM9O6OK
Paperback / e-Book
Add to Wish List

Also by Vanessa Kelly:
The Highlander's Holiday Wife, October 2022
Add to review list
The Highlander's Irish Bride, August 2021
The Highlander's English Bride, June 2020
The Highlander's Christmas Bride, November 2019

Although every romance novel naturally focuses on the relationship between the hero and heroine, any writer worth her salt will spend quite a bit of time on the secondary characters, too. In HOW TO PLAN A WEDDING FOR A ROYAL SPY, my new Renegade Royals historical romance, I experimented a bit with secondary characters. For one thing, my heroine, Evie Whitney, is an identical twin. She and her sister are best friends and as close as siblings can be, even though they're quite different in personality. I had a lot of fun playing with the twin relationship and developing Evie's character in contrast to her sister, Eden.
But Evie isn't the only character in the book with a "sidekick." My hero also has a best friend who figures prominently in his life. In fact, you might even say he's involved in a bromance—that classic, male bonding relationship between two buddies who are almost inseparable. Until, that is, they find their soulmates!
My hero, Captain Will Endicott, is a tough-guy military spy for the Duke of Wellington, commander of the British Army. Will's fellow agent is Captain Alasdair Gilbride, a charming rogue who, like Will, is the illegitimate son of a prince. The two cousins are very different, but they're also the best of friends and always have each other's backs. As the war against Napoleon has just ended, they face one last mission together—to spy on Evie, Will's former childhood sweetheart, who is suspected of committing treason against the Crown.
Once Will and Evie meet again after years apart, they're surprised to discover that their feelings for each other remain as strong as ever. This is a tad problematic since Evie is about to be engaged to another man—and, lest we forget, she might also be involved in planning a political assassination. Needless to say, complications ensue, leading to mayhem, attempted murder, and unfortunate wardrobe malfunctions resulting in hastily planned weddings to avoid scandal.
Clearly, both Will and Evie are going to need help from their sidekicks to escape from such a tricky spot, and Eden and Alasdair are happy to oblige—even if it means losing their best friends to marriage.
Something tells me, though, that Alasdair and Eden won't be alone for long!
About HOW TO PLAN A WEDDING FOR A ROYAL SPY
Whether as spies or lovers, the Renegade Royals—illegitimate sons of England's Royal Princes—are bold, skillful, and a force to be reckoned with…
A war hero returned from Waterloo should be able to indulge in a bit of bad behavior. Instead, Captain William Endicott is summoned by his father, the Duke of York, to investigate an assassination plot. The unlikely suspect: William's former sweetheart. Will can't believe that innocent Evie Whitney could be mixed up in anything so nefarious. Then again, almost everything about Evie has changed—except for his body's instinctive response to hers…
Just as Evie's life is finally coming together, Will saunters back into it. Should she slap him—or seduce him? Even as she tries to decide, scandal pushes her toward marriage with a man she can neither trust nor resist—and into the heart of a deadly conspiracy…
About Vanessa Kelly
Vanessa Kelly was born and raised in New Jersey, but eventually migrated north to Canada. She holds a Master's Degree from Rutgers University, and went on to attend the Ph.D. program in English Literature at the University of Toronto. Alas, she didn't finish her degree, but she did spend many happy hours studying the works of 18th and 19th century British authors and writing about the madness of King George III. Vanessa now writes Regency-set historical romance for Kensington Zebra and contemporary romance with her husband under the pen name of VK Sykes.
Renegade Royals
Children of the royals find love...
Comments
45 comments posted.
Re: Vanessa Kelly | When You Need a Friend

Your book sounds like one I would enjoy reading. I love the cover too.
(Jackie Wisherd 12:34pm January 14, 2015)
This book sounds very exciting and one that you can't put down till you read all of it . I will love reading it.
(Joan Thrasher 1:21pm January 14, 2015)
I have to wonder at the character of the heroine, how is it
that she is suspected in an assassination plot? Would love to
find out!
(G. Bisbjerg 1:22pm January 14, 2015)
Thanks, Jackie! I've been very lucky with my covers. Joan, I hope you'll give the
book a try!
(Vanessa Kelly 1:40pm January 14, 2015)
G. Bisbjerg, it's guilt by association. A dear friend of hers is suspected of being a
villain.
(Vanessa Kelly 1:41pm January 14, 2015)
this is a book that i would definitely read!
i must add that i love the book covers to your books, they
are beautiful! i hope you have a great Wednesday! :)
(Beth Hammann 1:48pm January 14, 2015)
Haven't started the series yet, but plan to do so. Winning one would help!
(Carol Gowett 1:53pm January 14, 2015)
love Royal books.
(Emily Stemp 2:17pm January 14, 2015)
Haven't started this series yet. But I'll get to it soon.
Can't let you get too far ahead of me. But go on and keep
writing, I read faster than you write. Awesome covers.
(Deb Diem 2:33pm January 14, 2015)
I have read all of your books and enjoyed them. I will definitely read this one. I
like witticism in my stories.
(Joy Isley 2:57pm January 14, 2015)
Congratulations. I always enjoy an historical with some intrigue.
(Kim C 4:23pm January 14, 2015)
Love the cover! Hope to start on the series soon!
(Donna Robertson 4:34pm January 14, 2015)
Romantic spy stories are so much fun, and sidekicks are too. :D
(Barbara Elness 6:56pm January 14, 2015)
Love this series! I'm reading book 3 right
now and it is sooo good! :)
(Krysten Michelsen 7:08pm January 14, 2015)
Your book sounds wonderful!
(Susan Mahaffey 8:02pm January 14, 2015)
Lovely cover! I'd love to have a wardrobe of all the dresses in your covers, but having a copy of the book would suffice too :)
(Lisa L. 8:05pm January 14, 2015)
Thanks, ladies, for all your kind comments! I do have wonderful covers, and wish
I owned the dresses my heroines do!
(Vanessa Kelly 8:10pm January 14, 2015)
Thank you so much for your support, Joy!
(Vanessa Kelly 8:11pm January 14, 2015)
Krysten, I'm so happy you're enjoying the book - thank you!!
(Vanessa Kelly 8:11pm January 14, 2015)
Thanks for the giveaway!
(Kimberly Benyak 8:12pm January 14, 2015)
love the covers & enjoyed the novellas in the series, now need to fit the books into my reading schedule as they are all on my wish list :)
(d Kenney 9:27pm January 14, 2015)
Sidekicks! I love the concept. Some of the best books ever
have gotten there based on their secondary characters. Can't
wait to read this!
(Marcia Berbeza 10:01pm January 14, 2015)
This series has a great combination of what I love to read.
I have read 2 of the books and I have this book but would
love to send it to my mother. Mine copy is ereader.
Thanks for the chance to win.
(Tina Ullrich 10:28pm January 14, 2015)
loving the story
(Denise Holcomb 12:37pm January 15, 2015)
I have had my own share of unfortunate wardrobe malfunctions. Fortunately, marriage wasn't a forced result of said malfunction. *shudder* This book sounds like great fun.
(Michelle Willms 8:59am January 15, 2015)
Love historicals! Another great book to read
(Julie Parrish 9:08am January 15, 2015)
I think historicals are my favorite romance novels
(Jill Burgus 9:20am January 15, 2015)
Sounds like an interesting read, I only occasionally read
historical romance.
(Michelle DeLeon 9:37am January 15, 2015)
Just reading the synopsis had my mind wandering as to the
antics that could be going on in your book, and I started to
laugh!! I can't wait to read your book, and find out how
the story unfolds for myself!! The plot is ingenious, and
very clever!! Congratulations on your book, and it has gone
onto my TBR list to round out my Winter reading. It's just
the ticket to round out some of the more droll books which
may have to be knocked down a bit, so this one can take its'
place!! Have a wonderful New Year!!
(Peggy Roberson 9:44am January 15, 2015)
Sounds like a great book!
(Lindsey Andronak 11:16am January 15, 2015)
Oh this sounds like another great book/ series from you!
(Colleen Conklin 12:06pm January 15, 2015)
How intriguing both the book sound! The one question that keeps occurring
to me, but only because I am a curious. All the ill/legitimate relations that
the royalty had, makes it kind of hard to follow who is who.
(Kantu Malhotra 12:28pm January 15, 2015)
Your books always sound amazing. I can't wait.
(Kimberly Woodall 1:29pm January 15, 2015)
I love your books and their covers, Vanessa! Unfortunately, I haven't read this series yet, and am looking forward to it.
(Cathy Phillips 6:10pm January 15, 2015)
EXCELLENT GIVEAWAY AND BLOG!!!
(Tiffany Miles 6:30pm January 15, 2015)
love Royal romance books
(Emily Stemp 8:07pm January 15, 2015)
Thank you for a chance to win.
(Geraldine Pierson 9:04pm January 15, 2015)
Thanks for the opportunity. I would love to win any of
Vanessa Kelly's books.
(Kathy Davis 9:35pm January 15, 2015)
Love the cover...thanks for the chance to win this book!
(Bonnie Capuano 9:59am January 16, 2015)
happy friday. hoping to get alot of reading done this
weekend. have a great weekend
(Emily Stemp 10:43am January 16, 2015)
Having a beautiful cover and an intriguing story makes this book a winner. Thanks for the sweepstakes.
(Anna Speed 1:28pm January 16, 2015)
I keep seeing this in my various emails I get. It sounds like something.
Need to read.
(Laura Gullickson 3:53pm January 16, 2015)
I love seeing the secondary characters & how they play a
part in the HEA, as well as getting their own! Good luck
with the new book, Vanessa!
(Sharlene Wegner 9:42pm January 16, 2015)
Sounds like a great read; I'd like to see how everything is
resolved.
(Janie McGaugh 10:11pm January 17, 2015)
What an intriguing book! Love the cover.
(Bonnie H 8:59pm January 23, 2015)
Registered users may leave comments.
Log in or register now!