Sally Goldenbaum | Photo-phobia

May 11, 2013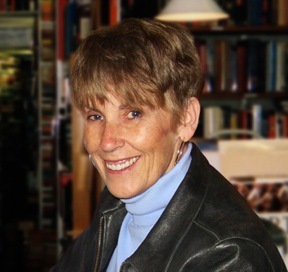 Recently a family photographer told me that over 90% of the people he photographs begin the session by telling him they aren't photogenic.
I realized with a start that I do that, too. I am uncomfortable when a camera is aimed at me. Maybe there's a bit of Chief Crazy Horse in me and I fear the camera will steal a bit of my soul. Or maybe I think I look better than a camera thinks I look. Or worse yet, maybe I think I look worse.
But whatever the reason, having one's photo taken can be painful, so when I wrote the first Seaside Knitters Mystery, DEATH BY CASHMERE, and my editor said they'd need a photo for the cover flap in a few weeks, I went into a tailspin. All right, I told myself, a photographer could make it work, make me comfortable, look decent. So I stood in a park and smiled, then smiled again against a studio backdrop, then let the smile fall away and tried to look 'authorly' as the nice man snapped away. Sigh. My smile looked fake, my serious face looked like I had a stomachache.
So I asked my oldest son, an accomplished amateur photographer, to do the deed. Surely I'd be comfortable with him and could look the way a mystery author should look. We headed to my backyard and Todd carefully took shots, trying his best to scold away my self-conscious look. We lined the photos up ... and decided unanimously to revisit them in a week or so.
And then something happened that changed my life.
I got THE call-- my daughter was in labor with my first grandchild. I tossed away thoughts of photographs and caught the first flight to Boston, forced a cabby to burn rubber as we raced to the Beverly hospital, and arrived just shortly after Luke Robert made his appearance. My heart was bursting and emotions flooded the small hospital room. I sat on the sterile bed with this amazing baby in my arms, this beautiful child who would change all our lives forever. I looked up when his proud papa snapped away with his camera, cried when I took my daughter into my arms again, and then sat still and joyful for hours, holding my lovely grandson in my arms without any notice of life around me.
Days later, the photos came to me in an email. Me, on a hospital bed, my jacket still on, IVs and white walls in the background. And a miracle in my arms. I loved every shadow in that photo, every nuance. And when an artist at my office offered to take away the hospital background and replace it with some books, then crop it into a headshot, I happily agreed, and my cover flap photo was born.
When ANGORA ALIBI, the seventh Seaside Knitters mystery came out this May, I revisited the cover flap photo and realized that the wonderful baby who gave me that smile on that joyful day was now seven years old. Seven years. Oh, dear. That meant that the photo was, too. Hmmm. Perhaps I need a new one? But how do I replay that life-changing moment?
Clearly, this will take some thought. Perhaps by the time the 8th Seaside Knitter mystery novel comes out next year...? Hmmm. Perhaps.
One commenter will win hardcover of ANGORA ALIBI, and a trade paperback of FATAL FLEECE.
Comments
38 comments posted.
Re: Sally Goldenbaum | Photo-phobia

I don't know how I missed your series!! I love reading knitting mysteries, because I am an avid knitter and crocheter!! I tend to gravitate to this type of genre. As for photographs, I don't like to have mine taken, because I tend to be a certain age in my mind, feel a different age, which is younger, in the mirror, and when I see myself in a photo, it's like a bit of a wake-up call, and gets depressing!! I always tell myself that I look like heck, but with stronger language, and stay away from the camera for a while, while re-inventing my look!! lol I think you took wonderful photos, and would never guess that you were a Grandma!! Can't wait to read your books, and Congratulations on your latest book!!
(Peggy Roberson 1:52pm May 11, 2013)
I have to agree with you about photos. I'm never pleased with any of myself. I always seem to find something wrong with them. I only remember one that was taken quickly just to use up the rest of a roll of film one afternoon, and it was one of the best photos ever of me holding my little dog. I looked about 25 lbs. thinner in it, and don't know how that happened. My youngest son liked it so well, he framed it and keeps it on his desk! I enjoy both knitting and crocheting so I know I'd enjoy reading your series very much. The covers are all so colorful, attractive and beautiful! New babies are such a joy for grandparents...my oldest son just had his first...twins, a boy and a girl. He didn't think he'd ever have any. Guess, it's true that good things come to those who wait!
(Linda Luinstra 2:47pm May 11, 2013)
I admit I am the picture taker in my family. I think it's because I really don't see myself as the camera does and I don't want to be forced to see the truth(a mirror can be ignored because it's only a brief look, without my glasses. LOL)I am not a grandmother though I do hope that someday I will have that pleasure and take lots of pictures. I can't knit but I do crochet a mean afghan. Your series is not one I have read but it sounds like one that I would like to read.
(Annetta Sweetko 4:07pm May 11, 2013)
I have always avoided people taking pictures of myself. I have never been photogenic. I still have pictures from my high school senior year pictures and I looked so terrible. It is like the DMV picture: dull and uninteresting.
(Kai Wong 4:10pm May 11, 2013)
I don't like getting my picture taken because I alwys find fault of myself---too fat--wrong color clothing, etc. But I love taking picture in ordr to have memories and look back on events. Fortunately many of my friends love to have their pictures taken
(Shirley Younger 4:39pm May 11, 2013)
Ooooo I don't like pictures taken of me either---but I do like to read this series so keep writing.
(Sue Farrell 5:03pm May 11, 2013)
love the books! I'm always tying to figure out just where the action is taking place - I live not too far away and have relatives who lived in Beverly Cove...I avoid having my picture taken and can't quite understand why one of my sons is so photogenic - what does he do? why does he look so good in pictures? how does he do it? It will always be a mystery!
(Beth Fuller 5:19pm May 11, 2013)
I love that I am not alone! Thank you all for your comments and I can clearly see I
am in wonderful company. And thanks for the nice comments about the seaside
knitters.

And I also love that some of you haven't read the series and may give it a try. Let
me know what you think! Happy May to everyone, and I hope you have a great
summer.
(Sally Goldenbaum 5:22pm May 11, 2013)
I think your picture looks great. Must be nerves boy can I
relate.
(Theresa Norris 6:18pm May 11, 2013)
I love having photos with me in it. Tells me a story of what I have been doing.
(Lisa Fitzgibbons 6:39pm May 11, 2013)
I hate having my picture taken - I think it's because I had so many pictures taken as a child.

Love your books!
(Mary C 6:53pm May 11, 2013)
My husband and I have only had one professional photo taken and it cost
more for touch up than the cost of the pictures. We didn't even have a
photographer at our wedding. I run when I see a camera.
(Susan Falkler 6:59pm May 11, 2013)
That is a great story about your daughter and grandson.
(Rita Wray 7:08pm May 11, 2013)
I don't like having my photograph taken either. I don't know
what I expect to see, but it does not feel like me.
(Mary Preston 8:12pm May 11, 2013)
I hate having my picture taken. I hate really don't like what I see. Your books sound interesting, thanks for a chance to win.
(Linda Hall 8:44pm May 11, 2013)
I can't stand having my picture taken! I try to avoid the camera at all costs. Thanks for the chance to win these books.
(Martha Lawson 9:31pm May 11, 2013)
I DONT LIKE HAVING MY PICTURE TAKEN EITHER. I LIKE COZY MYS. SO I WOULD LOVE TO WIN YOUR BOOKS!
(Shelley Summers 10:33pm May 11, 2013)
I always look so dumb.So I always try to hide behind any another person
(Patricia Kasner 10:41pm May 11, 2013)
You all are great. I laughed and commiserated and was so happy to have you all
visit. I hope a copy of the seaside knitters mysteries will be going your way soon.
It's been a fun time being with you. Thanks!
(Sally Goldenbaum 11:10pm May 11, 2013)
i do not like pictures taken of me either..alway stay in the background ..love to win
(Kimberly Hoefs 11:41pm May 11, 2013)
i dont like having my photo taken but decided to have a
family picture done for the first time my oldest daughter is
14 and my youngest is 9 so i wanted to do it
(Denise Smith 12:40pm May 12, 2013)
I am always the picture taker so have very few pics. I love taking pics of my kids and dogs so there are tons of those
(Darci Paice 1:43am May 12, 2013)
I am always taking pictures of the family, especially the grandchildren! Thanks!!
(Bonnie Capuano 7:20am May 12, 2013)
I usually am the picture taker so I don't have a lot of pictures of myself.
(Mary Smith 8:50am May 12, 2013)
What gorgeous colourful covers! And I love the cat.
I enjoyed reading your story about the photos and it shows how good graphic artists are today.
(Clare O'Beara 9:14am May 12, 2013)
Somehow I have missed these but they sure look like they need to be on my to be read list. I love the covers.
(Cathy Thomas 9:15am May 12, 2013)
My mom feels the same way!
(May Pau 9:33am May 12, 2013)
I've never liked having my picture taken
(Sandy Giden 11:20am May 12, 2013)
Photographs are precious for family and to be treasured.
(Sharon Berger 11:27am May 12, 2013)
Hard to understand how I have not ever heard of your Seaside books but now that I have come back to the hobby of knitting for my grandchildren, I know these are going to be books that I will love. I am a person who lives with a camera with her at all time; photos are my way to relive each and every family time and event. I love viewing my photos; it makes you realize how fast time does go when your children seem to go from birth to 40 years old in what seems like a few years not forty. Now our grandkids are enjoying their parents photos of their youth, so I know how much that means to all of us. Can't wait to read your books, so that does mean a few of them as I always start with book 1 in every series that I read. Thank you for the lovely giveaway today.
Have a great Mother's Day.
Cynthia in MA
(Cynthia Blain 1:11pm May 12, 2013)
I feel the same way, I don't like having my picture taken.
(Aimee Robison 2:47pm May 12, 2013)
I hate having my picture taken, but a good photographer
helps. One came into the place I worked and gave us a free
picture (hoping we'd buy the special frame since it was
mounted like canvas or a complete package). I did buy the
frame for $15.00. My sister's boyfriend asked about her
sister asking who she was, he didn't even recognize me. Was
that a good or bad thing?!?

I just recently read about you, probably on Cozy Mysteries
Blog and now have your first book on my TBR pile.
(Anne Muller 3:47pm May 12, 2013)
This sounds really good thanks for the review!
Penney
(Penney Wilfort 3:59pm May 12, 2013)
Being captured in photo form while in a moment of true joy is
something special.
(G. Bisbjerg 4:12pm May 12, 2013)
Would love to read your book. I am a knitter and a reader...two of my favorite
things to do. So glad for the info...thanks.
(Jackie Wisherd 4:27pm May 12, 2013)
I really love cozy mysteries. Your books sound like fun! Happy Mother's Day!
(Molly Wilsbacher 5:14pm May 12, 2013)
Enjoyed reading about the ordeal you went through having your picture taken, I can really relate.
(Sheila True 10:29pm May 12, 2013)
A good photographer tries, most people point an shoot--no
effort to take a great photo.
(Denise Holcomb 10:29pm May 13, 2013)
Registered users may leave comments.
Log in or register now!