Grace Burrowes | What My Characters Taught Me

November 2, 2011
It's axiomatic that protagonists in romantic fiction are going to have to face their worst fears. They'll be forced by fate (or the author) into the one corner they most desperately want to avoid, and they'll have to do the one thing they never, ever wanted to do–only to emerge worthy of a happily ever after.
When I started writing the Windham sibling books, playing the role of fate was great fun: The Earl of Westhaven started off as an orderly fellow who liked think his way through problems and take care of all in his ambit. He eschewed (other people would say avoid, but this guy is a ducal heir so he eschews) emotional situations, and regarded it as his lot to bear up manfully under His Grace's queer starts and unreasonable expectations.
Oh, what fun it is to write... by the end of THE HEIR, Westhaven was getting tipsy with his brothers, had shouted his father into a heart seizure, been confounded by problems he could not solve, and frustrated by the one woman who would not allow him to take care of her. He was also a man capable of loving and worth loving.
His brothers fared similarly. Devlin St. Just, hero of THE SOLDIER, simply wanted to be left alone with the lingering effects of too much war, but fate inflicted responsibility for a small child on him, and he too ended up in love and fiercely loved.
Lord Valentine was a virtuoso pianist, so of course, his music had to be taken from him, and he had to admit that he and his dreadful ducal father had a lot more in common than either of them knew–and then, ably abetted by His Grace, Val could have his happily ever after. His story is told in THE VIRTUOSO!
Lady Sophie wants to have a few days to herself over the holidays, but she too must take on responsibility for a child, and she has no clue what infant care entails. Her story begins the Duke's Daughters series, and is called LADY SOPHIE'S CHRISTMAS WISH.
I thought these were fine stories and a lot of fun to write, but they were just fiction, until I realized... I am a lawyer, and like Westhaven, I've had to learn that not all problems admit of analytical solutions, much less legal resolution. Like Sophie and St. Just, my peace was substantially cut up when I became solely responsible for an infant, but I learned there are universes of love and laughter to be had as a parent. Like Lord Val, I had to admit that musical skill could not form the basis of my identity, and that rebellion is not the same thing as individuation.
Fiction, indeed. These characters have mined the lode of my lessons and losses in life and used them to remind me that growing up, becoming the person I am meant to be, is nothing more than learning how to love and be loved. This is an insight I can learn from many, many different perspectives, which is fortunate, as there are five more Windham siblings to go, and they all have friends and neighbors and cousins.... By the time I write all the books I have in me to write, I should be a very wise, loving person with a lot of wonderful books to my name.
THE VIRTUOSO by Grace Burrowes – In Stores November 2011
A genius with a terrible loss...
Gifted pianist Valentine Windham, youngest son of the Duke of Moreland, has little interest in his father's obsession to see his sons married, and instead pours passion into his music. But when Val loses his music, he flees to the country, alone and tormented by what has been robbed from him.
A widow with a heartbreaking secret...
Grieving Ellen Markham has hidden herself away, looking for safety in solitude. Her curious new neighbor offers a kindred lonely soul whose desperation is matched only by his desire, but Ellen's devastating secret could be the one thing that destroys them both.
Together they'll find there's no rescue from the past, but sometimes losing everything can help you find what you need most.
LADY SOPHIE'S CHRISTMAS WISH by Grace Burrowes – In Stores NOW!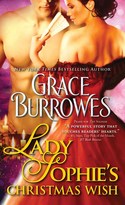 A luminous holiday tale of romance, passion, and dreams come true from rising star Grace Burrowes, whose award-winning Regency romances are capturing hearts worldwide.
All she wants is peace and anonymity...
Lady Sophie Windham has maneuvered a few days to herself at the ducal mansion in London before she must join her family for Christmas in Kent. Suddenly trapped by a London snowstorm, she finds herself with an abandoned baby and only the assistance of a kind, handsome stranger standing between her and complete disaster.
But Sophie's holiday is about to heat up...
With his estate in ruins, Vim Charpentier sees little to feel festive about this Christmas. His growing attraction for Sophie Windham is the only thing that warms his spirits–but when Sophie's brothers whisk her away, Vim's most painful holiday memories are reawakened.
It seems Sophie's been keeping secrets, and now it will take much more than a mistletoe kiss to make her deepest wishes come true...
The Duke's Obsession
About the Author
GRACE BURROWES is the pen name for a prolific and award-winning author of historical romances. THE HEIR, received starred reviews from Publishers Weekly and Booklist, and was selected as a Publishers Weekly Best Book of the Year for 2010. Both THE HEIR and its follow-up, THE SOLIDER, are New York Times and USA Today bestsellers. She is a practicing attorney specializing in family law and lives in a restored log cabin in western Maryland without a TV, DVD or radio because she's too busy working on her next books. For more information, please visit http://www.graceburrowes.com/
Comments
55 comments posted.
Re: Grace Burrowes | What My Characters Taught Me

Sounds like a happy ending, and that is wonderful!
Blessings,
Marjorie
(Marjorie Carmony 6:47am November 2, 2011)
Sounds like a lot of fun and I'm off to find the other earlier books!
(Cate Sparks 7:02am November 2, 2011)
This is going to be some great reading. I can't wait to get my hands on it.
(Cheryl English 7:10am November 2, 2011)
Sounds like a great read that I can't wait to get my hands on!!!!!!
(Kimberly Lane 9:26am November 2, 2011)
Grace is a new author for me, but have heard great things about this book. Would love to win and read this book. Love the cover of this book. Thanks for the giveaway.
(Chris Bails 9:42am November 2, 2011)
What a lovely post. Thanks so much for visiting today. I've read The Heir and I'm looking forward to enjoying more of your novels.
(G S Moch 9:46am November 2, 2011)
I've been waiting for Val's story! Loved The Heir and The Soldier. Also,
thanks for explaining that Lady Sophie is one of the Duke's daughters. I
was wondering how she was related to the other characters.
(Sharyn Lewis 9:53am November 2, 2011)
I love The Heir. :) Looking forward to your next novel. :)
(May Pau 9:53am November 2, 2011)
It must be fun to invent not only people but their lives! Sounds like a great read.
(Beth Elder 9:54am November 2, 2011)
It must be wonderful to get your characters into fixes, and then get them out of them!
(Joanne Reynolds 9:59am November 2, 2011)
I am putting this one on the top of my TBR pile to be read next.
(Sandra Spilecki 10:05am November 2, 2011)
Grace, you are a terrific author and it's really neat to know that some of your
plots mirror your own life experiences. Looking forward to reading more of your
books. Congratulations on all of your successes.
(Connie Fischer 10:09am November 2, 2011)
I've never read a book by you - but I would LOVE to start. It sounds great - and I would LOVE to win a copy. But now that I've read about it, even if I don't win, I'll have to get this (and others by you) to read. Best of luck with it. Thanks. Nancy
(Nancy Reynolds 10:09am November 2, 2011)
I loved the Heir and the Soldier, can't wait to read these ones. Thank you for writing such great books.
(Barbara Hanson 10:20am November 2, 2011)
Your newest release sounds emotion filled and just the thing in which to lose my own worries.
(G. Bisbjerg 10:32am November 2, 2011)
You sound like a relly good author. If I don't win, I'll have to go get your book. I love reading, I find it better than television a lot. Hope you have a great day and continue writing. :)
(Meghan Anderson 10:50am November 2, 2011)
It's always amazing when a book can have an impact on your life. When I was growing up, I read the biography of Helen Keller. After seeing the movie The Miracle Worker on tv, I wanted to learn more about her. The book changed my life forever, and I decided to pattern my life after her. Little did I know that I would have health problems in my 20's that would affect my way of life, but I thought back on that book to help me through those years and beyond. I am looking forward to reading your book, as well as the ones prior, and congratulate you on stories that I know come straight from the heart!
(Peggy Roberson 10:54am November 2, 2011)
Wow I love reading historical romance books...and you do such a wonderful job......can't wait to read 'The Virtuoso'................hope to win a copy too of the book....babyruthmac16@yahoo.com
(Lnda McFarland 10:55am November 2, 2011)
Hope I win this. It sounds really really good.
(Ashley Vickery 11:02am November 2, 2011)
I guess we can all learn from our experiences and the experiences we read about. Books are a great way for us to experience the feelings of others and learn from them.
(Sue Farrell 11:03am November 2, 2011)
I've got the first two books, and can't wait to read this one! :) Congratulations
on your continued writing success!
(Debbie Burdeen 11:15am November 2, 2011)
the book sounds great, i can hardly wait to read it.
(Tammy Ramey 11:31am November 2, 2011)
I have really enjoyed this series! I love this family and it's been so fun to read each of the siblings' stories. Congratulations on your newest release and I'm really looking forward them :)
(Erin Fender 11:34am November 2, 2011)
Thanks for the info on what your characters taught you. I'm amazed at what we can learn from different experiences.
(Maude Allen 11:36am November 2, 2011)
Friends,
It's heartwarming to hear how many of you have made Valentine's acquaintance in previous books, and how many are eager to make it now. I don't know how to write a book that ISN'T of my heart, but when I realized I had to take Val's music away, it about broke my heart. HE comes out just fine, but as an author, I can see why we sometimes find it hard to follow the editor's advice to "torture the hero." By the time the book ends, I need the happily ever after as much as the hero and heroine do.
(Grace Burrowes 12:03pm November 2, 2011)
Congrats on the new release, Grace. I enjoyed the first two books in the series and can't wait to read "The Virtuoso."
(Jane Cheung 1:39pm November 2, 2011)
It's amazing what we life lessons we can learn from books, I think. There is one series that's pretty much ingrained into my beings. "Three sides to every story; yours, theirs, and the truth." "Just because you can, doesn't mean you should." etc. I have not read your writing before but I will whether or not I win this contest. I love reading stories like these. :)
(Darlene Stewart 2:03pm November 2, 2011)
I was just thinking this morning of how difficult, yet kind of fun in a sick way, it was to "mess up" my almost too perfect heroes. Can't make it too easy now, can we? Your books are definitely on my "To Be Read Soon" list and I would LOVE to have an autographed copy, because that's how I roll--I used to run a bookstore and co-chaired a science fiction convention so I obsessively collect. Congratulations to the max on your successes and your new releases.
(Julee Adams 2:21pm November 2, 2011)

(Becky Hagstrom 2:34pm November 2, 2011)
I am thoroughly enjoying the world you've created with it's many intriguing characters. Awaiting Val's story anxiously. Becky
(Becky Hagstrom 2:36pm November 2, 2011)
I'm so excited to have two more Grace Burrowes books to read. Off to download
Lady Sophie...I already took care of downloading Val's book earlier. Now to find
the time to read.
(Robin Kaye 2:39pm November 2, 2011)
I TOO, AM LEGALLY TRAINED AND NOW REFER TO MYSELF AS, "A RECOVERING ATTORNEY." YOUR STRUGGLES, AND THOSE OF YOUR CHARACTERS, PROVIDE ME WITH A HAVEN OF FAMILIARITY!
(Silvana Moscato 2:42pm November 2, 2011)
Can't wait to read this book!!!!
Thank you for the opportunity to in it!
(Alice Vernescu 3:18pm November 2, 2011)
Sounds like a wonderful book. Thanks for the chance to win!
(Jennifer Langford 3:26pm November 2, 2011)
Great post! I am in need of more of your books:D You got me
hooked!
(Leanne Gagnon 4:02pm November 2, 2011)
This sounds like a good book to add to my reading list.
(Anna Speed 4:09pm November 2, 2011)
I love series involving families and friends. I look forward to catching yours - as a must read.
I also used to live in Western MD - between Frostburg and Cumberland up to a year ago. What a great use of time in the winter is writing. Hope the winter isnt as harsh as it has been the past couple years. Good Luck with all your endeavors
(Carla Carlson 4:37pm November 2, 2011)
I have not had the pleasure of reading your books before... I have to change that... they sound wonderful!
(Colleen Conklin 4:44pm November 2, 2011)
A lot of people are flabbergasted to learn that the only tundra in the lower 48 states is in Western Maryland. Yes, we're below the Mason Dixon line, but yes, we get real winter. And it IS a good time to write, as are those crisp fall nights, soft spring evenings, and stinkin' hot summer days. It's all good writing time when people are as appreciative of my books as this crew. Thanks so much.
(Grace Burrowes 6:24pm November 2, 2011)
I have not read one of your books,but it sounds great. Thanks for giving me a chance to win it.
(Linda Hall 6:28pm November 2, 2011)
I very much enjoyed reading your post about you and your books. You are quite an accomplished author. I must now read all of your great books, which sound intriguing. Much success with your two latest releases!
(Linda Luinstra 6:29pm November 2, 2011)
Im glad there are five more Windham siblings to go, and I love sibling stories:)
(Bella Franco 7:39pm November 2, 2011)
This definitely sounds like a page turner and will be fun to read
(Shirley Younger 7:48pm November 2, 2011)
I took Their Graces aside and asked them if they'd please search their memories for any additional children they might have misplaced. Her Grace gave me the most incredulous look and His Grace assured me this is an EIGHT SIBLINGS series--and then he winked. What are we supposed to make of that?
(Grace Burrowes 7:53pm November 2, 2011)
Hi Grace!I loved the Heir and the Soldier, so I'm really looking forward to reading this book too!
(MaryAnne Banks 8:47pm November 2, 2011)
Such wonderful covers and I just love historical romance... definitely adding these to my wishlist!

yadkny@hotmail.com
(Yadira Alonzo 9:55pm November 2, 2011)
Hi Grace, Loved the Heir and the Soldier, reading in order,
have to get Lady Sophies Christmas Wish's and the Virtuoso.
Remember me, I met you at the RWA Conference. It was a real
pleasure. Wonderful weather in Hagerstown, Huh?
(Thelma Banzhoff 9:56pm November 2, 2011)
Sounds like a fantastic book and great reading. Please enter
me in this fantastic contest. Thanks so much. Cecilia
(Cecilia Dunbar Hernandez 10:20pm November 2, 2011)
Sounds like a great read. And I am always on the look out for
a great read.
(Jodi Kegebein 10:28pm November 2, 2011)
I've been told that the 3rd book is the best so I need to get The Soldier first and looking forward to this third book too.
(Jeanne Sheats 10:49pm November 2, 2011)
Well as usual I read The Soldier first not knowing about The Heir. lol So I have to get The Heir and then The Virtuoso. I loved The Soldier :)Looking forward to reading books 1 & 3.
Carol L
Lucky4750 (at)aol (dot) com
(Carol Luciano 5:18am November 3, 2011)
Love the covers and connected stories!
(Mary C 7:35pm November 3, 2011)
I can imagine playing the role of fate could be a lot of fun. The books all sound amazing.
(Mary Preston 9:17am November 4, 2011)
FYI, you can read the books in any order, but the chrono approach would be: Heir, Soldier, Virtuoso, THEN Lady Sophie. All three brothers stick their handsome noses in Sophie's story and end up matchmaking, rather in the tradition of old Meddling Moreland himself. Wonder if we should point that irony out to their various Lordships?
(Grace Burrowes 12:12pm November 6, 2011)
Music lessons can have a benfit no one sees while practicing the scales and skills of the art. Having an appreciation for music engages the senses in a evocative game which can move to a better mood.
(Alyson Widen 3:08pm November 6, 2011)
Registered users may leave comments.
Log in or register now!