Love and Murder Are in the Air

February 9, 2015
I've always been drawn to cozy mysteries during the month of February. They offer a combination of warm love stories and a taste of murder that can appeal to everyone's Valentine's Day mood. From the reader who likes to decorate their home in arrows and hearts, to the bookworm who'd like to investigate cupid's death after an arrow struck through his core, the cozy mystery genre offers it all.
This February is jam-packed with great murder mysteries involving crewel twists of fate that leave our heroines lives in need of being hammered back into shape before they can finally say gouda riddance to the killers. From A Pickled and Preserved Mystery by Mary Ellen Hughes, we move on to A Needle Craft Mystery by Monica Ferris before journeying on to A Fixer-Upper Mystery by Kate Carlisle. We then finish our first week of February where love and murder in the air with A Cheese Shop Mystery by Avery Aames.
Tell us your favorite Valentine's Day cozy mystery, and you could win a print copy of each of the four books I've featured this week!
LICENSE TO DILL, A Pickled and Preserved Mystery by Mary Ellen Hughes
LICENSE TO DILL

From the author of THE PICKLED PIPER comes another Pickled and Preserved Mystery…

Piper Lamb knows how to make fruits and vegetables keep for months. Unfortunately, it's the people around her who are expiring too soon…

After her fiancé left her, Piper came to Cloverdale to rebuild her life and open up her shop, Piper's Picklings, to sell pickles and preserves. When her ex decides to drop in for a visit—just as things are heating up between her and a local Christmas tree farmer—Piper finds herself in a jam. But there are other visitors to worry about…

An Italian soccer team is set to play the Cloverdale All-Stars in an exhibition game. Their manager, Raffaele Conti, was a bitter rival of Piper's dill supplier, local farmer Gerald Standley. After Conti is found dead in Standley's field, Piper must work to clear Gerald's name and find out who relished killing Raffaele before the town is soured by another death.

INCLUDES RECIPES!
DARNED IF YOU DO, A Needle Craft Mystery by Monica Ferris
DARNED IF YOU DO

The USA Today bestselling Needlecraft Mysteries have shown that, when it comes to murder, Betsy Devonshire, owner of the Crewel World needlework shop, doesn't mess around. But when a local hoarder is murdered, she'll need all her wits to dig a new friend out of a heap of trouble…

After a tree falls on Tom Riordan's house, landing him in the hospital, the police discover a mountain of junk piled high in his home. Locals in Excelsior, Minnesota—including Betsy and her Crewel World Monday Bunch—offer to help with the cleanup while Tom recuperates.

But when Tom is found murdered in his hospital bed, the sole heir to his property—his cousin Valentina—becomes the number one suspect. Betsy believes there's more to the case than meets the eye, but finding clues to the killer's identity in the clutter Tom left behind will be like looking for a needle in a haystack …

FREE CROCHET PATTERN INCLUDED
THIS OLD HOMICIDE, A Fixer-Upper Mystery by Kate Carlisle
THIS OLD HOMICIDE

From the New York Times bestselling author of the Bibliophile Mysteries and A High-End Finish comes the second Fixer-Upper Mystery...

Contractor and part-time sleuth Shannon Hammer specializes in improving the quirks and flaws of the Victorian homes in Lighthouse Cove, California. The quirks and flaws of their residents are another story....

Valentine's Day is approaching, and while Shannon is delighted to be friends with not one but two handsome men, not everyone in town is feeling the love. After her elderly neighbor Jesse Hennessey fails to make his daily appearance at the local diner, Shannon swings by his place to check on him. Not only does she find Jesse dead—of an apparent heart attack—but she also realizes that his home has been ransacked.

Someone suggests that a thief was searching for a priceless necklace Jesse claimed to have retrieved from a capsized sailing ship, but Shannon doesn't believe it. Everyone knows Jesse had a penchant for constructing tall tales— like the one about him having a hot new girlfriend. But his death is soon ruled a homicide, and shady suspects begin popping out of the woodwork. When another victim turns up dead, Shannon is convinced she must find the killer before someone else gets nailed....
AS GOUDA AS DEAD, A Cheese Shop Mystery by Avery Aames
AS GOUDA AS DEAD

Someone is cheesed off . . .

Providence, Ohio, is celebrating Valentine's Day with weeklong events, including lovers' baskets with heart-shaped cheeses at Fromagerie Bessette. Charlotte Bessette is celebrating by finally walking down the aisle with the man of her dreams, handsome artisanal cheese farmer, Jordan Pace. But when a beloved bar owner is discovered murdered on Jordan's farm, he believes they should reschedule their wedding given the grim turn of events.

Charlotte is heartsick over the postponement. This killer crossed the wrong woman. No one, but no one, is ruining her wedding plans!
Until next time, get cozy and read on!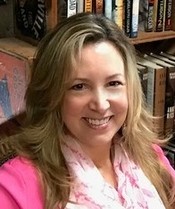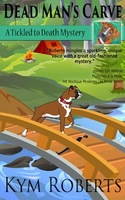 Kym Roberts is a retired detective sergeant who looks for passion, mystery and suspense in every book she reads and writes. She can be found on the web at kymroberts.com, on Facebook at Kym Roberts (author) and on Twitter @kymroberts911. Look for her latest release, DEAD MAN'S CARVE, A Tickled to Death Mystery on Amazon. (All proceeds will be donated to wounded veterans)
Comments
31 comments posted.
Re: Love and Murder Are in the Air

I have not read a Valentine's cozy mystery yet.
(Maureen Emmons 5:35pm February 9, 2015)
I would love to read all of the above books .
(Joan Thrasher 8:51pm February 9, 2015)
omg would love to win this. 4 of my favorite authors
(Tammy Thayer 10:57pm February 9, 2015)
I haven't read any of the Valentine's cozy mysteries yet,
but I know that I would love them all.
(Renee Grandinetti 12:01pm February 10, 2015)
Best of luck to all who entered...I haven't read any novels from the Valentine's Cozy Mystery but would mostly likely be interested in reading all of these books :)
(Holly Loch 12:57pm February 10, 2015)
Wonderful post and great books. Many thanks and best wishes.
(Sharon Berger 11:25am February 10, 2015)
I haven't read any of these books yet. They all sound good!
(Kathy Morrison 11:43am February 10, 2015)
What a top rate selection of books. I can only hope to
win. Thanks so much for the opportunity.
(Deb Philippon 3:22pm February 10, 2015)
I haven't read any Valentine cozy mysteries yet. All of these sound like great reads.
(Joan Varner 6:12pm February 10, 2015)
Haven't read a Valentines Cove mystery but goodreads and everybody has
made these books appear so often, I need to read it!
(Daiane Chen 6:54pm February 10, 2015)
I love cozy mysteries - whenever I need a pick me up I turn
to my cozy mystery collection. Time to add a valentine's
day one
(Janis Milford 6:58pm February 10, 2015)
These all look amazing. It would be an honor to win.
(Rachel Collings 11:51am February 11, 2015)
I don't have a favorite Valentine's cozy mystery. I
haven't read one featuring the holiday before. But I do
love cozy mysteries.
(Kim Matlock 2:50pm February 11, 2015)
I would love to win your contest. I read a lot of cozy mysteries since I belong to
two mystery book clubs.
(Jackie Wisherd 6:00pm February 11, 2015)
I love cozy mysteries! It always sounds like an oxymoron to say
that, but they go down so smooth! Thanks for the opportunity!
(Marcia Berbeza 7:46pm February 11, 2015)
These books sound like the sort of thing to curl up on the sofa with a mug of tea and a packet of digestive biccies
(Manda Ward 5:36am February 12, 2015)
I haven't ready a valentine's cozy mystery yet. But I love to curl up with hot chocolate and a book during the winter.
(Pam Howell 9:47am February 12, 2015)
In our family, we read many, many books then pass them to grammie and great aunt Carmen. We all are avid readers and love mysteries. We would all enjoy reading these books.
(Brianna Herrera 11:12am February 12, 2015)
What a great giveaway! I would love to win these books.
(Anna Speed 11:31am February 12, 2015)
Great giveaway. I love the title, so clever.
(Seanna Yeager 12:56pm February 12, 2015)
I sure would love to win these books. They all sound so
good and I just absolutely love these kind of books. I
wish everyone who enters, GOOD LUCK!!!!!
(Renae Kelly 1:51pm February 12, 2015)
I love mysteries and I love romance. I would love to win these
books!
(Denise Austin 2:53pm February 12, 2015)
If you're looking for another Valentine's Day Cozy Mystery,
Check out The St. Valentine's Day Cookie Mystery and
Cupid's Deadly Aim, both by Elisabeth Crabtree who will be
interviewed next week on Fresh Fiction's Cozy Corner!
(Kym Roberts 4:11pm February 12, 2015)
DARNED IF YOU DO by Monica Ferris. I have read some of her
books but all sound great.
(Leona Olson 4:59pm February 12, 2015)
My favorite is the ones I am going to win
(MaryEllen Hanneman 5:47pm February 12, 2015)
Don't think I've ever read a Valentine's Day Mystery, so I don't have one. Though Meg Cabot's Mediator #7 "Remembrance" is coming out NEXT Valentine's Day (2016) so I guess that could be my favorite-in-advance Valentine's Day Mystery.
(Lisa L. 9:26pm February 12, 2015)
Your books sound amazing!
Cecelia Ratliff Phillips
selsa32@msn.com
(Cecelia Phillips 11:45pm February 12, 2015)
I like to read M.C. Beaton and did this Valentine Day.
Marilyn Watson ewatvess@yahoo.com
(Marilyn Watson 5:05am February 15, 2015)
I love the Brother Cadfael series!
(Kelly Braun 2:52am February 16, 2015)
I'm reading several "cozy mystery" series. The one I've started recently is the diner series by Christine Wenger.
(Flora Presley 4:26pm February 19, 2015)
i havent read any valentines day cozy mysteries
(Angela Smith 4:09pm February 22, 2015)
Registered users may leave comments.
Log in or register now!