Donna Alward | Art Imitating Life?

May 26, 2012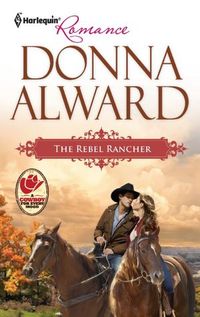 Cadence Creek Cowboys #2

June 2012
On Sale: June 5, 2012
Featuring: Clara Ferguson; Ty Diamond
188 pages
ISBN: 0373178131
EAN: 9780373178131
Kindle: B007BBVDZ2
Paperback / e-Book
$4.99
Add to Wish List

Also by Donna Alward:
Beneath the Badge, May 2013
Little Cowgirl On His Doorstep, March 2013
Into The Fire, November 2012
In the Line of Duty, September 2012

Sometimes when we write books, art imitates life. I know that was certainly the case when I sat down to write THE REBEL RANCHER (June 2012), the second book in my Cadence Creek Cowboys duet.
In the first book, THE LAST REAL COWBOY (May 2012), I knew Sam had an adopted brother, Tyson. Tyson is actually Sam's biological cousin, and the way I'd planned it was for Tyson to have always been a bit of a black sheep, always have that chip on his shoulder. I knew he'd rebelled after high school and left the ranch. It all worked to set it up so he could come back for the second book, and have to deal with all the reasons why he left. I also knew that he had somewhat of a reputation as a bad boy. To me, Ty was a champion bull-rider with an attitude and a way with the ladies.
What I didn't expect was the depth of emotion he'd end up having, or the love and respect he had for his uncle/father who had never truly given Ty the approval he sought. In THE LAST REAL COWBOY, Virgil is recovering from a stroke. When I sat down to write THE REBEL RANCHER, it became more and more difficult to resolve the father/son storyline. Because, you see, art does imitate life. My deadline for this story was September 30 of 2011. My father in law got suddenly ill in June, declined by bits over the summer, and passed away at the end of August. Seeing my husband's family go through it was sad, tense, rewarding (seeing them lean on each other), heart-rending. In the end, I think I dealt with all the family had gone through by losing myself in Ty's story. I immersed myself in it, worked through emotions, found comfort in watching my characters lean on each other and fall in love. Tyson, for all his rebellious ways, is a gentleman. He's capable of great feeling and he's someone Clara can rely on. Hmm, it kind of sounds like someone else I know. Maybe that's why this book seemed to flow from my fingertips during the month of September, and why it will always be a little extra special to me. I love Ty, probably more than any other hero I've written.
The Dear Reader letter in the book and the dedication all center around my father in law and my husband, two very special men. In the words of my sister in law: The heroes have not all gone. I know, because I married one.
THE LAST REAL COWBOY is just finishing up its release month, and next week sees THE REBEL RANCHER hit shelves. Today I'm giving away a copy of THE REBEL RANCHER to one commenter.
Best wishes,
Comments
37 comments posted.
Re: Donna Alward | Art Imitating Life?

love the synopsysis of the book
(Debbi Shaw 1:04pm May 26)
Interesting! Tyson is a hero I would enjoy finding out more about.
(Anna Speed 1:32pm May 26)
I'm glad to hear that there still are heroes around today! Cowboy heroes are even better.
(Rebecca Whitehead-Schwarz 3:50pm May 26)
HI DONNA! I LOOK FORWARD TO READING THE REBEL RANCHER!!
(Linda Bass 4:09pm May 26)
I LOVE COWBOYS I LOVE READING BOOKS WITH AHERO LIKE TYSON WOULD LOVE TO READ THIS
(Denise Smith 4:15pm May 26)
This sounds like a great book & the cover looks looks great too,I am looking forward to reading it. I hope you have a great day.
(Chelsea Knestrick 4:55pm May 26)
Have safe ejoyable holiday with friends and family.
Marcia Brooks 4:58 05-25-12
(Marcia Brooks 4:59pm May 26)
Thank you for sharing with us!
(Colleen Conklin 5:01pm May 26)
This looks like an amazing book that I look forward to reading. Love the plot
line.
(Val Pearson 5:10pm May 26)
I absolutely LOVE reading COWBOY ROMANCE BOOKS. It's my #1 favorite genre to read, and I'm delighted to find you as an author, today. I look forward to reading your books. I'm keeping my fingers crossed to lasso me up THE REBEL RANCHER!
(Linda Luinstra 5:21pm May 26)
The series sounds like a lot of fun. There is nothing like real life to give us something to write about. Congratulations on your series!
(Christy Comstock 5:22pm May 26)
I've always loved cowboys and will definitely be reading The Rebel Rancher
(Timothy Younger 5:27pm May 26)
Looks like an interesting series to pick up this summer.
(Sara DeCamp 6:14pm May 26)
Thanks everyone for stopping in and keep the comments coming!
(Donna Alward 6:19pm May 26)
Wow - this book is a GREAT one - I love it already!!! Thank you for sharing!
(Felicia Ciaudelli 8:09pm May 26)
Donna...I'm sorry for your loss and the loss that your family suffered. It does sound like the family had some precious time to be together. It sounds like you channeled a lot of emotional energy into Ty.
(Catherine Lee 8:15pm May 26)
This is an author's who's books have been a blessing to me. Enter me please. So sorry about loss of your father-in-law. May God comfort and continue to bless.
(Jane Squires 8:18pm May 26)
Heros live in your hearts even when they gone.
(Diane Chenier 9:04pm May 26)
I'm looking forward to reading this book!
(Cheryl McEwen 9:27pm May 26)
sounds like a good book; love cowboys; definitely on my tbr list!!
(Barbara Studer 10:02pm May 26)
I'm so sorry for your loss!! I'm sure that this book is going to be a real heart-wrenching read, but one that is going to be good for the heart and soul as well. I can't wait to read it!! Knowing about the personal touch will have a special meaning with each page turned. Thank you for the special story behind it.
(Peggy Roberson 10:09pm May 26)
I have loved the comments, especially the from the ones that have read her books before. I look forward to reading these books if i win. These is a special place in my heart for cowboys and I cant wait to meet these. I am also sorry to hear your family has suffered a loss of a Loved one. I can only say to be greatful for the time they were here to love you and allow you to love them. Not all of us are so lucky, so I try to appreciate every day we get with those we love.
(Elizabeth Rodriguez 11:30pm May 26)
How sad for your husbands family but what a blessing everyone could be together and there for each other. I can't wait to read the story.
(Denise Boyd 11:51pm May 26)
Love cowboys, thanks for giving me a chance to win your book.
(Amy Milne 12:02pm May 27)
There are real life heroes. You just need to know where to look.
(Mary Preston 12:45pm May 27)
I am sorry to hear about your father-in-law, a family loss is always difficult. I am glad you were able to use your writing to help you cope and I am sure the book will relect that. Best wished to you and your family.
(Barbara Hanson 5:31am May 27)
Sorry to hear about your father in law the same thing happened to us in Dec. My father in law passed away on the 12 of Dec and he had been ill for a while. Your books sound really good and I would love to read them. They sound like books from the heart.
(Gail Hurt 6:35am May 27)
I'm sorry for your family's loss... but losses are part of family life over the generations and we just have to deal with them as best we can. Your husband's family seems to have become stronger and that will stand them in good stead.
Over on my side of the Atlantic the publishers do not want to produce any western novels now - they reckon there is not a big enough market. So while there is Regency romance galore, it is hard to find western romance here. As a lover of the outdoors and of horses, western stories would be big on my must-read list. I really hope to catch all of yours because they sound very thoughtfully written.
(Clare O'Beara 8:16am May 27)
Sometimes you need to get away and come back to see what is read and true.. Sorry for you and your family's loss.. But heros are everywhere if you know where to look. I know you're all grateful for the time and example he presented.
(Cate Sparks 8:56am May 27)
I just popped in to check the comments and you all have made me feel so wonderful, both from the compliments about my books and by your lovely wishes for our family.

Thank you all so much. :-)
(Donna Alward 11:35am May 27)
I love cowboys and have been wanting to read both of these books, I love the way you write and they all so hear-warming stories. Sorry for your loss, its sad to lose someone that has touch your husbands life and his family and you,too!You'll cherish the memories always in your heart.
(Carole Fiore 1:54pm May 27)
I am sorry for your family's loss. Years ago we lost both my dad and my father-in-law within 17 months. Through it all my husband was a rock. He is truly my hero--the true heroes are the real-life ones. As always I look forward to reading these two books. Your books are a joy to read!
(Mary Perry 7:24pm May 27)
Sometimes men think they shouldn't show emotion---but I like the cowboys that can.
(Sue Farrell 7:35pm May 27)
I've always loved a good cowboy story. Would love to winthis noe. Hope I'm not too late.
(Carol Woodruff 8:10pm May 27)
I've always had a "thing" for cowboys! Sounds like a good book.
(Penny Mettert 1:20am May 29)
I love letters and have a thing for cowboys. I know your luck will change and keep writing.
(Alyson Widen 8:51pm May 29)
Love your books, looking forward to this one. Sometimes in life you need a little down time, just to sit back and relax and read, nothing better than a story about cowboys.
(Cindy Graves 1:39pm May 30)
Registered users may leave comments.
Log in or register now!