Debra Mullins | The Juggling Act

February 26, 2012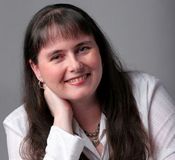 Most women know it's hard to juggle career and family. We all do it; we manage our time between the kids' school and athletic activities, make sure there's food in the house and that the bills are paid, take care of the pets, give some attention to the husband and—oh, yeah—some of us have careers, too.
And yet somehow we manage to do it. We figure out how to allocate our time (you don't really need to sleep, do you?) so that we can somehow juggle all these important things and not let any of the balls drop. Women are good at that. We seem to be natural multi-taskers, and sometimes men don't understand that. A lot of men are single-task oriented people: they do one thing, they do it well, and they move on to the next thing.
This is the dynamic I used in my Western historical, DONOVAN'S BED. Jack Donovan is looking for a wife, and he's hot for Sarah Calhoun. Seems simple, right? But Jack has this idea in his head that his wife needs to be the type of woman who stays home all day, cleaning and making cookies for him and riding herd on any children they might eventually have. However, Sarah is the newspaper editor, and this is why he strikes her off his list of potential wives. He simply can't see how she can have a career (which he thinks she is good at) and be a man's wife at the same time. Of course, being an honest guy (and a little short in the people skills department), he tells her bluntly that while he'd like to take her to bed, she's not the type of woman he'd consider marrying.
Jack, Jack, Jack. Didn't you realize that saying something like that was going to hurt Sarah? Not because of your misconception, but because of the scandal in her past, the one no one in town ever lets her forget. Of course she thinks the scandal is why you don't think her good enough to be your wife!
However, our Sarah is not one to take anything lying down. Still smarting from his unwitting blow, she prints an article in the newspaper about Donovan's requirements for a wife, along with a detailed description of his new bed and his contact information. Donovan, at first, thinks this is a great idea. Now the word is out, and he'll have a whole bunch of women to choose from! But then every unmarried female—young ones, widows, and spinsters—floods the town trying to get his attention. Every woman in Wyoming Territory wants to be Donovan's bride.
And yet he can't forget Sarah.
I had a lot of fun writing this book. I love the tiny town of Burr and all its quirky citizens. I had a blast with these two and how they handled their pasts—Donovan trying to forget his, and Sarah reminded of it every day. They had to come to a meeting of the minds, both about their pasts and the concept of a career woman being able to juggle both her job and her family without shorting either. Though the book was first published in print several years ago, Samhain Publishing has given it new life in digital format, and I'm real excited to be able to share one of my favorites with all of you!
To commemorate the digital release, I'm offering a free copy of DONOVAN'S BED to one commenter, name to be drawn tomorrow. And keep your eyes open for the sequel, THE LAWMAN'S SURRENDER, available in April!
Comments
33 comments posted.
Re: Debra Mullins | The Juggling Act

Donovan sounds like most men I know, they
have blinders to all that gets done, as if it was a
magic wand that cleaned the house, did the
clothes, got groceries, made trips and errands,
and cooked dinner..I believe in ripping those
blinders off when they act up, I went on strike. It
is in those moments that they, just as you said
are one task at a time mentality, will stay up and
try to prove you wrong, but can't.
(Carla Carlson 9:12am February 26, 2012)
Typical M.A.N!! lol...This sounds like a wonderful book. Thank you for sharing...
(Dawn Staniszeski 11:05am February 26, 2012)
Too funny. Men say really stupid things all the time. It's a great thing we women are forgiving.
(Pam Howell 11:19am February 26, 2012)
Lol sounds like a great read...
(Colleen Conklin 12:07pm February 26, 2012)
I love books that can put a smile on your face and lighten your mood.
Sounds like a good read.
(Tabitha Monroe 12:20pm February 26, 2012)
Sounds like yet another man that really knows how to stick his foot in his mouth----I love to read about them.
(Sue Farrell 1:02pm February 26, 2012)
Wow! Jack has a lot to learn. This sounds like a fun book to read.
(Anna Speed 1:20pm February 26, 2012)
This sounds like a wonderful story. I wanna read how his "honesty" bites him in the butt.
:)
(Patti Paonessa 1:34pm February 26, 2012)
I want to read the story to find out more!
(Cheryl McEwen 1:59pm February 26, 2012)
This sounds like a great book! The characters sound interesting and like the relationship between them will be a lot of fun to read about.
(Chelsea Knestrick 2:28pm February 26, 2012)
HI DEBRA! I'M NEW TO YOUR WRITING AND WOULD LOVE TO READ IT!
(Linda Bass 3:34pm February 26, 2012)
The book sounds like a wonderful read, and I'm sure it has its' hilarious parts as well. I would love to read it, but I hope it's not going to be a downloaded copy, since I don't own a Kindle!! I think the cover is striking, and this is the first time you have come to my attention. It looks like this has been my loss- but not for long!! You are definately on my TBR list.
(Peggy Roberson 3:57pm February 26, 2012)
You made me laugh with the details of the newspaper blab. It's got to be a funny story to read with lines like that to follow.
(Alyson Widen 4:25pm February 26, 2012)
This book sounds great! I'll have to put it on my 'to read' list! I could use some laughter!
(Joanne Schultz 4:34pm February 26, 2012)
Definitely a typical male. Open mouth, insert foot (or feet, as the case may be!), chew vigorously up to knee (or higher, if needed), see the light, apologize, repeat ad nauseam.

It kind of makes you wonder if they'll ever learn!

But it does sound like there may be a bit of hope for Jack. A very small bit, but a bit, nonetheless.

Cheers and whistles go to Sarah!!

Later,

Lynn
(Lynn Rettig 4:48pm February 26, 2012)
Sounds like a fun read!
(Mary Chin 4:51pm February 26, 2012)
I would like to read the rest of the story.
(Mary Hay 5:09pm February 26, 2012)
I think that Jack is in for a surprise! What fun!
Blessings,
Marjorie
(Marjorie Carmony 5:37pm February 26, 2012)
hmmm - another one of those ideas which 'sounded so good on paper', and somehow, fail in the execution - but oh boy, bet the interviewing for a wife was fun to watch! hope they sold tickets!
(Beth Fuller 6:59pm February 26, 2012)
I definitely need to say Jack is in for a big surprise. Come on, women has been balancing between family and career since we have join the work force. We still do today. There is still hope for Jack. After all, we did challenge men to wear high heels to know what it's like. Unfortunately, we can't make them have children and have them experience labor pains.
(Kai Wong 7:25pm February 26, 2012)
This sounds like a book I'd love to read.
(Wilma Frana 8:40pm February 26, 2012)
Why is men never worry about balancing a career with being a husband? Just saying..
(Dolores Feagin 9:02pm February 26, 2012)
Wow, I love the premise of this book - excellent! Jack, how COULD you? Well, you will certainly be in for a few lessons and surprises!
(Felicia Ciaudelli 9:13pm February 26, 2012)
I love historicals. Haven't quite gotten into the digital book age though. I cherish my paperbacks too much.
(MaryAnne Banks 9:23pm February 26, 2012)
Oh, thanks for the chance to win a copy of this book. It sounds really interesting.
(Jennifer Beyer 9:27pm February 26, 2012)
Men and their mouths! Appears that Donovan has met his match in Sarah. Can't wait to read how Donovan is "fetched up" and learns how to treat a woman.
(Joanne Hicks 9:53pm February 26, 2012)
Sounds like a great book! Multi-tasking is second nature for women and we always seem to get everything done and keep everyone happy while doing it. Superheroes if I've ever heard of one.
Good luck and happy writing!
(Tracie Travis 10:29pm February 26, 2012)
Poor Sarah. She's still living down a past scandal and then this guy comes along... Maybe he hasn't lived in a small town before, though at that time(?) it was probably not that common to have affairs either. But then, some men are just thick-headed, can't think beyond the end of their nose(?). I'd certainly love to read about his comeuppance.
(Sigrun Schulz 2:34am February 27, 2012)
Thank you for all the great comments on Donovan's Bed! Yes, Jack does have to learn to play well with others, and of course the only one he really wants to play with is Sarah. for those of you entering to win a copy, please be aware the book is currently only available in electronic format, including PDF. For an excerpt from the book, you can check out samhainpublishing.com.
(Debra Mullins 1:51pm February 27, 2012)
I love that old releases are being re-issued. It gives me a chance to discover books I never would have otherwise, or at least been able to get. This sounds like a great Western historical story with its lively characters. Thank you for the chance to read it.
(Na S 3:12pm February 27, 2012)
I SURE COULD USE A LAUGH RIGHT NOW!
(Linda Bass 4:51pm February 27, 2012)
I love that Sarah printed the stats on Jack. Well played.
(Lisa Kendall 9:00pm February 27, 2012)
Well, no one ever thought that men could process new ideas easily... They usually only have a one track mind... and I don't mean the obvious track... but if they've not experienced something new... they usually can't imagine anything beyond what they 'know' !! Sounds like a really funny read.. I can imagine... every women in the area now thinking that she's in the 'running for his wife'... enough baked goods for him to open his own bakery..
(Cate Sparks 7:04am February 28, 2012)
Registered users may leave comments.
Log in or register now!