Happy 2012! There are some thrilling reads in romantic suspense to start your year off right. Happy reading!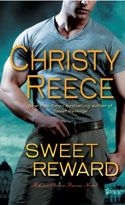 I had the chance to review SWEET REWARD, the ninth and final book in Christy Reece's exceptional A Last Chance Rescue series. I thought the story of Jared and Mia's attempt to stop a baby kidnapping ring provided a satisfying conclusion to the series. It captured all the elements that make this series standout- strong, beautiful, and wounded men and women, a palpable threat, and non-stop action.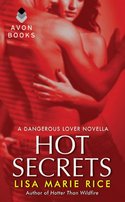 I really like Lisa Marie Rice's writing style and look forward to reading the latest novella, HOT SECRETS. Jack Prescott waited twelve years for his wife, Caroline. And then, the moment he found her again, he almost lost her. When a violent monster of a man breaks into Caroline's bookstore on Christmas Eve, Jack races to her side because without her, life isn't worth living.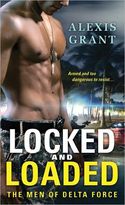 In LOCKED AND LOADED, book 2 in Alexis Grant's Men of Delta Force series, DEA agent Sage Wagner will do whatever it takes to bring down Miami's biggest drug lord—even go undercover and become his mistress. But her bold plan hits a snag when Delta Force shows up in the form of Captain Anthony Davis. This ultra-elite warrior could blow Sage's cover with a kiss—and beat her at her own game.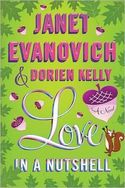 LOVE IN A NUTSHELL is a new collaborative effort between Janet Evanovich and Dorien Kelly. Brewery owner, Matt Culhane believes someone has been sabotaging his company, and Kate is just new enough in town that she can insert herself into Culhane's business and snoop around for him. If Kate finds the culprit, Matt will pay her a $20,000 bonus. Needless to say, Kate is highly motivated. But several problems present themselves. Kate despises beer. No one seems to trust her. And she is falling hard for her boss.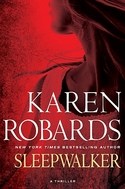 In SLEEPWALKER by Karen Robards, Micayla Lange, a rookie cop, is housesitting for her uncle when she encounters Jason Davis, a thief by trade. She catches him in the act of stealing big bucks from her uncle's (a mob boss!) safe. Their encounter embroils her in a crime so explosive it could cost both of them their lives.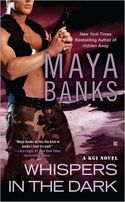 In WHISPERS IN THE DARK, book four in the Kelly Group International series by Maya Banks, Nathan is being held captive and is in agony. His saving grace is the voice of an angel who eases his pain and helps him regain enough strength to escape. When he escapes and returns to the KGI, he hears her again-now she needs him.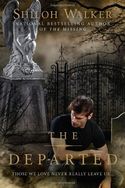 In THE DEPARTED, book 2 in Shiloh Walker's FBI Psychics series, FBI Special Agent Taylor Jones and psychic agents Desiree "Dez" Lincoln go their separate ways after an unexpected nigh of passion. Responding to the call of another anguished spirit, Dez is led to Taylor's old hometown. As the two are forced to come together to save a girl in peril, Dez may be able to help Taylor finally find the answers to his sister's disappearance years earlier.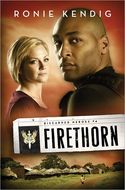 In FIRETHORN, the conclusion to Ronie Kendig's Discarded Heroes series, former Marine Griffin Riddell is he's falsely convicted of a murder and sent to a federal penitentiary. Covert operative Kazi Faron breaks Griffin out of a maximum-security prison. Then she delivers the death-blow—the Nightshade team has been dismantled. Together Kazi and Griffin must rescue the others and figure out who's behind the sabotage. Can two people overcome their mistrust of each other in time to save Nightshade?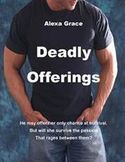 In DEADLY OFFERINGS, a self-published ebook by Alexa Grace, Anne Mason thinks she'll be safe living in the Midwest building a wind farm until someone starts dumping bodies in her corn field and telling Anne they are gifts. As the body count rises, Anne realizes a cold-blooded serial killer is patiently waiting and watching her every move. And he won't stop until he ends her life. It is clear there are no limits to this killer's thirst for revenge or how far he will go to get it. For help, she reluctantly turns to the handsome new County Prosecutor (and her ex-husbands divorce lawyer), Michael Brandt.
No comments posted.