It's Readers & 'ritas month! I hope you are joining us November 11-13 in Allen, Texas for a chance to visit with authors and other rabid fans of popular fiction. Some of your favorite romantic suspense authors will be there or have donated items for the raffle and silent auction, including some with books out this month.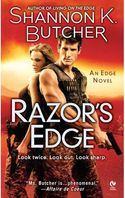 Shannon K. Butcher has sent a fun mix of her paranormal and romantic suspense series to give away. You'll have plenty to read in anticipation of the publication of book 2 in the Edge series, RAZOR'S EDGE. Roxanne "Razor" Haught, an expert in stealth security for corporate espionage cases, is all about setting traps for the bad guys. But suddenly she is the target. Tanner O'Connell has no intentions of leaving Razor's side. Despite her objections to having a "babysitter," his orders as the newest member of the Edge are to watch her back. Of course he can't help watching a lot more than that.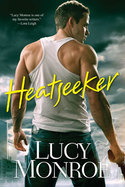 Lucy Monroe sent a box full of goodies to giveaway to celebrate the re-release of HEATSEEKER, a book featuring Atrati (a mercenary organization of black operatives who specialize in doing what no one else can). Kaden Marks is sent to rescue a fellow operative whose cover is blown. Unfortunately for him, the beautiful and stubborn Rachel Gannon isn't interested in being rescued. Rachel must convince Kaden to help her bring down the enemy's entire organization—without risking the life of the man she's come to love.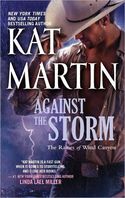 Kat Martin's Raines of Wind Canyon 1-3 will be in the raffle so if you are there and win, you are all set to read book 4, AGAINST THE STORM. Trace Rawlins, a former army ranger turned private investigator, takes Maggie O'Connell's case, even though he suspects she's trouble. Trace can sense that something is wrong—Maggie isn't telling him everything. If these menacing calls and messages are real, why won't the police help her? And if they aren't real, what is she hiding?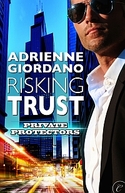 I'm a big fan of Adrienne Giordano's Private Protectors series. Keep an eye out for my review of RISKING TRUST (book 3), a prequel that brings us the story of Michael Taylor and Roxann Thorgesson. When we met them as a happily married couple in MAN LAWS I was hoping we would get their story and here it is. After her father suffers a fatal heart attack, Roxann must take over as publisher of Chicago's second-largest newspaper. Then her ex-boyfriend Michael, CEO of his own security company, shows up needing a favor. The last thing Roxann needs is Michael around causing trouble—and potential heartbreak—but he's involved in a scandalous story she can't pass up.
In SHE CAN RUN, by Melinda Leigh, Elizabeth Baker uncovered a dangerous secret about her politician husband—a secret that nearly got her killed. Now she and her children are running for their lives. When Beth is hired as the caretaker of a remote Pennsylvania estate, she dares to hope she has found a safety. But when her new boss dies suddenly and his nephew inherits the estate, Beth is faced with outwitting a former homicide detective who is very smart, very suspicious—and very attractive.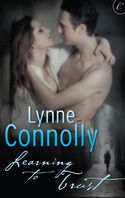 In LEARNING TO TRUST, by Lynne Connolly, socialite Bellina Mazzanti Forde was the ultimate party girl—until she disappeared with Byron Brantley five years ago. Determined to find his brother, Jonathan Brantley has tracked Lina to a cafť in Naples and demands answers. Certain she's hiding something, Jonathan vows not to let Lina out of his sight until she agrees to help him, even if it takes all night. Though he doesn't trust her, he can't deny that he wants her—has always wanted her.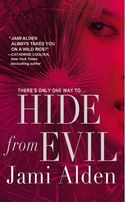 HIDE FROM EVIL, by Jami Alden, features Sean Flynn who, after years in prison, has retreated to a quiet woodland cabin, far away from prying eyes. There, he believed the past couldn't come back to haunt him . . . until she showed up. Overcome with guilt, Deputy Prosecuting Attorney Krista Slater can't forgive herself for convicting an innocent man. But when another brutal murder reveals chilling, new facts about his case, she must turn to Sean for help. She's ready to face his anger, but the desire in his eyes ignites a need she's never felt before. Shadowed by danger, Sean and Krista uncover a twisted maze of deception and betrayal.
Hope to see you at Readers & 'ritas! Visit the website for the list of attending authors. Check out the Readers & 'ritas Facebook page for photos of the awesome giveaways from your favorite romantic suspense authors (also including Allison Brennan, JT Ellison, Julie Garwood, and Wendy Corsi Staub) and many more!!
1 comment posted.
I love romantic suspense and now I have found some authors I had never heard of, so glad I found this site...thanks and happy holidays
(Linda Scarchuk 9:52am December 7, 2011)