Heidi's report from the Leverage CON-con
Heidi Berthiaume
March 20, 2010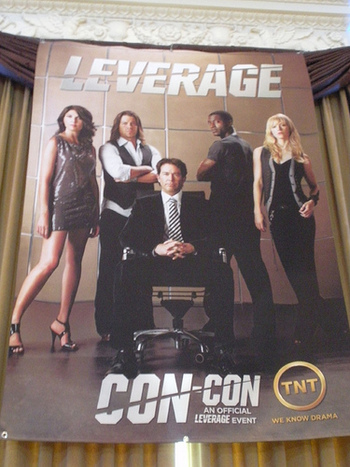 Banner for Leverage CON-con
I've been to a lot of conventions, both fan-run and "professional", and I'd like to say how much I love what Marc Lee and his group of volunteers have pulled off here at the first official Leverage CON-con event. As with all conventions, each person will have a different experience. For the first half day, mine has been fabulous.
Traveling to the West Coast from Texas means even though it's 7:30 am here, it feels like I've slept in for two hours. As I reached the lobby around 9 am, they were giving out tickets for the registration line, once they opened at 10 am. For the intervening hour, I roamed the hotel taking pictures. The Governor Hotel (http://www.governorhotel.com/) is filled with amazing architectural accents which are different in every room. The extra tall ceilings make for an extra level of stairs, but once those elevators fill up this weekend, the stairway is going to be my main access route (and justification for having dessert).
Once I got through registration and signed up for the set tour Saturday morning, it was time to stand in line for the autographs and photo ops. In the sad eventuality that this is the only Leverage event I get to attend, I burned some plastic on buying photo-ops - even the tickets are pretty. I hauled my platinum ticket goodie bag back to the room and when I dumped it out on the bed, I was stunned.
Not just at the quantity of stuff, but at the quality as well.
city map with stickers of where different Leverage eps where filmed
beanie hat branded Leverage and TNT
headshots of The 5 for the autograph sessions
packet of chips
bottle of green tea
full color program book suitable for framing (I'm not kidding)
Leverage, Electric Entertainment, IF Magazine stickers and tattoos

Then I spent some time in the dealer's room, burned more plastic, and got to meet Dean Devlin and Marc Lee. The informal opening ceremonies was scarcely attended because the registration line was still processing people, but Marc filled us in on the rules (you will die if you video tape anything in this room) and a preview of the weekend's events. We were also told that IF Magazine's is going to be streaming various aspects of the event, as well as exclusive interviews.
Lunch was a huge roast beef sandwich from Jake's Catering in the dealer's room, and then here I am in my room using the hotel's free wi-fi to write this report. This afternoon is fan trivia, the art of fan music videos (a personal favorite of mine), and the art of the soundtrack with the Leverage composer Joseph LoDuca. I've got reservations for dinner at Jake's Grill, then back to the ballroom for the TNT Cocktail Party Extravaganza (seriously - that's what it's called in the schedule).
Until tomorrow, or maybe later tonight,
Heidi Berthiaume
(somewhat) daily stuff
music video stuff
writing and promoting stuff
Comment to be entered to win a Fresh Fiction Blog Contest prize: TWO WINNERS!
Comments
21 comments posted.
Re: Heidi's report from the Leverage CON-con

Sounds like a great morning! Don't you love the goodies bags and all the fun stuff that can be in them? I went to a convention last year that had a book, bookmarks, pens, bubbles (fun!), a free meal ticket, and a little hand-held game.
Enjoy the rest of the convention!
(Deb H. 12:46pm March 20, 2010)
Sounds like a really full morning! and loads of fun. Enjoy the rest of the convention.
(Elizabeth Parzino 2:10pm March 20, 2010)
Please enter me in your great contest.
Thanks, Cecilia
(Cecilia Dunbar Hernandez 3:28pm March 20, 2010)
Don't really know what Leverage CON-con is, but sounds like you're having a great time! Good for you.
(Betty Cox 3:32pm March 20, 2010)
Sounds like a fun time. Would love to attend one day and get my hands on one of those goodie bags.
(Rose Guardino 4:06pm March 20, 2010)
Have fun at your remaining time at the convention. Grab a goodie bag for me. LOL.
(Pat Lieberman 4:47pm March 20, 2010)
I would love to attend a convention. I must plan & just do it.
(Mary Preston 7:01pm March 20, 2010)
I really enjoyed looking at the pics you've posted...Congrats on scoring some awesome loot!!!

I'm not familiar with Leverage Con-con but I would love to hear more from you about your experiences there. I've never been to a convention/conference since I live too far away for it to ever be an affordable option for me so this is a wonderfully vicarious way to experience these special events.
(Anna Hoque 7:47pm March 20, 2010)
Sounds like a great time....and great food!!! Looking forward to your next post!!!
(Mitzi Hinkey 9:37pm March 20, 2010)
Sounds like fun. I've never actually been to a "con" of any kind. Maybe one day...
(Michelle K 10:02pm March 20, 2010)
That is so cool! I wish I were you. I am so jealous!!!Have a great time for both you and me!
(Lisa Glidewell 10:04pm March 20, 2010)
Sounds like you're having fun!! I just love conventions. Hopefully I'll make it to RT someday, or even RAW.
(Armenia Fox 11:41pm March 20, 2010)
Thanks for the explanation on the Leverage Con. Must admit that though it sounded like fun, I was totally lost. We moved and when we found that the tv was broken from the travel, we didn't replace it.
(G. Bisbjerg 2:33am March 21, 2010)
I only keep up with 2-3 TV shows at a time, and right now, those are Leverage, Castle, and Burn Notice.
(Heidi Berthiaume 11:52am March 21, 2010)
Hope the convention met all your expectations.
(Sigrun Schulz 10:30pm March 21, 2010)
Sounds like a fun convention.
Hope you have a great time.
(Patricia Barraclough 8:45pm March 22, 2010)
Wow! What an exciting adventure you are enjoying...and I love hearing all about it. The show "Leverage Con" I have not watched before but definitely will now that I know what it is about...thanks to you. :) I am sure that you will have lots of fun during the remainder of your stay. We all will be eagerly awaiting your updated posts. Thanks for taking the time to do a "Guest Post"....it is terrific, even if it is your first. Keep up the great job!
(Cheri Minott 12:26pm March 28, 2010)
Another fun and informative day. Did you laugh today. We have to laugh everyday to keep our spirits up.
(Brenda Hill 5:21pm March 28, 2010)
Sounds like you had a wonderful time.
(Gladys Paradowski 6:34pm April 10, 2010)
Personal Aids - A range of personal living aids
and other related assisted personal products direct from
Mobility Buyer. Get independent personal living aids today!
(Emmie Jack 2:27pm April 27, 2012)
The Banner post for Leverage CON-con is looked like some English movie still.But i can not remember that name of movie.But that banner is good.
Website Development Bangalore
(Karthik Zinavo 3:16am May 29, 2013)
Registered users may leave comments.
Log in or register now!