The Daily Dose
Smattering of Romance, Paranormal, and General Observations
Trick or Treat: This Witch Is Whack
Heather Long
October 30, 2009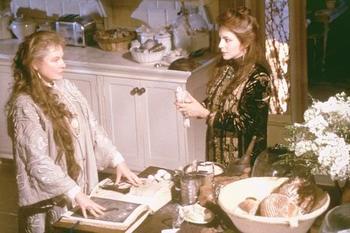 Tomorrow is Halloween! October 31st! The countdown to the end of The Daily Dose's Trick or Treat grab bag giveaway, the night to dress up in fun costumes, give away candy and to celebrate the new year that turns on Samhain and much more. It's also a great excuse to count down some of my favorite whacky witches.
Joanna, Kat and Roxie
If you haven't been watching Eastwick you have no idea what you're missing. These ladies crack me up. Played by Rebecca Romjin, Roxie is a voluptuous, earthy woman with the gift of prophecy. She's also a single mom, struggling to stay connected to her daughter. Kat on the other hand is the fiery red head with oodles of banked passion that she channels into motherhood and nursing and even into looking after her loser of an ex. Joanna is the nuttiest of the lot though, a reporter who wants to figure it all out and painfully awkward with the guys. The best thing about these whacky witches is the power of friendship they have discovered with each other.
Fran and Jet Owens
Played by Stockard Channing and Dianne Wiest respectively [in Practical Magic
], these ladies raised Sally and Gillian when their mother passed away and they went a long way to teach the girls a lesson about abusing their magic. Honestly, as much as I love the whole of the Owens family of witches, it wouldn't be the same without these bawdy broads blazing the trail.
Paige Winterbourne, Eve and Savannah Levine
These witchy women of the Otherworld are fantastic. Paige was too young and too inexperienced to handle the politics of her old world coven. To add insult to injury, Paige hooked up with the sorcerer son of the Cortez Cabal Lucas. Together, they are raising Savannah, one of the most powerful witches of all time – the product of the half-demon witch Eve and her lover, the sorcerer Kristof Nast. These women are out of this world and their magic is so much fun.
Wicked Witch of the West
No, not the witch in Wicked and Son of a Witch (although arguably I adore these books) but the classic Wicked Witch of the West played by Margaret Hamilton in the 1939 classic film version
. Her stooped shoulders and green skin, not to mention her cackling laugh and obsessive behavior over Dorothy Gale notwithstanding, she ranks up there with Endora as one of my favorite all time witches. The books just make me love her more.
Bronwyn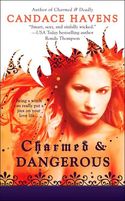 Bronwyn is a cheeky witch. Her adventures are delivered via a diary method, revealing her thoughts in an intimate and snarky fashion. Her sense of irony and snark are a window to her colorful and overabundance of personality. She is definitely one of the more entertaining witches to read about.
Molly Weasley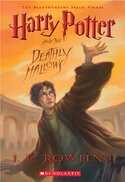 She forever won my heart with her down to earth approach to magic and her no nonsense attitude towards their enemies. Her 'get the hell away from my daughter' and full on battle mommy mode in the final Harry Potter book didn't hurt either.
I love those whacky witches during every season of the year; I just get to indulge in these lists at Halloween. Which witches do you love?
---
A lifelong writer turned author,
Heather Long
's first book
Remembering Ashby
is available for purchase at Sapphire Blue Publishing. Coming soon is the urban fantasy:
Prime Evil
.
The Daily Dose
explores books, television, writing and more -- all topics that Heather enjoys.
Comments
14 comments posted.
Re: Trick or Treat: This Witch Is Whack

I saw Wicked on the stage not too long ago and she is by far my favorite!
(Karin Tillotson 2:37pm October 30, 2009)
I didn't realize I had missed so much! I haven't seen any of your favorite witches. My nose has been buried in books for too long! I will have to go on a learning crusade.
(Patsy Hagen 3:11pm October 30, 2009)
I love Practical Magic! I can watch it all of the time! Hocus Pocus is another favorite. I like the original "Witches of Eastwick" with Cher!
(Lisa Glidewell 3:17pm October 30, 2009)
My favorite witch is Willow from Buffy the Vampire Slayer.
(Jane Cheung 3:32pm October 30, 2009)
I loved Practical Magic also, but who could forget Samantha?
(Linda Riffe 3:53pm October 30, 2009)
Samantha and Tabitha of course. Glennda the Good Witch. The original Witches of Eastwick. Jenny Weasley and Hermoine Granger. All the witches, young and old, of Practical Magic. You can't forget And you can't forget the witches from Hocus Pocus!
(Kelli Jo Calvert 4:09pm October 30, 2009)
Love watching Eastwick and learning what kind of trouble they brew up next. Samantha was unforgetable with that tiny nose twitch and Glenda from Wizard of Oz with her ethereal beauty while using her wand to grant wishes. I like the fairy godmothers in Cinderella who seemed more like good witches and had lots of mice helpers.
(Alyson Widen 4:31pm October 30, 2009)
I love Nora Robert's Three Sisters Island Trilogy! They were great!
(Tami Winbush 6:45pm October 30, 2009)
Eastwick is awesome! I love the show!!
(Brenda Rupp 6:57pm October 30, 2009)
I still watch Practical Magic every year, loved it enjoyed the Witches of Eastwick, you had to laugh at that one, saw Bewitched the series and the movie; witches are fun!
(Diane Sadler 7:15pm October 30, 2009)
I love witches too. It's important to have a little magic in ones life.
(Mary Preston 7:31pm October 30, 2009)
Samantha is definitely one of my all time favorites along with mom Endroa, Dr. Bombay and the rest. Love everyone else's choices too! I forgot about Hocus Pocus! Now I need to go watch that again.
(Heather Long 10:09pm October 30, 2009)
Samantha is my favorite witch of all time. I could watch it over and over and never get tired of it. All the characters were fabulous and fun.
(Barbara Ryan 11:52pm October 30, 2009)
I'm only familiar with the witches in
Practical Magic and Molly Weasley.
The witches in Hocus Pocus were a lot
of fun. Bette Midler outdid herself. Of
course there are a lot of witches in the
fiction out there right now. And we
get to enjoy as many of them as we
wish.
(Patricia Barraclough 1:51am October 31, 2009)
Registered users may leave comments.
Log in or register now!