Read an Excerpt from Jane Ashford's A RADICAL ARRANGEMENT

August 5, 2015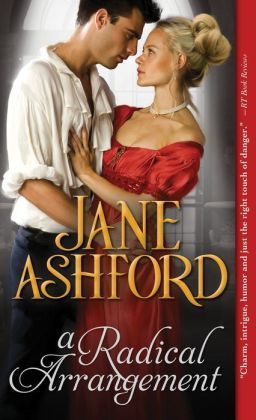 A Radical Arrangement
Jane Ashford
AVAILABLE

August 2015
On Sale: August 4, 2015
Featuring: Margaret Mayfield; Justin Keighley
288 pages
ISBN: 1402276966
EAN: 9781402276965
Kindle: B00X648RYS
Paperback / e-Book
Add to Wish List

Also by Jane Ashford:
Earl on the Run, March 2022
The Duke Who Loved Me, September 2021
Add to review list
When You Give a Rogue a Rebel, April 2021
Earl's Well That Ends Well, January 2021
Add to review list

Brash and Handsome
Sir Justin Keighley is all wrong for a proper young lady like Margaret Mayfield. Everyone knows he is shocking in his opinions, arrogant in his manner, and completely without respect for the common decencies of civilized society. Margaret absolutely will not marry him—no matter what her parents say.
Beautiful and Shy
Margaret was everything Sir Justin detested in a woman—timid, sheltered, and obedient to a fault. It's not until she runs away from him that he finds he must give chase. Margaret is discovering she can be bold and rebellious— intrepid enough to do what she must, and more exciting than Justin ever imagined possible. She's the last woman he would have expected to lead them both into uncharted territory…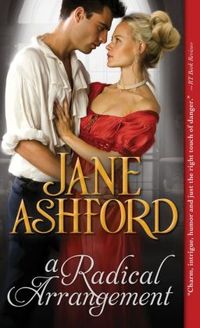 Read an Excerpt
His hand moved involuntarily to cover hers on the table; he was entranced by the fire and spirit that illuminated her as she spoke.
Though she pretended not to notice, Margaret's heart began to pound. "What a feeling it must be, to really help."
"I have been told so."
"But you have felt it. You have worked for the same cause."
He shrugged. "With Members of Parliament, factory owners, the Prince. It is all talk and most often useless."
"I don't believe that for an instant."
He smiled wryly. "Well, it is hardly as satisfying as what you propose."
"Indeed not, and it must therefore be all the harder. I could never keep up such a thankless struggle, and I admire you for being able to. I daresay you will be the one who makes real reform possible one day."
"We are working on a bill…" He broke off with a short laugh. "But you are merely being polite."
"I am not! I do admire your work. It must require immense patience and will. You fight for what you believe in. What more could anyone do?"
His grip on her hand tightened, and his eyes showed a sudden vulnerability. It was seldom he heard words like these. Most of his acquaintances and even friends mocked or criticized his efforts.
"I only hope I can be like you," she added.
"You exaggerate."
"I don't think so," she said softly. She had seen the look in his eyes, and been deeply touched by it. "I think perhaps you are the most admirable man I know." Slowly she stood and moved around the table, leaving her hand in his. When she stood beside him, she said, "Thank you for showing me…everything."
He gazed up at her and, in one blinding instant, saw that what he had been fighting for the past week was not the mere influence of propinquity but something much stronger and more permanent. He also stood, towering over her. "You have shown me a good deal as well."
Margaret smiled. "Have I? I can't imagine what."
"Can't you?" He released her hand and slid his arms about her waist, unsure how she would respond. A tiny part of him shrilled one last warning, which he rejected with disdain. "Can't you, indeed?"
Her heart beating wildly, Margaret put one hand on his upper arm, then the other. As he pulled her slowly closer to him she moved her hands up and around his neck. She was trembling. It was the oddest sensation to tilt her lips gradually toward his, both like and unlike the other time he had held her.
Sir Justin bent his head and kissed her, softly and lightly. His arms tightened, and he did it again, more passionately. Margaret, astonished by a flood of powerful new feelings, pressed her body against his. She felt as if her bones were melting. They kissed a third time, and Margaret's last hesitancy disappeared in the heat of their embrace. Keighley's hands wandered up her back and then down in a lingering caress, and with an answering passion.
At last he raised his head again and looked at her.
"Oh, my," breathed Margaret.
He laughed. "May I take that as a favorable judgment?"
She nodded, wide-eyed. "It is just so new to me, you know."
A flicker of concern passed over his face. "I should not have—"
"Can we try it again?" she interrupted, pulling a little at his neck.
He laughed again. "I doubt that that is wise."
"Oh, wise." Margaret was contemptuous. "All my life I did what was wise and proper. Until I met you, that is. I like the new way much better."
GIVEAWAY
What charity are you passionate about? Leave a comment below for a chance to win a copy of A RADICAL ARRANGEMENT.
Jane Ashford discovered Georgette Heyer in junior high school and was entranced by the glittering world and witty language of Regency England. That delight was part of what led her to study English literature and travel widely in Britain and Europe. Born in Ohio, she has lived in New York, Boston and LA, her writing life punctuated by breaks where the fates intervened and swept her off in different directions.
Jane has written historical and contemporary romances. Her books have been published in Sweden, Italy, England, Denmark, France, Russia, Latvia and Spain, as well as the U.S. She has been nominated for a Career Achievement Award by Romantic Times Magazine.
Comments
28 comments posted.
Re: Read an Excerpt from Jane Ashford's A RADICAL ARRANGEMENT

This book looks very interesting!
(Beverly Ross 12:55pm August 5, 2015)
Hospital for Sick Kids
(Marissa Yip-Young 5:43am August 5, 2015)
I am crocheting Prayer Shawls with some of the women at the
Church.
(Leona Olson 9:18am August 5, 2015)
I can't give you a specific name, but I am involved with charities having to do with animals. They don't have a voice, so someone has to step forward and speak for them, as well as take care of them!! I adored the excerpt you gave us to read, and I'm sure that I'll love the book as well!! The cover is beautiful, too!! Congratulations on your latest book, and I'm sure it's going to do well!!
(Peggy Roberson 9:30am August 5, 2015)
St. Jude Children's Research Hospital. I know of several that have been there and the parents have a place to stay for free .
(Joan Thrasher 10:18am August 5, 2015)
SPCA.
(Sharon Berger 12:11pm August 5, 2015)
Pet rescue and adoption groups
(Colleen Conklin 12:32pm August 5, 2015)
Local food bank.
(G. Bisbjerg 12:37pm August 5, 2015)
Don't really have a charity that I am passionate about but I
do try to help anyone that I can.
(Sarah Bauman 2:59pm August 5, 2015)
The Cancer Council Australia as several members of my
family have passed from cancer
(Trish Wakeman 9:21pm August 5, 2015)
I enjoy volunteering my time at my local soup kitchen. It is really sad that some
people do not have food, which is like a total necessity for life. So I find it
enjoyable to be able to help provide them with a hot meal to hopefully make
their day go a little bit better!
(Lily Shah 12:54pm August 6, 2015)
Feeding kids. I am shocked at how many kids in America go to bed hungry.
(Pam Howell 8:16am August 6, 2015)
I'm not passionate about any one charity but rather spread out
my time between several local charities like the North Texas
Food Bank, Meals On Wheels and the local Salvation Army.
(Maria Smith 10:02am August 6, 2015)
The adult literacy education offered at A.K Smiley library in Redlands,CA
(Cecilia Rodriguez 12:18pm August 6, 2015)
Not really a charity. I like to volunteer my time at a local
nursing home. Helping out with games & parties for them to
enjoy, and see a smiling face; for some never see any of their
family once they are put there.
(Lois Imel 6:13pm August 6, 2015)
I would love to win.
(Kathy Church 6:16pm August 6, 2015)
The local food bank and Voices of Martyrs which help families of those murdered for their faith internationally as well as Samaritan's Purse.
(Melinda Marks 10:43pm August 6, 2015)
Thoroughbred Retirement Foundation.
(Irene Menge 11:55pm August 6, 2015)
st. judes they help so many
(Tammy Thayer 4:07am August 7, 2015)
I have several charities I give to regularly and champion the work they do: SALVATION ARMY because they regularly help their local communities. I saw firsthand how they helped during the deadly tornadoes here in AL in 2011. Ronald McDonald House because they help families with children in the children's hospitals. Members of my family have directly benefitted from them. USO because they really provide support for our military personnel. The lounges in airports are a big plus and SMILE TRAIN which provides cleft palate surgery for children around the world.
(Flora Presley 11:02am August 7, 2015)
Wounded Warriors and any cancer charity.
Marilyn
(Marilyn Collins 5:26pm August 7, 2015)
The Stollery Hospital for children in Edmonton,
Alberta. I would love to win your book - thank you!
(Susan Patterson 6:15pm August 7, 2015)
For the love of dogs
(Virginia Clayton 8:45am August 8, 2015)
I have two, St. Jude Children's Research Hospital and the Greater Baton Rouge Food Bank.
(Anna Speed 1:12pm August 8, 2015)
Local food shelf
(Laura Gullickson 3:06pm August 8, 2015)
Any charity that helps with Autism! My grand-daughter is on the
spectrum!
(Denise Austin 5:20pm August 8, 2015)
I help with a local animal rescue! Every dog and cat
deserves a good home!
(LaCinda Jameson 6:38pm August 8, 2015)
I'm drawn to charities that have specific programs to help
children.
(Diane Sallans 8:13pm August 8, 2015)
Registered users may leave comments.
Log in or register now!