Jade Lee | Guess What I Did Today...

June 5, 2015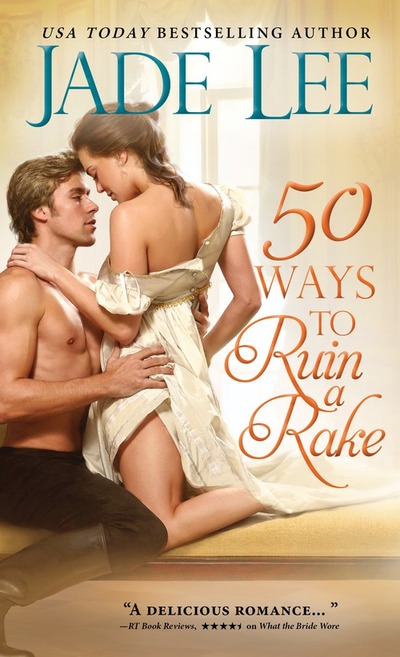 50 Ways to Ruin a Rake
Jade Lee
AVAILABLE
Rakes and Rogues #1

May 2015
On Sale: May 5, 2015
Featuring: Trevor Anaedsley; Mellie Smithson
384 pages
ISBN: 1492604992
EAN: 9781492604990
Kindle: B00R37SQQS
Paperback / e-Book
Add to Wish List

Also by Jade Lee:
Lady Scot, April 2022
Add to review list
Lord Scot, November 2021
Lyon Hearted, October 2021
Lord Ares, June 2021

I'm often asked how I can write so many books. The answer is simple: 2000 words a day. Every day. No matter what. Except it's never that simple and it's never the same. Some days, it's torturous, Other days, it's less torturous. On some other days–if I'm lucky– I surprise myself and the words are wonderful and easy and only a little torturous. But today's task was a love scene. Guess how it went today...
A. I leaped up out of bed, drank some coffee (yes, I'm back on caffeine) and banged out the banging with a smile on my face.
B. I crawled out of bed, played games for four hours, then gave myself permission to write badly. Six hours later, the sexual antics were not so bad.
C. I refused to get out bed, played PvZ2 (Plants vs Zombies 2) until my husband left, and then wrote a torrid love scene that required a cold shower afterwards.
D. I got out of bed, listened to how my a/c and furnace needed to be replaced, realized I needed to make some money to pay for said a/c and furnace, and voila! Motivation achieved. I wrote hard and fast.
Answer: B. Although there is some truth in every answer, I am back on caffeine. A mistake at a hotel café put me back on the latte train and I haven't been able to get off again. I did write a torrid love scene, but then it became unexpectedly poignant in the after-sex bonding. Hadn't expected poignant, but I felt touched when it was done. I do require a cold shower right now, but that's because I just came back from racquetball and because our water heater isn't doing so well either. But adding that bill to the new a/c and furnace is well beyond what we want to spend right now, so cold shower it is.
In any event, the moment I gave myself permission to write badly, I was able to put words on the page. You'd think after over 40 books, I'd know this about myself, but I still seems to happen. I dither and delay until I finally accept that what I'm going to write is likely to be awful. And that's okay. I can fix it on re-write. And then… surprise…unexpected poignancy.
So now that scene's done, guess what the plan is for tomorrow?
A. Absolutely nothing. Geez, I get a day to smoke a cigarette or something, right? Remember, I achieved unexpected poignancy today.
B. 2000 words. And this blog doesn't count.
C. Copy edits for One Rogue at a Time, the next Jade Lee historical, due out in Jan 2016.
D. PvZ2 and dithering. Until that wonderful moment when I remember I'm allowed to write crap. Then who knows what it will appear on the page.
Answer: B, C or D. Yup. Probably all three of those because the copy edits are due and because I need to finish this manuscript, too. And because this is my passion, and I can't do it until I remember that I'm allowed to suck. Tomorrow, I pray that sucking will be on a latte instead of the page.
So...am I the only one? Is there something that you have to give yourself permission to be awful at? Please tell me I'm not alone! Comment on this blog! Can't wait to hear what you have to share. And while you're at it, pick up a copy of 50 Ways to Ruin a Rake by Jade Lee which isn't awful at all because I edited all the awful parts out before it went to press. I'm sure you'll love it as much as do!
A USA Today Bestseller, JADE LEE has been scripting love stories since she first picked up a set of paper dolls. Ball gowns and rakish lords caught her attention early (thank you Georgette Heyer), and her fascination with the Regency began. And as a Taurus, she lives to pit a headstrong woman against a tortured hero just to watch them butt heads on the way to true love. Flesh wounds are rare, but the healing and laughter are real.
Now an author of more than 30 romance novels, she finally gets to set these couples in the best girl-heaven of all: a Bridal Salon! This way she gets to live out all her wedding fantasies, one by one. (Let's be honest, what girl has only one idea for her dream wedding?)
And don't forget Jade's other name, KATHY LYONS. That's Jade's lighter, contemporary side. She writes for Harlequin Blaze merging hawt sex and funny relationships into really great reads.
Website | Facebook | Twitter | Pinterest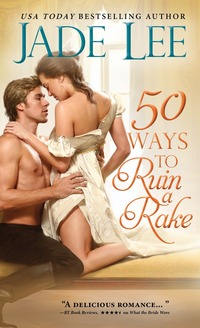 Mellie has a plan
Mellie Smithson is trapped in the country with no suitors and no prospects on the horizon except, perhaps, the exasperating—although admittedly handsome—guest of her father. She's looking for any excuse to go to London to meet more eligible men.
Trevor has a problem
Trevor Anaedsley's grandfather has cut off his funds until such time as he gets engaged. Trevor escapes to the country—ostensibly to visit his old tutor Mr. Smithson but actually to duck his creditors—where he meets Smithson's lovely daughter Mellie. The obvious solution is suddenly before him—but the lady has ideas of her own, and Trevor's going to have to measure up...
Comments
21 comments posted.
Re: Jade Lee | Guess What I Did Today...

Currently I've been a bit awful with my housework, because
other things have cropped up which have taken up my precious
moments that I should have spent, cleaning and organizing my
house!! My Father also passed away last year, and there are
items which were brought here from his house, which I need
to incorporate into my little apartment. I have no idea
where these things are going to go yet, but once I clean
everything, and put them in their proper place (we were in
the process of painting when he passed away), I'm sure
you'll never know his things are even here!! I can
sympathize with you, and if I wasn't on dial-up, I would
probably be back on my game site, playing my games as well.
I used to play on a certain site for hours, and made quite a
few friends there as well, which I still have until this
day. Congratulations on your latest book, which I've put on
my TBR list!!
(Peggy Roberson 9:48am June 5, 2015)
Congratulations on your newest book and thankyou for the chance at your book contest! Lots of Love!
(Veronica Boudreau 1:00pm June 5, 2015)
I give myself permission to do badly at housework!
Sometimes, there just isn't time to do more than the bare
minimum, especially if you want to have any time for
yourself, at all!
(Janie McGaugh 10:30pm June 5, 2015)
I suck at patience. I have to tell myself everyday that
it is not always easy to be an adult with kids in the
house and I have to realize they don't always get to have
fun either. With ages comes wisdom is a saying that my
grandmother was fond of, she told me once that being a
grandparent is easy being a parent is hard but being a
kid is torture. To some extent that is true but when you
never want to grow up then being a kid all your life is
really kinda fun but the patience part, I want it now and
that is not always gonna happen.
I love your books and your Q & A's they are fun to read.
thanks for the chance to win...
(Tina Ullrich 11:44am June 6, 2015)
Patience, what patience??? I have none.
(Sue Farrell 1:30pm June 6, 2015)
My nephew is really smart, but isolates himself in his bedroom when he's home. My sister has gotten some time with him by playing word games with him after dinner. My nephew memorized the scrabble dictionary of 2 letter words. When I play the word games with them, I know that I will lose, and I accept that! I get a thrill when I use a word my nephew doesn't know!
(Joanne Schultz 2:07pm June 6, 2015)
I would say d
(Cynthia St. Germain 7:05pm June 6, 2015)
I wore a size 11 up to the point when I had my kids. I
finally lost all of my baby weight and I got into a car
accident. And my metabolism changed. I was inactive and
gained more weight than I ever thought possible. It took 3-4
years to find the right meds to stabilize my condition. I
have never returned to that size. After a period of time, I
had to give myself permission to buy "good" clothes in a
bigger size. A much bigger size. I hadn't made poor choices
that caused me to gain weight, I had gotten into a car
accident and had some health issues that complicated things.
So often women punish themselves by wearing cheap garments
until they lose weight. I accepted it and made the most of my
appearance.
(Marcia Berbeza 1:28am June 7, 2015)
Sewing machines. We're not on speaking terms. I love doing
handwork, but do not get along with sewing machines. That's
OK, the necessary repairs still get done.
(Deb Philippon 11:00am June 7, 2015)
I try to do some housework a few times a week.
Marilyn Collins
(Marilyn Collins 4:19pm June 7, 2015)
I did that (stayed in the house) for about three days before I finally decided that I got to get my front yard presentable instead of showing that no one lives here.
(Kai Wong 10:17pm June 7, 2015)
I let housework go like the dusting mostly .
Jade, I love your books, and thanks so much for this giveaway.
(Joan Thrasher 9:18am June 8, 2015)
I usually give myself permission to be bad at exercise. I'm not the biggest, and I'm not the strongest, but I figure, as long as I try, that's better than nothing.

I may not be able to exercise as well as I'd like, but doing some is better than doing none. You know?
(Rebecca Diederich 9:53am June 8, 2015)
Housework I give myself permission to do a little a day
and that way it doesn't seem such a chore. I also have
time for other things that i want to get done or seem to
be on the burner. Jade, thank you for the giveaway and
would love to read and review as I have been talking
about this book for awhile!
(Peggy Clayton 1:02pm June 8, 2015)
Oh yes! Daily I give myself permission to be lousy at housework. (I think I'm too permissible here.) Oh well, we all have our strengths and weaknesses. Thanks for the post and giveaway.
(G S Moch 1:18pm June 8, 2015)
I give myself permission to let the house cleaning wait until another day
(Debbie Rudder 7:26pm June 8, 2015)
I parallel park very badly. I require my own parking lot.
(Susan Shapley 10:50pm June 8, 2015)
I garden badly. I've been trying to plant for 2 weeks. Between work & the rain/hail it hasn't been going so well. I never seem to get out there before 5 pm, even if it's the only thing I have to do that day. By the end of the summer the weeding will fall to the wayside too. My Father calls my style of gardening, "gorilla gardening." I hide the vegetables in the weeds to hide them from the animals.
(Laura Gullickson 1:40am June 9, 2015)
I am atrocious at parallel parking and forget about
asking me to judge distance or if a painting is hung
straight. I have horrible spatial reasoning capabilities.
And I have to give myself permission to "let things go"
instead of fretting over silly little things, plus when
dealing with my spouse and children, I need to pick and
choose the "battles"; sometimes I hear myself and in my
head I wonder where that's coming from??? LOL
(Patrice Eannucci 9:52am June 9, 2015)
2,000 words a day! Amazing! I'm really impressed. Now that I've reached the age called getting older, I allow myself to do chores whenever I feel like it.
(Anna Speed 3:11pm June 9, 2015)
I like to snack on sweets, diets and I do not get along.
(Deb Pelletier 9:15pm June 9, 2015)
Registered users may leave comments.
Log in or register now!