Nancy Naigle | Newspapers: Not Just Paper Anymore

February 10, 2015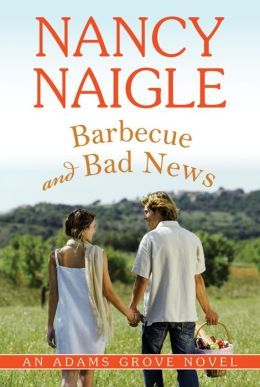 Barbeque and Bad News
Nancy Naigle
AVAILABLE
Adams Grove #6

February 2015
On Sale: February 10, 2015
Featuring: Scott Calvin; Savannah Dey
ISBN: 147782183X
EAN: 9781477821831
Kindle: B00NAGE016
Paperback / e-Book
Add to Wish List

Also by Nancy Naigle:
The Wedding Ranch, December 2022
Add to review list
A Heartfelt Christmas Promise, October 2021
The Shell Collector, May 2021
Christmas Actually, December 2020

Do you still read your local newspaper or are you a strictly an online news reader these days?
Before I made my recent move to North Carolina, I lived in a small town in southern Virginia where our local newspaper came out twice a week. Only we didn't have a delivery person out in the country so the paper came in the mail. This meant that we got the paper the day after the day it came out. Needless to say, the news was never breaking news!
One section of the paper that always caught my eye, late or not, was the arrest records. Interestingly enough, in each issue they printed the full names of everyone who had been arrested in the county since the last paper was printed. Speeding tickets, misdemeanors, and felonies…you name it. No wonder people in small towns always know everything about everybody.
That's one of the things that inspired my ideas for BARBECUE AND BAD NEWS that just hit shelves this week. I'm so glad book six of the Adams Grove series is out because Sheriff Scott Calvin didn't get the girl four books ago. Bless his heart. But then who can compete with a guy as hot as country singer Cody Tuggle in OUT OF FOCUS?
I figured it was about time Scott got a break in the romance department. Only the last woman he expected to catch his eye was the cute little city girl he just pulled over speeding on I-95. And in a Mini Cooper, no less. He knows a few things about cars, and he sure hadn't expected that little Matchbox to come flying by him.
Right away, Savannah Dey noticed the good looking sheriff who just stopped her, but come on. She'd only been going seven miles over the speed limit. Doesn't everyone get like a free ten-miles-over pass on the interstate? Not in Adams Grove. Even though the sheriff gave her a warning instead of a ticket, she's still holding a grudge for being pulled over at all.
While Savannah is in town, someone finds out she's a writer and she's pressured to fill in on the police blotter at The County Gazette. Savannah can do the job, but she doesn't want anyone to find out what she writes. She might look like a sweet southern girl, but she's actually the voice behind the snarky online gossip column, Advice By Van. The column is so outrageous that it's been hailed as Howard Stern meets Dear Abby, so she can imagine what Sheriff Scott Calvin would make of that if he found out.
Unfortunately, the job puts her smack dab in the center of Sheriff Calvin's business, and neither of them is wild about the sparks that are flying every time they get near each other. With the way things are going, who knows what might end up in the newspaper?
Whether you read the old-fashioned newspaper, or get your news online, what's your favorite section to check out and why?
Giveaway
Readers, leave a comment below to be entered to win an ebook copy of BARBECUE AND BAD NEWS.
About BARBECUE AND BAD NEWS
Welcome to Adams Grove…where the barbecue isn't the only thing that sizzles.
Savannah Dey politely agreed to attend her ex-husband's wedding, but she'd be grateful for any reason to get out of it…which is why the speeding ticket from the handsome sheriff of Adams Grove is both a surprise and a reprieve. With one quick call to her editor, the aspiring columnist finds herself with a new assignment and the perfect excuse to get closer to the man who pulled her over. Now, all she needs is a way to deal with all the bad memories the small town dredges up…
Sheriff Scott Calvin can't forget the woman who set off his radar, but he's determined to send Savannah on her way. He's done making bad choices, and this beautiful city gal is sure to leave Adams Grove once she finishes her story. By the time she's stirred up a hornet's nest, he's already falling for her. Will trouble bind them together, or will her secrets tear them apart?
About Nancy Naigle
USA Today bestselling author Nancy Naigle whips up small-town love stories with a dash of suspense and a whole lot of heart. She began her contemporary romance series, Adams Grove, while juggling a successful career in finance and life on a seventy-six-acre goat farm. Now happily retired, she devotes her time to writing, antiquing, cooking, and the occasional spa day with friends. A native of Virginia Beach, she now calls North Carolina home. BARBECUE AND BAD NEWS is the sixth book in her popular Adams Grove series.
Comments
29 comments posted.
Re: Nancy Naigle | Newspapers: Not Just Paper Anymore

The Obituaries to see if my name isn't in there (ha ha only joking) but seriously I like reading positive stories where someone is making a change for the better in our local community.
(Holly Loch 12:53pm February 10, 2015)
happy Tuesday. are you give away a print copy or ebook ?
(Emily Stemp 9:14am February 10, 2015)
favorite section? sunday comics. the rest of the time I just scan the titles on the on-line edition of my local newspaper.
(Angela Parrish 11:01am February 10, 2015)
Hi Holly! I'm all about the good news too. But then my friends accuse me of
living in NanLand where all is happy and optimistic :) Hey, it's not a bad way to
look at things...if you ask me.
(Nancy Naigle 11:10am February 10, 2015)
Greetings Emily! Thanks for stopping by. I'm gifting an eCopy through
Amazon. If you don't have an eReader though...I'll do a $5 gift card (the
ebook is 4.99) and you can apply that toward the book purchase.

AND...just to hedge your bets...hop over to Goodreads where my publisher is
giving away 20 copies of the paperback! I hope you fall in
(Nancy Naigle 11:12am February 10, 2015)
Hi Angela! Boy I missed the Sunday comics when we moved out to the country.
Our rural newspaper didn't have any. :( We didn't get the Parade either. I always
liked reading that. Thanks for stopping by!
(Nancy Naigle 11:13am February 10, 2015)
Awesome looking book Nancy :)
I LOVE your Adams Grove series!
I usually read the comics, coupon/sale papers & Events coming up ten EVERYTHING else

Mindy :)
[email protected]
(Mina Gerhart 11:52am February 10, 2015)
My fav section... the store ads and coupons!
(Colleen Conklin 12:10pm February 10, 2015)
I don't really read the paper anymore - either online or in print. But I do still glance at the parade section on the weekends when I get a chance.
(Pam Howell 12:26pm February 10, 2015)
We still have the news paper delivered to our home and at times I will read
it online, the first page my husband looks at is the obits, I'm all about Dear
Abby, the comics, coupons and recipes. You new book will be a great read,
thanks for the give away!
(Belinda Joyner 12:53pm February 10, 2015)
First thing in the morning read the obits and if your name isn't
in there, then get up and get to work work or housework. If it
is there, then turn over and go back to sleep.
(Jeri Dickinson 3:08pm February 10, 2015)
My local free paper has a page where they print 3-4 old
pictures of the town. It's great fun seeing if you can still
recognise the streets 100 years on.
(Jen Barnard 5:55pm February 10, 2015)
Congrats on your release, Nancy!
I'm a big fan of small town newspapers. We get a weekly
paper here and my favorite part is the food section! We've
"discovered" quite a few Mom and Pop restaurants because of
the articles written.
(Michelle Harlan 7:17pm February 10, 2015)
I am an online news reader. As much as i would love to have a
hard copy in hand it was an expense that my husband and i cut
in order to afford other things.
(Rachel Collings 11:57am February 11, 2015)
I read my newspaper every morning with breakfast. This is something I have
done for a long time...I'm too set in my ways to do otherwise even tho I have the
same news on my iPad. I read it when I am out of town.
(Jackie Wisherd 6:07pm February 11, 2015)
Oh dear. I'm blushing because my husband worked for the local
newspaper for nearly 40 years but the first thing I ever looked
for was Dear Abby!! Now I mostly get my news online. Sadly,
the newspaper industry is a dying art.
(Marcia Berbeza 7:52pm February 11, 2015)
Sounds great!
(Teresa Miller 9:51pm February 11, 2015)
I live in a small town with a small weekly paper so I read
it from cover to cover because we know most of the people
in it.
(Teresa Miller 10:13pm February 11, 2015)
Happy Valentines days. love chocolate i get from my mom
and brother lol
(Emily Stemp 11:00am February 12, 2015)
I love homemade cards from my son :)
(Seanna Yeager 12:54pm February 12, 2015)
Sure sounds like an awesome book and I would love to read
it. Good luck to everyone who enters.
(Renae Kelly 1:48pm February 12, 2015)
Sounds amazing. Would love to read!
(Cheryl Pompilii 2:33pm February 12, 2015)
This sounds like an awesome book and I sure would like to
have a chance to read it but I would like to say, "GOOD
LUCK" to who all enters!!!!!!!!!!! (BUT I HOPE I DO WIN!!
(lol))
(Renae Kelly 9:52am February 13, 2015)
I am an online reader only and I love the title of the book!
(Denise Austin 2:46pm February 13, 2015)
Have not read one of your books yet. Hope I win one
(Judy Ferguson 6:43pm February 13, 2015)
Hope the eBook is available on both Kindle and Nook.
(Kelly Knapp 11:25pm February 13, 2015)
Hey i like to read online news paper.Because its affordable and in this way i can get latest news very quickly.Thanks hair salon west palm beach, fl
(Hasan Nigar 4:07am February 14, 2015)
Strictly an on-line reader. I moved here several years ago and since this isn't my "home town", I've never had the inside track on the local movers and shakers.
(Flora Presley 3:58pm February 20, 2015)
i dont read the newspaper anymore
(Angela Smith 12:43pm February 23, 2015)
Registered users may leave comments.
Log in or register now!