Kate Hewitt | Thie Fragile Life: Setting and the Story

August 25, 2013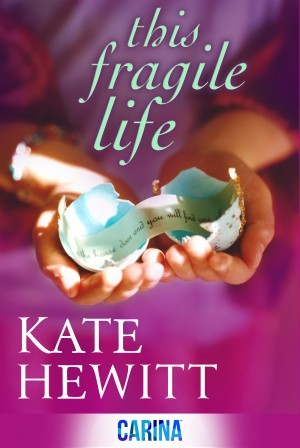 Thanks so much for having me here--I'm so excited to share my first women's fiction, THIS FRAGILE LIFE, with you!
When I first thought of the premise of THIS FRAGILE LIFE, it felt very much like a 'New York' kind of story. Of course, part of the appeal of any story is how it relates to the reader, and most of my readers don't live in New York City! I hope, though, they can identify with some aspects of the Big Apple.
New York City--Manhattan, in particular--is such a unique and individual place, and the feel of it infuses THIS FRAGILE LIFE. The two main characters, Martha and Alex, are very different types of New Yorkers. Martha lives in a beautiful apartment on the Upper West Side, has a high-flying career in advertising, and shops at Barney's and Bergdorf's. Alex is an aspiring artists and community teacher, lives in the East Village (similar to Greenwich Village) in a walk-up studio apartment, and attends low-budget art installations and off-off-off Broadway theatre productions.
As a former New Yorker myself who has now relocated to England, I loved writing about my favourite city. I've, more or less, lived in both Alex and Martha's worlds, and writing about them was similar to revisiting different times in my life--first as an aspiring playwright and then as a wife and mother of four. I hope the New York City details also highlight the differences between Alex and Martha, and deepen the story's conflict between these two best friends caught in an impossible situation.
One wonderful thing about reading is how it can take you to another place. I love reading stories set in India, because I've never been there but have always wanted to go. What about you? Do you like to read about familiar places, or ones you've never been to? And what do you think about the Big Apple? Tell me what you think and one commenter will win one of my Harlequin Presents romances as well as a Starbucks gift card--because if there is one thing New York has, it is plenty of Starbucks!
Happy Reading,
Kate
THIS FRAGILE LIFE: You love your best friend. You trust her with your life. But could you give her the most precious gift of all? Alex's life is a mess. She's barely holding down a job, only just affording her apartment, and can't remember when she was last in a relationship. An unexpected pregnancy is the last thing she needs. Martha's life is on track. She's got the high flying career, the gorgeous home and the loving husband. But one big thing is missing. Five rounds of IVF and still no baby. The solution seems simple. Alex knows that Martha can give her child everything that she can't provide. But Martha's world may not be as perfect as it seems, and letting go isn't as easy as Alex expected it to be. Now they face a decision that could shatter their friendship forever.
Comment to win a Harlequin Presents romance and a Starbucks gift card!
Comments
42 comments posted.
Re: Kate Hewitt | Thie Fragile Life: Setting and the Story

I love traveling to new places through books! Thanks so much for the giveaway!
(Jackie R 6:39pm August 23, 2013)
After living in the country, as I do now, the Big Apple is too busy for me!! As for reading about different places, I do enjoy reading about them, because any time I can escape to a different place for a period of time, is a way for me to take a mini-vacation, since I'm unable to take a vacation for the time being. I love to learn how other people live, and the foods they eat, etc. Your book sounds like it will be a good read, and I can't wait to read it!! The cover is very well done, and I'm sure it will do well. Congratulations!!
(Peggy Roberson 8:11am August 25, 2013)
WOW this really is a book I'd love to read. Thanks so much Kate.
(Bonnie Capuano 9:09am August 25, 2013)
Another book that needs to be read.
(Charlotte Wills 9:20am August 25, 2013)
I don't know if I could do that. I had two very easy pregnancies for my own children, but if I hadn't already had my own kids, I probably couldn't give that child up. Once I had my family, though, I think I could put it into perspective and deal with the situation a little better (I hope).
(Elaine Seymour 9:22am August 25, 2013)
I was so excited to find this website and would love to read and review your book!
(Barbara Wells 10:32am August 25, 2013)
I love books set in places I have never been. It makes me feel like I am exploring other cities.
(Pam Howell 10:42am August 25, 2013)
I love reading about places I've never been. It's like a mini-vacation all from the comfort of home. It's fun to experience a place through a book because it's not only a different place but it can be a different time in history or even an alternate universe. I love travelling, but books can be wonderful windows into things I won't ever be able to see or experience.
(Jamie Fortney 10:56am August 25, 2013)
I enjoy reading books set in interesting locales. Especially
when they are in places I have never experienced. Your book
sounds wonderful and memorable. Travel in a book is an escape
and provides me with pleasure.
(Sharon Berger 11:58am August 25, 2013)
I love to travel to new places through books---now I have been to NYC but only for 2 days so I think there is still an awful lot I can learn about that facinating city.
(Sue Farrell 12:36pm August 25, 2013)
I've never been to NYC but it is on my list of places I want to see and I do like reading about it.
(Lori Ringel 12:50pm August 25, 2013)
I like stories set in both places I've been and places I haven't. There are some countries plus subject matter that do not interest me as much, that I may not care to read a story about. The subject and setting of your book sounds great and one I would very much love to read. Thank you for this chance to win, and I hope I do. All The Best To You Always.
(Esther Somorai 1:24pm August 25, 2013)
Your book sounds really interesting... thanks for sharing your post with us today!
(Colleen Conklin 1:32pm August 25, 2013)
This will definitely be on my 'must read' list and what is better during the cool weather than a good book
(Shirley Younger 2:16pm August 25, 2013)
i love to travel and see different things with my family i
would love to read this
(Denise Smith 2:28pm August 25, 2013)
Your book sounds like a very moving story and I would love the chance to read it. Thank you!
(Melanie Backus 3:26pm August 25, 2013)
I have never been to visit the "Big Apple" since I seldom travel. I would definitely enjoy reading about it in a book. It's always interesting to learn anything about places I've never been to from an author who has. I'd enjoy the chance to read this new book.
(Rich Cook 3:37pm August 25, 2013)
Looks really good.
(Marcie Parrish 4:10pm August 25, 2013)
I love to travel through books to memorable and romantic settings, places and cities whether real or fictional. This sounds like a great book I'd thoroughly enjoy!!!
(Linda Luinstra 4:24pm August 25, 2013)
I have never had the opportunity to visit NY, and with your storyline, I get the chance to be there. Thank you so much
(C Culp 5:11pm August 25, 2013)
I love reading about places I haven't been. Am wanting to go to England,
France, Italy, and Australia, oh and Scotland, because of books I've read
that were based there. And your book sounds amazing!!!!
(Vicki Hancock 5:22pm August 25, 2013)
This story will really tug at my heart.
(Diane Sallans 5:22pm August 25, 2013)
I enjoy reading stories in settings that I am unfamiliar
with because it is such fun to learn about them! As for the
Big Apple, I had the pleasure of spending a month there just
after graduating from high school. Coming from a small
city, it was such an eye opening experience, loved the art
museums and galleries.
(G. Bisbjerg 5:48pm August 25, 2013)
The book sounds great, Kate. Thanks for sharing about it.
(Marcy Shuler 6:00pm August 25, 2013)
I love to read about places that I both have visited and those that are new to me. When I read about a place I've already been, I feel like I have a connection to the story from the start. When I read a book about a new place and then have the chance to travel there, it makes travelling more fun! I have never been to NYC, but we've been through the state of NY several times.
(Juli Lear 6:06pm August 25, 2013)
I like to read about well-realized places, fictional or non-
fictional, known to me or not. I've enjoyed New York City
since I first visited there when I was eighteen-- and my
husband grew up in the Bronx.
(Mary Ann Dimand 6:17pm August 25, 2013)
Learning about unfamiliar locals is a bonus while enjoying a good book. I've never been to New York City.I'm very curious to see in person the areas that I have read about. "A Tree Grows In Brooklyn" is the first book I remember about NYC.
(Joanne Hicks 6:48pm August 25, 2013)
I like reading about places I've never been. That way I don't have any
preconceived notions about how the story should go.
(Laura Gullickson 7:15pm August 25, 2013)
I like to read book about places I have been. KIt hepls me picture the area.
(Leona Olson 7:37pm August 25, 2013)
It's true that life is fragile. You will never what will happen tomorrow or if something that was done or said will destroy a friendship or tear up a family.

This Fragile Life says it all in its title.
(Kai Wong 8:04pm August 25, 2013)
Life is Fragile sounds like a book I'd like to read.
(Amy Kincade 8:17pm August 25, 2013)
What a dilemma! With a decision like that to make, it could tear yourself apart let alone a friendship.
(Karen Blossom 8:53pm August 25, 2013)
I love reading about familiar places such as my favorite cities London and Oxford but in turn I love to read books that give you a feel of place .I love to read something that transports you to someplace you've never been but with good writing you feel you have. I have been to New York but I do not know it well. I'd love to see through someone's eyes who knows it well.
(Catherine Myers 8:59pm August 25, 2013)
I like both. I have lived in the San Francisco area all of my life, so sometimes I think it is really neat to read stories that have a lot of landmarks that I am familiar with, like I find in Armistead Maupin books. Then again, I haven't traveled that much, so I really like getting lost in a book with a midwest or New York backdrop so I can learn about other places in America. The only backdrops I really don't care for is when they are outside the US. When the settings are in foreign countries, I just feel like I can't relate at all.
(Tracy Robertson 9:02pm August 25, 2013)
I have been to NYC twice, and it's one of my favorite cites. It's always fun to
read books set in places I've visited, because the scenes bring to mind a lot
of good memories. I do like reading stories set in places I have not visited,
though, as well. For me, reading books is like taking mini vacations.
Congratulations on the book, and thanks for the chance to win!!!
(Linda Brennan 9:47pm August 25, 2013)
This was a nice post. I lived in India a few times, and it's an amazing experience!
(Kathleen Conner 10:10pm August 25, 2013)
This books sounds so good. I cannot wait to get it and start reading.
(Mary Branham 10:12pm August 25, 2013)
This Fragile Life. What a title!
(Lisa Hutson 10:57pm August 25, 2013)
I like stories set in other countries and now in recession, I think we all need some escapism.
(Clare O'Beara 9:29am August 26, 2013)
Sounds like a touching story!
(May Pau 10:57am August 26, 2013)
I enjoy books set in New York. It is my favorite city, it feels very alive to me. I do enjoy unique settings in stories since it is like you are traveling there in the story.
(Maureen Emmons 8:41pm August 26, 2013)
I'm an armchair traveller. Got to love that about books.
(Mary Preston 10:24pm August 26, 2013)
Registered users may leave comments.
Log in or register now!