Excerpt for THROUGH THE SNOW GLOBE by Annie Rains
Copyright Annie Rains 2023
Expert Reprinted with Permission from Kensington Publishing Corp.
Sunlight streamed through the blinds that Diana had failed to close last night. She stretched beneath her covers and cracked open an eye, groaning at the room's obnoxious brightness. "Ughhh." She started to reach for Linus, but stopped herself. Right. He wasn't there. On a yawn, she sat up in bed and draped her legs off the side, her eyes still refusing to open.
Merry Christmas to me.
She sat there a moment, considering the day ahead. She had two options: stay home alone and pretend like this day didn't exist. Or go to New Hope Long Term Care Facility to see Linus.
Linus, it was. She opened her eyes, stood, and started shuffling toward the bathroom. The door was closed, which was odd. Why had she closed it? She twisted the knob and pushed it open, banging it against something solid that let out a soft grunt.
Diana stumbled backward and screamed. "Who's there?" Her heart pounded inside her chest. Someone had broken in and they were in her bathroom! On Christmas day at that. Seeing as she didn't believe in Santa anymore, this had to be a burglar.
On instinct, she reached for the door again and used her bodyweight to hold it shut. Whoever was in her bathroom was not coming out until she could call the police. Then again, her cell phone was on the other side of the room. How was she going to reach it?
Think, Diana, think.
As her mind raced, she felt the person on the other side trying to pull the door open. It rattled and banged against the door frame as she used every muscle in her body—even the ones in her eyelids—to keep it closed.
"Di, what are you doing?" The man's voice was deep and familiar.
Diana gasped and let go of the door knob, nearly stumbling back onto her bottom. She knew that voice. She loved that voice. "L-Linus?" She pressed a hand to her chest, heart kicking against her palm as the bathroom door opened. There he was in the flesh. And a pair of snowflake boxer shorts.
"Wh-what at are you doing here?" She blinked several times just in case he was a hallucination. Hadn't Rochelle mentioned that sometimes grief made you imagine things that weren't true?
Linus's whole face scrunched up, looking at her like she was crazy. It was a look he liked to give her on the regular. "I live here."
She clutched her chest, struggling to pull in a full breath. "Did you—did you wake up last night? Did they discharge you?"
Linus's dark brown hair was sticking up in various directions, overgrown and in need of a cut. The elf ears she'd put on him last night were gone. He must have taken them off when he'd climbed out of bed. How was he standing? Walking? He hadn't used those muscles in weeks. She'd made sure he was getting stretched, but there was no way that being on his feet for so long wouldn't be pushing the outer limits of his endurance. "You need to get back in bed. What if you fall and hit your head a second time?" She could lose him all over again.
"A second time? Why are you acting like this? Did you have a bad dream or something?"
The last three weeks had felt like one big nightmare. But it had all been real. "Didn't they tell you? You were in a coma." She stepped toward him. "Why didn't New Hope call me and let me know you were awake? Do your parents know? Are you feeling okay?" Her questions came in quick succession.
"A coma?" Linus chuckled wryly. He was still looking at her like she was talking gibberish. "Wow, that must have been some dream you were having. Maybe you dreamed about something happening to me because I kind of agreed with your patient about you being an Elsa last night."
"An Elsa?"
Linus cringed. "Please forgive me?"
"Forgive you?"
"Why are you repeating everything I say?" He shook his head. It was surreal to even see him move, to hear his voice. "I'm a bit worried about you. Perhaps you're the one who hit your head?" He stepped closer, his eyes searching hers. It'd been three weeks since she'd looked into those blue-gray eyes, the color of the ocean in a thunderstorm.
Diana reached for him, bracing his body between both of her hands. "No. You hit your head. In the accident. You fell off your bike." Her gaze jumped to the side of his head where there should have been a nasty scar. It wasn't there. Instead, the skin was smooth and perfect.
One corner of Linus's mouth hooked up. He looked slightly amused. "I haven't taken a spill from my bike since I was six. Last night, I came home and we had a bit of a squabble," he said, calmly. Patiently. "I mean, there's no real fighting with you, is there? You just shut down and go to bed. Maybe if you'd taken a moment to yell at me, you would have had a more restful sleep."
Diana knew the night he was referring to. How could she forget? She'd been replaying it in her mind and making herself miserable, ever since. "You suggested we get married this Christmas," she said quietly.
Linus nodded. "It was just a thought. I'm not trying to force things along. I'm just excited about marrying you, that's all. I wish you were as excited as me."
Guilt swirled at the center of her chest. "That discussion was…weeks ago. Is this some kind of Christmas miracle?" she asked, still looking for an answer. None of any of this made sense.
"A bit early for Christmas miracles, wouldn't you say?"
"What do you mean?"
"Well, the big day is still weeks away."
Linus had been unconscious for the last three weeks. It was no wonder he didn't know what day it was. "Today is December 25th."
Linus gave her a strange look. Then he stepped past her and walked over to the nightstand nearest his side of the bed.
How is he walking with such balance after lying motionless for nearly a month?
He grabbed his cell phone and walked it over, flashing the home screen in her direction. The screen's wallpaper behind the date and time was a picture of her. "See there? It's December 4th."
Diana straightened. "What? It can't be December 4th." Time had passed since then. Weeks had passed. She'd been dragging through recent days, numb and clinging to quickly draining hope that Linus would get better. "December 4th," she said again. "That's the day…"
"The day that what?" he asked, starting to get restless.
"The day you were hit by a delivery truck."
Linus laughed out loud. "Geesh, Diana. I know you're upset at me, but dreaming I got hit by a truck?"
She shook her head. "It wasn't a dream."
"Want me to call Rochelle?" he asked.
Diana stared at her fiancé who shouldn't be here right now. He was supposed to be at New Hope Long Term Care. In his bed. In his coma that he was never going to wake from. It wasn't a dream. This was the dream. It had to be. That was the only explanation. Unless…
Diana clapped a hand to her mouth. "Oh."
"What?" he asked, the skin between his eyes pinching deeply.
"The snow globe. Mrs. Guzman placed a spell on it."
Linus's jaw went slack. "Have you been in my closet? Did you peek at the gift I got you?"
She shook her head. "No. I mean, yes, but I couldn't help it. You weren't here. You were…"
"Comatose?" Linus turned and headed into his closet. "I'd love to discuss what happens to impatient people who peek at their gifts early,"—he cleared his throat—"but I really do need to get dressed."
"No! Don't go to work today. Stay home. With me." She practically chased him into the closet.
"I can't. This is the busiest time of year for the toy store. Plus, I have a meeting with the new distributor today, remember? And you need to get dressed for work too. You're going to be late, which isn't like you at all." He looked back, giving her an assessing glance.
Diana reached for his arm. "Just don't work late tonight, okay? Come straight home. And maybe don't ride your bike. Take your truck instead. There might be ice on the roads." She was talking quickly, her words spilling over each other. She still wasn't sure what was going on, but if this really was December 4th, then Linus's accident was tonight. Everything in Diana's world had come crashing down around her on this day.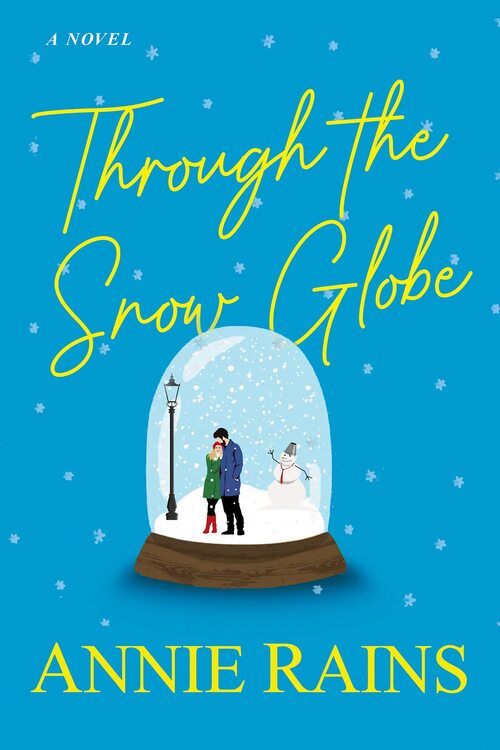 Perfect for readers of One Day in December by Josie Silver, this enchanting new novel with touches of It's a Wonderful Life and Groundhog Day follows a woman dangerously close to losing it all as she receives an unexpected Christmas gift that prompts a surprising journey of self-discovery...and another chance at happiness.
What if you could have one more day with someone you lost?
Diana Merriman, a physical therapist, is probably the only person in the small town of Snow Haven, North Carolina, who isn't looking forward to Christmas. It's been three weeks since her fiancé Linus was critically injured when a car hit him as he biked home from the toy store he owns and manages. Watching him open his eyes is the only gift she wants, but she can't help losing a little more hope every day.
But an unexpected visit from a friendly neighbor and finding a snow globe of Snow Haven—a gift Linus had hidden in the closet—the night before Christmas Eve changes things in ways Diana never would have imagined. Because on Christmas Eve Diana wakes up to find that it's not—Christmas Eve, that is. Instead, it's somehow December 4 all over again, the day Linus got hurt, and as mystified as Diana is, she immediately starts a plan to save her partner from his fate.
Nothing is that simple, of course. Instead of a single repeat of that day, Diana finds herself in an endless loop of December 4, experiencing every possible variation of events. Along the way, she uncovers startling truths about herself, her relationship, and even her career that illustrate the ways she's retreated from her life—and in the face of life's slights and outright blows, from her deepest feelings. Suddenly hope is second only to joy as Diana opens her heart to the people she loves in every way she can.
Romance Holiday [Kensington, On Sale: August 22, 2023, Trade Paperback / e-Book, ISBN: 9781496740847 / eISBN: 9781496740861]
Hope, Heart, & Happily Ever Afters!
USA Today bestselling author Annie Rains lives in a small, coastal North Carolina town, full of lovable folks, scenic downtown areas, and breathtaking nature—similar to the towns she writes about in her books. Annie's love of reading and writing grabbed hold of her at a young age and never let go. Her first book was published in 2015, and she's been writing heartfelt, page-turning stories ever since. When Annie isn't writing, she's reading from her never-ending TBR stack on her bedside table, taking long walks while plotting her characters' happy endings, and living out her own happily ever after with her husband, three children, feisty rescue cat, and mischievous dog.
No comments posted.