Katherine Garbera | ONE NIGHT GAMBLE + GIVEAWAY!

January 16, 2019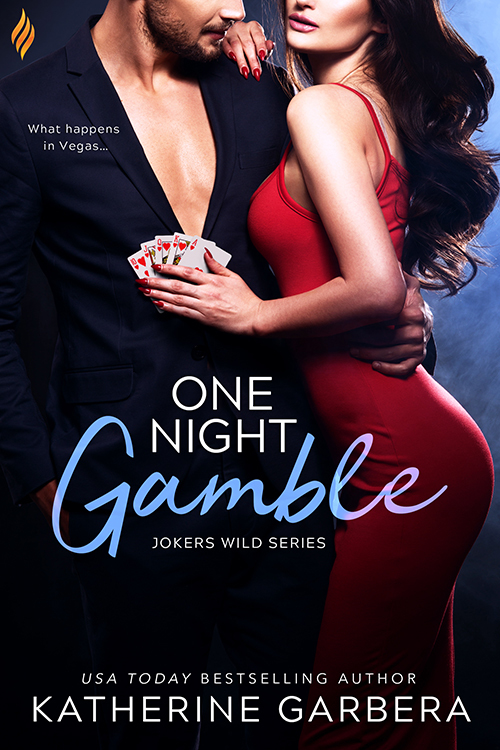 One Night Gamble
Katherine Garbera
AVAILABLE
Joker's Wild #1

January 2019
On Sale: January 14, 2019
Featuring: Talia Spencer; Casey Waltham
ISBN: 1640635505
EAN: 9781640635500
Kindle: B07L873F28
e-Book
Add to Wish List

Also by Katherine Garbera:
Her Texas Ex, April 2019
One Night Gamble, January 2019
Dance With The Devil, October 2017
Billionaire's Baby Bind, October 2017

I'm so excited to be starting 2019 with the first book in my new series Jokers Wild.  ONE NIGHT GAMBLE is a sexy, emotional story that proves that we make our own luck. I love setting books in Las Vegas because I like playing around the idea of illusion that what you see isn't what's really on the inside.  And no city typifies that for me more than Sin City! My hero and heroine both grew up in Las Vegas and have seen the seamier side of the city. Their childhoods were very different and yet they both were shaped by them into the person we see today.  
Casey took a gamble on himself when he left the group home he was living in and struck out on his own.  He was determined that with his belief in himself and the luck he made he could make a fortune using only his skills with cards and his ability to read people.  He's done it. He's made more money than anyone ever expected him to and he's one of the top poker players in the world.
When he meets Talia he takes another risk.  She's different, she works for him, but he wants her.  And he likes her. She could be someone for him to lavish all of his earnings on, except…she hates gamblers.
Casey has never just stopped bluffing and let himself be and he knows in order to win Talia over he's going to have to, but the only version of himself he likes is the world famous poker player.  And that's not enough for her.
This book was so much fun to write. I really enjoyed using gambling and luck and fate as elements in the story.
In my personal life, I love playing poker around the kitchen table with my family but I don't like playing in casinos.  They just aren't for me. What about you?
I'm giving away an e-book copy of ONE NIGHT GAMBLE and a deck of ONE NIGHT GAMBLE playing cards!
Joker's Wild #1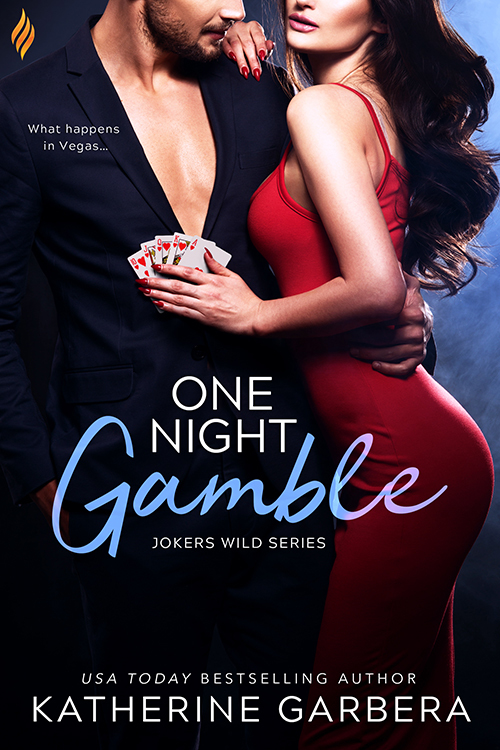 Talia Spencer's life is the epitome of boring and predictable. But then she meets him…
The first time she meets Casey Waltham, she's buying condoms…for her grandmother. And of course drops them accidentally at his feet. Face plant.
The second time she sees him, she's this close to landing her dream job and is celebrating at a club. Two chance encounters in the same day--that's got to be a sign, right?
He's charming and flirty and just what Talia needs for the night.
But it was just supposed to be a hook-up. At least, that's what she thought...until he turns out to be her new boss...
Romance Comedy | Romance Contemporary [Entangled Brazen, On Sale: January 14, 2019, e-Book, ISBN: 9781640635500 / ]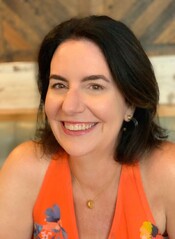 Katherine Garbera
is the
USA Today
national best-selling author of more than 75 books. Writing is the chief focus of her time after her family and the only thing she likes more than working on her own books is reading other authors. She is a frequent speaker at conferences and loves the opportunity to talk about writing with anyone who'll listen.
Garbera started making up stories for her own benefit when she was on a competitive swim team in high school. Though she went to State and usually medaled at swim meets, Katherine says her heart wasn't in swimming but rather in the stories she created as she swam laps at practice.
She worked for The Walt Disney World Company for 15 years and did everything from being a hostess on It's a Small World, to saving swimmers at the Grand Floridian Resort, to touring around VIPs such as Jack Valenti at the Disney-MGM Studios and being a production page on the New Mickey Mouse Club--yes, it might be possible that Britney, Justine and Christina owe her a nod of thanks for keeping all those kids who had to go to the bathroom from interrupting their performances.
A Florida native who grew up to travel the globe, Katherine now makes her home in the Midlands of the UK with her husband, two children and a very spoiled miniature dachshund.
Comments
18 comments posted.
Re: Katherine Garbera | ONE NIGHT GAMBLE + GIVEAWAY!

Only ever played slots once in a blue moon... not a gambler
(Colleen Conklin 11:45am January 16)
I enjoy playing poker with friends.
(Kim C 6:18pm January 16)
I don't gamble and am more likely to play rummy with
family.
(Denise Holcomb 6:20pm January 16)
I LOVE playing Texas hold em' and solitaire. I have never
been to a casino so not really sure how I would feel about
it. I would love to have the opportunity once with access to
only a grand.
(Candy Voisine 6:23pm January 16)
this sounds like a very good book
(Vickie Couturier 9:40pm January 16)
I have not played poker and have not played in a casino. I
am more likely to be found people watching at the latter
and nibbling at the buffet.
(G. Bisbjerg 11:40pm January 16)
I don't gamble, but I do enjoy watching others while they are trying to beat the odds.
(Anna Speed 12:51pm January 17)
gjfjfjfgj
(Nicole Roberts 11:30pm January 17)
dsgsg
(Nagma Mirzakar 12:13pm January 18)
love casinos, but don't play poker.
(Sharon Routhier 9:11am January 18)
In my thirty's I went to the dog track a couple of times
but gambling has never interested me
(Isabella Wilson 1:18am January 19)
I like betting at the horse races. I have it figured out to where I usually win but
nothing big.
(Joy Isley 3:11pm January 19)
I love going to horse races
(Ann Unger 10:05pm January 19)
I love romance thanks
(Susan Gannon 10:35am January 20)
I am a gambler and this book sounds great to me.
(Margaret Herman 3:31pm January 20)
"Condoms for her Grandma"......what a set-up! Seriously,
your books are so "real"....Love them and now I know the
derivation of your accent!
(Kathleen Bylsma 4:07pm January 20)
i love casinos and poker
(Debbi Shaw 8:15pm January 20)
good
(Janny Watson 6:42am January 21)
Registered users may leave comments.
Log in or register now!