Christina Hollis | You'll Need These Three Things, If You Want To Write A Book

March 18, 2015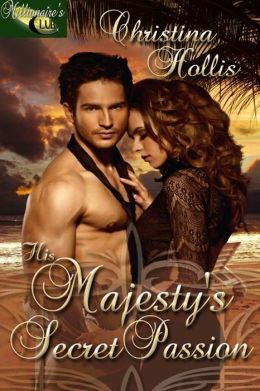 His Majesty's Secret Passion
Christina Hollis
AVAILABLE

February 2015
On Sale: February 4, 2015
Featuring: Leo Gregoryan; Sara Astley
ISBN: 014989547X
EAN: 2940149895472
Kindle: B00S46BK9W
e-Book
Add to Wish List

Also by Christina Hollis:
His Majesty's Secret Passion, February 2015
Flores de pasión, February 2012
Weight Of The Crown, September 2011
The Count's Challenge, July 2011

Millions of people dream of seeing their name on the cover of a bestseller. Most never do anything about it, but you can be the exception. Anyone can put pencil to paper, or finger to keyboard, but if you want to be a real writer, make sure you've got plenty of what it takes to get started, keep going, and get right to The End...
1. LOVE
Of words, reading, and readers. Playing with language and seeing how other writers create characters, mood and atmosphere will help you develop your own style. It isn't the number of words you write each day, or the length of them. It's the feeling you put into your work. Always write from your heart, and you'll speak directly to the hearts and minds of your readers.
2. COMMITMENT
Anyone can call herself a writer, but you only really earn that title once you get the story down on paper. It's no good stored away at the back of your mind. Give yourself a timescale, whether it's the closing date of a short story competition, or the day you'll complete the first draft of your book. Don't let anything distract you from your goal. Write every day. To begin with, just concentrate on turning your ideas into words. Then go back over your work again and again, editing and improving it every time.
3. PATIENCE
Once your work is as good as you can make it, put it away and start a new project. After a month, go back to your first piece and re-read it aloud to yourself. If you're aiming for publication, when all the re-writes are finished, give your manuscript to a trusted friend who reads the type of book, story, or article you want to write. Ask them what they think, and accept their constructive criticism as part of your learning curve. If one reader is happy, there's a good chance your work will please a bigger audience.
Giveaway
If you're a writer, what are you working on at the moment? If you're a reader, what are you reading right now? Leave a comment below to be entered to win a signed copy of HIS MAJESTY'S SECRET PASSION.
About HIS MAJESTY'S SECRET PASSION
Leo Gregoryan's determined to be the perfect king. Loyalty to his country means sacrificing his own happiness, but he'll divert the energy he once poured into his dream of becoming a doctor toward royal duties. All he needs right now is a stress-free vacation–no future queen need apply.
Sara Astley escapes to the luxurious Paradise Hotel after she's dumped by her partner, who then stole the promotion she'd expected. She hides her broken dreams behind a tough exterior. Her stubborn streak makes her a challenge Leo can't resist.
His special brand of hands-on persuasion seduces Sara into enjoying the holiday of a lifetime. Their fling can't hurt either of them–or so they think. Leo's focussed on being the ideal hero. Sara knows what she wants, and that's independence. Then a revelation tears them apart, meaning things can never be the same between them...
About Christina Hollis
Christina Hollis writes contemporary fiction starring complex men and independent women–when she isn't cooking, gardening or beekeeping. Her books have been translated into more than a dozen languages, and she's sold over two million books worldwide. You can catch up with her on her blog, on Twitter, Facebook, and see a full list of her published books on her website. Her current release, HIS MAJESTY'S SECRET PASSION, is published by Wild Rose Press.
Comments
28 comments posted.
Re: Christina Hollis | You'll Need These Three Things, If You Want To Write A Book

I just finished Sandra Edwards' The Marriage Promise yesterday... have not chosen what I will yet today.
(Colleen Conklin 12:54pm March 18, 2015)
reading a historical romance.
(Angela Parrish 4:13pm March 18, 2015)
I am reading "The Haunting of Sunshine Girl" by Paige
McKenzie!
(Vicki Hancock 4:37pm March 18, 2015)
Thank you for your excellent post. I am reading The Bollywood Affair by Sonali
Dev.
(Mary Mccoy 6:26pm March 18, 2015)
Thanks to everybody for your comments. My computer's been down, so I'm still
trying to catch up!
(Christina Hollis 3:09am March 19, 2015)
Back in my younger days I used to write 'serious' and 'funny' poetry and short stories (especially for friends). I sometimes write down thoughts or if I had a significant dream. Right now, for the Lenten Season I'm reading "The case for the Real Jesus" by: Lee Strobel, The Word Among us Daily Meditations, and finally "Dracula: by: Bram Stoker. Best of luck to all the entrants :)
(Holly Loch 3:38am March 19, 2015)
Thanks for commenting, Holly!
(Christina Hollis 10:57am March 19, 2015)
Since I haven't worked up the nerve to write yet, I
constantly read. I'm currently reading a book about a
private investigator who is looking for a person who is
missing. She is a socialite, so to speak, and the story
takes place in seedier side of Paris, in the 1920's. Right
now, he's trying to narrow down which person she has
associated herself with, and whether she is still alive or
not. The book is called The Bones of Paris by Laurie R.
King. This isn't my normal genre, but this year I've
decided to read "outside the box" so to speak, and this book
I've had a hard time putting down. There are a lot of
twists and turns to it, along with some interesting
characters along the way. Thank you so much for the tips as
well. One day soon I will get up the nerve to start
writing!!
(Peggy Roberson 11:08am March 19, 2015)
Happy Spring .
(Emily Stemp 6:25pm March 19, 2015)
I am currently reading You're So Fine by Kieran Kramer.
Thank you for allowing me to enter this contest. I think
this is going to be a good book and would love a chance to
read it. I do hope that I do win this book. GOOD LUCK TO
ALL THAT ENTERS THIS CONTEST.
(Renae Kelly 9:17pm March 19, 2015)
Thanks for that great book description, Peggy. Don't wait—start writing today!
Making diary entries about what you see, feel or think is a great start. Just one
sentence a day, and after a week or two and you'll have enough for a paragraph.
And that's just the beginning...
(Christina Hollis 3:22am March 20, 2015)
Hi, Kelly, thanks for commenting!
(Christina Hollis 6:17am March 20, 2015)
Right now I'm just starting The Girls of Mischief Bay by Susan Mallery. I love the cover of your book Peggy and am looking forward to reading it!!!
(Bonnie Capuano 8:41am March 20, 2015)
I am reading Michelle Moran's Nefertiti, then I will move on
to 52 Reasons to Hate my Father by Jessica Brody.
(Rachel Collings 11:28am March 20, 2015)
I'm reading An Accidental Woman by Barbara Delinsky . There's a lot of mystery with the FBI involved .They don't know who this woman is. I just finished Chill Factor by Sandra Brown . If you like fast-paced ,edge-of-your-seat suspense , then this book is a must read . Thanks Christina for this great giveaway.
(Joan Thrasher 1:58pm March 20, 2015)
I admire those who have the determination to go through and
actually finish writing a book.
(Amber Kuehn 2:24pm March 20, 2015)
I'm reading Maureen Jennings Except the Dying.
(Sue Farrell 4:25pm March 20, 2015)
Right now I am a Reader of many books that I recently Won on
GoodReads.com. I have Won some Contests on FreshFiction.com
too! I have been writing Poetry for a long time and one day
I Pray that I can become a great Writer like You!
Congratulations on your new book: The Majesty's Secret
Passion. I love the book cover too! I would love to read and
win your new book too. Thank You very much. Cecilia Dunbar
Hernandez CECE
(Cecilia Dunbar Hernandez 6:40pm March 20, 2015)
I am a reader, but am not reading anything at the moment. I'mm
looking for a new read! :)
(Sabrina(Mippy) Templin 10:05pm March 20, 2015)
I am a reader and right now I am currently reading Paper or
Plastic by Vivi Barnes. It's a great book so far!
(Daiane Chen 9:21am March 21, 2015)
I am a reader. Right now I'm reading Dreaming Spies by Laurie R. King.
Good advice to writers.
(Laura Gullickson 1:43pm March 21, 2015)
I'm reading Finding the Missing Pieces by Elaine Dyer.
(Jen Barnard 2:21pm March 21, 2015)
Well, that is weird! Looks like someone put an ad in the
middle of the comments! At any rate, bless your heart, I may
love to talk, but I seriously doubt that I would ever make a
writer. I know my own faults too well. I am re-reading an
old Georgette Heyer, Cousin Kate. It was a departure from her
usual style since there was a mystery, a madman, and murder
involved. I love her Regencies, so they never seem to get
old. I have discovered Audible as well, so I've been enjoying
listening to favorite stories while I work.
(Marcia Berbeza 10:28pm March 21, 2015)
Right now I'm reading Freak Show by Patti Larsen.
(Melissa Ogletree 12:36pm March 22, 2015)
I just finished reading A Seamless Murder by Melissa Bourbon
and will be starting Hope to Die by Patterson...the return
of Alex Cross. I greatly admire anyone able to write and
enjoy immensely the fruits of their labor but I myself have
no inclination whatsoever to write a book. Too lazy and
lack the self discipline at least as far as writing goes.
(Glenda Hefty 12:44pm March 22, 2015)
Looks great! Can't wait to read it :-)
(J.C. McKenzie 1:53pm March 22, 2015)
Congrats on the new release! I am currently reading Unexpected Eden by Rhenna Morgan.
(Bonnie Hometchko 9:50pm March 24, 2015)
I would love to read this. Very fascinating.
New to your books. This would be a great start.
Thanks for the great opportunity.
(Sherry Cockerham 11:58am April 2, 2015)
Registered users may leave comments.
Log in or register now!