Eliza Daly | Unexpected Turning Points in Life

November 7, 2012
In a recent interview, I was asked if I could have dinner with any three authors, who would I choose and why. Initially, Lawrence Sanders was my third choice. Yet, days later I found myself still pondering the question and I moved Lawrence Sanders to the number one spot. I wanted to treat him to dinner (even though he died in 1998) so I could thank him for helping me rediscover my love of reading, which ultimately led me to becoming a writer.
Prior to college, I read one to two books a week. I studied so hard in college I probably read two books for pleasure in four years. A year after graduating, I mentioned this to my now husband and told him how much I missed reading, yet I couldn't seem to get back into it. He recommended I read the McNally series by Lawrence Sanders.  He said it was a fun and quick read. I laughed through the entire first book and I quickly devoured every book in the series. I reread the McNally series then read Janet Evanovich's Stephanie Plum series. To this day, these are my two favorite series. I was back to reading two books a week, mainly mysteries and romances.
When my sister was a finalist in the Romance Writers of America's Golden Heart Contest, I attended the conference in Chicago to cheer her on.  It was exciting to meet many of the authors whose books I'd read. I've always worked in the travel industry and when I was recounting some of my zany travel stories to several writers, they suggested I write a romantic comedy. Me, write a book? No way. Could I? I'd never considered writing a book, but I knew from the McNally series that humor was what I would want to write. So, I went home and started writing my first book.
I didn't realize when I first read the McNally series, what a major turning point this would be in my life. It wasn't like getting married or having a child, when you know at that very moment your life is going off in a new, and hopefully exciting, direction. I honestly didn't even realize this was a turning point until I recently answered the question in that interview. Talk about an epiphany.
Can you think of a turning point that caused your life to take a totally new direction, yet you didn't even realize it was a turning point at the time?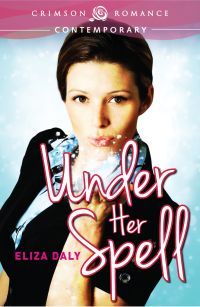 I'll be giving away a copy of my e-book UNDER HER SPELL and a $10 Amazon or Barnes & Noble gift certificate. Please answer the above question or leave an insightful comment about my post to be eligible to win one of these prizes.
About Eliza Daly
Eliza Daly's first attempt at creative writing was in fourth grade. She and her friends were huge Charlie's Angels fans and she would sit in her bedroom at night writing scripts for them to act out at recess the following day. She was Kelly Garrett. Fast forward to the present, she's still writing stories about beautiful women who always get their men. The journey from fourth grade script writer to published author wasn't an easy one, but it was always an adventure and the final destination was well worth it.
When Eliza isn't traveling for her job as an event planner, or tracing her ancestry roots through Ireland, she's at home in Milwaukee working on her next novel, bouncing ideas off her husband Mark, and her cats Quigley and Frankie.
You can find Eliza on the web at Website, Facebook, Twitter and Goodreads.
Under Her Spell is available at Amazon (on sale this week for $1.99)  iTunes Google Play (Nook compatible) and Barnes & Noble (coming soon).
Thank you to Fresh Fiction for helping me celebrate the release of my debut romance novel, UNDER HER SPELL, and thank you to everyone who stopped by today. Please check out future stops on my blog tour, ending November 27. I'll be giving away a variety of gifts. If you comment on 5 stops, and are a Facebook fan, you'll be eligible to win one of two $25 Amazon or Barnes & Noble gift certificates at the end of my blog tour. Winners will be announced on my website's news page the end of November. A December Holiday Giveaway for my readers will also be revealed at that time.
Comments
31 comments posted.
Re: Eliza Daly | Unexpected Turning Points in Life

Taking the first class toward my Masters was a turning point. It was a huge step toward finding a sense of purpose in my life!
(Sandra Watson 11:35am November 7, 2012)
That was a huge step Sandra. Bravo!
(Eliza Daly 11:53am November 7, 2012)
The first time I moved... that was such a change for me. I was away from my parents and sisters for the first time in my life. Learned to do more for myself... shop for what I needed, be responsible for my money, pay my bills, etc. Definitely made this shy girl open up a bit.
(Colleen Conklin 12:16pm November 7, 2012)
The year 2001 was a turning point for me. In January my apt. was totalled in a fire (Never say you can't find the money for insurance, it was a life saver), then after 9/11 I lost my travel related job and ended up starting a new one in an entirely different field. 10 years later I'm still working at the "new" place, but have advanced and make over 50% more than the travel job.

I'm a Lionel Sanders fan too. Janet Evanovich has jumped the shark for me, but I still enjoy the first 7 or 8 books.
(Anne Muller 2:09pm November 7, 2012)
Colleen--A move is definitely a big turning point. I did the
same thing when I was 19. Moved from a town of 300 to
Milwaukee. Thanks for sharing.

Anne--I left my full-time travel job after 911 also. Sounds
like your move was definitely for the better. Thanks for
stopping. :-)
(Eliza Daly 2:46pm November 7, 2012)
Taking care of my dad and giving him his pills.
(Michelle Fidler 3:16pm November 7, 2012)
I think that when I moved into another state. I was filled with excitement more than trepidation. I moved 1000 miles away from everything I knew - family, friends, co workers. I think it was the best decision I ever made. I know I should feel guilty, but I think I am on a process of discovering myself and what life has to offer. I am no longer in a set dynamic, a set role with people (be family or friends). Every day I have something new to discover about me and what a wonderous person I am becoming.
(Carla Carlson 3:49pm November 7, 2012)
Having to move to a foreign country to get a full time job after university was a turning point.
(Cheryl McEwen 4:32pm November 7, 2012)
EXCELLENT GIVEAWAY LOVE TO WIN
(Shelly Caggiano 5:25pm November 7, 2012)
Losing both my mom and dad definitely was a turning point in my life
(Shirley Younger 6:06pm November 7, 2012)
Wow, some great turning points everyone. Thanks so much for
stopping by and sharing. I'm enjoying reading them.
(Eliza Daly 7:53pm November 7, 2012)
My first turning point was working my way through college and the second was losing my parents and my mother-in-law in the span of a year and having my father-in-law move in with us. Definitely shows you what you are made of.
(Michele Hayes 8:10pm November 7, 2012)
Having my first child was a huge turning point for me. I was young and had
just moved to a new city. Fortunately I had my husband, but it was such a
change. I relized what was truly important in life.
(Ann Sheiring 10:04pm November 7, 2012)
love when you use magic stuff in books
(Kimberly Hoefs 10:19pm November 7, 2012)
Turning point,losing loved ones makes you stop and think.
(Deb Pelletier 10:45pm November 7, 2012)
Sounds great .
(Holly Vanderhule 10:51pm November 7, 2012)
Turning point - leaving my job to take care of my parents.
(Mary Chin 11:53pm November 7, 2012)
Having my son after having four miscarriages was a huge turning point in my life! I am so grateful to have my son! I was beginning to think that I wasn't meant to have kids when I was suddenly gifted with the child of my dreams!
(Christine Mead 4:06am November 8, 2012)
Starting work while still in school was a huge turning point because up to then I had no plans, career advice in the convent school being slim to none, careers being sparse and computers almost unheard of, and suddenly I was out doing physical things and learning to be a showjumper as well.
Then ten years on my boss died and I had to start my own business - a major turning point.
You 'only' read two books a week?
(Clare O'Beara 5:09am November 8, 2012)
I can't say I had a turning point that I did not recognize as
such at the time.
(Mary Preston 7:49am November 8, 2012)
My turning point took place this year when I was diagnosed
with breast cancer. It makes you appreciate life and
friendships and family.
(Sharon Berger 11:51am November 8, 2012)
My turning point was finally getting out of a bad relationship that was just hurting me. It seemed like such a scary thing to do since we'd been together so long but I was able to move on from there to find a relationship where I could be myself and be happy from there (my husband)
(Shannon Romein 3:02pm November 8, 2012)
Thanks again for stopping by everyone. I had a great time
blogging at Fresh Fiction!
(Eliza Daly 3:36pm November 8, 2012)
When I was in college I had a huge crush on a fellow that was an accounting major---I was on a road to a major in politcal science and switched to accounting. WOW!! Would my life be different if I had stayed in politics---better or worse I don't know, but definitedly different.
(Sue Farrell 4:02pm November 8, 2012)
having a baby - I thought, well, she'll just fit into my life, I have a job where she can come with me to the office (I was only allowed a month off) - but that baby had other ideas, and an office baby she was not! Eventually, I became a La Leche League leader, licensed as a family day care provider, got involved in local politics and got elected to the school committee, had other children and other adventures with them - and to think I just thought I'd be working in that office, baby in tow....
(Beth Fuller 4:24pm November 8, 2012)
The turning point of my life was when my father passed away. I didn't know it at the time but it was the point where better things was going to happened like a job promotion and scoring nearly perfect on my exam.
(Kai Wong 10:27pm November 8, 2012)
My life's so boring! I can't think of a single turning point.
(Roxana Perez 9:38am November 9, 2012)
My turning point was leaving my ex after 8 years
(Danielle McDonald 4:06pm November 9, 2012)
Eliza,

Thank you ever so much for reminding me of Lawrence Sanders books! I've read most of the McNally series, and now plan on re-reading them. But I must tell you how and why I got into reading this gentleman's books in the first place - he was my father's roommate when they were both undergraduates at Wabash College in Indiana, back at the end of the 1930's early 1940's!!

My mother and I had had no idea of this when she brought home one of his books from one of our local used book stores, and we were both shocked when my father told us this. He had never talked very much about his college years, either at Wabash or here in Madison (where he just happened to meet my mother!), so learning this was just amazing.

This in and of itself was a turning point, both in my life and in my father's life, as he began to talk much more about his childhood, and younger years through his undergraduate time, but then he would stop.

He never wanted to talk about his active duty during WWII, which I can understand, but I wish he had be more willing to do so, as I now only have a few memories of bits and pieces of his military life that he let drop when we were all traveling in Europe during the summers of the late 80's and early 90's.

He died a little over two years ago, and for some reason, Veterans' Day this year has been one of the most painful I have ever endured.

So, thank you again for renewing good memories!

Later,

Lynn
(Lynn Rettig 4:47pm November 12, 2012)
My first turning point was becoming a nurse and the second was feeling like I was always a parent right after having twins.
(Alyson Widen 6:04pm November 18, 2012)
Lynn Rettig--Thank you so much for sharing. I just popped back
by this blog and read your post. It was very moving and that
is so neat that your father was Lawrence Sanders college
roommate. I bet he had some great stories. What a great story
this is for you. Thank you again for sharing!
(Eliza Daly 10:34am November 19, 2012)
Registered users may leave comments.
Log in or register now!