Angela Henry | Smart, Sexy, and Resourceful: My Favorite Fictional Librarians

January 21, 2011
AVAILABLE

January 2011
On Sale: January 9, 2011
Featuring: Maya Sinclair; Simon Girad
ISBN: 1426891083
EAN: 9781426891083
Kindle: B004GB1TAY
e-Book
$5.99
Add to Wish List

Also by Angela Henry:
The Paris Secret, January 2011
Diva's Last Curtain Call, June 2007
Tangled Roots, May 2007
Tangled Roots, June 2006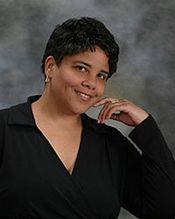 Anyone who's seen the movie It's a Wonderful Life
remembers the scene where Clarence the angel shows George Bailey that his never being born doomed his wife Mary to life as a spinster librarian. Oh, the horror.  While it's hardly surprising a movie made in 1946 would reinforce such ideas about librarians, surprisingly the "Marian the Librarian" stereotype still persists to this day.  As someone who has worked in the library field for twenty years, I'm always happy when I read a book or see a movie featuring a librarian that knocks the sensible shoe wearing, glasses on a chain, hair in bun, shushing stereotype on its butt. Maya Sinclair, the heroine of my latest novel, The Paris Secret, is a librarian. And you better believe I left out all the outdated, stereotypical librarian nonsense when I created her.  I wanted Maya to be able to join the following ranks of my favorite fictional librarians. I have no idea if succeeded. But if readers find her to be even half as smart, sexy, and resourceful as the librarians listed below, then I'll be happy.
Gloria Mundy/Foul Play
-I saw this movie when I was twelve and it's been a favorite ever since. Goldie Hawn stars as a librarian who falls in love with bumbling cop Tony Carlson (Chevy Chase) when he's assigned to protect after she stumbles across a plot to assassinate the pope.
Aurora Teagarden/Real Murders-Before author Charlaine Harris found fame with her Sookie Stackhouse series, she wrote a series featuring librarian Aurora Teagarden. Though Aurora looked like the stereotypical librarian, she wasn't afraid to follow the clues, track down murderers, solve crimes, and still get her dream guy.
Evy Carnahan/The Mummy
-Rachel Weisz plays an archeology loving librarian who goes on to become the kick ass wife of adventurer Rick O'Connell (Brendan Frasier) in the two Mummy sequels. Just about every librarian I know who saw this movie raised a fist in solidarity during the scene where Evy proudly declares, "I am a librarian!"
Rupert Giles/Buffy the Vampire Slayer
-While I objected to the school library being depicted as a dark, dreary place no one but the Scoobies hung out at, Anthony Stewart Head's portrayal of librarian Giles was excellent. He was Buffy's Watcher/Mentor but his nickname "Ripper" hinted at a dark past that had nothing to do with the card catalog.
Flynn Carsen/The Librarian
-Noah Wylie plays the multi degreed, super smart librarian of a library that houses magical and mythical artifacts. And when one of these artifacts gets stolen it's his job to track them down and get them back by any means necessary.  I'd sure love to sit in on one of those collection development meetings.
Who is your favorite librarian, fictional or real?
Comments
13 comments posted.
Re: Angela Henry | Smart, Sexy, and Resourceful: My Favorite Fictional Librarians

Librarians are my favorite kind of people. Book lovers.
(Mary Preston 2:01am January 21, 2011)
My son got this degree with his masters. I buy books for his new baby with him in mind. He LOVES reading them to her! Super good dad!
(Barbara Studer 8:29am January 21, 2011)
I was asked to volunteer my time once a week to help teach a class at our local library. Being a newcomer to the area, I was a bit surprised, but agreed. It turned out to be a good move for me, as well as for them. Not only have I made a lot of great friends, but I have gotten to know the librarians a lot better, and we have become quite close. They certainly aren't the stick-in-the-mud women that I grew up with!! They're a great group of women that do a lot of good in the community!! They're also a lot smarter than they let on.
(Peggy Roberson 10:09am January 21, 2011)
I can't decide. Giles, the fab librarian and mentor, from Buffy the Vampire Slayer or Marian (I know but she's different), the keeper of all knowledge paranormal, in the Castor Girls Series from Margaret Stohl and Kami Garcia. Both have so much depth--they always surprise.
(Shirin Dubbin 11:14am January 21, 2011)
I liked Daisy Minor, the librarian heroine in Linda Howard's "Open Season". A good suspense and a good laugh all in one.
(Jill Hayden 6:52pm January 21, 2011)
Lilith Saintcrow did a book "The Demon's Librarian" for those who would like a urban fantasy type librarian heroine. She's one of my favorites.
(Carol Drummond 6:53pm January 21, 2011)
I love this concept! Because I'm a book lover I've always thought highly of librarians.
(Renee Pajda 7:30pm January 21, 2011)
Book librarian is Henry from The Time Traveler's Wife. TV librarian is Giles from Buffy.
(Maria Munoz 8:21pm January 21, 2011)
Where I live there is a branch of our town library on our block. Over the years
here I have seen the reality of the change in librarians as we know them
today.
We started with a "shush type with no bun" to a fun loving young woman with
a great knowledge of today's books. She exchanges book recommendations
with her patrons and knows them well enough to be dead-on. All the
neighborhood children love her and call her by her first name and she draws a
phenomenal job with story hour leaving them begging for more. That's a
LIBRARIAN!!!!!!
(Sandra Spilecki 1:58pm January 22, 2011)
Favorite fictional librarian? Evy and Giles would be in a pretty close race. Seemingly shy bookworms who can really be tough when needed, who wouldn't want to be either one of them. Besides, Brendan Fraser from that time period, and David Boreanaz, do I need to say more?
(Lisa Kendall 5:11pm January 22, 2011)
My favorite librarian is one at our local library. She's young, attractive and very knowledgable. I have had occations to deal with her many times...from when I needed help to when I was donating books to the library. She is always smiling and cheerful.
(Gladys Paradowski 7:21pm January 22, 2011)
Nice Girls Don't Have Fangs (Jane Jameson, Book 1) by Molly
Harper--absolutely the funniest take on a poor librarian.
When Jane's atrocious boss fires her and she goes off on a
bender she thinks her life couldn't get worse messed up.
However when a drunk mistakes her for a deer, shots her and
she gets changed into a vampire, she realizes how easy her
"life" used to be.
(Lisa Richards 10:51pm January 22, 2011)
My favorite librarian is a bookseller at Appletree Books in Cleveland Hts, OH, who recommended a kids book, Catch Me and Kiss Me and Say It Again, that became dog-earred from reading it so often. I can still recall the non-sensical British humor and the way my kids liked the rhymes and beats.
(Alyson Widen 11:43am January 26, 2011)
Registered users may leave comments.
Log in or register now!