Fall Slow Cooker Recipe Potluck | ALWAYS LOOK TWICE by Elizabeth Goddard + Giveaway!

October 7, 2019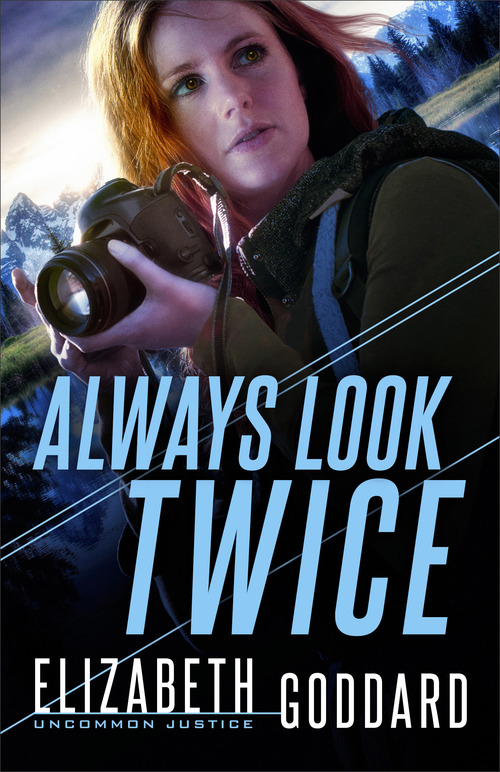 Always Look Twice
Elizabeth Goddard
AVAILABLE

October 2019
On Sale: October 1, 2019
384 pages
ISBN: 0800729854
EAN: 9780800729851
Kindle: B07PYY476X
Paperback / e-Book
Add to Wish List

Also by Elizabeth Goddard:
Don't Keep Silent, July 2020
Always Look Twice, October 2019
Never Let Go, February 2019
Distress Signal, January 2019

Welcome to the Fall Slow Cooker Recipe Potluck! All week we'll be joined by awesome authors, talking about their new books, sharing delicious Fall recipes, and book giveaways on each post. Check back tomorrow and every day this week for more fun! And now, Elizabeth Goddard will kick things off. . .
In ALWAYS LOOK TWICE, rancher/deputy Heath McKade grew up in Jackson Hole, Wyoming. He now runs the Emerald M Guest Ranch and offers cabins, fishing, hiking tours, and horseback riding, and a guided wilderness camp tour. He has worked hard to renovate his life after his difficult childhood and now his ranch's reputation is growing, but Heath still struggles to overcome the past. He's more than surprised to save a woman from a bear attack, or rather, she saves him--and discovers that woman is none other than his close childhood friend who moved away--Harper Reynolds. But Harper is in trouble, and Heath isn't sure he's the best man to protect her. On the other hand, can he truly trust anyone else to protect Harper?
Harper has taken a year off from photographing crime scenes--too much blood and death--especially considering what she witnessed as a child. She's finally on the last stop of her yearlong national parks photographing tour when she witnesses a murder and catches the victim and the killer on her camera. But he spots her through the sites of his rifle scope and Harper has now become the target. She wouldn't want anyone else by her side than rancher-deputy Heath McKade. She knew him before as a child and knows she can trust him now like she can trust no one else.
Heath knows how to hunt and gather, and I'm sure he has eaten his share of elk stew. In fact, his housekeeper Evelyn Miller makes a mean slower cooker elk stew as well as lasagna! Harper has experience in making late-night nachos in the microwave while she stays up into the wee hours working on crime scenes and logging photographs. (Yes, you can make microwave nachos. That's a staple at our house!)
Since Harper and Heath were childhood friends, I'm sure they shared many meals together as kids, and I can't think of anything more comforting and heart-warming than a bowl of macaroni and cheese. Can you? I recently discovered how easy and yummy it is to make mac-n-cheese in a slow cooker instead of from the blue box!
Some fun trivia for you--I actually got this recipe from Evelyn Miller's namesake--a dear elderly woman from our church who often brings this to a potluck.
I call it "Evelyn's Mac and Cheese Recipe"
I love slow cooker "dump-and-go" recipes because there's nothing easier and, in this case, nothing more comforting than mac and cheese. But I need to warn you, don't eat this every week--your waistline will pay for it!
Pour into the slow cooker:
-One pound of uncooked macaroni
-3 cans cream of chicken soup
-3 cans of milk (use the empty cream of chicken soup can to measure out the milk)
-One pound extra sharp cheese (or your preference)
Then cook on low for four hours, stirring occasionally.
If you're in a hurry, even two hours on high will work, but be careful or the dish will burn at the edges.
You will need to adjust this with your slow cooker. I often have two going at the same time, and I've found that even between the same brand of cookers they can cook at different temps and one will burn the food before the other is even done.
Now dump and go and ENJOY!
***
What a delicious recipe! Be sure to comment below for a chance to win a print copy of ALWAYS LOOK TWICE by Elizabeth Goddard. Tell us what you love most about Fall!
And come back tomorrow for another fabulous author, another slow cooker recipe, and another chance to win a new book!
***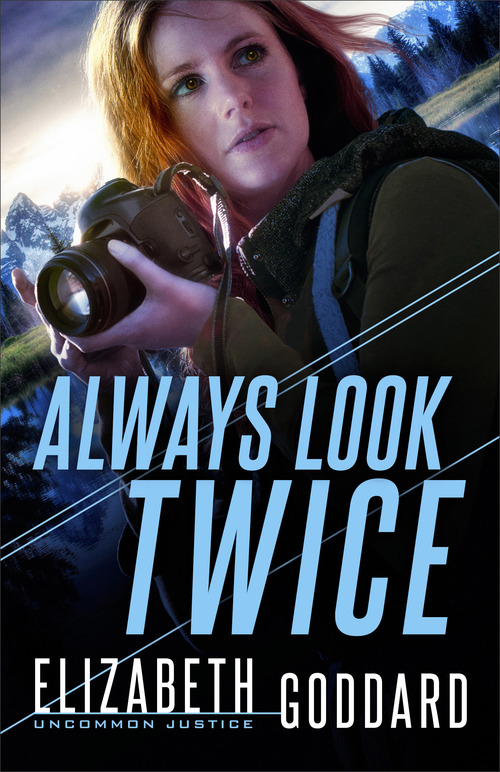 At the advice of her therapist, homicide survivor Harper Reynolds has traded her job as a crime scene photographer for a more peaceful life taking photographs of the natural world. But her hopes for a life surrounded by the serenity of the outdoors are dashed when she inadvertently captures a murder being committed in Jackson Hole, Wyoming. She flees the scene in fear--and loses the camera.
Former Green Beret Heath McKade is a reserve deputy in an understaffed county who has been called in to protect Harper, a childhood friend he is surprised to see back in the area. When Harper learns that the sheriff's department can't find any evidence of the murder she witnessed, she is determined to do what she can to see that justice is done. What neither Harper nor Heath could know is how many explosive secrets from the past will be exposed--or how deeply they will fall for each other.
In this suspenseful page-turner, bestselling author Elizabeth Goddard keeps you on the edge of your seat as you discover that uncommon justice lies just on the other side of fear.
Romance Suspense | Inspirational Mystery [Revell, On Sale: October 1, 2019, Paperback / e-Book, ISBN: 9780800729851 / eISBN: 9780800729851]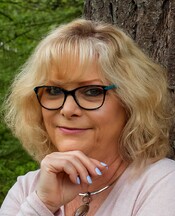 Elizabeth Goddard is the bestselling author of more than 30 books, including the Carol Award-winning The Camera Never Lies. Her Mountain Cove series books have been finalists in the Daphne Du Maurier Awards and the Carol Awards. Goddard is a seventh-generation Texan.
Comments
39 comments posted.
Re: Fall Slow Cooker Recipe Potluck | ALWAYS LOOK TWICE by Elizabeth Goddard + Giveaway!

sounds good to me
(Vickie Couturier 7:57am October 7)
Mac and cheese is great comfort food. I love the beautiful
color changing leaves in the fall. Harper and Heath sound
like great characters.
(Maryann Skaritka 8:53pm October 7)
Sounds really good, what I like about fall is the changing of the colors of the trees, and also where I live it means The Albuquerque International Balloon Fiesta
(Cynthia St. Germain 9:22pm October 7)
Sounds so good to me. My favorite part of fall is the cooler
weather and the beautiful changing of the leaves. I love to
go to the mountains just to see all the beautiful colors of
the leaves.
Thank you for the awesome giveaway
(Lynne Brigman 11:39pm October 7)
Fall gives us the ability to enjoy all the beautiful colors and changing of seasons. Mac and cheese what an all time favorite comfort food. Great for family get togethers!
(Terry Kirgan 5:51am October 8)
I'm in love with the cover. Sounds like a really good book
that I would read.
(Robin Davis 9:25pm October 8)
I love the chill in the air and the reason for using the fireplace. :)
(Jackie Lehman 10:03pm October 8)
When I was younger it was all about sweet or steamy romances. Now it is
all about romantic SUSPENSE! I love this type of book!
(Annie Bartok 2:23pm October 9)
I would love to read a 'new' author thanks for chance
(Susan Gannon 9:39am October 10)
Thanks! I recently purchased a slow cooker and am looking for some good recipes.
(Anna Speed 12:31pm October 10)
Our family loves mac and cheese. This is an interesting variation. I like
recipes I can play with and this one is open to all sorts of add ins if I
feel like it.
(Patricia Barraclough 1:00am October 11)
Fall is my favorite season. I love the change to cool crisp days and all
the fresh produce that ripens in the Fall.
(Patricia Barraclough 1:02am October 11)
Microwave nachos are definitely a thing. I started making them over 35
years ago for a quick lunch - just chips and cheese with a sliced apple
on the side. Now we throw olives, peppers, meat, etc. on the chips,
cover with cheese and zap.
(Patricia Barraclough 1:43am October 11)
My favorite thing about fall is the cooler weather and the
beautiful changing of the leaves.
Thank you for the awesome giveaway
(Lynne Brigman 12:09pm October 11)
I love yummy & easy recipes like this!
(Diane Sallans 12:22pm October 11)
Fall in New England is gorgeous! I love the crisp morning air, the amazing
array of colors of the leaves, apple picking and of course everything
pumpkin! I love your recipe! I didn't know you could make Mac & Cheese in
a slow cooker. I will be trying this recipe this week. It's the perfect recipe for
fall.
(Annette OMullan 2:00pm October 11)
I love the smells of Fall-the smell of burning leaves, the cinnamon baked
products, the Evergreen candles, the spiced drinks, and the fall flowers.
(Joy Isley 2:15pm October 11)
love the cooler weather and fall colors, though the leaves
aren't cooperating much this year
(Denise Holcomb 2:18pm October 11)
This looks delicious! Fall means cooler weather. What a relief!
(Pat Dupuy 3:45pm October 11)
I love the beautiful colors of the leaves and the crunchy noise they make
when you walk through them. I also love the cooler temperatures! The mac
and cheese recipe sounds so good and so easy!
(Jan Tomalis 6:30pm October 11)
Sounds yummy!
(LeAnn Abernathy 7:58pm October 11)
I love that the weather is a little cooler in the Fall here in Southern CA
(Jackie Wisherd 9:03pm October 11)
Really loving fall this year in Ohio cuz so warm
(Janet Johnson 10:19pm October 11)
The aromas linked with the fall season are wonderful! I
prefer apple spice scents, but pumpkin spice is great too!
Even hot cocoa! There's something about the cool nip in the
air that makes those warm fragrances even better. Thank you
for a chance to win! I do hope to read this book soon!
(Scarlett Renner 10:18am October 12)
....those changing leaves
(Martin Bodnar 10:22am October 12)
the cooler weather, the flavors of the seasons, etc.
(Colleen Conklin 1:51pm October 12)
I love the cooler weather, and the beautiful colors of fall.
I am looking forward to trying your mac and cheese recipe.
(Julie McDonough 1:54pm October 12)
What I love most about fall is that there are so many
options for foods flavored with Pumpkin Spice. Yum!
(Susan Heim 2:13pm October 12)
I love the cooler weather and I get to open the windows for fresh air.
(Lori Byrd 2:57pm October 12)
My Birthday ( in a few days) and roasted chesnuts.
(Irma Jurejevèiè 4:34pm October 12)
Hello. God bless. Would love to win as I love your books
(Jane Squires 1:21am October 13)
Very intriguing cover
(Robin Davis 1:24pm October 13)
Halloween!
(Katrina Dehart 1:33pm October 13)
i can't wait to try this recipe...sounds like it'll save me
lots of time and give my family great tasting mac and
cheese.
(Jaye Smith 1:43pm October 13)
Don't know yet.
(Kim Hansen 1:58pm October 13)
My favorite thing about fall is the cooler weather and the
beautiful changing of the leaves. I love cooking in the
slow cooker my grand kids would love this Mac and Cheese
(Robin Abrams 2:16pm October 13)
I particularly like the golden hue the light takes on. The
fresh, crisp air is a treat, too, along with the colorful
foliage.
Quite the recipe! Thank you.
(Kathleen Bylsma 4:45pm October 13)
I love the cooler temps, the color changing of leaves and
the smells of pumpkin and spice. Thanks for sharing the
recipe.
Carol Luciano
Lucky4750 at aol dot com
(Carol Luciano 3:31pm October 14)
The cooler tempts. and beautiful colors Thank you for the chance!
(Sarah Taylor 7:39pm October 23)
Registered users may leave comments.
Log in or register now!