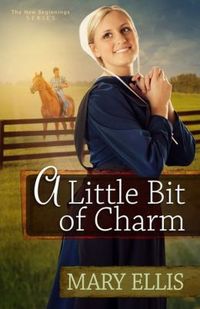 Win a signed copy of A Little Bit of Charm and a silver horse charm for a bracelet.

A Little Bit of Charm
Order Today
A dream come true...a loss like no other...
is the price of happiness worth the cost? Rachel King, still recovering from the death of her parents, watches both of her older sisters find happiness in homes of their own with husbands who adore them. She yearns for her own new beginning.
Her cousin Sarah lives near a Thoroughbred stable in Kentucky, and the opportunity to work around beautiful horses has always been Rachel's dream. She leaves Lancaster County to find a home with Sarah and her husband, Isaac, wondering about God's plan for her life. When a job at Twelve Elms Stables opens up unexpectedly, it seems as though He has answered Rachel's prayers.
Then she meets Jake Brady, one of the owners of Twelve Elms, and her life becomes complicated. He's attractive and charming, and his interest in her is flattering. But he's also English as well as her boss. When Amish men she meets at church and singings start pursuing her, Rachel has important decisions to make. What does a young woman do when her heart puts her faith in jeopardy?
US / Canada Addresses only
Contest ends: September 30, 2013