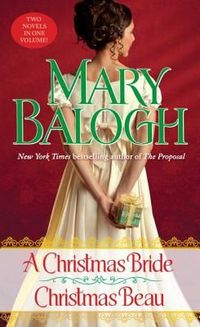 The end of November brings the republication of two Christmas novels from the 1990s in one volume––A CHRISTMAS BRIDE/ CHRISTMAS BEAU, both by Mary Balogh. Both are set in Regency England. The second of the two is a standalone. The first is a culmination of two series. The hero appears a number of times in DARK ANGEL, LORD CAREW'S BRIDE, THE FAMOUS HEROINE, and THE PLUMED BONNET. The heroine comes from the duo of THE IDEAL WIFE and A PRECIOUS JEWEL. All of these books have been recently republished, some of them singly, some in 2–in–1 editions. Three entrants will win an autographed copy of the Christmas novel plus an autographed leather bookmark.

A Christmas Bride/Christmas Beau
Order Today
In A CHRISTMAS BRIDE, Edgar Downes, a wealthy 35–year–old businessman, has promised his father that he will choose a bride before Christmas so that he can provide an heir to the family fortune. He hopes to find a candidate among the young ladies of the ton since his sister is married to a lord. However, it is a woman of his own age who first takes his eye––before she seduces him. For Helena, Lady Stapleton, the attraction that flares between her and Edgar is a passing whim and she soon wants no more to do with him. However, fate steps in to throw them together again, and while it seems to be no happy outcome, Christmas is coming. And Christmas never fails to weave its magic and its miracles about troubled lovers.
In CHRISTMAS BEAU, the Marquess of Denbigh seeks revenge upon Judith Easton, who jilted him after they were engaged several years before in order to marry another man. Now she is a widow with two young children. His intention is to lure her into falling in love with him so that he can break her heart as she once broke his. But, foolish man, he has chosen quite the wrong time to year to put his plan into action. For it is Christmas, and Christmas does not look kindly upon those who try to ignore the spirit of the season.
A Christmas Bride/Christmas Beau



Contest ends: November 30, 2012