Fresh Chat
Conversations With Authors
Molly McAdams Chats About TO THE STARS

February 10, 2016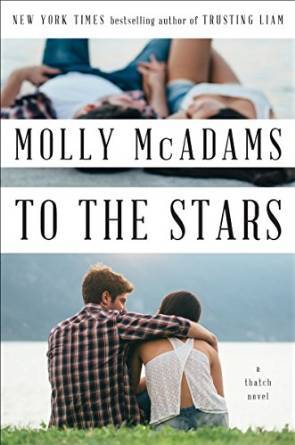 AVAILABLE
Thatch

February 2016
On Sale: February 9, 2016
Featuring: Know Alexander; Harlow Evans
384 pages
ISBN: 0062358456
EAN: 9780062358455
Kindle: B00U1TPK4Q
Paperback / e-Book
Add to Wish List

Also by Molly McAdams:
I See You, November 2016
To the Stars, February 2016
Trusting Liam, June 2015
Changing Everything, March 2015

It's always an exciting time when Molly McAdams has a new book out, so we were very pleased to be able to talk with her about her latest book: TO THE STARS. So settle back and enjoy our conversation with Molly. Leave your comments below to be eligible to win a copy of TO THE STARS thanks to her publisher.
Harlow is a very misunderstood young woman throughout the book. She can sometimes appear, on the surface, to be unsympathetic, but she was always interesting and spunky. How did you find the right balance in creating her and her story?
Well there are so many sides of Harlow that we see throughout the book. In the past scenes, we see her growing from a 15-year-old girl, to an 18-year-old young woman. During that time she's trying to guard herself from the idea that she might not ever get to have what Knox is promising her, while falling in love with him. In the present, we see the broken Harlow that Collin has created: a young woman who has been so beaten down that she's just living to survive and save her family. It wasn't so much about finding a balance for her, more just attempting to show the stages in her life accurately, all of which are drastically different. Hopefully readers will see the stages of her life for what they are (the ages and how girls of that age can be), and they won't view her as "unsympathetic", they will just understand that in everything she has had to guard herself from something.
Knox loves Harlow so much, and his love for her makes the reader swing to her side, but he can also be naive to her shortcomings. For you, is love something people need to go into blind or is it important to see all the shades of someone?
I think love is different for everyone, so I can't answer that in a way that would be saying this is how it should be. Sometimes you fall in love only knowing the bare minimum about the other person; sometimes you fall in love after years of already knowing so much of them. I happened to know I was going to marry my now-husband the day I met him, and I knew I was in love with him so so quickly; but my oldest sister didn't fall in love with her now-husband until they had been best friends for something like six years. For Knox and Harlow, they fell for each other quickly. Harlow was up front in that she couldn't promise Knox a summer—because at that time in her life, who could? I think she fell in love with Knox slowly, Knox fell in love hard and fast. But they didn't need to know everything about each other in order to fall in love. And even after they bore all years down the road, it didn't change their feelings. They still felt the same way they had long before.
Knox thrives as the white knight for Harlow, especially when those around her don't always get why she stays with Collin. Can you talk about the push and pull of being a savior to those people who don't necessarily want to be saved?
It's difficult to help (or sit back and watch) someone who doesn't want to be saved. Probably the hardest thing when you know even a fraction of what they're going through. But it wasn't that Harlow didn't want to be saved—she felt like she couldn't be saved. The lives of her family were at risk, and so she stayed with Collin for them. Even still, her insistence to stay with Collin (or anyone in real life that this is happening to, for that matter) is something that weighed heavily on Knox. Because not only was he the only one who knew about Collin's true nature, but he loved her and he felt like he needed to protect her, and he didn't know how to. I think it said a lot about Knox that he trusted her enough not to go to the police when she begged him not to—because in Harlow's case, it would have made her situation so much worse. In everyday life, we would automatically think that we need to get police, or someone, involved. But in giving up that means of help for her, it just puts more strain and worry on Knox—as you can see in 'To The Stars': he starts getting paranoid about every little thing when it comes to Harlow.
Domestic abuse runs through the veins of TO THE STARS, and fiction is always a great place to have this discussion. What sort of research did you do to get the domestic violence in young relationships just right?
Without going into too much detail, Collin was made after someone from my past. So it was easy to slip into both Harlow's and Collin's roles in To The Stars'; especially Harlow Brushing off what someone does, blaming yourself for it, then growing to hate them and be scared of them was something I went through—though not nearly as intense as what Harlow goes through.
What do you hope younger readers of TO THE STARS get out of the novel?
While this story is pretty intense, and is listed for New Adult Romance and Suspense, I know that there is still a possibility that younger readers will pick it up. If they do, I hope that they will see the mistakes Harlow made in the early stages of her relationship with Collin—where she brushed off what was happening with him, or made herself believe that it wasn't happening because she was in love with him. I hope they understand that they never deserve anything like this—or any kind of abuse. Also, if you ever find yourself in that situation and feel like there is no way out, I promise there is. There are so many websites, or people just waiting to help you. ncadv.org is one of them. It doesn't matter how much time you have put in a relationship, or how much you love that person, there is someone out there who will love you, cherish you, and treat you the way you are meant to be treated.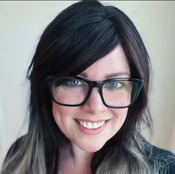 Molly McAdams grew up in California but now lives in the oh-so-amazing state of Texas with her husband and furry daughter. Her hobbies include hiking, snowboarding, traveling and long walks on the beach…which roughly translates to being a homebody with her hubby and dishing out movie quotes.
When she's not at work, she can be found hiding out in her bedroom surrounded by her laptop, cell, Kindle and fighting over the TV remote. She has a weakness for crude-humored movies, fried pickles and loves curling up in a fluffy comforter during a thunderstorm...or under one in a bathtub if there are tornadoes. That way she can pretend they aren't really happening.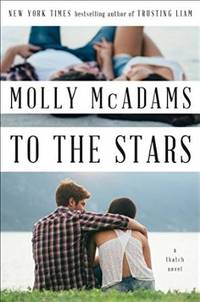 In the second standalone book in New York Times and USA Today bestselling author Molly McAdams' Thatch series, Knox Alexander must convince his long-time love Harlow Evans that they're meant to be together.
He promised to wait for her.
She told him he was wasting his time.
Not waiting for him ended up being the biggest mistake of her life.
When they were younger, Knox Alexander swore to Harlow Evans that he would wait for her to turn eighteen so they could be together. But that was two and a half years away, and Harlow couldn't ask him to give up all the fun and thrills of going away to college for her. As the years passed, Knox remained a constant in her life but when her eighteenth birthday came around, Harlow's heart belonged to someone else.
Every day for the last four years, Harlow has been haunted by that fateful choice. And though he may appear unaffected by what happened in their past, Knox has always tried to fill the void Harlow left. But when he comes stumbling back into her life and refuses to leave, will Harlow finally let him into her heart…?
Comments
33 comments posted.
Re: Molly McAdams Chats About TO THE STARS

Looks like a book I would be interested in reading
(Flick Ait 2:08pm February 10, 2016)
Looks interesting
(Marissa Yip-Young 2:47pm February 10, 2016)
A very informative interview and a fascinating book.
(Sharon Berger 5:46pm February 10, 2016)
I enjoy your books whether they are adult contemporary or
young adult. This one sounds like a perfect mixture.
(Terrill Rosado 10:09pm February 10, 2016)
I believe this will be a great book to read, especially with the topic of
violence, which is often taboo and not really written about openly.
(Lily Shah 1:30pm February 14, 2016)
You are a great author, I can't wait to see how you handles
such a serious topic!
(Tanya Guthrie 3:03pm February 14, 2016)
I always enjoy your books, Molly!
(Laurice McClung 4:00pm February 14, 2016)
This book sounds awesome
(Jeri Dickinson 4:49pm February 14, 2016)
Sounds like a great and interesting book.
(Kelly Powell 5:50pm February 14, 2016)
great book to read
(Ann Unger 9:36pm February 15, 2016)
My reading habit has changed from Horror to Romance.
(Martha Crutchfield 2:40am February 16, 2016)
Sounds interesting
(Patricia Wagner 11:18am February 16, 2016)
I think it's important to be able to love unconditionally, but to also see the faults of the person that you love. It's one of the hardest things to ever do, but it'll be a better relationship if you can pull it off.
(Jami Birnbaum 10:15am February 18, 2016)
Sounds like a good read.
(Melinda Marks 8:45pm February 18, 2016)
I really want to get my hands on this book. It touches on so
many parts of my own life. Thank you for writing this book
(Candy Voisine 3:06pm February 20, 2016)
Love is loving the person for who he/she is but that the same times, that individual is willing to change for the better.
(Kai Wong 10:02pm February 20, 2016)
It takes both to work at a relationship to make it work . None of us are perfect and sometimes we tend to give up what we really want without a fight . You have to work for what you want , love , money ,a nice house or a new car , you've got to work to get it . If it's an abusive life or whatever ,if you do nothing about it you get nothing in return . I'd love to read this book . Thanks for this chance to win .
(Joan Thrasher 11:20am February 23, 2016)
interesting
(Angela Parrish 11:36am February 23, 2016)
Would love to read your book
(Jean Benedict 3:29pm February 23, 2016)
i love the cover and then the book info and i would read and probly not put it down till i am finsiahed
(Desiree Reilly 9:31pm February 23, 2016)
first what catches my eye is the book and then i turn over ands ee who made it and red a the blurb
(Desiree Reilly 8:44pm February 25, 2016)
Thank you for shining a light on a very difficult subject and helping others to see that the answers are not always easy.
(Sharon Mitchell 4:41am February 26, 2016)
Great background on what the story is about.
(Melissa Basnight 3:47pm February 27, 2016)
Thank you so much for sharing your insights!
(Felicia Ciaudelli 2:23pm February 28, 2016)
I would love to read this!
(Cynthia Powers 5:03pm February 28, 2016)
I know I will enjoy this book!
(Connie Saunders 5:24pm February 28, 2016)
I am always looking for new authors to follow and read :)
(Darci Paice 12:26pm February 29, 2016)
This sounds like an interesting and deep book. Thanks for
te contest.
(Sue Farrell 9:26am February 29, 2016)
Looks like a good read! Thanks for the great contest!
(Nancy Ludvik 9:46am February 29, 2016)
Love your books!
(Brenda Pratt 11:24am February 29, 2016)
I enjoy finding new authors and you are new to me. This book sounds like something I would love to read. Thanks for the chance to win it.
(Anna Speed 11:43am February 29, 2016)
Thanks for the contest. Would love to read this book.
(Alicia Day 3:30pm February 29, 2016)
Very intense relationship, love the name Harlow
(Mary McCoy 4:57pm February 29, 2016)
Registered users may leave comments.
Log in or register now!