Kathy Lyons | Wow, it's January!

January 6, 2016
I am sitting at my (brand new!) computer for the first time in a week. Everyone has left from the holiday and it took me an hour to re-assemble my writing space from where I'd thrown things to hide them from company. I still don't know where the new book outline is, but that's okay. I wasn't using it anyway. My cat is in blissful, purring heaven as she reestablishes her dominion over our house. She spent the entire holiday hiding from the dogs. We think she was under my bed, but my husband also saw her wedged into a corner behind furniture and a curtain. Amazing how tiny a space my chunky kitty managed to wedge herself into.
But all is done. Company (and all dogs!) are gone. Guess what I'm feeling.
Exhausted. I will sleep for a week and then think about taking a shower.
Confused. Who bought all this food that is now living in my refrigerator? And who is going to eat it?
Blissful. The house is quiet again except for happy cat purrs. Why did I ever think I wanted 18 people here for Christmas?
Terrified. I haven't looked at my email in a week. Nope. Not even before I wrote this blog. What thing did I forget that is lurking there ready to explode into my consciousness?
Nostalgic. Ahh, the good times we had watching my sister deal with three kids melting down at once. Remember when we finished off the third bottle of wine and discovered that I had bought a six pack so we had three more? Remember the joy of having a four year old wake us up at 5 am on Christmas morning? After we'd stayed up playing Catchphrase until 3?
Brain-dead. There is simply no way to go from a week of family holiday gathering to the serious work of a writing career. No way. No how. Who can I call to delay the inevitable stack of work a little bit longer?
Answer: All but C. You thought it was everything but D, didn't you? Because I'd never go a week without my email. True, I wouldn't but somehow…I did! And now I really am terrified to look. As for blissful, regular readers know I'm an extrovert. I was blissful for about an hour. And then I started to feel lonely. Where did everybody go? When would I see them again? I swear I write books so I can have people to play with every moment of the day and night.
As for the rest, I'm still a little tired. Maybe not exhausted, but worn out maybe because I'm trying to go back on the caffeine-free wagon. And my refrigerator is bursting. Anyone want the extra pork loin I didn't cook? How about the vegetables my healthy daughter bought and nobody ate? Or I know, the five bags of Christmas cookies that remain after we ate the other six bags? But truly, I would rather deal with laundry and dishes than face my workload. I just can't face my Jan 15 deadline yet.
As for nostalgia, well, the ghost of Christmases past still lingers in my thoughts. And in case you thought you weren't going to get to see any pictures, we did an afternoon craft activity of food architecture. Guess which one is mine!
Answer: The empty plate. Chocolate, candy, and frosting goes in my mouth. It never manages to find its way anywhere else!
So now it's your turn. Tell me how you feel after your holiday. One lucky US commenter will get a copy of all four of my Bridal Favors series books: WHAT THE GROOM WANTS, WHAT THE BRIDE WORE, WEDDED IN SIN and WEDDED IN SCANDAL. The winner will also receive a mouse mat based on 50 WAYS TO RUIN A RAKE.
A USA Today Bestseller, Jade Lee has been scripting love stories since she first picked up a set of paper dolls. Ball gowns and rakish lords caught her attention early (thank you Georgette Heyer), and her fascination with the Regency began. And as a Taurus, she lives to pit a headstrong woman against a tortured hero just to watch them butt heads on the way to true love. Flesh wounds are rare, but the healing and laughter are real.
Now an author of more than 30 romance novels, she finally gets to set these couples in the best girl-heaven of all: a Bridal Salon! This way she gets to live out all her wedding fantasies, one by one. (Let's be honest, what girl has only one idea for her dream wedding?)
And don't forget Jade's other name, Kathy Lyons. That's Jade's lighter, contemporary side. She writes for Harlequin Blaze merging hawt sex and funny relationships into really great reads.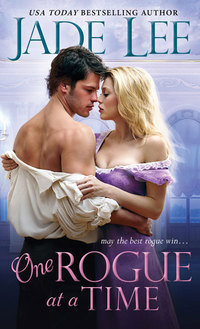 Brant Hallowsby grew up on the fringes of high society; he's neither a commoner nor a true nobleman. As a bastard son of nobility, he can talk the talk, but ultimately has nothing to lose…and that's exactly what Bluebell Ballenger needs.
Bluebell needs Brant's help so that she can become a perfect English rose, because, like him, she's both a part of the ton and excluded from it. Brant knows she's hiding something from him, but as he starts falling for her soft skin and sparkling eyes, it no longer seems to matter. Until he discovers the one thing that could tear them apart.
Comments
45 comments posted.
Re: Kathy Lyons | Wow, it's January!

I am tired and the house is a wreck. Not because we had company, but
because my volunteer activities ate about all of November and December. It
seems everyday I was out or at home working on projects for veterans. I
certainly don't mind, I wouldn't do it if I did. I just forgot how much was
involved. For once I didn't host the family get together. I told my daughters
to decide at whose house we were going to have Christmas dinner. I almost
had some organization finished before Thanksgiving, but the piles got moved
and I had to start over after we hosted Thanksgiving dinner. I have all the
Holiday Mail For Heroes stuff packed up and took it back to the Red Cross
office today. I have the Honor Flight things boxed up and ready to go back
to the storage unit. The past few days have been filled with meetings, but
there is an end in sight. I hope to make some progress after tomorrow's
meeting. If I am lucky, I will get my notebooks straightened up and some
boxes emptied and things put away. I am on standby to deploy with the Red
Cross if Memphis floods. I would like to make some progress if/before I have
to leave for a few weeks. I am still digging through all the emails I never was
able to get through.
(Patricia Barraclough 12:19pm January 6, 2016)
Simple...I'm pooped. We traveled to Oklahoma for Thanksgiving and stayed for 3 weeks to be with our children and grandchildren and then drove home to Florida and had Christmas with the rest of the family and now I'm just plain wore out! HA. It was so much fun but I missed my books and my brown chair!!!!!
(Bonnie Capuano 8:46am January 6, 2016)
I feel a bit relieved, because my Husband isn't on my case
about all of the baking I was doing, which I do every year.
I shut him out, and continued my baking during the Holidays,
yet he had no trouble passing my cookies out to company!! lol
I also feel overwhelmed right now, because I now have the
decorations to take down, along with cleaning the house, and
getting it organized, which I tried doing before the Holidays
even started. When you add obligations that I've taken on
that you add on top of it, that's where I run into trouble!!
I manage apartments with my Husband, and one person just
moved out. That means one apartment to clean. A furnace that
isn't working in an apartment and needs repair. I also
volunteer to teach a knitting class. I have other
obligations as well. A case of Calgon can't help me at this
point!! Have a great 2016!!
(Peggy Roberson 9:39am January 6, 2016)
I'm relieved because it's over for another year. A chance to
get back to normal to prepare to do it all over again in
approximately twelve months.
(Edward Washington 10:17am January 6, 2016)
I miss seeing the grandkids all together. It is hard with two
away at college.
(Leona Olson 11:07am January 6, 2016)
I took care of the grandchildren, cooked meals, brought soup
and meals to two sick daughters-in law and now need a rest. A
busy but fulfilling holiday.
(Sharon Berger 11:35am January 6, 2016)
I feel a little worn out... fun but busy time... Happy New Year!
(Colleen Conklin 11:56am January 6, 2016)
celebrate at home with family. ate too much food.
(Emily Stemp 1:08pm January 6, 2016)
Glad its over lol
(Bobby Jo Parkes 1:35pm January 6, 2016)
It's back to searching for employment for me. I'm optimistic and eager for new opportunities.
(Cecilia Rodriguez 1:42pm January 6, 2016)
It was a good holiday season. The little ones, especially, had a great time. (Now--moving on--here comes Mardi Gras!)
(G S Moch 2:14pm January 6, 2016)
I usually feel exhausted from all the activity and late nights, and I feel relief that I'm finally going to have time to get things done.
(Janie McGaugh 2:54pm January 6, 2016)
It seemed like an ordinary day, except my son was over for a few hours and we oohed and awed over our presents.
(Jeri Dickinson 5:17pm January 6, 2016)
I feel relieved that it's over for another year and I can
prepare to face the next one better.
(Edward Washington 6:28pm January 6, 2016)
Tired and relaxing after having the family together for
Christmas. Fun seeing grandchildren together.
(L Green 7:27pm January 6, 2016)
So glad I lived through another Christmas ! I'm so busy before with all the cooking , cleaning ,shopping and all the things going on at the church . Whee , the kids left by 9:30 Christmas Eve and I died after getting the kitchen cleaned up enough to leave some things till the next day . We usually have all the kids here for New Years Eve , but this year I told them they were welcome to come but I wasn't cooking ,we could visit, so guess what .... everyone stayed home . Ha Ha I'm exhausted and so glad the holidays are OVER . I guess getting older really makes a difference !!! Happy New Year to all.
(Joan Thrasher 9:20am January 7, 2016)
I love the holidays but I must admit I'm glad they are over. The hustle and bustle is sometimes too much. HA But the memories are priceless.
(Bonnie Capuano 9:52am January 7, 2016)
I love the holidays but I have to agree with you on the exhausted part! It is
so much work but I learned this year that you can ask family to help you! I
packed up all my Christmas decorations before everyone left so there were
tons of extra hands to help. When dealing with small things like ornaments
all the help you can get is appreciated!
(Lily Shah 10:06am January 7, 2016)
Tired and happy.
(Emily Stemp 10:35am January 7, 2016)
I am ready for organization and schedule! I want things to "iron out" and the new year to get started on a positive note! It's a fresh start after a chaotic holiday season!
(Amy Morgan 10:52am January 7, 2016)
I totally understand how you feel; I am also worn out. I have been working 2 jobs. Totally ready for a good change and some organization! Hope everyone has a great new year. Cindy
(Cindy Davenport 11:29am January 7, 2016)
We had somewhat of a hiatus over the holidays so far as work is concerned, and other family members pretty well do the preparation for family get-togethers, so I was able to veg out and relax. But now it is back to reality!
(Michael Burkhead 2:50pm January 7, 2016)
Your photos remind me of those I took of my daughter and 10 year old
geandaughter during the holidays when they had a Cupcakes war...they
watch alot of food shows on tv. My grandaughter surprised us by making
some real professional looking decorated cupcakes...I declared her the
winner. They had a really good time doing that activity together.
(Jackie Wisherd 4:50pm January 7, 2016)
Tired but sad its over..
(Gwenn Ostman 8:00pm January 7, 2016)
Pooped!!! We travel 1000 miles for Thanksgiving to see our children and grandchildren and then had a wonderful Christmas with the rest of them here at home.
(Bonnie Capuano 8:03am January 8, 2016)
wow that is a lot of miles
(Aaron Polish 6:14pm January 8, 2016)
After the holidays, I feel both relieved and a bit sad. I love how my house looks and feels when it is decorated for Christmas. It always seems too empty for a while. Another feeling I have after the holidays is one of motivation. My brain shifts into a mode to help me organize and focus on making the new year even happier and more productive than the last one.
(Amy Kincade 12:21pm January 9, 2016)
Fun but tiring.
(Bonnie Capuano 8:48am January 9, 2016)
I'm glad it's over it was fun but I crave the normalcy during
the holidays and I'm so ready to get back a semblance of
normalcy
(Natasha Persaud 3:04pm January 9, 2016)
This year it is a little difficult. I want to do-over where the car accident didn't happened and my car is not totalled.
(Kai Wong 1:10am January 10, 2016)
Good Christmas season - especially enjoyed having four generations this year! :)
what a blessing
(Dianne McVetty 10:01am January 10, 2016)
I'm usually tired but thankful for the time we had together.
(Anna Speed 12:37pm January 10, 2016)
I feel like I accomplished a lot over the Christmas break. We stayed home and I
got the Christmas decorations put away, closets and cabinets cleaned out and my
house looks great. I feel great!
(Teresa Stebbins 2:55pm January 10, 2016)
We had our youngest son and family here for Christmas.3
grandbabies here for 5 days. What bliss, what noise? A Good
time had by all. And thank God, not all had meltdowns at the
same time. And it rained off and on almost the whole time they
were here so little time to get rid of extra energy. Now the
house does seem quiet. Hope all had happy holidays.
(Nancy Luebke 3:27pm January 10, 2016)
To be honest, I'm glad the holidays are finally over. Too much eating, too much drinking, too much shopping. It's a relief to get back to normal!
(Nancy Marcho 3:59pm January 10, 2016)
a love sleep
(Emily Stemp 4:29pm January 10, 2016)
The holidays don't bother me..I did have to say good buy to my 20 year old
who left on January 2 for California to finish her masters degree. I'm going
to miss having her around. She has called or text me every day. I think
she's missing us just as much. But I'm proud of her.
(Valerie Miller 5:02pm January 10, 2016)
I spent two and a half weeks with my son and
grandchildren from the Sunday before Christmas to the
Thursday after New Year's. My son had an ulterior
motive, but that's okay. I had fun watching my
grandkids for their holiday vacation. Now that I am
home again, I am tired, but somewhat lonesome.
(Irene Menge 5:09pm January 10, 2016)
Now that the holidays are over, I'm settled in to read. It
was fun, but I'm glad to get back to my books.
(Deb Diem 5:40pm January 10, 2016)
Glad its over. I love it during the holiday but am glad when
all is said and done and life returns to normal.
(Denise Austin 7:30pm January 10, 2016)
sad that it's all over. counting down until the 2016
holidays.
(Lynn Anderson 8:03pm January 10, 2016)
resting and relax with a book
(Debbi Shaw 8:50pm January 10, 2016)
Glad as hell it's over!!! Now, I am getting back into my normal routine..
(Martha Lawson 9:20pm January 10, 2016)
Exhausted. I will never ever again invite the family all at once. My cat is still giving me hateful looks. My husband is wondering who half those people were. So do I come to think of it. Do we even have an Aunt Mabel? But it was fun. Laughter, Xbox games, pinochle, oh yeah. It was fun!
(Angee Bartlett 10:09pm January 10, 2016)
I feel sad that it is over. We had a very good holiday this
year and I was able to see a lot of my family.
(Carrie Edmunds 12:42pm January 11, 2016)
Registered users may leave comments.
Log in or register now!