Miranda Liasson | Going Out on a Limb for Love

October 6, 2015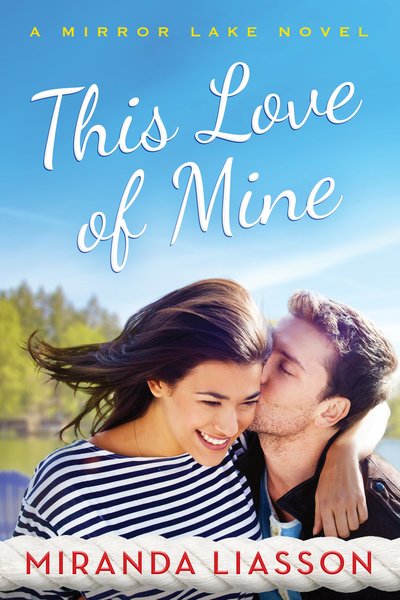 This Love of Mine
Miranda Liasson
AVAILABLE
Mirror Lake #2

October 2015
On Sale: October 6, 2015
Featuring: Dr. Benjamin Rushford; Meg Halloran
ISBN: 1503947092
EAN: 9781503947092
Kindle: B00V1YIYDY
Paperback / e-Book
Add to Wish List

Also by Miranda Liasson:
Coming Home to Seashell Harbor, May 2021
All I Want for Christmas Is You, November 2019
The Way You Love Me, February 2019
Then There Was You, June 2018

My heroine of THIS LOVE OF MINE, Meg Halloran, is not a risk taker. She's a dutiful daughter and a hardworking bridal shop owner struggling to get her business off the ground, and she's overwhelmed in many ways.
She's fantasized about Ben Rushford, an ER doctor, for too many years, and she finally decides to kick the habit. And it's at that point that fate has other ideas.
Initially, Meg is the kind of woman who gets tongue-tied in front of Ben. She thinks she's not the kind of woman he prefers and she couldn't be more wrong. Ben is keeping a secret that impacts both of their lives and which has kept him away from her for years.
The thing I love about Meg's evolution is that she gets thrown into a crazy situation and she gives it her all—even though it takes her way, way out of her comfort zone. She goes from barely being able to converse with Ben to being his dignified, articulate date in front of his potential future employers. She gets up and dances— something that makes her very, very nervous. She goes to a camp for diabetic children with Ben armed with Deep Woods Off and finds herself scaling a muddy obstacle course in a competition.
But Meg is no pushover. She learns through the course of the book to value her own self worth. She finds she's the only one who can push through the great barriers Ben has erected around himself and the great guilt he feels. The courage it takes to be honest comes at a great risk, one she is very uncomfortable with taking. But she takes that risk for love.
Hope you enjoy the trouble Meg and Ben get into…and have a few laughs along the way.
GIVEAWAY
Have you gone way out of your comfort zone for love? Let me know and get a chance to win a signed copy of THIS LOVE OF MINE.
Miranda Liasson loves to write stories about courageous but flawed characters who find love despite themselves, because there's nothing like a great love story. And if there are a few laughs along the way, even better!
She won the 2013 Romance Writers of America Golden Heart Award for Series Romance for the book which became This Thing Called Love, from Montlake Publishing, and also writes contemporary romance for Entangled Publishing.
She lives in the Midwest with her husband, three kids, and office mates Maggie, a yellow lab, and Posey, a rescue cat with attitude.
Miranda loves to hear from readers! Find her on website or on Facebook.
Website | Facebook | Twitter | Google+ | Goodreads | Blog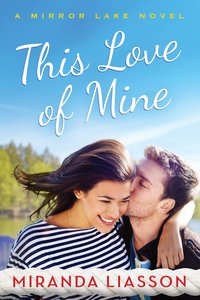 Bridal shop owner Meg Halloran spends her days making other women's wedding dreams come true—and her nights dreaming of her childhood crush, hometown heartthrob Dr. Benjamin Rushford. After a lifetime of wearing her heart on her sleeve, she's done waiting. Meg's ready to find love, with or without him. Moving on feels right—until Ben pops an unexpected question.
To win the open ER position in Mirror Lake, Ben has to convince the board that he's settled and ready to put down roots. His latest stroke of genius? Asking Meg, the local good girl, to be his pretend girlfriend. With her by his side, he's a shoo-in for the job. But he's in over his head because, as much as he tries to deny it, Meg tempts him. And if she learns the truth about a secret that has shadowed and shaped his life, will she ever be able to forgive him?
Comments
26 comments posted.
Re: Miranda Liasson | Going Out on a Limb for Love

No
(Marissa Yip-Young 5:51am October 6, 2015)
No...I think I'm a prude. If it makes me uncomfortable, I won't do it.
(Faye Gates 7:51am October 6, 2015)
Yes, I have once or twice.
(Mary Smith 8:56am October 6, 2015)
Because I had been living in such a strict household,
that when I was finally able to go out, I really didn't
know who I was. The first person I was with almost led
me to my death, according to my doctor, and the person
I'm with now did have me "go through the paces" at first,
but I did the same. I had learned a lot over the years,
and had grown enough to not slip up again. We've been
married for 33 years!!
(Peggy Roberson 9:04am October 6, 2015)
I went out of my comfort zone many years ago when I was with
my ex-girlfriend. She actually initiated the relationship and
I was reluctant to get involved with her, but I'm glad I did.
It was the best time of my life.
(Edward Washington 11:02am October 6, 2015)
I went out of my comfort zone when I agreed to move to another
country for my boyfriend.
(G. Bisbjerg 11:57am October 6, 2015)
Hi Everybody! Thanks for commenting! I went out of my comfort zone when I
took ballroom dancing lessons for my wedding. It turned out to be really fun!

Peggy--congrats for the 33 years! May you have 33 more!
(Miranda Liasson 2:07pm October 6, 2015)
Your always out of your comfort zone for love!
(Richard Burr 4:24pm October 6, 2015)
In order to forgive him,it depends on what he has done.
Marilyn
(Marilyn Collins 5:21pm October 6, 2015)
me i do not have it here i live in small town and every one know all so i my comfort zone is the dogs and our walk and play time
(Desiree Reilly 5:26pm October 6, 2015)
No I haven't Hope I never have to
(Jeri Dickinson 5:47pm October 6, 2015)
no
(Debbi Shaw 9:43pm October 6, 2015)
Yes, I have but it was a long time ago and was worth it.
(Mary Branham 9:49pm October 6, 2015)
No I have not but been tempted a couple.e of times. Too chicken to act on my
interests.
(Joy Isley 11:43am October 7, 2015)
No, I haven't done that.
(Wilma Frana 2:56pm October 7, 2015)
No never did that it's a hard thing to do
(Jeri Dickinson 5:51pm October 7, 2015)
Yes a long time ago and it was over and done in a week . So glad it was just a week .
(Joan Thrasher 6:33pm October 7, 2015)
No, I tend to stick to my comfort zone.
(Lily Shah 7:27pm October 7, 2015)
I have to admit that I am lazy/a fraidy-cat or whatever it's called - I have never gone out of my comfort zone!
(Felicia Ciaudelli 1:20pm October 8, 2015)
No I haven't depends on the guy if I would or not
(Jeri Dickinson 2:10pm October 8, 2015)
No, I stay within my comfort zone.
(Mary Hay 4:14pm October 8, 2015)
No, I'm too conservative.
(Carol Woodruff 7:15pm October 8, 2015)
No
(Kari Behune 5:10pm October 9, 2015)
ABSOLUTELY, I have went out of my way for love and the
reason was is cuz I didn't think I was good enough or
pretty enough for someone decent. Boy, I found out that I
was wrong!
(Renae Kelly 6:29pm October 9, 2015)
no. i'm not one to try many new things.
(Lynn Anderson 8:59pm October 9, 2015)
Yes, I did, and it ended very badly.
(LaCinda Jameson 9:51pm October 9, 2015)
Registered users may leave comments.
Log in or register now!