Debra Coleman Jeter | Pushing the Boundaries

June 26, 2015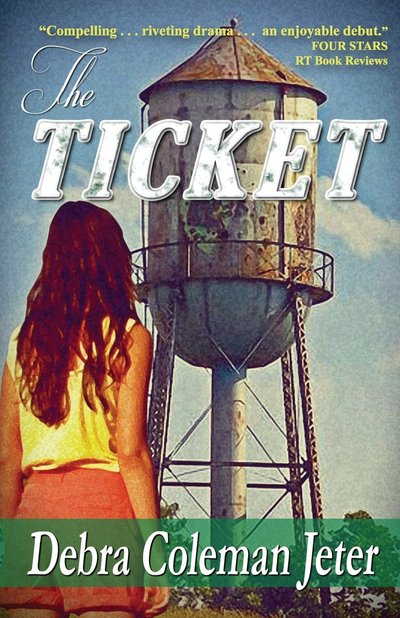 The Ticket
Debra Coleman Jeter
AVAILABLE

June 2015
On Sale: May 20, 2015
Featuring: Tray Dunaway
212 pages
ISBN: 1941103863
EAN: 9781941103869
Kindle: B00XLCKVJ4
Paperback / e-Book
Add to Wish List

Also by Debra Coleman Jeter:
The Ticket, June 2015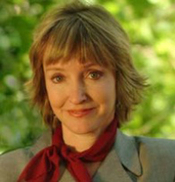 There are certain topics, certain words, and certain aspects of life that are rarely, if ever, addressed in Christian fiction. Anything sexual is typically avoided, and definitely anything explicit. When I started writing THE TICKET, I was not planning to break this taboo. But as the novel unfolded in my head and on paper, it took on a mind of its own.
In particular, I introduced a middle-aged sexual predator who, in my first draft, merely made a couple of inappropriate remarks to my main character, a fourteen year old girl. When this character appeared again in a later scene, it began to feel like the proverbial gun on the shelf—if you see it in an early scene, you expect it to be fired at some point. In my final draft, he lures the girl into his car on the pretext of giving her a basket of practice tennis balls. When I write, I try to get inside the head of one character and feel, see, taste, hear, and smell exactly what she's feeling, seeing, tasting, hearing, and smelling. As a result, this brief scene proved shocking for some readers. Many others, however, have been very supportive.
We all know that bad things can happen to good people. But do we want to read about them? Readers of a particular genre grow to know what to expect, and there's a certain comfort in that. Yet the books that stay with us long after we finish them are often the ones that veer into an unexpected pathway.
Sexual abuse in its varied forms is way too common in our society. The victim may suffer repercussions throughout his or her entire life. Are we better off by pretending that our family is exempt from this risk, or by opening a dialogue about how to react if it should ever happen to our family? In THE TICKET, fourteen-year old Tray doesn't tell her parents about the incident for a long time. This incident leads her to tell a lie that haunts her for some time. Feelings of shame—or fear of being viewed with skepticism or pity or, worse yet, of blame being transferred to the victim—may keep young people silent. Reading and discussing some of the bad things in life before they happen could, I hope, serve a purpose if the inconceivable should ever become the conceivable.
I don't mean to give the impression that only bad things happen to Tray in THE TICKET, or that the controversial scene lies at the heart of the novel. In fact, THE TICKET is about a family that wins the lottery. While the win itself doesn't provide the happiness they long for, good does come to Tray in various ways. A new girl at school turns out to be Tray's dear friend. A boy she has a crush on begins to pay her some attention. Her relationship with her dad is strengthened. And, little by little, Tray becomes a more confident young woman who believes in her ability to survive the tough things that sometimes come our way in life.
GIVEAWAY
Readers, what books that pushed the boundaries stayed with you long after you finished? Leave a comment below for a chance to win an autographed copy of THE TICKET.
Debra Coleman Jeter has published both fiction and nonfiction in popular magazines, including Working Woman, New Woman, Self, Home Life, Savvy, Christian Woman, and American Baby, and has co-authored two textbooks. The Ticket was a finalist in 2013 Operation First Novel. Her story, "Recovery," was awarded first prize in a short story competition sponsored by Christian Woman; and her nonfiction book "Pshaw, It's Me Grandson": Tales of a Young Actor was a finalist in the 2007 USA Book News Awards in the category History: Media & Entertainment.
She is a co-writer of the screenplay for Jess + Moss, a feature film which premiered in 2011 at the Sundance Film Festival. Jess + Moss screened at nearly forty film festivals around the world, including Sundance, The Berlinale, Hong Kong International, and Melbourne International, and captured several awards including the prize for Best Feature at the 2011 Fresh Films Fest in Prague, the best narrative feature at the 2011 Dallas International Film Festival; and the Best Tennessee feature at the 2011 Nashville Film Festival.
She holds a Ph.D. from Vanderbilt University, as well as a B.S. and an M.B.A from Murray State University. She studied creative writing at Vanderbilt University and at Austin Peay State University (with Howard Stein, a former dean of the Yale School of Drama). A native of Mayfield, Kentucky, she resides most of the year in Clarksville, Tennessee, with her husband Norman Jeter. She is the mother of two, a daughter Nikki and a son Clay. An Associate Professor in the Owen Graduate School of Management at Vanderbilt University, she has been awarded both the Dean's Award for Excellence in Teaching and the Webb Award (chosen by the MBA graduating class) for Excellence in Teaching. She holds a joint appointment as a Visiting Research Professor at the University of Auckland, New Zealand.
Website | Facebook | Twitter | Pinterest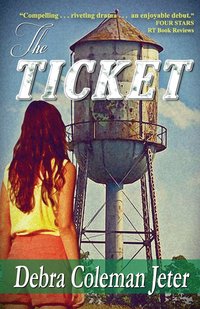 Tray Dunaway longs to be part of the popular set at school, but she's growing too fast and her clothes no longer fit. The only person who understands Tray's need for acceptance is her grandmother, but when Tray wears Gram's hand-sewn clothes to school, the kids make fun of her tall, boney appearance.
Tray's luck improves when Pee Wee Johnson, a down-and-out friend of her father's, buys two lottery tickets and gives one to Mr. Dunaway as a thank-you for driving him to Hazard, Illinois. When her father's ticket turns out to be the winner, Johnson demands his cut of the proceeds, but Tray's dad refuses. What seems like a stroke of good fortune suddenly becomes a disturbing turn of events as Johnson threatens to cause problems for the family and Tray.
Comments
19 comments posted.
Re: Debra Coleman Jeter | Pushing the Boundaries

Always looking for a new author.
(Cynthia Schwarzer 8:17am June 26, 2015)
I cant think of on
(Marissa Yip-Young 9:59am June 26, 2015)
Many have done that for me, especially The Time in Between.
(Sharon Berger 10:41am June 26, 2015)
I think it's good that some of these touch some tough issues
because unfortunately life has a way of throwing things at you and
sometimes it can prepare you.
(Nancy Luebke 1:50pm June 26, 2015)
Lots of books have stayed with me , but the most recent was the "Chill Factor" by Sandra Brown . You had to keep reading , you had to see what happened in the next chapter . I love books like that , that you just don't want to put down . 'The Ticket' sounds like it will be a very good book also .Thank you for this giveaway .
(Joan Thrasher 3:16pm June 26, 2015)
Dark Places is the last book that I really thought about for a while.
(Pam Howell 7:24pm June 26, 2015)
A book I read recently that stayed with me due to disturbing and/or intriguing content was PATTY JANE'S HOUSE OF CURL by Lorna Landvik.
(Flora Presley 10:28am June 27, 2015)
Fifty Shades of Grey is the books I can think of off hand.
(Christina Riggs 6:30am June 28, 2015)
Can't think of any at this time. Always looking for new authors.
(Patricia Wagner 9:15am June 28, 2015)
In The Unlikely Event by Judy Blume because even though the
book is fiction the books main point are three airplanes that
crashed in Elizabeth NJ where many lost there life. As I read
the book I fell in love with each character only for death to
take them away.
(Yaritza Santana 11:35am June 28, 2015)
Station Eleven haunts me months after reading.
(Nadine Stacy 5:17pm June 28, 2015)
No boundaries
(Nancy Ludvik 7:12pm June 28, 2015)
The Glass Castle by: Jeannette Walls & The Lovely Bones by: Alice Sebold
(Holly Loch 4:30am June 29, 2015)
A Choice for Claire by AJ Harmon
(Denise Austin 12:56pm June 29, 2015)
I honestly cannot think of a book that pushed the boundary for
me. But I'm always wanting to read a new author too. Hope I
win!
(Sarah Bauman 12:56pm June 29, 2015)
None as an adult. I'm always looking forward to reading another book. Gone With the Wind bothered me as a teenager. I kept trying to imagine a more satisfying ending. That was many, many years ago, which lets you know something about my age.
(Anna Speed 1:32pm June 29, 2015)
The Dinner by Hernan Koch made me think a lo long after I finished the book.
(Janice Milliken 1:44pm June 29, 2015)
I've never read your books before - I guess because I haven't seen them. This book sounds wonderful and I love a book with suspense or mystery.

I found one of my mother's books SUMMER PLACE. I was a teen in the early 60's. I read it during a summer school break. I still have the book and still reread it. At the time it was very out of the norm - especially for teens. Then I saw the movie with Troy Donahue. I read the book again.
(Pat Moore 2:59pm June 29, 2015)
I saw where I had won on List of Winners. Do you need any info from me? Looking forward to reading your book. Always enjoy reading a new author for me.
(Pat Moore 3:37pm August 10, 2015)
Registered users may leave comments.
Log in or register now!