Jessica Topper is an ex-librarian turned rock n' roll number cruncher. By night, she creates books of her own. She is the author of LOUDER THAN LOVE (September 2013), DICTATORSHIP OF THE DRESS (January 2015), and COURTSHIP OF THE CAKE, the second in her Much 'I Do' About Nothing series. She graciously agreed to join us at Fresh Fiction to talk rock 'n roll, cake, and what her fans can look forward to!
Jen: Jessica, thank you so much for joining us at Fresh Fiction! I have to know
 what is a rock 'n roll number cruncher and how does this job inspire your writing?
Jessica: It's not nearly as glamorous as it sounds! Ha ha. I work for a touring rock band, handling the bookkeeping and managing their home office. So basically, I track all the money coming in and going out when the band is on tour and off the road. Everything from the big festival guarantees, down to the cream and sugar bought for their coffee on the tour bus! There are a lot of little details that keep the rock and roll machine chugging smoothly along, and I love working behind the scenes to help make it happen. I witness a very different side of the rock star life than the fans get to see. And it definitely spills into my writing. Each of my novels has some sort of a music thread, or musicians making appearances. I love giving readers a peek into both the mundane and the magical sides of the music business!
Jen: I love that Mick, from COURTSHIP OF THE CAKE, is a baker! How much research went into cake tasting, baking, and decorating? What is your favorite cake?
Jessica: Thanks! I had a lot of fun writing a guy like Mick, especially getting to choose all the delicious things he designs and creates. My mother always baked from scratch, and taught me baking basics at a young age. But I did turn to both the Internet, and to the pros, for research. Reading culinary forums, where real cake decorators discussed tips and tools of the trade, was pure gold. And luckily, I have a good friend who is a pastry chef as well as a writer, so she was an invaluable resource as well.
I also sat in a local bakery and took note of the sights, sounds and smells during their busy workday, just to immerse myself. But my favorite part of the research, believe it or not, was uncovering the origins behind the customs involving cake at weddings. Like the wedding charms pulled from the cake, and the groom's cake under the pillow. Weaving those tidbits into the storyline made it really unique.
Favorite cake? Oh, don't make me choose! I am an equal opportunity cake lover. Although I can't stand any kind of fruit in my cake – why ruin a perfectly good dessert? I've been on a cupcake kick lately. Give me a big fat red velvet cupcake with cinnamon butter cream frosting, or a chocolate one with caramel sea salt icing, and I am in heaven.
Jen: The Much 'I Do' About Nothing series title is cute, playful and absolutely perfect. Are there any other Shakespearean influences we can look for in your writing?
Jessica: I agree – because these aren't your typical wedding-themed stories, I think the "Much I Do" tagline works perfectly. To marry or not to marry – that is the question
and the twist! I was an English major in college, so I survived many a Shakespeare class. Adrian, the reclusive heavy metal rocker in LOUDER THAN LOVE, wears a ring inscribed with a quote from Hamlet that is particularly fitting. On the outside it says "WE KNOW WHAT WE ARE", and inside: "BUT KNOW NOT WHAT WE MAY BE". That was a big one that ties into the theme of the book. But there may be some other Shakespearean hints, lurking beneath the surface!
Jen: This summer is extremely busy for you, not to mention great for your fans. You have a novella and novel coming out in your Love & Steel series. Can you give us a glimpse of what you're working on now?
Jessica: I'm very excited about the continuation of the Love & Steel series! Readers really embraced 2013's LOUDER THAN LOVE, and have been waiting patiently for more of that "world". I'm happy they'll get to re-visit the characters they fell in love with, along with meeting new ones.
Currently, I'm working on a "coming home" type of story, about a singer-songwriter who's afraid of becoming a one-hit wonder. He returns to his tiny town from Hollywood, and falls for the proprietor of the local coffee shop. It's in the very early stages, so that's more of a peek through the keyhole than a real glimpse. But I am in love with the setting - winter in New England - and the cast of characters who are emerging.
Jen: One last question, what's on your summer reading list?
Jessica: There are so many books I am dying to crack open this summer! A BOLLYWOOD AFFAIR by Sonali Dev is up next on my Kindle, after I finish THE PERFECT SON, by Barbara Claypole White. I am also looking forward to Erika Kelly's 2nd Rock Star Romance, I WANT YOU TO WANT ME, which releases in July. Now all I need is a beach to escape to, so I have an excuse to relax and read!
Thanks so much for having me at Fresh Fiction!
GIVEAWAY
Readers, what's your favorite cupcake? Leave a comment below and be entered for a chance to win a signed copy of COURTSHIP OF THE CAKE!
Jessica Topper is an ex-librarian turned rock n' roll number cruncher.
She can trace her love for the written word back to age three, when she memorized Maurice Sendak's Chicken Soup with Rice in its entirety. After her daughter was born in 2001, Jessica left the Manhattan library world and began working for her husband's music management company. He offered her a part-time job so she could "stay home for the baby's first year" and pursue her dream of writing. The baby is now thirteen years old, and Jessica has been working her "full-time, sold-her-soul-for-rock-n-roll job" as Office Manager for veteran jam band moe. in their Buffalo, NY headquarters. By day, she does bookkeeping for touring rock bands. By night, she creates books of her own. She is the author of two novels from Berkley: LOUDER THAN LOVE (September 2013), and DICTATORSHIP OF THE DRESS (January 2015). Watch for COURTSHIP OF THE CAKE, the second in her Much 'I Do' About Nothing series, releasing in June 2015.
Topper's e-book novella, DEEPER THAN DREAMS, will be available in August, and bridges SOFTER THAN STEEL, the long-awaited September follow-up novel to LOUDER THAN LOVE.
Jessica is a member of the Western New York Romance Writers, a PAN member of the Romance Writers of America, and belongs to the Women's Fiction Writers Association.
Website | Facebook | Twitter | Blog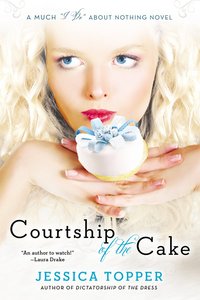 From the author of DICTATORSHIP OF THE DRESS comes a new novel about a woman who's vowed to never walk down the aisle— and the two men who'll do anything to get her to say "I do"

"Always a bridesmaid, never a bride" has suited Danica James just fine
until the mysterious man who crashed her sister's wedding steals her heart, leaves a slice of groom's cake under her pillow, and then disappears.
Hoping to forget her unforgettable fling, Dani takes a job as a backstage masseuse for a rock music festival, not expecting the tour's headlining bad boy to make an offer she can't refuse. Nash Drama needs a fiancĂ©e—and fast

Mick Spencer is the best wedding cake designer in New Hope and the town's most eligible bachelor. But despite the bevy of bridesmaids he's sampled, Mick can't get the evening he spent with Dani out of his mind.
So when she shows up for a cake tasting at the Night Kitchen— with his former best friend's ring on her finger—Mick vows to charm the woman of his dreams into choosing a sweet and sinful ever after, with him

23 comments posted.
Strawberry cupcake with cool whip topping and big juicy strawberry on top . This book sounds like it will be a very exciting and great read . Thanks for this chance .
(Joan Thrasher 1:21pm June 20, 2015)
My favorite cupcake is chocolate chip. I love wedding themed romance books and this sounds like a very good one for me to read.
(Linda Luinstra 4:49pm June 20, 2015)
first the book cover look great and then my grand used to make apple sauce cup cake and they were great
(Desiree Reilly 11:01pm June 20, 2015)
Boston cream pie - yellow sponge cake split in half, cooked cream (or custard) filling, chocolate glaze spilling over the top....a little cupcake with a birthday candle and you have a party!
(Beth Fuller 9:54pm June 23, 2015)