Jade Lee | Happy Holidays Conversations Plus a Free Screensaver

December 5, 2013
A few weeks ago I was in Dallas for one of my favorite events of the year: Readers and 'Ritas. Tidbits of fun included gifting Pat with a Big Donkey Dick mug (she begged me for it). Yes, I have pictures.
Also the PJ party including live erotic reads which, incidentally, was where I won the Big Donkey Dick mug. We had some good clean fun too! Discussions about favorite historical heroes holds a special place in my memories as well as a sneak out for sushi with a couple of my favorite gal pals. And by the way, I was the best shapeshifting Rose from The Titanic in the costume contest!
If you want more dish on Readers and 'Rita's, there are lots of pictures. Or you could also come next year (yeah!). But what I wanted to talk about was a conversation I had with Sara Reyes during a lull in the festivities. Okay, so there really wasn't a lull, but I was tired so I plopped down and started asking questions.
We started talking about merchandising. About the advent of serious merchandising with Star Wars and then it shifted to the music industry. That music is given away relatively cheaply, but that bands make their money on tour and selling merchandise. She thought that authors needed to start doing the same thing. After all, there's some very nice Dark Hunter stuff (Sherrilyn Kenyon was at Readers and 'Ritas, btw). And I'd go for a mousepad with the Winchester boys from Supernatural on it. Especially if some nasty bad guy (or girl) had managed to rip off their shirts.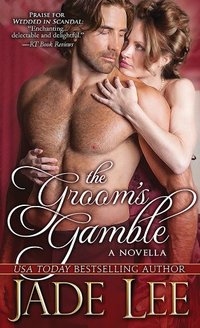 But as a historical author, I don't have a lot of good mug-worthy pictures. My covers have been amazing, but they're not all drink-your-coffee-and-stroke-the-abs. Oh wait! There is this one!
My January e-novella.
Should I add that onto a mousepad as a promo item?
(Give me your vote below and I'll gift it to one lucky commentor. Unless you all vote no.)
Anyway, instead of merchandising my stuff, I decided to just give away a custom screensaver. Here it is!
Feel free to save it or share it. There's another special screensaver for my Jade's Jewels. You can join them here They get special stuff from me all the time! And yes, I decided to add the screensaver to all sorts of fun items. Check them out:JadeLeeShop .
Or if you're looking for a special holiday gift, there's still time to get the first three books of my Bridal Favors series autographed to someone special. But order soon! Time is running out to get it before Christmas! Jade's Books
Jade Lee / Kathy Lyons
Comments
28 comments posted.
Re: Jade Lee | Happy Holidays Conversations Plus a Free Screensaver

Hi, Jade!! Now that you gave that photo away as a screensaver, I'm not sure if it would sell as a promo item, but I think it would make an awesome mousepad!! Some of the ladies might want it on a mug, so they could wrap their hands around him, too!! lol These are just suggestions. Thank you for the free wallpaper. Have a wonderful Christmas, and a great New Year!!
(Peggy Roberson 10:49am December 5, 2013)
Honestly, I want to wrap my hands around him on a mug!
(Jade Lee 11:21am December 5, 2013)
Bookmark that guy!! I'd love to have him in bookmark form - maybe then I
wouldn't keep losing mine!
(Michelle Schafer 12:46pm December 5, 2013)
I love the cover to THE GROOM'S GAMBLE (and the story sounds good, too!) so I'd love a mousepad featuring it. LOL
(Marcy Shuler 1:30pm December 5, 2013)
That is a yummy, sexy cover, so I vote yes on the mousepad.
(Janie McGaugh 2:22pm December 5, 2013)
The cover or Mr. Happy Holidays would make a great
mousepad...but especially Mr. Happy Holidays. lol
(Deidre Durance 2:58pm December 5, 2013)
A bookmarker of him would certainly add some spice to the read.
(Melanie Backus 3:09pm December 5, 2013)
That is a great choice.
(Maureen Emmons 9:54pm December 5, 2013)
Wow, Congrats on your new book: THE GROOM'S GAMBLE. I love
the sexy book cover too! Yes, I believe that You should add
that onto a mousepad and also coffee cups and bookmarkers
and lots of other items too. I would love to win and read
your hot and new sexy book this Christmas. Thank You very
much. Cecilia CECE
(Cecilia Dunbar Hernandez 12:01pm December 6, 2013)
A mouse pad would be good, as would a mug, but a bookmark IS
super portable...
(Glenda Martillotti 12:15pm December 6, 2013)
I like to have a mouse pad or mug with that picture of Mr. Wonderful. I just like to shock people who think they know me but they don't.
(Kai Wong 1:04am December 6, 2013)
That is a great idea, better than a bookmark and fun to hide under my mouse at my desk...:)
(Darci Paice 1:20am December 6, 2013)
I love them all!
(Jane Thompson 2:58am December 6, 2013)
Good job Jade. You always seem to find the hottest guys.
(Kathleen Yohanna 4:40am December 6, 2013)
i love her books i have read alot of jades books she is one
of my favorite authors i really enjoy her books alot
(Denise Smith 8:22am December 6, 2013)
I love Jade's books!!! Love the cover and can't wait to read this book!!!
(Bonnie Capuano 8:43am December 6, 2013)
I enjoy them all.
(Sharon Berger 9:47am December 6, 2013)
Hi Jade! I love seeing you at conferences and missed you at
RomCon this year. I think a mug/mousepad of that book would
be wonderful. :-D
(Karin Anderson 10:30am December 6, 2013)
He is so sexy having him would be great - on merchandise I mean!
(Barbara Hanson 10:31am December 6, 2013)
I'm not much of a mousepad girl, but mugs are nice!
(Sue Galuska 10:54am December 6, 2013)
Absolutely!!!
(Janet Martin 12:30pm December 6, 2013)
A mouse pad would be good! I love anything that reminds me of a good book!
(Kimberley Coover 2:59pm December 6, 2013)
Vote yes for the mouse pad. :)
(Leslie Davis 4:13pm December 6, 2013)
That screen saver would be great to punk my brothers with if they ever leave their laptops at Mom's again.
(Laura Gullickson 5:32pm December 6, 2013)
sounds like you had a great time in Dallas
(Janet Gould 6:30pm December 6, 2013)
Yep the mouse pad with that hottie . Its a YES
(Barbara Wells 6:42pm December 6, 2013)
Thanks for a chance to win. Your cover is something else.
(Linda Hall 9:01pm December 6, 2013)
Do you have a special offer that includes the hot guy? :)
(Mari Kenobi 10:15pm December 6, 2013)
Registered users may leave comments.
Log in or register now!