Victoria Hamilton | 20 Questions: SOME TOUCH OF MADNESS
$50 Amazon Gift Card Giveaway!

November 9, 2022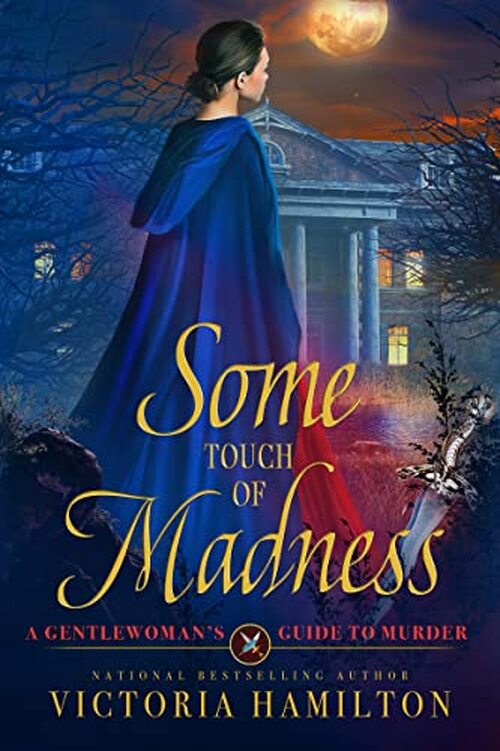 Some Touch of Madness
Victoria Hamilton
AVAILABLE
A Gentlewoman's Guide to Murder #2

November 2022
On Sale: November 8, 2022
ISBN: 1958384739
EAN: 9781958384749
Kindle: B0BHF7ZKHH
e-Book
Add to Wish List

Also by Victoria Hamilton:
Some Touch of Madness, November 2022
A Gentlewoman's Guide to Murder, October 2022
Double or Muffin, February 2021
Cast Iron Alibi, October 2019

1--What is the title of your latest release?
2--What's the "elevator pitch" for your new book?
Regency-era writer and dagger-wielding badass Miss Emmeline St. Germaine is the kind of woman you want on your side in a fight. But when her rights are stripped from her and she is sent to an asylum where murder is afoot, with enemies all around her, will she figure out whom to fight, and how?
3—Some Touch of Madness is a sequel to A Gentlewoman's Guide to Murder; first, tell us a little about Book #1, and then, how did it being a sequel affect your writing of Some Touch of Madness?
A GENTLEWOMAN'S GUIDE TO MURDER started with Miss Emmeline St. Germaine, who is determined to right wrongs in her Regency England society. She and her band of women – who call themselves the Crones – rescue abused scullery maids and young ladies being forced into unwanted marriages. Murder hits too close to home, and to save herself from being suspected and perhaps hanged for the crime, she needs to unearth the perpetrator. Some Touch of Madness finds Emmeline still advocating for the abused, but also in peril herself when her brother, because of the events in Book 1 and what he considers her unfeminine fierce stubbornness commits her to an asylum for genteelly insane women.
It was not an easy book to write. Straitjacketed by the cliffhanger-ish end of the first book (so to speak!) I forged a difficult but ultimately satisfying path through a tough situation in which I had placed my heroine!
4—What do you like/not like about your protagonist?
I LOVE that she is so brave; I know she has more courage than I do, the kind of bravery I admire in people. I like her compassion and protectiveness toward those around her. But she is hard to take at times, as she borders on zealotry in her causes. I think she lands on the safe side of fervor, rather than fanaticism, but I'll leave that up to the readers to judge!
5--What are three words that describe your protagonist?
Courageous. Intelligent. Resourceful.
6--What's something you learned while writing this book?
My tunnel vision gets in the way of a good book, at times, but a good editor can save me. When I turned in my first draft, I wasn't overly happy, but I could not see how to fix what I had written. But my editor rode to the rescue and saved this writer-in-distress. His editing and suggestions allowed me to extensively rewrite and find the exciting historical mystery within the first draft.
Ultimately, I wrote a book I am thrilled with. Emmeline once again uses her wit and resourcefulness to defeat evil in several forms. It is gritty and my heroine is strong. I hope the readers enjoy it as much as I do!
7--Do you edit as you draft or wait until you are totally done?
I wonder, is my writing process complicated compared to others? I do some rewriting as I go along, starting each day with what I wrote the day before. It gives me a kind of running start on the day's quota. But then I will edit/rewrite at least two and sometimes up to four times after the first draft is done.
8--What's your writing routine?
Most days: Apply butt to the office chair and work at a desktop computer until the day's quote is in the bag. But not every day goes smoothly. Sometimes family matters demand time, and some days there are so many other things tugging at my sleeve, especially if there is editing to be done or a book to promote. So, I do the best I can and try to not beat myself up when I don't meet the quota.
9--Describe your writing space/office!
Oh, lord. I confess that I have a messy desk. It is physically a lovely desk that I bought because it was pretty. It is a creamy off-white and has lots (perhaps too much) of space. I used the cubbies for decorative teacups and vintage touches. The first Christmas I lit it up with a teal Christmas tree. And then it all went to hell as reality descended and the need for space clamored. Since then, it is a landfill site of papers, dishes with lip balms, pens, paper clips, vitamins, scissors, flash drives, hair clips, nail clippers, files, research books, and notebooks. The only things that are in their pace at all times are my booklet of passwords, and my day timer calendar, without which I cannot function.
10—What is easy/difficult about writing for you?
Easy: coming up with ideas, creating characters, researching places/people/history. Difficult: harnessing the discipline to turn all of that into a plot and to figure out beforehand what happens and whodunnit. Too often I get bored with the plodding plotting and rush into the exciting writing and end up in a quandary about two-thirds of the way through. And every single time I say, "never again", and every single time I rush the writing.
11-- Who is an author whose writing style you admire, and what did you learn from them?
I write both historical mysteries and traditional contemporary mysteries. I admire Anne Perry as a historical mystery author; I think she has the best handle on her characters of anyone I've ever read. I learned from her not to be afraid of creating complex, troubled characters. Among authors of contemporaries, I admire Sophie Hannah, who writes a wide variety of mysteries, including the new Hercule Poirot mysteries. I learned from her to veil characters' motives and secrets a little better, though it is something I do my best to do anyway.
12—How do you decide what to write next, a book in an established series or to start a new series?
Sometimes you have to write what's next on the list, especially if you write a series. Readers want to read the stories they are familiar with, and most of us who write series try to put out one book a year in each series. Good thing I love visiting Queensville to commune with the villagers in the Vintage Kitchen Mysteries and traveling to Georgian England to spend time with Lady Anne and her friends for the Lady Anne Addison Historical Mysteries. But a writer occasionally has to branch out and try something new. Every pro writer has stories in them that don't fit in one of their established series, which is when you find the time to branch out.
13--What's your favorite genre to read?
I read mysteries, big surprise, right? But I also like historical fiction and non-fiction, memoirs, and – another big surprise, LOL – true crime.
14--What's your favorite movie?
I cannot name just one! An all-time favorite is Some Like It Hot, with Marilyn Monroe, but I also love The Holiday, with Kate Winslet, and Enchanted, with Amy Adams. I'm really looking forward to the Enchanted sequel, Disenchanted, coming later this month, with most of the original cast back!
15--What is your favorite season?
This is the easiest question of the bunch, Autumn. I LOVE the fall. I like everything about it: it's darker, moodier, cooler, and more fragrant and all the best holidays are in fall! I like the colorful leaves and drinking tea while I rake them. I love curling up with a good book in the colder weather. I'm in a northern climate, so I love the first snowfall, often while the leaves are still on the trees!
16—What is your favorite food?
Dessert - pause for laugh. No, seriously, I do like sweets, so I usually say brownies, are the perfect dessert. But on the savory side, I love pasta, so for me, Spaghetti Bolognese is the best!
17--What's a recent book you highly recommend?
I've enjoyed Widdershins: Witches, Witchfinders & Witch Trials by Helen Steadman, followed by Sunwise, Book 2 in the series. It is a fictional account of witch trials in Scotland and England. So good! She helps readers crawl into the mind of a witchfinder, a dark and uncomfortable place to be, let me tell you! But also, one of her characters is a "cunning woman", labeled as a witch. I do a lot of historical research for my books, and I can tell how deeply Ms. Steadman has researched her books.
18--What's your go-to dish to cook?
Arroz con Pollo: Chicken with Spanish rice. So good! I took a recipe from a Doubleday cookbook and changed it so much it is now mine. So much trouble to prepare, but once it is in the oven it's easy-peasy. And so good!
19--What do you do when you have free time?
Mostly, read. And I'll confess I'm a bit of a TV-holic; the small screen relaxes me in a way nothing else does. I watch a few reality shows – Survivor and Amazing Race – but I love sitcoms: Call Me Kat, with Mayim Bialik, and Bob Hearts Abishola.
20--What can readers expect from you next?
Now that Some Touch of Madness is out, I am moving on to writing for a couple of my series. Next up to write is Sieve and Let Die, Vintage Kitchen Mystery #11 – one of my favorite characters, Val Nibley, is accused of killing her high school bully! That should come out in mid-2023. Next, I'll write Lady Anne & The Haunted School Girl, Lady Anne Historical Mystery #5. Lady Anne, anxiously awaiting her marriage to Tony, Marquess of Darkefell in Bath, England, is distracted when a friend ropes her in to help (real life) schoolmistress Miss Sophie Lee when one of her students seems troubled and in danger of harming herself. If all goes well that will be out in late 2023.
Comment on the post for a chance to win a $50 Amazon gift card. Open to US and Canada residents.
A Gentlewoman's Guide to Murder #2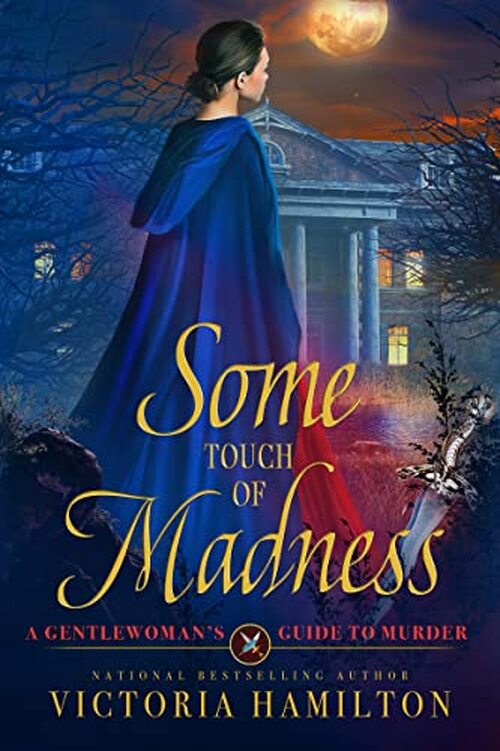 A hushed-up murder sends Emmeline St. Germaine on a quest for justice
Having chosen to go to a women's institution rather than live under her brother's oppressive thumb, Emmeline is second-guessing her decision. Her ulterior motive was to learn under what circumstances her sister died there six years ago, but the conditions are dismal, the treatment is harsh, and the women are restricted on all sides. When one of the women is murdered, Emmeline resolves to solve the crime despite the powerful owner's hostile insistence that the death was a suicide.
As she uncovers what little evidence there is to be found, Emmeline's investigation is thwarted at every turn by the increasingly severe restrictions on her movement—until she discovers that the mistreated help belowstairs are more than willing to reveal the institute's grim secrets. Determined to honor the victim's memory and follow the trail to the murderer wherever it goes, Emmeline will have to face down thuggish guards and abusive staff, fearful all the while of the price she'll pay to bring a killer to justice.
Mystery Historical | Mystery Woman Sleuth [Beyond the Page, On Sale: November 8, 2022, e-Book, ISBN: 9781958384732 / ]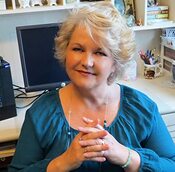 Victoria Hamilton is the bestselling author of several mystery series including the national bestselling Vintage Kitchen Mysteries and Merry Muffin Mysteries. She does, indeed, collect vintage kitchenware and bake muffins. She drinks tea and coffee on writing days, and wine other times. It doesn't do to confuse days. She crochets (a little), paints (a little), and reads (a lot). A solitary being, she can be coaxed out of her writing cave for brownies and cat videos.
She started her writing life as Donna Lea Simpson, bestselling author of Regency Romances, paranormal historicals, and historical mysteries, and still has a soft spot for the Regency period.
Comments
108 comments posted.
Re: Victoria Hamilton | 20 Questions: SOME TOUCH OF MADNESS

Autumn is my favorite too, and I love binge watching tv shows! Dessert is so
yummy I can never pass it up! Great answers! It helps your readers get to know
you & I love when authors do this! Thank you for sharing!
(Andrea Drake 12:21pm November 9)
Such a down-to-earth interview - we share common interests! I love the historical mystery genre...congrats on your latest!
(Linda Gawthrop 7:03am November 9)
Fabulous interview! Your new book sounds amazing! Thank you
for the opportunity to enter a contest. Have a wonderful day!
(Tracey Boehm 8:03am November 9)
Enjoyed the interview. Thanks for sharing!
(Colleen Conklin 2:00pm November 9)
Very grim plot, I am reminded of a female news reporter who went undercover to expose the abusive practices in a mental hospital.
(Cindy Merrill 3:08pm November 9)
Sounds very interesting. Great interview too.
(Kara Marks 8:17pm November 9)
Having an asylum as a setting for a mystery is brilliant.
There are so many things which can wrong and definitely
unique characters. I like the leading lady is a spy sent to
an insane place to solve a crime.
(Alyson Widen 11:56pm November 9)
Thanks for the chance. This was a really fun Q and A, Great
way to learn more about Victoria and her books.
(Tanja Dancy 8:14am November 10)
Loved the interview. I love getting to "know" authors through Q&As like
this. Thanks for sharing. And thanks for the chance to win. I also love
Autumn - maybe because my birthday is right in the heart of it (next week
in fact). I hope this newest book does great.
(Nancy Reynolds 9:25am November 10)
Really enjoyed reading interview. Autumn is a great time of year , I enjoy it.loved
getting to know you!
(Jane Werthmann 9:52am November 10)
This one sounds so good. I have enjoyed the Vintage Kitchen
mysteries. Mysteries are one of my favorite genres.
(Kristen Stone 1:22pm November 10)
I really enjoyed this interview and I'm
looking forward to reading Some Touch of
Madness! It was also fun to see your desk,
it was gorgeous but I'd never be able to
keep my desk that neat either. :)
(Lana Sibley 4:31pm November 10)
Wonderful interview! Victoria Hamilton is a new-to-me author.
(Caryl Kane 5:34pm November 10)
I have read several books from this author. I will need to
look into this series.
(Carol Edwards 8:31pm November 10)
Such an honest and refreshing interview! I enjoyed learning about Victoria!
Looking forward to reading this book!
(Frankie Pinnix 10:05pm November 10)
Autumn is also my favorite time of the year. I grew up in apple country in the
Northeast. The cool weather, all the fall produce, apple picking, hayrides, and
hiking in the woods, I enjoyed it all. Not quite the same here in the South where
we now live, but the break from hot, humid weather is appreciated.

This series sounds like it shows more of how women were treated and how
powerless they could be than we usually read. There were strong women back
then, but they and their memory were often stifled and hidden away.
(Patricia Barraclough 1:19am November 11)
I enjoy strong women characters. Especially when the story
is set in a different time period. I like to imagine how
I'd deal with the situation the heroine finds herself in.
This story looks interesting. The author is new to me so
thanks Fresh Fiction. I've found many new authors through
your site.
(Mary Songer 9:34pm November 11)
I really enjoyed your interview! Some Touch of Madness sounds
amazing! Also, I love dessert best too.
(Zara Heflin 10:31pm November 11)
Interesting interview. I'm also really excited to see
Disenchanted!
(Shelley Butcher 1:20am November 12)
I'm SO excited to read this new book! LOVED the first one!
Miss Emmeline was very fun and fascinating to read about,
and I really like her as a character. An old asylum is a
very interesting environment, especially as the set for a
murder mystery, so I can only imagine I'll enjoyt this new
book as much as the first one! :D
(Elin Halleni 10:32am November 12)
Loved your interview!
(Sherry Haut 1:16pm November 12)
I enjoyed reading the Q & A!! We agree on so much-brownies, autumn, etc.

Miss Emaline seems like my kind of character! Thanks for this chance!
(Frankie Pinnix 2:01pm November 12)
Thanks for the Q&A! It was nice learning more about you, your writing process and
your favorites.
(Tracy Urschler 4:13pm November 12)
it certainly takes a lot of researching to write such period novels. thanks
(L Peters 5:01pm November 12)
Very interesting books. Just added the first book to my must
read list.
(Pam Howell 7:47am November 13)
That was a great interview. You are a new author for me, so it
helped me get to know more about you.
(Anna Speed 10:51am November 13)
I'm with you, I'd start with dessert if I could get away with
it, so pasta first. I love mysteries and autumn as well, but
in my perfect world winter never comes and we go directly from
autumn to spring.
(Nancy Krueger 8:39pm November 13)
I love Autumn too. I love your Donna Lea Simpson books!
(Sherry Haut 9:35pm November 13)
I am new to the series. I love mysteries and this one sounds
thrilling! Thank you for a great Q & A.
(Antoinette Murphy 10:05am November 14)
I live in Arizona, and Autumn here is very nice. The weather is nice, the desert
flowers are blooming, and the smells emanating from the many desserts for
Thanksgiving are wonderful.
Your book sounds like the kind I enjoy reading
(Joy Isley 10:06am November 14)
Hello, I love the variety of seasons here in Buffalo, NY but
Autumn is a favorite with its burst of colors, crisp & spicy
Fall scents & great gatherings. I was wondering what you find
to be your muse & most inspirational to your creative juices?
(Michelle Bauer 10:35am November 14)
Great interview! This sounds like a series I would enjoy.
Thank you for sharing. Your go-to dish sounds delicious. I'll
have to look for a recipe.
(Brooke Showalter 10:41am November 14)
What a great interview. I love reading how a writer works.
everyone is so different.
(Nancy Bradford 10:41am November 14)
I loved all your answers it is fun to see an author put on
the spot to answer pop questions how we are all so
different. Fall is my favorite time as the leaves turn here
in eastern Iowa and also we are finishing our house with a
garage finally and a deck plus a ramp for my scooter can't
wait till it's finished and I love to read and review!
(Peggy Clayton 10:46am November 14)
I love interviews like this where you get to know the
author. It adds something to the book when you "
know" the author.
(Laurie Pinnell 11:04am November 14)
Such a lovely interview with one of my favorite authors! It is
so nice to get to know more about writers' personal life and how
that ties into their stories! Thank you!
(Cheryl Arcemont 11:38am November 14)
I love Autumn also followed by Winter. I know I'm a bit weird
but I do love the snow
(Vicki Nichols 11:55am November 14)
Sounds intriguing. Almost like Nellie Bly. I can't wait
to read it. Wonderful interview.
(Kathy Clugston 12:15pm November 14)
I did enjoy your interview so much! It is so good to find out something new about your favorite author and find you have a lot in common!
(Bev Keffer 12:52pm November 14)
I have enjoyed your books starting with the first one I read written by you as Donna
Lea Simpson. Great interview. I can't wait for the next Lady Anne! Thanks for a
wonderful giveaway.
(Sally Schmidt 3:11pm November 14)
Such a lovely interview! And thank you for showing us your writing space—I just
love seeing and hearing about how my favorite writers write!!
(Karen Young 3:41pm November 14)
I enjoyed reading your interview.
(Kim Matlock 6:08pm November 14)
I really enjoyed your interview. I'm looking forward to
reading "Some Touch of Madness". Autumn is my favorite
season. It's such a cozy time of the year.
(Dianne Casey 6:36pm November 14)
I love the name of the scullery maids and young women forced
to marry, Crones. They sound like a tough bunch. Love Vintage
Kitchen Mysteries, especially when they include yummy recipes.
(Denise Duvall 10:43pm November 14)
Thank you taking this time for this interview
(Terri Quick 11:29pm November 14)
This is a great interview, thank you for sharing. I also love
the cover, it's nice!
(Marisela Zuniga 1:35am November 15)
This sounds really good. I love the interview.
(Shelly Peterson 1:38am November 15)
Loved the QA session!

My question would be if you have a favorite inspiration
place/space?
(Michelle Catallo 1:51pm November 15)
I really enjoyed reading the interview. I would love to read this book and the first one too they sound amazing.
(Heather g 4:01pm November 15)
Lovely interview! I look forward to this book! I adore
Autumn as well. Best wishes...
(Lalita Kelly 4:11pm November 15)
I loved reading your Q&A and learning about you and your writing!
(Tracy Urschler 8:02pm November 15)
This book sounds exciting with a likeable yet realistically flawed heroine :) .

I too like dessert, fall, and tv. Since you enioy comedies and mysteries, I think you'd enjoy "So Help Me Todd" :)

Hope you have a safe Thanksgiving :) !
(Madie Busse 1:50am November 16)
I think it was a great move to show some of the difficulties and real dangers that existed for any woman who even tried to advocate for 'unladylike' pursuits in what is often portrayed as just a fluffy, glamorous life of titles, parties and the Marriage Mart. It is also easy to forget that there are still areas of the world where the danger in such activism is very real.
(Carol Gowett 10:48am November 16)
This sounds like an interesting book. Great interview. It was nice learning more
about you and your writing process. I like Fall, deserts and watching TV to relax
too.
(Susan Smith 3:33pm November 20)
A really great interview. Sounds like a great book. Thank you
(Lori Byrd 3:35pm November 20)
I enjoyed reading the interview and learning more about you.
I enjoy reading your books. Happy Thanksgiving.
(Rita Wray 3:39pm November 20)
I love historical mysteries. Sounds great!
(Kelly D 3:40pm November 20)
I enjoy almost any kind of historical fiction!
(C.E. Hart 3:41pm November 20)
Liked the interview. Your book sounds interesting and something I would be interested to find out about.
(Sharon Extine 3:42pm November 20)
So many exciting choices for the winter ahead!
(Heather Swanson 3:43pm November 20)
You had me at badass heroine with a dagger, but I am more of a
spring girl.
(Mary McCoy 3:47pm November 20)
What a great interview! Your new books sounds great! Autumn
is my favorite season too- because my birthday is in
September lol
(Ashley Applebee 3:53pm November 20)
This looks like a wonderful book and it's an awesome
giveaway your doing. Id love it
(Alma Fisher 3:56pm November 20)
You are a new to me author! Love finding them, and your books
sounds great. They will be going on my ever growing wish list.
(Martha Lawson 3:57pm November 20)
Congratulations on your book! Great interview! Happy Thanksgiving!
(Marilyn Fontenot 3:59pm November 20)
Congrats on your book, and thanks for the great interview! 10
was my favorite question, as someone who dabbles a bit in
writing
(Nova Sheppard 4:10pm November 20)
This sounds really good. I love the interview.
(Holly Thomas 4:11pm November 20)
I would love towin
(Elizabeth Wendt 4:16pm November 20)
I am such a Victoria Hamilton fan. I have read 'Merry Muffin
Mystery' and 'Vintage Kitchen Mystery' book series. I loved
them both.
(Faye Gates 4:45pm November 20)
Fall is my favorite season as well (in the Midwest, USA). Also a dessert and pasta gal! Congrats and good luck on your book.
(Kelly Moore 4:47pm November 20)
Great interview, Victoria! I too am a fan of dessert, LOL! I so admire you
authors for not just the talent and inspiration but the sheer discipline required
to create a story! Thanks for continuing to persevere!
(Fedora Chen 4:53pm November 20)
This was a really good interview and the book sounds like an
excellent read.
(Debbie Plesha 4:54pm November 20)
Dessert is my favorite too!
(Jennifer Thompson 4:56pm November 20)
Interesting interview! I'd like to see more questions around
the writing sessions: what is a good tip for squeezing more
lines in a busy routine?
(Aldo Pennacchioni 5:21pm November 20)
I have to say this is a different kind story that I am used to reading. This one
will be different. I like mysteries and suspense, right now I'm going through
cozies. Thank you for the opportunity.
(Susan Wilkinson 5:36pm November 20)
Great interview and I am also looking forward to watching
Disenchanted.
(Stephanie D'Aquila 5:40pm November 20)
Very enjoyable interview. I'm a blurb girl myself, but you
have the most interesting titles for your stories. I look
forward to reading your works.
(Tara Woods 5:51pm November 20)
Great interview, Victoria, it is very nice to meet you as you
are a new to me author! Some Touch of Madness sounds like an
excellent book for me and the cover is quite lovely!

Thanks for sharing it with me and have a sunshiny day!
(Eva Millien 6:30pm November 20)
Interesting interview. I love the colorful leaves.
(Deb Pelletier 6:42pm November 20)
Thank you for the interview and information. I'm really
looking forward to reading Some Touch of Madness.
(Kal P 6:43pm November 20)
What a pretty desk! And the more cubbies the better!!
(Sue Ellen Williams 6:43pm November 20)
I love reading about strong, smart, female leads. And I am all
in on your favorite food too. What a great answer! This is a
darker mystery than I usually read, but it sounds intriguing.
(Temia Pulsipher 6:50pm November 20)
Dessert is a food group, isn't it? Thank you for your inside
look at writing and your books.
(Le. Pe 7:22pm November 20)
Sounds like something I would really enjoy.
(Ruth Arcone 8:00pm November 20)

(Ruth Arcone 8:00pm November 20)
Such a nice way to meet you and get to know your writing!
Thanks for sharing!
(Stephanie B 8:08pm November 20)
You have a great office! I love reading mysteries.
(Kv H 8:41pm November 20)
Fall is also my favorite season. I laughed at your description
of your workspace because I can so relate!!
(Freida Cameron 9:00pm November 20)
It was great getting to know you.
I love a good mystery
(Angela Snyder 9:27pm November 20)
Historical and mystery go perfectly together. Look forward to
reading your book!
(Bing Yuan 9:39pm November 20)
Fall is also my favorite season. I grew up in New York on the borders of Canada
and Vermont. We n ow live in the South and even though we do get the change
of seasons I really do miss the Northeast in The Fall.

The Miss Emmeline St. Germaine books sound like really good reads. Asylums
were a convenient way to get rid of women in the 1800's and early 1900's.
Women had few enough rights as it was and it was so very easy for a man to
have an "inconvenient" wife or relative committed to get her out of the way. To
go into one of those places, willingly or not took nerve and stamina. Thank you
so much for doing the research and giving us these stories.
(Patricia Barraclough 10:32pm November 20)
Loved the review!! Pasta and brownies! My favorite kind of comfort meal.
(Alisha Collins 12:04pm November 21)
Hope the book goes well and you have a safe and happy holiday!
(Jon Heil 12:25pm November 21)
Emmeline is an amazingly well developed character. She seems to be
courageous and resourceful. All women need to read about heroines who can
plan and follow their own course of action regardless of the obstacles in their
path.
(Jeanna Massman 12:43pm November 21)
It is really hilarious that she and her band of women call
themselves the Crones. I can't wait to read it!
(Rita Sheppard 4:34am November 21)
Your stories sound good.
(Blanche Nixon 4:36am November 21)
How do you come up with a story line that is different from
the other books in this catagory
(Patricia Treskovich 10:41am November 21)
Hope the book goes well, can't wait to read it!
(Janel Lafferty 10:45am November 21)
Thanks for the chance. The book sounds great
(Johanna Owen 10:53am November 21)
Autumn is my favorite too. I look forward to reading this one.
(Robin Blankenship 11:09am November 21)
Noth stories sound very interesting. Thanks for sharing so
many details about yourself
(Tina Rucci 12:22pm November 21)
Investigating a murder in an asylum while locked in yourself
sounds like quite the challenge. Emmeline is a protagonist
to follow!
(Lisa Sabatini 4:40pm November 21)
I love asylum stories. So frightening and gripping!
(C.E. Hart 4:48pm November 21)
I love the premise of this series! A group of women fighting
for their rights and the rights of others! So encouraging!
Thank you for the Q&A!
(Elizabeth Haney 9:02pm November 21)
Nice interview
(Justin Reynolds 4:06pm November 22)
Thank you for the chance to win.
(Amanda McCullough 5:21pm November 22)
Sounds like a good read! Great interview!
(Desiree Kessler 9:18pm November 22)
I look forward to diving into this series. What a great find
for this book addict!
(Sahar Husseini 7:26pm November 23)
Registered users may leave comments.
Log in or register now!