Victoria Hamilton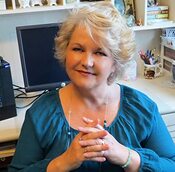 Blogging at Fresh Fiction
Who's afraid of Muffins?
August 28, 2017
Ready for a tasty but deadly treat? Enter to win a copy of MUFFIN TO FEAR Read More...
Victoria Hamilton | The Music of Merry Muffin Mysteries
August 8, 2016
I love music, from the sounds of Motown and funk of the seventies, eighties girl groups like The GoGos and Bangles, through country and bluegrass Read More...
Victoria Hamilton | Why Vintage; Why Kitchen?
November 23, 2015
Writers get asked all the time where we get our ideas. But in my particular case I get asked, how did I come up with Read More...
Victoria Hamilton | Classical Music in the Merry Muffin Mysteries
July 13, 2015
I love classical music, but honestly I know very little about it. Merry Wynter, the main character of the Read More...
Victoria Hamilton | Hoosier Too: Hoosier Cabinets, and Vintage Kitchen Mysteries
November 3, 2014
Writers are asked one question more than any other, and you probably know what it is: Where do you get your ideas? The answer is Read More...
Victoria Hamilton | Quirky Characters in the Cozy Mystery
June 30, 2014
One of my favorite mystery series of all time is Joan Hess's Maggody series. She is the master of creating weird, wild Read More...
Victoria Hamilton | New Year's Resolutions
December 28, 2013
According to Wikipedia, the Romans made promises each January to the god Janus for whom the month was named. The Babylonians, likewise, promised their gods Read More...
Victoria Hamilton | My Juggling Act
September 19, 2013
How do you write three series? That is one of the questions I'm often asked, and, well... I don't think about Read More...
Pseudonym: Donna Lea Simpson.
Pseudonym: Amanda Cooper.

Victoria Hamilton is the national bestselling author of three bestselling series, the Vintage Kitchen Mysteries and Merry Muffin Mysteries as Victoria, and the Teapot Collector Mysteries as Amanda Cooper. She is also the bestselling author of Regency and historical romance as Donna Lea Simpson.
Victoria loves to cook and collects vintage kitchen paraphernalia, teacups and teapots, and almost anything that catches her fancy! She loves to read, especially mystery novels, and enjoys good tea and cheap wine, the company of friends, and has a newfound appreciation for opera. She enjoys crocheting and beading, but a good book can tempt her away from almost anything… except writing!
Log In to see more information about Victoria Hamilton
Log in or register now!
Series
Merry Muffin | Vintage Kitchen Mystery
Books:
Cast Iron Alibi, October 2019
Vintage Kitchen Mysteries #9
Paperback / e-Book
Muffin But Trouble, July 2019
Merry Muffin Mystery #6
Paperback / e-Book
A Gentlewoman's Guide to Murder, February 2019
Paperback / e-Book
Breaking the Mould, November 2018
Vintage Kitchen Mysteries #8
Paperback / e-Book
No Grater Danger, June 2018
Vintage Kitchen Mysteries #7
Paperback / e-Book
Muffin to Fear, August 2017
Merry Muffin
Mass Market Paperback / e-Book
Leave It to Cleaver, July 2017
Vintage Kitchen
Paperback / e-Book
Much Ado About Muffin, August 2016
Merry Muffin Mystery
Mass Market Paperback / e-Book
White Colander Crime, November 2015
Vintage Kitchen Mystery #5
Paperback / e-Book
Death Of An English Muffin, July 2015
Merry Muffin Mystery #3
Paperback / e-Book
No Mallets Intended, November 2014
A Vintage Kitchen Mystery #4
Paperback / e-Book
Muffin But Murder, July 2014
Merry Muffin Mystery #2
Paperback / e-Book
Freezer I'll Shoot, November 2013
A Vintage Kitchen Mystery #3
Paperback / e-Book
Bran New Death, September 2013
A Merry Muffin Mystery #1
Paperback / e-Book
Bowled Over, March 2013
Vintage Kitchen #2
Paperback / e-Book
A Deadly Grind, May 2012
A Vintage Kitchen Mystery
Paperback / e-Book