Victoria Hamilton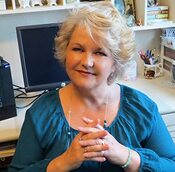 Blogging at Fresh Fiction
Victoria Hamilton | 20 Questions: SOME TOUCH OF MADNESS
November 9, 2022
1--What is the title of your latest release? SOME TOUCH OF MADNESS Read More...
Victoria Hamilton | Reality TV and Singing Competitions
February 22, 2021
One of the most common questions writers are faced with is: where do you get your ideas? And we usually answer, from everywhere! That Read More...
Who's afraid of Muffins?
August 28, 2017
Ready for a tasty but deadly treat? Enter to win a copy of MUFFIN TO FEAR Read More...
Victoria Hamilton | The Music of Merry Muffin Mysteries
August 8, 2016
I love music, from the sounds of Motown and funk of the seventies, eighties girl groups like The GoGos and Bangles, through country and bluegrass Read More...
Victoria Hamilton | Why Vintage; Why Kitchen?
November 23, 2015
Writers get asked all the time where we get our ideas. But in my particular case I get asked, how did I come up with Read More...
Victoria Hamilton | Classical Music in the Merry Muffin Mysteries
July 13, 2015
I love classical music, but honestly I know very little about it. Merry Wynter, the main character of the Read More...
Victoria Hamilton | Hoosier Too: Hoosier Cabinets, and Vintage Kitchen Mysteries
November 3, 2014
Writers are asked one question more than any other, and you probably know what it is: Where do you get your ideas? The answer is Read More...
Victoria Hamilton | Quirky Characters in the Cozy Mystery
June 30, 2014
One of my favorite mystery series of all time is Joan Hess's Maggody series. She is the master of creating weird, wild Read More...
Victoria Hamilton | New Year's Resolutions
December 28, 2013
According to Wikipedia, the Romans made promises each January to the god Janus for whom the month was named. The Babylonians, likewise, promised their gods Read More...
Victoria Hamilton | My Juggling Act
September 19, 2013
How do you write three series? That is one of the questions I'm often asked, and, well... I don't think about Read More...
Pseudonym: Donna Lea Simpson.
Pseudonym: Amanda Cooper.

Victoria Hamilton is the bestselling author of several mystery series including the national bestselling Vintage Kitchen Mysteries and Merry Muffin Mysteries. She does, indeed, collect vintage kitchenware and bake muffins. She drinks tea and coffee on writing days, and wine other times. It doesn't do to confuse days. She crochets (a little), paints (a little), and reads (a lot). A solitary being, she can be coaxed out of her writing cave for brownies and cat videos.
She started her writing life as Donna Lea Simpson, bestselling author of Regency Romances, paranormal historicals, and historical mysteries, and still has a soft spot for the Regency period.
Log In to see more information about Victoria Hamilton
Log in or register now!
Series
Merry Muffin | Vintage Kitchen Mystery | A Gentlewoman's Guide to Murder
Books:
Some Touch of Madness, November 2022
A Gentlewoman's Guide to Murder #2
e-Book
A Gentlewoman's Guide to Murder, October 2022
A Gentlewoman's Guide to Murder #1
e-Book
Double or Muffin, February 2021
Merry Muffin Mystery #7
Paperback / e-Book
Cast Iron Alibi, October 2019
Vintage Kitchen Mysteries #9
Paperback / e-Book
Muffin But Trouble, July 2019
Merry Muffin Mystery #6
Paperback / e-Book
A Gentlewoman's Guide to Murder, February 2019
Paperback / e-Book
Breaking the Mould, November 2018
Vintage Kitchen Mysteries #8
Paperback / e-Book
No Grater Danger, June 2018
Vintage Kitchen Mysteries #7
Paperback / e-Book
Muffin to Fear, August 2017
Merry Muffin
Mass Market Paperback / e-Book
Leave It to Cleaver, July 2017
Vintage Kitchen
Paperback / e-Book
Much Ado About Muffin, August 2016
Merry Muffin Mystery
Mass Market Paperback / e-Book
White Colander Crime, November 2015
Vintage Kitchen Mystery #5
Paperback / e-Book
Death Of An English Muffin, July 2015
Merry Muffin Mystery #3
Paperback / e-Book
No Mallets Intended, November 2014
A Vintage Kitchen Mystery #4
Paperback / e-Book
Muffin But Murder, July 2014
Merry Muffin Mystery #2
Paperback / e-Book
Freezer I'll Shoot, November 2013
A Vintage Kitchen Mystery #3
Paperback / e-Book
Bran New Death, September 2013
A Merry Muffin Mystery #1
Paperback / e-Book
Bowled Over, March 2013
Vintage Kitchen #2
Paperback / e-Book
A Deadly Grind, May 2012
A Vintage Kitchen Mystery
Paperback / e-Book